10 Turks and Caicos All-Inclusive Resorts to Die For
Turks and Caicos all-inclusive resorts cater to different preferences. From family-friendly options to luxurious wellness retreats and vibrant adult-focused resorts, there is something for everyone.
Explore the beauty of Grace Bay Beach, indulge in exquisite dining experiences, and enjoy a variety of activities and amenities. Whether you seek relaxation, adventure, or a mix of both, Turks and Caicos provides an ideal destination for an all-inclusive getaway.
1. Beaches Turks and Caicos: Ultimate Family-Friendly All-Inclusive
Beaches Turks and Caicos is the epitome of a family-friendly all-inclusive resort.
Situated on the stunning Grace Bay Beach, this resort offers an array of amenities and activities that cater to both kids and adults.
From the thrilling water park featuring water slides and a lazy river to the Kids' Camp with supervised activities and character meet-and-greets, families are in for a memorable vacation.
Parents can relax and unwind at the luxurious spa or enjoy a romantic dinner while the little ones are engaged in the dedicated Kids' Club.
Beaches Turks and Caicos is the ideal alternative for families looking for an amazing all-inclusive vacation because of its many culinary options, roomy suites, and stunning beachfront location.
2. The Shore Club: All-Inclusive Luxury and Natural Beauty
Nestled on the pristine Long Bay Beach, The Shore Club is a true haven of all-inclusive luxury. This resort effortlessly combines elegance with the breathtaking natural beauty of Turks and Caicos.
Guests are greeted by lush gardens, stunning ocean views, and immaculate white sand beaches. The Shore Club offers an exquisite selection of dining options, ranging from gourmet cuisine to beachside bites.
The resort's spacious suites and villas provide the utmost comfort and style, and many feature private plunge pools or direct beach access.
Whether you're lounging by one of the stunning pools, indulging in a spa treatment, or taking part in water sports activities, The Shore Club promises an exceptional all-inclusive experience for those seeking tranquility and refined luxury.
3. Club Med Turkoise: Vibrant All-Inclusive Resort for Adults
For adults looking for a vibrant and lively all-inclusive experience, Club Med Turkoise is the ultimate destination.
Situated on the idyllic Grace Bay Beach, this resort offers an array of activities and entertainment tailored to adult guests. From exhilarating water sports such as sailing and snorkeling to fitness classes and nightly live performances, there's never a dull moment at Club Med Turkoise.
The resort's lively atmosphere extends to its vibrant bars and restaurants, where guests can indulge in delicious cuisine and tropical cocktails.
With its beachfront location, lively ambiance, and a wide range of inclusive activities, Club Med Turkoise is the perfect choice for adults seeking an energetic and social all-inclusive getaway.
4. COMO Parrot Cay: Exclusive All-Inclusive Wellness Retreat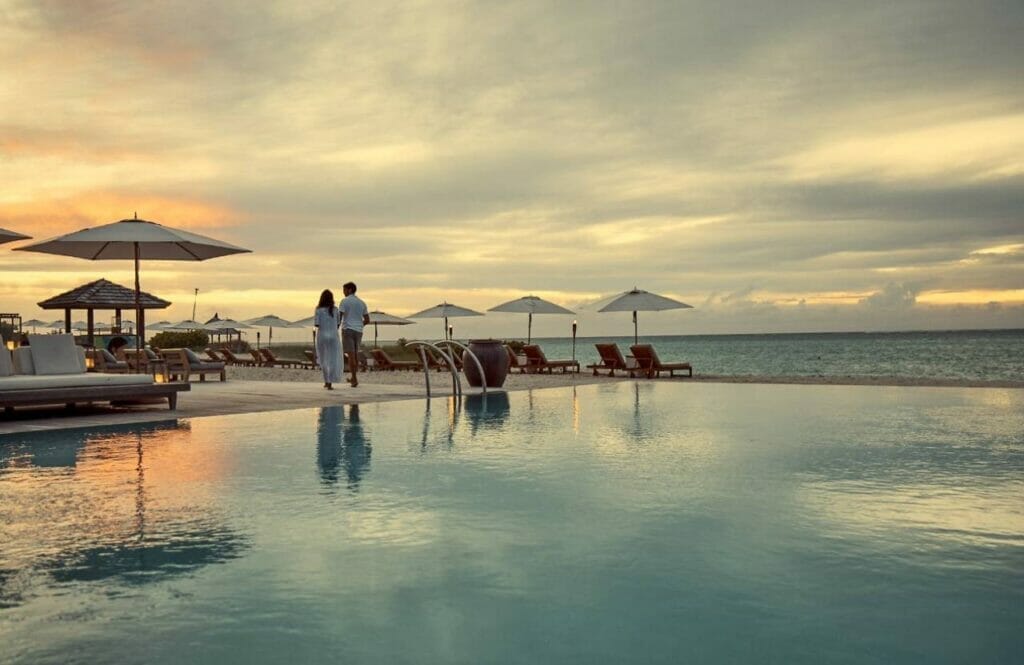 If you're seeking an exclusive all-inclusive wellness retreat, COMO Parrot Cay is a sanctuary that will exceed your expectations. This opulent resort, which is situated on a private island, provides a calm and tranquil atmosphere for people seeking to restore their mind, body, and spirit.
COMO Parrot Cay is renowned for its award-winning spa, where guests can indulge in a variety of wellness treatments and holistic therapies. The resort's world-class cuisine focuses on fresh and nutritious ingredients, complementing the wellness philosophy.
With luxurious accommodations, pristine beaches, and a wide range of wellness activities, COMO Parrot Cay provides an unparalleled all-inclusive experience for those seeking ultimate relaxation and well-being.
5. Alexandra Resort: All-Inclusive Relaxation on Grace Bay
Situated on the world-famous Grace Bay Beach, Alexandra Resort offers a perfect blend of relaxation, comfort, and all-inclusive convenience.
This resort provides a variety of accommodations, from spacious studios to multi-bedroom suites, ensuring a comfortable stay for guests of all party sizes. With three swimming pools, including a dedicated adults-only pool, and direct beach access, guests can enjoy the crystal-clear turquoise waters and soak up the Caribbean sun.
Alexandra Resort features an all-inclusive dining plan with options ranging from casual beachside fare to fine dining experiences. Whether you prefer lounging on the beach, exploring water sports, or simply unwinding by the pool, Alexandra Resort provides a delightful all-inclusive experience for those seeking a tranquil beach getaway.
6. Blue Haven Resort: All-Inclusive Luxury and Marina Access
Blue Haven Resort offers a unique blend of all-inclusive luxury and marina access, making it an excellent choice for water enthusiasts.
Located on the tranquil Leeward side of Providenciales, this resort provides direct access to the marina and is ideal for guests looking to embark on boating adventures and explore the surrounding islands. The resort's stylish suites and spacious penthouses offer modern amenities and stunning views.
With multiple dining options, including a gourmet grocery store for self-catering convenience, guests can savor a variety of culinary experiences.
Blue Haven Resort also features a state-of-the-art gym, a rejuvenating spa, and three swimming pools, ensuring that guests have a truly fulfilling and indulgent all-inclusive stay.
7. Windsong Resort: Tranquil All-Inclusive Escape
For those seeking a peaceful and intimate all-inclusive escape, Windsong Resort provides a serene haven on the renowned Grace Bay Beach. With its intimate atmosphere and breathtaking ocean views, this boutique resort is the perfect retreat for couples and travelers seeking tranquility.
The resort offers spacious and beautifully appointed accommodations, many with private balconies or terraces overlooking the turquoise waters. Kayaking and paddleboarding are just two of the many water sports available to visitors, who can also choose to unwind on the spotless beach. The on-site Jojo's Cafe serves delightful meals with ocean views, and the resort's spa offers a range of treatments for ultimate relaxation.
Windsong Resort promises an idyllic and tranquil all-inclusive experience for those seeking serenity and natural beauty.
8. Ocean Club Resorts: Beachfront All-Inclusive Comfort
Situated on the stunning Grace Bay Beach, Ocean Club Resorts offers beachfront all-inclusive comfort for an unforgettable vacation. The resort consists of two sister properties, Ocean Club and Ocean Club West, both offering a variety of accommodations ranging from studios to spacious suites.
Guests can bask in the Caribbean sun at the resort's beachfront pools or indulge in water sports activities such as snorkeling and sailing. With multiple dining options, including beachside restaurants and casual cafes, guests can savor a diverse range of culinary delights.
The resort's convenient and well-rounded all-inclusive experience is made possible by its central location, which also makes nearby eating, shopping, and entertainment options easily accessible.
9. Royal West Indies Resort: All-Inclusive Convenience on Grace Bay
Royal West Indies Resort combines all-inclusive convenience with a prime location on the renowned Grace Bay Beach.
The resort offers spacious suites with kitchenettes or full kitchens, allowing guests to enjoy the flexibility of self-catering or dining at the on-site restaurant, Pelican Bay.
Visitors may unwind by the pool, stroll lazily along the beach, or partake in water sports like stand-up paddleboarding and snorkeling. Royal West Indies Resort provides a convenient and comfortable all-inclusive experience, with its proximity to shopping, restaurants, and attractions in Grace Bay.
10. The Sands at Grace Bay: Beachfront All-Inclusive Haven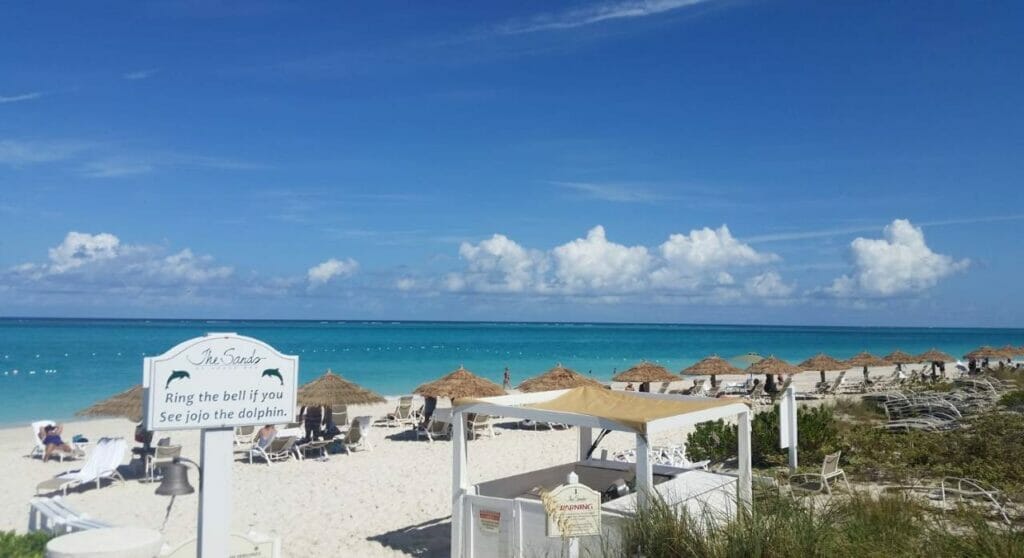 The Sands at Grace Bay offers a beachfront all-inclusive haven, perfectly situated on the pristine Grace Bay Beach.
This resort provides spacious and beautifully appointed suites with stunning ocean or garden views. Guests can relax on the beach or take a dip in one of the resort's free-form swimming pools.
The Hemingway's beachfront restaurant serves delicious meals with panoramic ocean views, and the resort's spa offers rejuvenating treatments to enhance relaxation. With its idyllic beachfront location and a range of amenities, The Sands at Grace Bay ensures a delightful and unforgettable all-inclusive experience.
Turks and Caicos All-Inclusive FAQ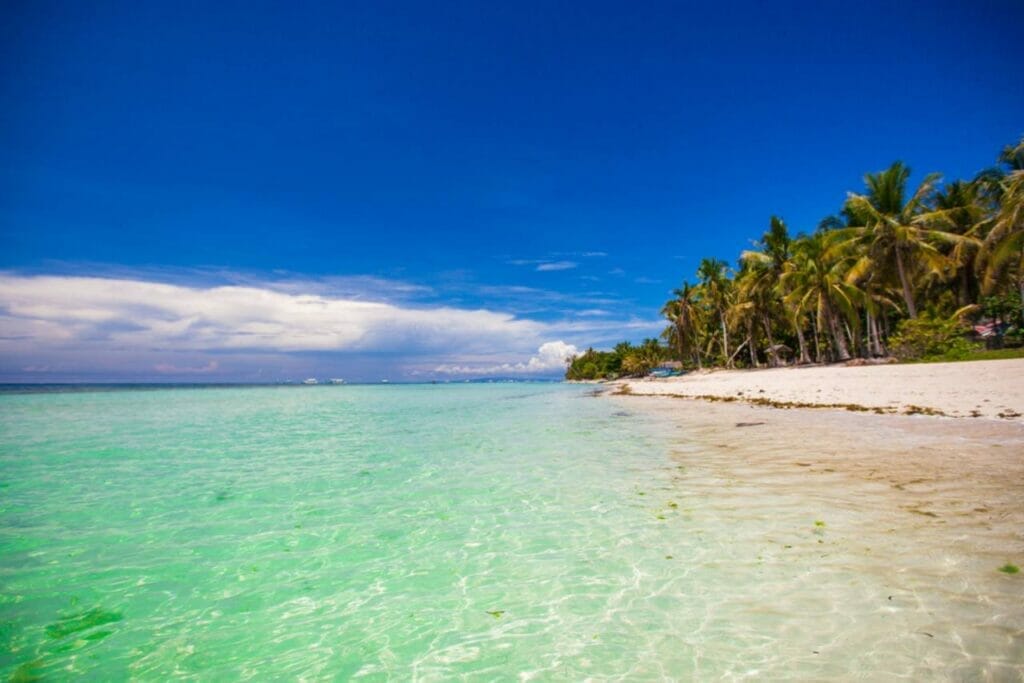 Does Turks And Caicos Have All-Inclusive Packages?
Turks and Caicos does offer all-inclusive packages, making it an attractive destination for travelers seeking a hassle-free vacation. Many resorts in Turks and Caicos provide comprehensive all-inclusive options that include accommodations, meals, beverages, and various activities. These packages allow visitors to enjoy the stunning beaches, indulge in gourmet dining, and partake in exciting water sports, all without the need to worry about additional costs. With a wide range of all-inclusive offerings, Turks and Caicos ensures a convenient and enjoyable experience for travelers seeking a comprehensive vacation package.
What Is The Best Month To Visit Turks And Caicos?
Turks and Caicos are best visited from November to April, which is considered the dry season. This period offers pleasant temperatures, low humidity, and minimal rainfall, making it ideal for outdoor activities and enjoying the beautiful beaches. Additionally, visiting during this time allows travelers to avoid the peak hurricane season, which typically occurs from June to November. It's crucial to remember that the high season, which lasts from December to March, is typically busier and more costly. Therefore, travelers may also consider the shoulder months of November and April for a balance between favorable weather and fewer crowds.
Is Turks And Caicos Worth Going To?
Turks and Caicos is definitely worth visiting for those seeking a stunning tropical getaway. The islands provide unmatched natural beauty with their immaculate white sand beaches, blue oceans, and vivid coral reefs. The archipelago is also known for its top-notch snorkeling and diving options, which let tourists explore the fascinating underwater environment. Beyond the beaches, Turks and Caicos also boasts charming towns, delicious cuisine, and a relaxed atmosphere. Turks & Caicos provides a mesmerizing location that is definitely worth experiencing, whether you're seeking for adventure, leisure, or a combination of the two.