Top 10 Fairbanks Hotels Located in Fairbanks, Alaska
Alaska, known as one of the last frontiers, isn't one of the top travel destinations when many are asked of their ideal vacation spots.
While it may not be one of the most common choices, it is becoming more and more popular, and one of the top cities to visit in Fairbanks, Alaska. Because of this, Fairbanks hotels are beginning to see increases in visitors, especially during the summer months.
About Fairbanks, Alaska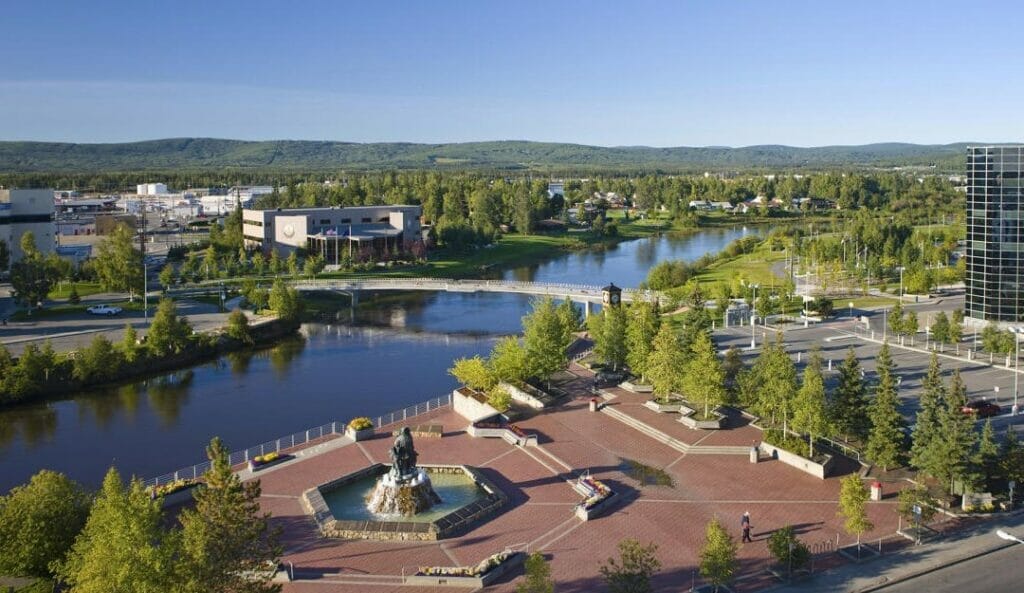 Fairbanks, Alaska is the largest city in the interior region of Alaska. According to the 2010 Census, the population of Fairbanks was around 31,535. In an estimate for 2016, the population is said to have risen to 32,751.
The city of Fairbanks is located in the Fairbanks North Star Borough and is the northernmost Metropolitan Statistical Area in the United States and is located about 196 miles south of the Arctic Circle.
When it comes to attractions in Fairbanks, Alaska, there are a variety of things for tourists to do; it just all depends on the time of the year they are choosing to visit. Below, we have listed only a few of the things that visitors can check into when they decide to stay in Fairbanks.
Top 10 Fairbanks Hotels
With so many different things for visitors to check out year-round, it's important to know where to stay while you are up in the Fairbanks area. Fairbanks, Alaska, offers visitors plenty of different lodging opportunities.
Below, we have compiled a list of the top 10 hotels in Fairbanks based on what visitors had to say. The hotels listed below are ranked based on the average of visitor ratings from top travel websites. This way those searching for a Fairbanks hotel to stay in can hear from those that matter the most, fellow travelers.
1. Alaska Heritage House
This elegant bed and breakfast has eight luxurious bedrooms for guests to enjoy. It is located within walking distance of shops, museums, restaurants and other businesses in downtown Fairbanks.
| Visitor Rating | 4.7/5 Stars |
| --- | --- |
2. Hampton Inn & Suites Fairbanks
This Hampton Inn & Suites allows visitors to explore Fairbanks, Alaska since it is ideally located across from both shopping opportunities and restaurants. It is also located nearby the downtown business district, the Chena River and Fairbanks International Airport. Other nearby attractions include Denali National Park, Santa Clause House and the University of Alaska – Museum of the North.
| Visitor Rating | 4.5/5 Stars |
| --- | --- |
3. SpringHill Suites by Marriott Fairbanks
Located in the heart of downtown Fairbanks, Alaska, this hotel is also located next to the Chena River and is also close to Pioneer Park, University of Alaska Fairbanks and Morris Thompson Cultural & Visitors Center. Depending on when visitors plan their stay, they may even get to catch a glimpse of the Northern Lights.
| Visitor Rating | 4.4/5 Stars |
| --- | --- |
4. Wedgewood Resort
The Wedgewood Resort is surrounded by a 75-acre wildlife sanctuary and a 2,000-acre migratory waterfowl refuge. Visitors can enjoy the quiet, seclusion and breathtaking scenery or venture off into downtown Fairbanks and all it has to offer.
| Visitor Rating | 4.4/5 Stars |
| --- | --- |
5. Bear Lodge
The Bear Lodge has a lot to offer visitors. Not only is it located close to town where there are plenty of shopping and dining choices. The lodge also offers an on-site Fountainhead Antique Auto Museum and is located next to 75 acres of wildlife and nature trails that surround Wander Lake.
| Visitor Rating | 4.4/5 Stars |
| --- | --- |
6. La Quinta Inn & Suites Fairbanks Airport
Not only was La Quinta Inn & Suites Fairbanks Airport hotel awarded the 2017 TripAdvisor Certificate of Excellence award, but it is also a convenient choice for those flying into Fairbanks since it is conveniently located a quarter of a mile away from the Fairbanks International Airport. This hotel is also located only a few minutes away from the University of Alaska Fairbanks – Museum of the North, Riverboat Discovery, and Pioneer Park.
| Visitor Rating | 4.4/5 Stars |
| --- | --- |
7. Best Western Plus Pioneer Park Inn
Nestled away in a quiet wooded area, guests can easily get away and enjoy some much-needed relaxation. Alternatively, they can choose to visit Pioneer Park, which is conveniently located close by. Other attractions include the Carlson Center Event Arena, The University of Alaska Fairbanks and the Growden Memorial Park.
| Visitor Rating | 4.2/5 Stars |
| --- | --- |
8. Bridgewater Hotel
Bridgewater Hotel is a quaint, boutique-style hotel with a spectacular display of hanging baskets and flower gardens that make the hotel a colorful place to stay while exploring downtown Fairbanks. With its convenient location, it is within walking distance to most of the downtown area sights, attractions, shopping, and restaurants.
| Visitor Rating | 4.1/5 Stars |
| --- | --- |
9. Rivers Edge Resort
Not only is Rivers Edge Resort a unique hotel, but it offers a full range of lodging, dining, PR Park and a variety of accommodations. Enjoy the luxury of a 4-star hotel in a private Alaskan cottage setting along the banks of the Chena River. This resort is only open seasonally, from mid-May through mid-September.
10. Holiday Inn Express Hotel & Suites Fairbanks
The Holiday Inn Express and Suites Fairbanks is ideally located near dining, shopping, and other entertainment. It is also located to popular attractions such as the Carlson Center, Historic Downtown Fairbanks, Fort Wainwright and the University of Alaska.
Fairbanks Hotels Offer Visitors Plenty of Great Places to Stay
Fairbanks hotels give travelers quite a variety of places to stay while they are out exploring one of the last frontiers. In a city such as Fairbanks, visitors not only get to experience the hustle and bustle of one of the largest cities in the interior region of Alaska, they get to immerse themselves in the culture of the state and all the wilderness the area has to offer.
While many attractions are popular during the summer months, there are quite a few that are worth checking out in the winter months as well. Some of these attractions include the Yukon Quest, Chena Hot Springs Resort, Santa Clause House, the Moose Mountain Ski Resort and Christmas in Ice.
Fairbanks, Alaska, may not be the top choice on your list of getaways, but it is one of those places that is sure to give you a once-in-a-lifetime experience. Thanks to the wide variety of Fairbanks hotels available to visitors and locals alike, it doesn't matter what time of year you choose to visit because there will be plenty to take in and explore.
If you have visited Fairbanks, Alaska, share some of your favorite destinations for others to add to their travel agenda such as the Alaskan Islands.