The Best Antigua Beaches for Sun and Surf Enthusiasts
Longing for the sun and surf? Look no further than the captivating shores of Antigua, where pristine beaches await your arrival. Whether you're seeking serene beauty or adrenaline-pumping watersports, this Caribbean paradise has it all.
Picture yourself at Dickenson Bay, where you can soak up the tranquil vibes or unleash your inner adventurer with thrilling water activities. And if you crave a secluded escape, Half Moon Bay's postcard-worthy setting and world-class surf will leave you speechless. Pigeon Point Beach entices with its crystal-clear waters and vibrant marine life, while Jolly Beach invites you to embrace the fun-filled beachside atmosphere.
Get ready to dive into a world of sun, surf, and unforgettable experiences in Antigua's beach haven.
| | Dickenson Bay | Half Moon Bay | Pigeon Point Beach | Jolly Beach |
| --- | --- | --- | --- | --- |
| Main Attractions | Serene beauty, watersports, white sandy beaches, beachside dining, live music, Hawksbill turtles nesting (June-October) | Secluded paradise, surfing hotspot, nearby national park, white sandy beaches, green hills | Crystal clear, shallow waters, snorkeling, safe for families, picnic areas, nearby Nelson's Dockyard (UNESCO World Heritage Site) | Fun-filled atmosphere, water activities (windsurfing, kayaking, snorkeling, diving), beach bars, wide variety of cuisines |
| Ideal for | Adventure seekers, eco-conscious visitors, nightlife lovers | Solitude seekers, surfers, nature lovers | Families, history enthusiasts, snorkeling lovers | Activity seekers, food lovers, social butterflies |
| Safety Tips | Choose lifeguarded beaches, respect the ocean, ensure sun protection and stay hydrated | Respect the ocean, ensure sun protection and stay hydrated | Respect the ocean, ensure sun protection and stay hydrated | Choose lifeguarded beaches, respect the ocean, ensure sun protection and stay hydrated |
Dickenson Bay: Serene Beauty and Watersports
Dickenson Bay is the epitome of Antigua's idyllic charm, offering both serene beauty and adrenaline-pumping watersports. Framed by swaying palms and azure waters, this is the beach where tranquillity meets adventure. The bay's calm waters make it an ideal playground for watersports enthusiasts – whether you're a seasoned jet skier or a paddleboarding novice.
The beach's broad stretch of powdery white sand is the perfect canvas for sun worshipers. You might be excused for believing you were in paradise as you lounge in the tropical sun while drinking a cool beverage from a beach bar.
Yet, the joy of Dickenson Bay extends beyond the daylight hours. Its nightlife offers a vibrant mix of beachside dining and live music that truly captures the Antiguan spirit.
For eco-conscious visitors, the opportunity to witness Hawksbill turtles nesting on the beach between June and October adds an extra layer of intrigue to Dickenson Bay. This spectacle, coupled with the bay's stunning sunsets, paints an irresistible picture of this Antiguan gem.
Half Moon Bay: Secluded Paradise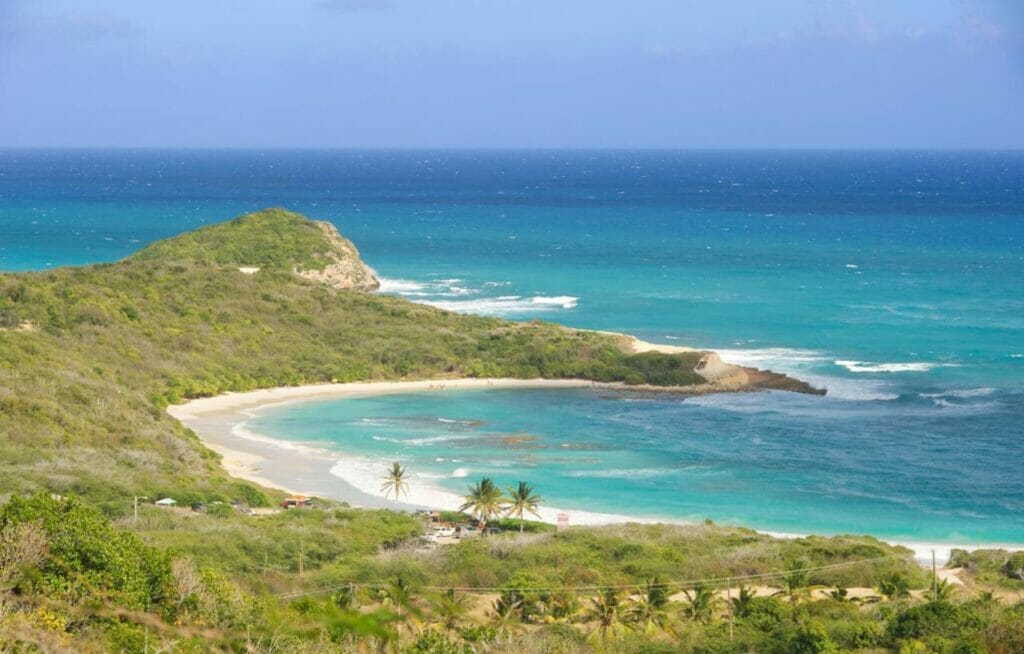 A visit to Half Moon Bay is like stepping into a postcard. This crescent-shaped sanctuary is tucked away on Antigua's eastern coast and offers a quiet getaway from the busier beaches. The stunning background for a relaxing day at the beach is its blue waves, framed by a wide arc of white sand and green hills.
Half Moon Bay draws surfers from all over the world despite providing an unmatched environment for solitude and leisure. Its Atlantic-facing coastline receives consistent surf, making it an exciting spot for those looking to ride the waves. But if you're not an expert, don't worry; those who want to learn may take surfing classes.
In between catching waves and soaking up the sun, make sure to explore the nearby national park. The park's diverse flora and fauna, coupled with its walking trails offering stunning vistas, enrich the Half Moon Bay experience, offering as much delight off the sand as on it.
Pigeon Point Beach: Crystal Clear Waters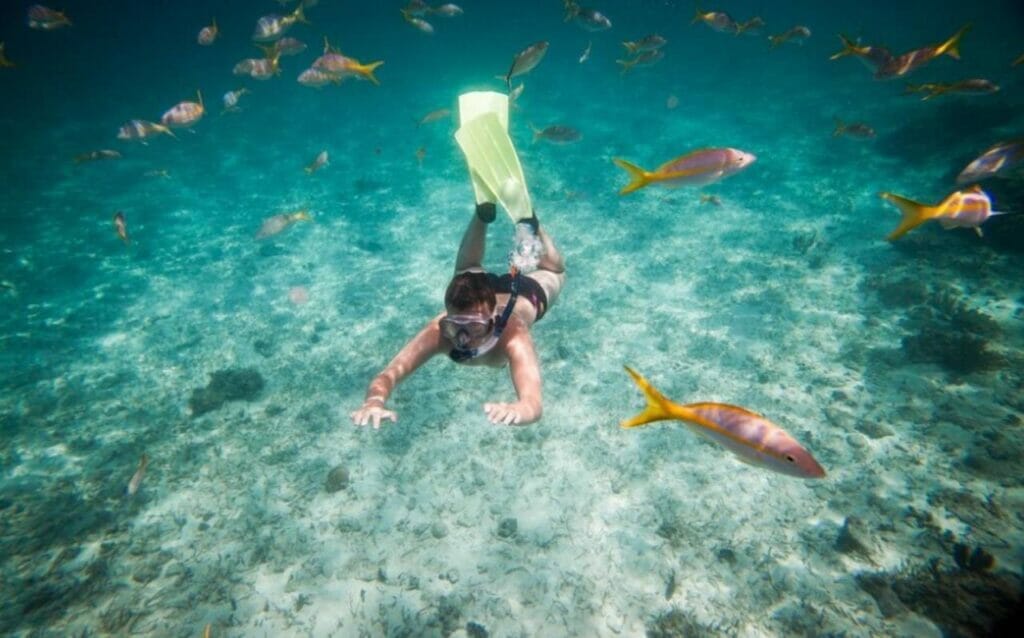 Antigua's southern coast cradles Pigeon Point Beach, a tranquil haven known for its shallow, crystal-clear waters. It's not uncommon to spot colorful schools of fish darting through the turquoise waters, making it a prime spot for snorkeling.
The beach's calm, warm waters also provide safe swimming conditions for families, adding to its reputation as a relaxing retreat. Your beach day will be more comfortable and convenient thanks to the well-maintained amenities, which include picnic areas and restaurants right on the sand.
Pigeon Point is also steeped in history. An interesting look into Antigua's maritime heritage is offered by the neighboring Nelson's Dockyard, a UNESCO World Heritage Site. A day at Pigeon Point Beach, therefore, offers a blend of sun-soaked relaxation, aquatic exploration, and a taste of Antigua's rich history.
Jolly Beach: Fun in the Sun
As the name suggests, Jolly Beach promises a fun-filled day under the Antiguan sun. This popular west coast beach draws in visitors with its lively atmosphere, extensive facilities, and a broad range of activities. With its mile-long stretch of pristine white sand, it's easy to find a spot to spread out your towel and start your day of beachside fun.
Water activities like windsurfing and kayaking are available at Jolly Beach for the more daring. Snorkeling and diving enthusiasts frequent the beach because of its colorful coral reefs and diverse marine life in the undersea realm.
As the sun sets, Jolly Beach transforms into a social hub. The hopping beach bars and eateries invite you to eat outside while admiring the mesmerizing sunset views, and they provide a wide variety of local and foreign cuisines. Jolly Beach, with its blend of relaxation, activity, and sociability, is the embodiment of the Antiguan beach experience.
Safety Tips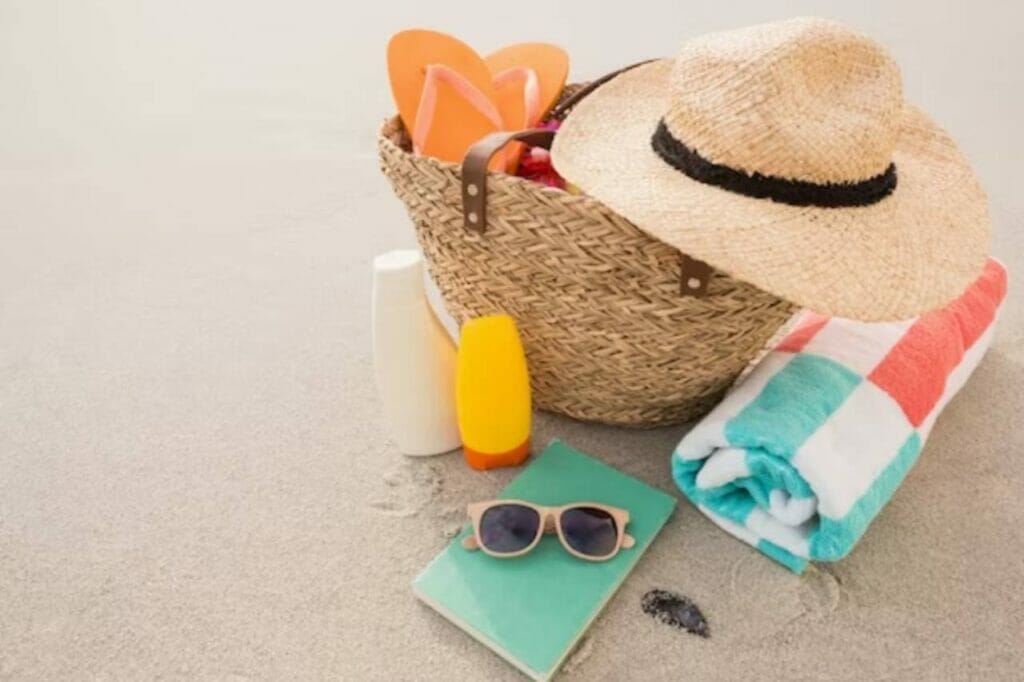 With numerous picturesque coastal spots to explore, it's important for tourists to prioritize safety while enjoying their beachside adventures. Here are some essential tips to ensure a memorable and worry-free experience:
Choose Lifeguarded Beaches: When planning your beach excursions in Antigua, opt for those with lifeguard services. Beaches like Dickenson Bay and Jolly Beach boast trained lifeguards who monitor the water conditions and provide assistance if needed. Their presence can offer peace of mind, especially for families or those less experienced with ocean activities.

Respect the Ocean: While the warm Caribbean waters are inviting, it's crucial to respect the power of the ocean. Pay attention to warning flags and signs indicating hazardous conditions, such as strong currents or undertows. Avoid swimming alone and always keep an eye on children, ensuring they stay within designated swimming areas. If you're unfamiliar with local tides or currents, consult with lifeguards or knowledgeable locals for advice.

Sun Protection: With Antigua's year-round sunshine, protecting your skin from harmful UV rays is paramount. Apply sunscreen liberally and frequently, especially during peak sun hours. To protect oneself from harsh sunlight, seek for cover or put on a hat with a broad brim and sunglasses. Stay hydrated by drinking plenty of water to prevent dehydration, especially if you're engaging in water sports or activities under the scorching Caribbean sun.
FAQ
Does Antigua have good beaches?
Antigua boasts a stunning array of exceptional beaches that captivate visitors with their beauty and allure. This Caribbean island boasts an abundance of beautiful white sand, clear turquoise seas, and gorgeous coastline scenery thanks to its more than 365 beaches, one for each day of the year. From renowned stretches like Dickenson Bay and Jolly Beach to hidden gems such as Half Moon Bay and Rendezvous Bay, Antigua's beaches provide the perfect setting for sunbathing, swimming, snorkeling, and other water activities.
Where is Antigua located?
The Lesser Antilles' Leeward Islands are where Antigua is situated in the Eastern Caribbean. It is situated near its sister island, Barbuda, at around 17 degrees north latitude and 61 degrees west longitude.Antigua is located in the West Indies, east of the Virgin Islands and southeast of Puerto Rico. Travelers from all over the world may readily visit it because to its convenient position in the Caribbean.
Why is Antigua famous?
The beautiful beaches, extensive history, and vibrant culture of Antigua are well known.Visitors come from all over the world to see the island's beautiful shoreline, which are blessed with powdery white sands and crystal-clear seas. AAntigua has developed a reputation as a top yachting destination thanks to its history in sailing and hosting prestigious sailing competitions like Antigua Sailing Week. Additionally, the island boasts historic landmarks like Nelson's Dockyard, a UNESCO World Heritage Site, showcasing its colonial past and attracting history enthusiasts.