Tahiti vs. Fiji: Which Vacation Is Better?
Tahiti vs. Fiji: So, you have been dreaming about sun-soaked white beaches, crystal clear waters, and delicious food. If this has led you to consider an island in the South Pacific, you are on the right track with Tahiti or Fiji! However, each place here has its own culture and intrinsic beauty, so check them out below before booking your flight!
Tahiti is a world-renowned honeymoon destination, and its prices have quickly caught up with its fame. It offers luxurious stays in overwater bungalows, island hopping options, and modern facilities. Fiji is better for experiencing the same South Pacific beauty at more affordable prices or with kids.
| Category | Tahiti | Fiji |
| --- | --- | --- |
| Cost Range for 1 Week | $1,212 per person | $1,033 per person |
| Transportation | Taxi (short stays), Rental cars or scooters (longer stays), Le Truck replacement busses, boat or airplane for island hopping | Car or scooter rentals, taxis, minivans and 4WD trucks, public busses.Ferries, domestic flights, and cargo boats for island hopping |
| Notable Attractions | Overwater bungalows, Papeete Market, Museum of Tahiti and The Islands, Water Gardens Vaipahi, Harrison Smith Botanical Garden, La Plage de Maui, Teahupo'o | Coral reefs and colonial architecture. Mamanuca, Qalito, Mana, Tavarua, and Malolo islands. Garden of the Sleeping Giants, Fiji's Museum |
| Weather | Tropical destination with temperatures around 24℃ to 30℉ (75℉-86℉)all year round . The dry season is from April to October, the rainy season from November to March | Tropical destination, temperatures between 31°C and 26°C (88°F-79°F) all year round. Dry, windy season is from May to October and the rainy season is from May to October. |
| Food and Drink | Influenced by French, Chinese, and Polynesia cuisine. Specialties include Poisson Cru, Fafa, and Tamaaraa. | Fijian cuisine is based on fish, roots, and fruits like coconut. Many resorts offer all-inclusive options, so western-like meals are also available. |
| Activities for Kids | Tiki Parc, Zipline and Aerial Adventure, The Pass of the Three Coconuts, Dolphin Watching (Tiputa Pass) | Kula WILD Adventure Park, Big Bula Waterpark, Sleeping Giant Zipline, and Jungle Safari, Nadi's mud pools. |
| Nature Attractions | Mount 'Orohena, Point Venus, Faarumai Waterfall, Mount Aoraki, Tahiti Lagoon Paradise | Coral reefs, volcanic beaches, islands, and islets. Sawa-i-Lau, Sigatoka Sand Dunes, Mamanuca Islands, Kula Eco Park, Bouma National Park. |
Overview: Fiji Vs. Tahiti
The facilities in Tahiti makes it easier to travel from one island to another. So if you wish to visit Bora Bora, Raiatea, and Moorea during the same trip, this is a great destination. Instead, Fiji represents a more affordable destination, especially for families, and allows you to benefit from more common all-inclusive deals.
The sections below will explore the differences between the two destinations in detail – so you can pick the vacation that fits your needs best!
Cost of Stay
Both destinations are characterized by breath-taking natural beauty, luxurious facilities, and off-the-beaten-track activities. So, for an exclusive holiday in a stunning corner of the South Pacific, you are looking at the right locations.
However, the cost of stay is something that can help you finally decide on your destination. Tahiti has been among the first far-flung destinations for honeymooners, and the prices on its islands match this characteristic.
A few aspects to consider are:
A week in Tahiti can cost over $1,212 per person, but you can also spend much over $800 per night if you wish to stay in one of the famous Overwater Bungalows.
The room's price will rarely include meals or additional activities, so if you can find convenient packages, you should opt for them. Having to pay for breakfast in the hotel can set you back $50 per person!
The hotels' prices will not go down the longer you wait, so it is recommendable to book as far in advance as possible.
During the low season (November to March), you might be able to find additional offers – excluding Christmas!
At the same time, Tahiti offers the exclusive promotion "Kids Fly Free" to incentivize families to come here together. Saving on your kids' flight costs might make this destination more accessible.
Oppositely, Fiji is still a much more affordable destination (around $1,000 per person per week) once you arrive on the island – for couples and families alike. If you are ready to cut back on luxury, you can even exploit the rich backpacker culture of this place and find accommodation options for less than $30 a night!
Yet, if you wish to treat yourself, the beautiful "Bures" (bungalows with thatched roofs) are available at more moderate prices than luxurious accommodations in Tahiti. Additionally, on this island, hotels often have a vast range of all-inclusive options that can help you save on the meals' cost – especially during the rainy season!
Other costs include private transportation around the island and to other islands. This is valid for both destinations.
Best Affordable Hotels in Fiji and Tahiti
If you are heading to Tahiti, you will have the chance to stay in one of the exclusive Overwater Bungalows.
While there seems to be no limit on how much you can spend here per night, some options allow you to spend less than $600 per night and still enjoy one of the most exclusive stays in islands such as Bora Bora.
Our favorite options include Bora Bora Pearl Beach Resort and Manava Beach Resort and Spa Moorea.
If you don't mind sacrificing luxury, some cheaper accommodation options in Tahiti will only set you back between $80 and $200 at night. Our favorites are the beautiful
Tahiti Ia Ora Beach Resort and the cosiers – but equally stunning – Village Temanoha.
Instead, in Fiji, you can benefit from a much broader range of accommodations options. If you are a backpacker looking to experience one of the most beautiful places on Earth, you can also stay in a tent by the beach for less than $8 per night!
At the same time, you can find Bures – the equivalent of Tahiti Overwater Bungalows, for under $250 per night in low season. Among the most romantic ones for a fabulous getaway is the dreamy Castaway Island Fiji in the beautiful Qalito Island, Fiji.
Main Attractions and Activities
Both Fiji and Tahiti are world-famous destinations for white-sand beaches, aquamarine bays, diving, snorkeling, and hiking. In both cases, you won't be short of new natural attractions to check out or experiences to live.
However, in Tahiti, you should not miss out on feeding sharks and stingrays, snorkeling in a Blue Lagoon, taking a tour of Moorea on a 4X4, visiting a pearl farm, and checking out a traditional Polynesian dance show.
After visiting Papeete, you should also consider flying or boarding a ferry to Bora Bora or Moorea, two of the most beautiful islands in the surroundings.
Fiji is ideal if you like snorkeling and diving in less touristy locations, and you will have the chances of visiting stunning islands such as Mamanuca, Qalito (Castaway Island!), Mana, and Malolo. For a more relaxing stroll, take a tour of the Garden of the Sleeping Giants.
Family Activities
Both Tahiti and Fiji have leveraged their nature's stunning beauty to create attractions suitable for families and kids. However, the results are a little different from each other!
In Tahiti, your little ones can spend a day at the exciting Tiki Parc and Zipline and Aerial Adventure. Instead, if you prefer to go hiking together, you might consider heading in the direction of The Pass of the Three Coconuts. Lastly, if your kids love dolphins (who doesn't?!), you might opt for a stopover at the Tiputa Pass.
In Fiji, instead, hotels and facilities are perfect for families traveling together, and most hotels offer affordable babysitting and entertainment services. However, for a family adventure on the island, you should check out the Sleeping Giant Zipline, the Jungle Safari, and Nadi's mud pools. Instead, if you are happy to sunbathe while watching your kids having fun, the Kula WILD Adventure Park and the Big Bula Waterpark are better options.
Food and Drink
If you are a foodie, Tahiti will not disappoint you. The cuisine here is the result of several influences, including France, China, and Polynesia. Among the traditional dishes that you must try are Poisson Cru (marinated raw fish), Fafa, Fafaru, Uru, and Poulet Fafa.
Oppositely, in Fiji, you will be served dishes made of local roots, such as cassava, fruits, and fried meats. Coconuts and coconut cream are some of the main ingredients used, and you are likely to find this fruit's flavor in many dishes!
It is possible to find western-style meals in both destinations if the local cuisine does not suit your taste buds. However, in Tahiti, this will come at a higher price!
Safety and Accessibility
Fiji is generally considered a safe destination for couples and families alike. Just like in many other areas, tourists might fall victim to scams, such as theft and ATM skimming. Keeping away from some regions of Suva at night time might already be an excellent way to stay safer during your vacation.
In Fiji, both English and Fijian are widely spoken, so you won't have any problem getting around or finding information if you need it.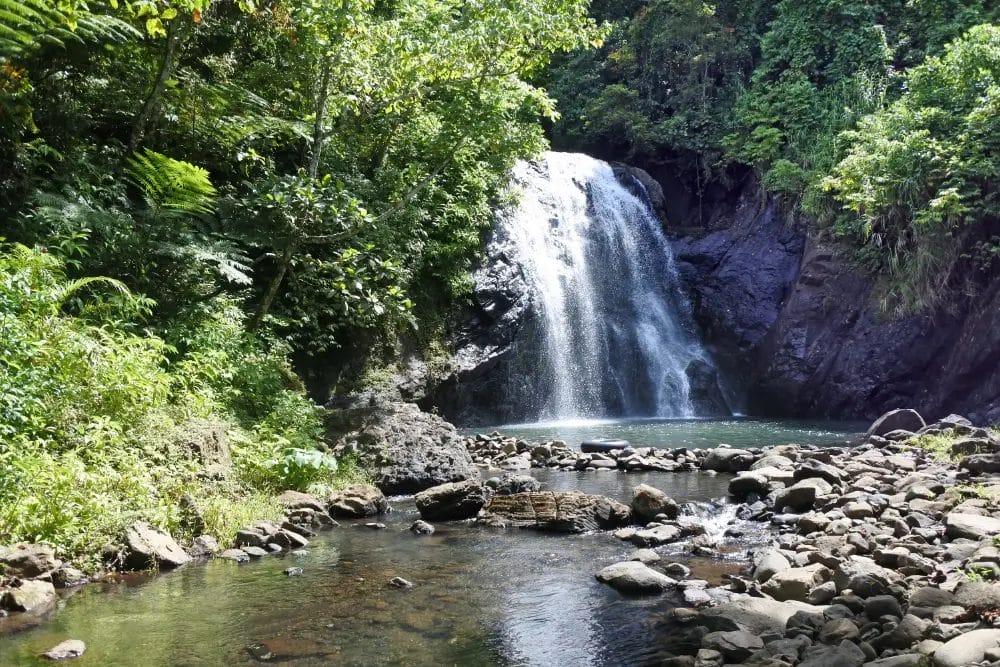 Instead, while Tahiti is considered safe, you should look out for pickpockets, especially in larger urban areas such as Papeete. If you wish to dive here, another danger you should look out for the Moray Eels can attack humans and cause severe wounds.
In Tahiti, you will find that the hotel personnel will speak English, while the locals are more comfortable expressing themselves in French.
Weather
Both Tahiti and Fiji are warm, tropical destinations, and, being fairly close to each other, the dry and rainy seasons fall within similar months.
In Tahiti, the temperatures range between 24℃ to 30℉ (75℉-86℉) all year round. Between April and October, you will find dry, sunny days that can sometimes be particularly windy due to maraamu, southeast trade winds. Near Lagoons, you can find milder temperatures ranging from 23°C to 26°C (73℉-78℉). Between November and March is the rainy, and therefore low season.
Instead, Fiji's temperatures are between 31°C and 26°C (88°F and 79°F). May to October instead is considered the drier, windier season. October and November are considered the best seasons to visit Fiji because temperatures are milder, but there won't be as high chances of rainfall as during the rainy season.
Transportation
If you are heading to Tahiti or Fiji for just a week, the best way to get around the two islands is by taxi or minivan. If you are planning an island-hopping trip, boats, ferries, chartered planes, and helicopters can get you to your next destination (more frequent in Tahiti).
If you are staying for more extended periods, a car or scooter rental can allow you to explore the islands at your own time. Public transportation is close to non-existent in both areas, but you can find hotel transfers and tourist buses.
In Tahiti, the old "Le Truck" public bus commonly used by locals has been replaced with new options. You might need to inform yourself by speaking to your hotel's concierge.
Conclusion: Tahiti Vs. Fiji
Nature- and landscape-wise, Tahiti, and Fiji are very similar.
They are both surrounded by idyllic islands and islets, dotted with hikes and waterfalls, and full of places for snorkeling and diving. However, Tahiti is historically a more sought-after location for honeymooners, so the accommodation and food options here are more expensive.
Tahiti is more affordable and offers a vibrant backpacker and food scene that can be appealing as a more budget-friendly couple or family vacation.