St. Thomas vs. St. John: Which Vacation Is Better?
You're heading on a tropical getaway and have narrowed down your destination to the United States Virgin Islands (USVI). However, you might be having difficulty choosing St. Thomas vs. St. John. Whichever you choose, fun and relaxation await you; and all you need to do is decide.
St. Thomas is better if you want a trip with the best dining, shopping, and bustling nightlife. However, if you want a quiet romantic getaway or tucked-away outdoor adventure, head to St. John. Either way, St. Thomas and St. John both offer a vacation featuring beaches and luxurious relaxation.
| Category | St. Thomas | St. John |
| --- | --- | --- |
| Cost Range for 1 Week | $1,050 per week for family of four lodging | $1,750 per week for family of four lodging |
| Transportation | Taxis, rental cars, ferry, rental scooter or motorcycles, country buses, VItran public bus system | Hiking, hitchhiker-friendly, rental car, taxi, ferry, scooter rental, VItran public bus system |
| Notable Attractions | Fort Christian, Camille Pissarro's childhood home,USVI capital Charlotte Amalie, Emancipation Garden, Frenchtown | Annaberg Sugar Plantation Ruins, Trunk Bay Beach Underwater Trail, Peace Hill, Cruz Bay |
| Weather | Warm and low humidity year-round, with warmest months July-September. Dry season February-May, wet season October-January. Hurricane season is June-November. | Comparable to St. Thomas. |
| Food and Drink | Numerous restaurant, cafe, food truck, and bar options that change often and vary from casual to fine dining. Caribbean, American, international. | Numerous food stands and restaurant options that range from casual to fine dining. Caribbean, American, international. |
| Activities for Kids | Underwater Scooters, Animal Encounters at Coral World, St. Thomas Skyride, Blackbeard's Castle | Arawak Expeditions, Calypso Charters, SNUBA diving, Horseback riding |
| Nature Attractions | Phantasea Tropical Botanical Gardens, Cow & Calf Rocks, Mermaid's Chair | Scott Bay Beach, Trunk Bay Beach, Ram Head Trail, Cinnamon Bay Nature Trail, National Park Underwater Trail |
Overview: St. John Vs. St. Thomas
The United States Virgin Islands are a group of Caribbean islands that are an organized, unincorporated territory of the United States. They lie between the Caribbean Sea and the North Atlantic Ocean, just east of Puerto Rico. The three major islands are St. Thomas, St. John, and St. Croix.

When it comes to vacations, the USVI is a fantastic destination boasting a perfect blend of nature, culture, relaxation, and activity. The 2.5 million tourists who visit each year, according to the USVI's Bureau of Economic Research, can attest to that.
For US citizens, visiting the USVI is a simple way to get that far-away feeling because you don't need a passport. What's more, they use American currency, speak English, and you won't need voltage attachments to plug things in. Once you get used to driving on the wrong side of the road, you'll settle right in.
Even after the devastating hurricanes Irma and Maria ransacked Caribbean islands in 2017, they rebuilt and are ready for visitors. Tourism is one of the USVI's primary economic activities, right up there with rum production. So many excellent experiences and amenities await you as a traveler.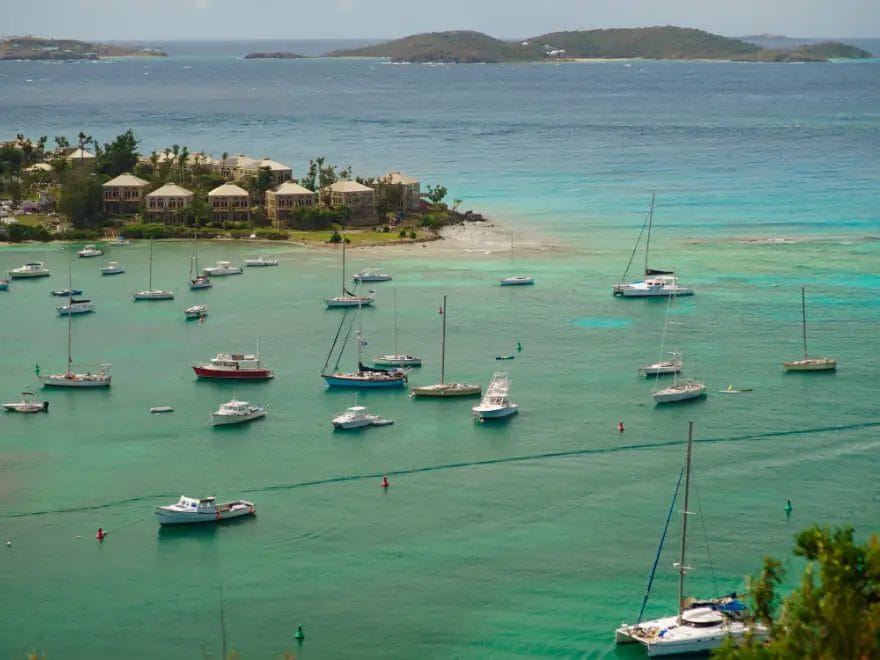 Yes, you're going to have an amazing time no matter which island you choose. There are rave reviews about both islands, and yes, there are a few things to know, depending on what you're looking to spend your vacation time doing. Are you seeking peace, an exotic outdoor adventure, or culture and nightlife?
Let's discuss those topics and more, and get ready to prioritize what matters most to you in a dream trip so you can make the decision that's best for you.
Cost of Stay
Overall, St. John is less developed and crowded, offering fewer lodging and dining options. Therefore, prices are slightly higher than the hustling, bustling St. Thomas, where options and competition abound.
Seven nights of lodging for a family of four in St. John in October, for example, will cost about $250 per night, compared to about $150 per night in St. Thomas.
St. John does not have an airport, so be sure to account for one extra ferry ride you'll have to take after flying into one of the two airports in the USVI.

The busiest tourist months in the USVI are December through March. The slowest season, where you might find the best prices, is April to June.
Best Affordable Hotels
Affordable lodging options await you in St. John. We recommend experiencing the villa life at The Westin St. John Resort Villas, or check out the St. John Inn for a charming, comfortable, quality downtown retreat at a great price.
If you're leaning towards St. Thomas, you'll find plenty of hotel options, as well. Our top picks for great quality and price in St. Thomas include Point Pleasant Resort for unbelievable views and amenities or Bunker Hill Hotel, which is in a prime central location within walking distance of many notable attractions.
Main Attractions
Travelers report that, overall, St Thomas also offers a greater variety of things to do besides hiking and lounging on the beach. Both islands offer a self-guided driving excursion to discover more than 60 different sites throughout the islands.
Culture and history are abundant on both islands. St. Thomas is often referred to as the USVI's most cosmopolitan island. It's also home to the USVI territory's capital, Charlotte Amalie, and you can even see seventeenth-century Fort Christian, a US National Landmark, built by the first Danish colonists on the island. In the past, a museum has served as a jail, a townhouse, a court, and a church.
Originally settled by the Arawak and Carib Indians, St. John's history is as rich as its beautiful landscape. It offers agricultural and archaeological culture, with opportunities to even join in and learn alongside scientists. Visit the Elaine Lone Sprauve Library & Museum, which is in a restored plantation great house, to explore photos and articles chronicling the island's history.
Both islands have historic houses of worship to explore. There are some with congregations since the 1600s, and one of the oldest synagogues in their hemisphere.
Spirited celebrations of the islands' local culture, cuisine, and experiences happen annually at their carnivals. St. Thomas' is in April, and St. John's is from June to July.

Here are some other must-dos on each island:
St. Thomas
Fort Christian
Camille Pissarro's childhood home: She is of the best-known French Impressionists.
USVI capital Charlotte Amalie: A bustling shopping destination and the cruise ship harbor with the most traffic in the Caribbean.
Emancipation Garden: A park built to commemorate the freeing of the slaves in 1848.
Paint & Wine evening classes: Sip while you create a masterpiece.
Frenchtown: An assortment of restaurants and bars.
Golf: Try the Herman E. Moore public course.
St. John
Beaches and Landscape
The consensus among vacationers is that St. John wins for most breathtaking beaches full of unspoiled beauty. Trunk Bay, for example, known for its crystalline sands and underwater nature trail, is a favorite among visitors and locals alike. It's just one of the many memorable and picturesque beaches on the island.
St. John is the smallest of the three main USVI, and overall, it's known as quieter and more natural than the bit busier, more developed St. Thomas. Going hand-in-hand with beautiful beaches, travelers say snorkeling is also great on St. John, being typically uncrowded with waters full of colorful fish, sea cucumbers, starfish, and green turtles.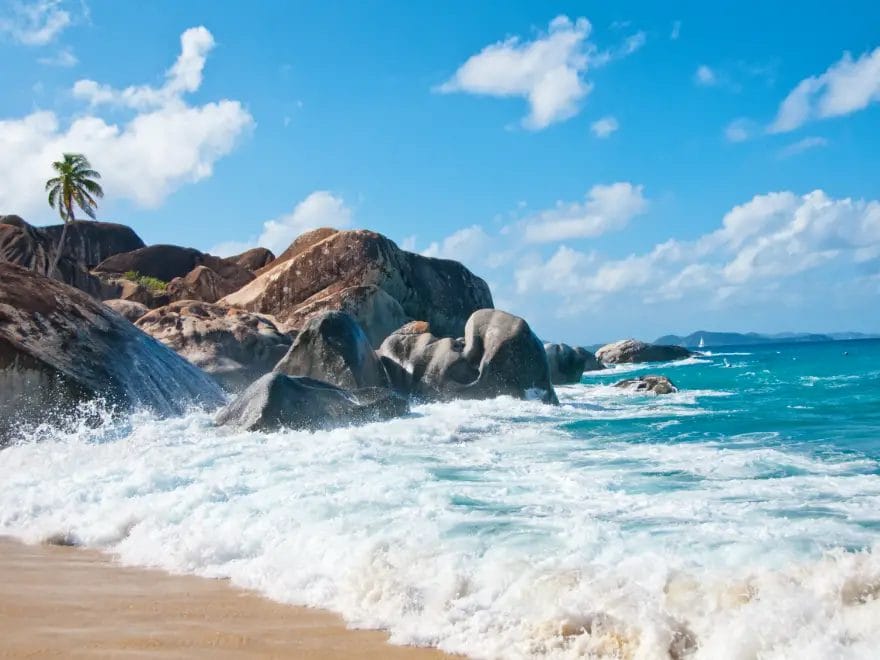 Additionally, over two-thirds of St. John is designated as a Virgin Islands National Park, thanks to Laurance Rockefeller donating over 5,000 acres of the island to the National Park Service in 1956. There, you can find the famous Bordeaux Mountain, standing at 1,277 feet tall (989 meters).
On the flip side, being a bit larger and more developed, volcanic St. Thomas offers more options to stay right on its beaches at affordable rates. If a beach experience is what you're looking for, you could opt to stay on the beach in St. Thomas and take the daily ferry across to explore St. John's more remote and natural beaches when you choose.
No matter which island you choose, you'll enjoy turquoise waters that stay around 80℉ (26℃) all year round.
Activities for Kids
Will your trip to the USVI be with kids? Great, there are many activities to enjoy with them!
In St. John, look for a company like Arawak Expeditions, where you can rent gear and go on a day trip of kayaking, paddleboarding, fly fishing, snorkeling, and more. Want a day on the water without the action? Try Calypso Charters.
Are there horse-lovers in your family? Kids and adults alike will enjoy Horseback riding on St. John. Call ahead, and you can even help groom and tack for the morning ride.
To round out your trip, let the kids try their hand at a shallow-water diving system that only requires simple training and gear, SNUBA diving.
In St. Thomas, many kid-friendly activities are also available. Try exploring underwater with an electronically-propelled motorized underwater scooter. Don't miss the Animal Encounters at Coral World, a marine park spanning five acres, featuring an observation tower that's underwater.
The St. Thomas Skyride is a don't-miss opportunity to view the island from the sky. Blackbeard's Castle, a Danish fortress built in 1689, is full of culture and history. Check their website before visiting to ensure they're open after recovering from 2017 hurricane damage.
Food and Drink
You will not go hungry or thirsty on a vacation in either destination. Even in the less developed St. John, you'll be delighted with the food and beverage options. From cafes to casual or even some fine dining, many establishments offer great views and an excellent variety of cuisine options.
On the busier island of St. Thomas, dining options are even broader, with a larger quantity of options. Restaurants do change hands periodically on St. Thomas, meaning variety in style, ethnicity, and the price is abundant.
Weather
Due to their close geographical proximity to one another, both islands offer similar weather and topography. You'll experience a subtropical climate tempered by gentle winds with mostly low humidity, little variation in temperature year-round, and a rainy season where there's lots of sun from September to November. The end of summer gets to be hurricane season.
Safety
While all of the USVI are generally safe, it's best to be alert and aware of your surroundings at all times when in a new place. Pickpocketing and theft of items left unattended on a beach can happen on St. Thomas and St. John. Avoid bulky bags and don't carry much cash or valuables with you.

Stay vigilant against natural hazards like strong rays from the sun and unfamiliar wildlife.
Transportation
Both St. Thomas and St. John offer common transportation options like taxis and rental cars. The USVI's VITran public bus system is also a great option, where senior citizens over age 60 or people with a disability ride for free.
The great thing about either island is you can simply hop a ferry for $6.00 to travel approximately 20 minutes between the two.

Additional transportation options exist like hiking, safe hitch-hiking, and scooter rentals in the slightly less-developed St. John.
Conclusion: St. Thomas Vs. St. John
There is no wrong choice for which island in the USVI to visit when it comes down to it. For those who love some hustle and bustle, set sail for St. Thomas. If you're looking forward to secluded outdoor adventures, see you in St. John.
Hats off to you for doing your research. Have a great trip!