St. Lucia vs Hawaii (2023 Comparison)
Is an island vacation part of your next trip itinerary? With most destinations offering sun, sand, and sea, how do you determine the best one? Below is an overview of two of the most popular destinations to help you plan your next holiday.
Saint Lucia is a Caribbean island with 70% tropical rainforest, with all the activities to get your adrenaline pumping throughout your stay, including zip lining, nature trails, and mountain hiking. Hawaii is an archipelago of 137 volcanic islands in the Pacific Ocean, famous for its hospitable people, natural wonders, and amazing beaches.
| Category | St. Lucia | Hawaii |
| --- | --- | --- |
| Cost Range for 1 Week | Average hotel room rates of $281 per person | Average hotel room rates of $275 per person |
| Transportation | Taxi, Minibus, Car, Scooter | Bus, Ferry, Airplane, Car |
| Notable Attractions | Soufriere Bay, Enbas Saut Waterfall Trail, Castries Market, Derek Walcott Square | Amazing beaches, Delicious Cuisine, Aloha Culture, Natural Scenery |
| Weather | Tropical rain forest climate, with average day temperatures of 30 degrees Celsius and nighttime averages of 24 degrees Celsius | Tropical climate, with summer highs of 32 degrees Celsius and winter lows of 26 degrees Celsius |
| Food and Drink | Green figs and salt fish are the national dish. Other options include East Indian and European delicacies. | Diverse cuisine with influences from Europe, Asia, the Americas, and Oceania. |
| Activities for Kids | Morne Coubaril Historical Adventure Park, Aerial Tram Tours, Hacksaws Boat Charters, Splash Island Water Park, Sea Trek Adventure | Maui Ocean Center, Atlantis Submarines, Hawaiian Journey, Dolphin Quest |
| Nature Attractions | Mount Gimie, Toraille Waterfall, Choc Bay, Qualibou Volcano, Sulphur Springs | Waimea Canyon, Hawaii Volcanoes National Park, Ko'olau Range, |
| Honeymoon Recommendations | Rabot Estate, Ti Kaye Village Resort & Spa, Cariblue Beach, Serenity at Coconut Bay | Napali Coast, Diamond Head, Moana Surfrider, Polihale State Park |
Table of Contents
Cost of Stay
St. Lucia offers several accommodation options for tourists, depending on what part of the island you decide to stay.
The island's north side is the most popular and features several high-end resorts and hotels along Marigot Bay and Castries. Average room rates for a luxury hotel room are around $285 per person, with properties such as Windjammer Landing Villa Beach Resort, Sandals La Toc, and Bel Jou being the most popular.
You can also book a mid-range Airbnb for around $143 per night or choose to stay in a self-catering apartment costing about $ 250 for a family of four. Adventure tourists can choose to stay in the island's southern region, where accommodation rates are cheaper at around $85 per night for a self-contained hostel room.
Hawaii offers diverse tourist accommodation options, from high-end luxury resorts to secluded inns and villas. Prices vary depending on location, but something is always available to suit your budget. Oahu is the most developed of the six habitable islands, and the average room rate is around $275 per person. American and Canadian tourists can take advantage of the Marriot Bonvoy American Express Card reward program to earn points and discounts during their vacation.
Other accommodation options available on the islands are short-stay vacation homes costing about $ 298 per person or hostel rooms costing around $100 per person. Ensure you book the properties early since their demand is extremely high during peak season.
Transportation
The main modes of transport in Saint Lucia are:
Minibusses – These navigate specific routes around the island and operate on a schedule. They are also your best option to experience the island's culture, and the average fares range between $1 to $3 per trip. You can identify them by the green license plate and the prefix M on the registration number.
Taxis – Several taxis operate across the island, most available at designated spots or through telephone booking. You can identify by the blue license plates with the registration numbers featuring the prefix TX. The fare varies depending on your destination, with a trip from Hewanorra Airport to Marigot Bay costing around $70.
Automobile Rental – Rental cars are the preferred option for most tourists because you can explore the island anytime. SUVs are the best choice because of the dirt roads on the island, especially in the mountainous region of Saint Lucia's south. The average daily cost of a full-size SUV is around $56. Scooters are also available for short trips around the island, costing around $20 for the day.
Hawaii has an elaborate public transport network, which is unreliable because of delays. Rideshare services such as Lyft and Uber are also present, but these can get expensive when exploring the deeper parts of the island. The cheapest and most convenient option is using a car rental service. Hawaii offers one of the cheapest car rental services, with average daily costs of between $30 to $35.
Notable Attractions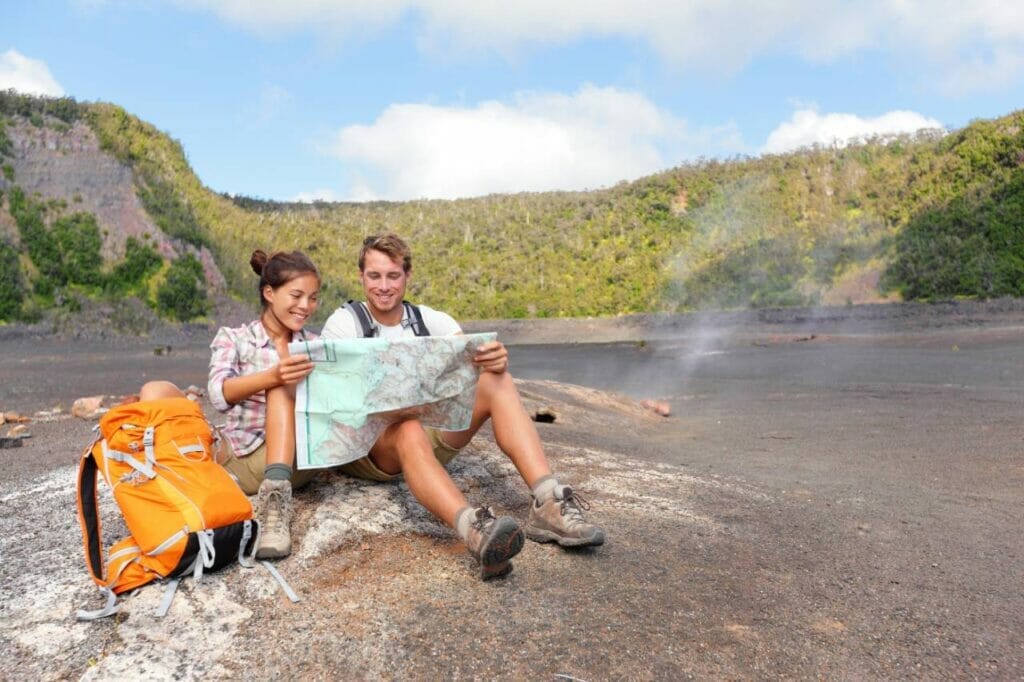 Saint Lucia's most notable attraction is its lush tropical rainforest. It covers nearly 70% of the island and features numerous breathtaking natural wonders. Some sites you should consider visiting are:
The Piton Mountains are twin volcanic spires in the UNESCO World Heritage-listed Pitons Management Area. They are located south of the island and feature Gros Piton, which stands 798 meters tall, and Petit Piton at 750 meters high. You can schedule a hike with your tour agent or arrange a dive in the neighboring waters.
Tet Paul Nature Trail – A hike along this trail takes about 45 minutes, where you learn about indigenous medicinal plants, sample exotic tropical fruits and discover the ancient art of cassava production by the Amerindian. You can also see the Martinique and Saint Vincent islands when hiking the trail on a clear day.
Mount Soufriere drive-in volcano – Sulphur Springs Park is the most active geothermal area in the Caribbean. It has several bubbling pools and hissing fumaroles, which you can dip in for a soothing mud bath. A road also navigates the edge of the 274-meter crater, allowing you to drive into the volcano.
The Hawaiian Islands feature several natural and artificial wonders offering insight into the island's historical significance. Here are some of the notable attractions you should visit during your vacation.
Volcanoes National Park – The park is located on the Big Island of Ohau and is one of the most active volcano systems in the Pacific, with the latest eruption in January 2021. It features formations like lava lakes and active fissures that pour lava into the ocean and the surrounding landscape. Other areas in the park worth visiting are the Thurston Lava Tube, Devastation Trail, and the Halemam'uma'u Crater, which is always steaming.
Pearl Harbor and USS Arizona Memorial – The site feature several World War Two memorabilia, including aircraft and artifacts that survived the Japanese attack. You can also tour the Pacific Aviation Museum on Ford Island to view different fighter planes from the war and use the flight simulator to experience landing on an aircraft carrier.
Halawa Valley – Located in Molokai, Halawa Valley is considered the oldest settlement in Hawaii. You can interact with the small local population and get insights into authentic Hawaiian culture against a beautiful backdrop of lush tropical rainforest and cascading waterfalls.
Weather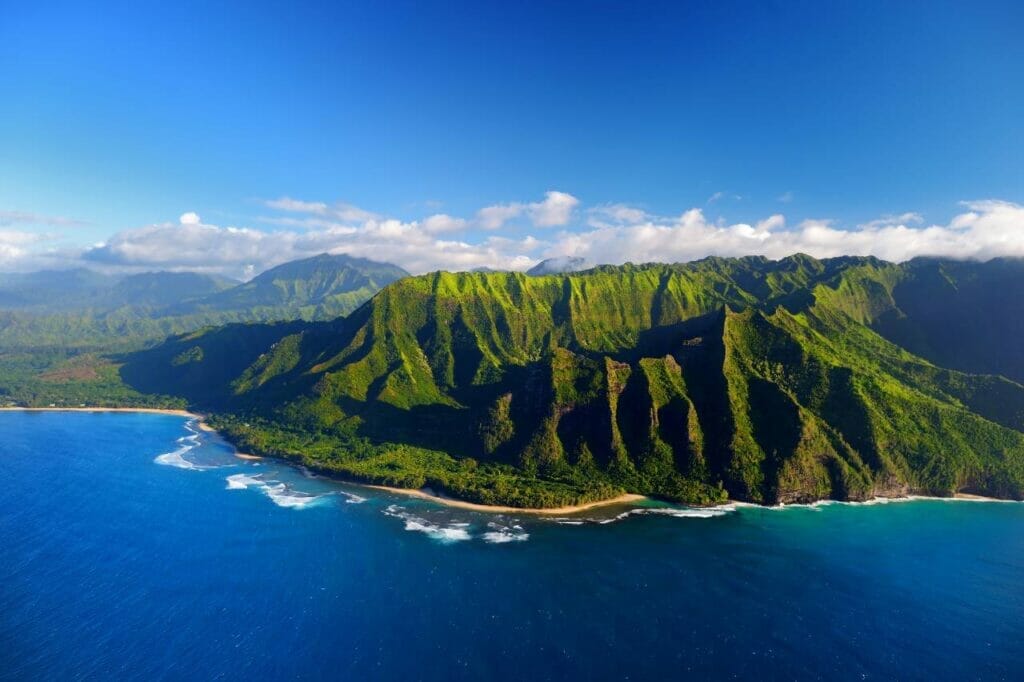 The best time to visit Saint Lucia is from December to April, the dry season when the average temperature is around 26 degrees Celsius.
Hawaii experiences the best weather between March and September, with average temperatures at a pleasant 30 degrees Celsius with minimal rainfall.
Cuisine
Saint Lucian cuisine mainly features seafood and bananas, locally known as figs, with a mixture of East Indian and French delicacies. You should expect to spend around $10 for street food and around $100 when dining at a fancy restaurant.
Hawaiian cuisine is a fusion of delicacies brought about by its high immigrant population. The restaurant menus are extensive, and you will find meals influenced by American, East Asian, Puerto Rican, and Polynesian cuisines. You should expect to spend between $80 and $100 daily on meals.
Honeymoon Recommendations
Saint Lucia offers plenty for newlyweds, warranting its top spot in the 2018 World Travel Awards. Some places you should consider visiting with your loved one include
Rabot Estate – The venue offers hands-on tours that teach you everything about cacao cultivation. You will walk along the cacao groves and pick ripe cacao pods that you will later use to make chocolate bars.
Ti Kaye Village Resort & Spa – The property is 11 miles from Castries and features 33 exclusive cottages on the cliffside overlooking Anse Cochon Beach. You can enjoy intimate moments in the private outdoor gardens and watch sunsets from your cottage's spacious balcony.
Serenity at Coconut Bay – Enjoy an all-inclusive stay at this adults-only resort, featuring private suites and butler service. You can also enjoy a couple's massage at the resort's luxury spa and arrange for helicopter tours of the island.
Maui is Hawaii's most romantic island, but you can also enjoy memorable moments when visiting the other islands in the archipelago. Whether on your honeymoon or celebrating your anniversary, the island has plenty to offer to make the occasion memorable. Here are some recommendations for your trip:
Napili Beach – Napili Beach is famous for its picturesque sunsets, and couples frequent this area for water sports that end with romantic dinners. The area is also ideal for watching giant sea turtles, crabs, and tropical fish.
Mauna Kea Observatory – The active research facility offers evening stargazing programs for tourists and locals at the visitor center, around 9200 feet from the mountain's summit. Couples spend the night observing the universe and even take pictures to archive the once-in-a-lifetime opportunity.
Kauai Botanical Gardens – The area is full of lush greenery and features acres of stunning flowers, palms, and fig trees. You can book guided tours to explore the different preserves, learn about endangered plant and bird species, and discover the ancient techniques used to maintain the ecosystem.
Each island offers a unique experience worth trying at least once in your lifetime. Use the above information to determine your most suitable destination. Better yet, why not try both?