Sao Paulo vs. Mexico City: Which Is Better for Vacation?
Sao Paulo, Brazil, and Mexico City, Mexico are two of the world's largest cities in terms of overall population. Activities and sightseeing are endless in both cities, and each can be said to offer a distinctive Latin American experience.
With so many people to meet and interact within two of the most expensive cities in Latin America, which of these two mega-metropolises is better for a vacation?
Both Sao Paulo and Mexico City offer unique cultural experiences with multicultural pursuits and attractions in abundance. The main difference between Sao Paulo and Mexico City is that Mexico City is a bit more formal and business-oriented than Sao Paulo; therefore, the better city for a vacation depends on the vibe you are seeking. 
| Category | Sao Paulo | Mexico City |
| --- | --- | --- |
| Cost Range for 1 Week | $500 | $400 |
| Main Attractions | Ibirapuera Park, Museu de Arte, Teatro Municipal, Ipiranga District, Se Cathedral, Avenida Paulista | Palacio de Bellas Artes, Catedral Metropolitana, Parque Mexico, Museo Soumaya |
| Food | Brazilian cuisine is an eclectic mixture of European, Asian, and Latin characteristics | Authentic Mexican cuisine is the regional food of Mexico City |
| Weather | Humid, warm subtropical conditions throughout the year | Mild and dry conditions throughout the year due to the city's high elevation |
| Safety | Sao Paulo features a high crime rate | Mexico City features a moderately-high crime rate |
| Transport | Numerous buses and subway lines run throughout the city; taxis and various pay services are also available | Both regular city buses and special tourist buses are available, Uber and taxi service is also available |
| Customs | A passport and a 6-month visa is required upon entry into Sao Paulo | A passport and a 6-month visa are required upon entry into Sao Paulo |
Sao Paulo and Mexico City share regional similarities, yet are both unique and different in cultural customs and energy. You can expect to become lost in a sea of people each day, but there are some incredible attractions and activities to make for a memorable vacation.
This Sao Paulo vs. Mexico City article will explore both cities in a range of categories to discover which is better overall for a vacation.
Cost of Stay
If your overall budget is the main concern of your vacation, you could not ask for a better choice between Sao Paulo and Mexico City. Each of these giant cities is cost-efficient and overflowing with superb accommodations and things to do. Sao Paulo is near the Atlantic coastline; therefore, the prices for resorts and luxury hotels are slightly higher, but neither city is going to eat a hole into your wallet for a standard one or two-week vacation.
The average cost for a one-week vacation in Sao Paulo is about $500, and this includes daily expenses and a one-week stay in a hotel. The cost-of-living is somewhat low throughout Brazil, thanks in part to the vast population, of which Sao Paulo is no exception. Food costs, transportation fare, and costs associated with various attractions are all moderate, and there are quite a few things to do and see in one of Brazil's preeminent cities.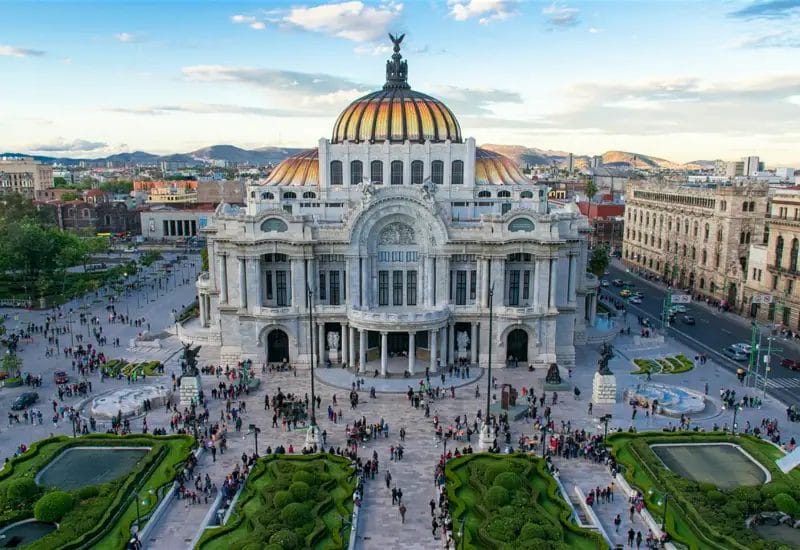 Mexico City is not a seaside destination unless you are willing to take time away from the city and travel to nearby Acapulco or Costa Esmerelda. But resorts and luxury accommodations are not just well-suited for coastal cities, and Mexico City has plenty to offer. An average cost for a one-week vacation to Mexico City is about $400. The average prince is a bit lower than Sao Paulo, and airfare would also be cheaper due to the city's close proximity to the U.S.
If this is your first time in either of these cities, both cities feature a large number of tours, which is a great way to take the decision-making process out of your trip since the destinations are provided for you. Tour prices in Sao Paulo are a bit more expensive; however, most tours include food costs to make the package more attractive. Mexico City tours are less expensive than some tours available in the U.S. and are also loaded with amenities.
In terms of overall costs, Mexico City is a more attractive option, yet the costs are not that far apart for either city.
Affordable Hotel Options
When we think of budget hotels, the cost is important without sacrificing quality. This is especially true in a foreign country where a language barrier and different cultural customs are different. You should not expect to temporarily live like a millionaire, but avoiding a hotel from hell is also crucially important! Both Sao Paulo and Mexico City offer plenty of affordable options that are also clean and attractive as well.
Sao Paulo features a large number of hostels throughout the city, which is in keeping with South America's longstanding theme of adventure and backpacking. Staying in a hostel may not be the ideal vacation for everybody, but the Brazilodge All-Suites Hostel features both private suites and dorm-style suites, which are common in traditional hostels. Rooms for couples, families, and solo travelers are all features in pristine conditions with cost-efficient amenities.
If staying in a hostel just is not the atmosphere you are looking for, Sao Paulo features a few quality hotels that cater to Americans, in particular. The Plaza Inn American Loft features all of the top amenities you would expect to see at a typical American hotel, including free breakfast, a gym, a stunning courtyard, and a dedication to quality customer service and quality that is sure to make your stay a pleasant experience. Think the Marriot with a Latin American vibe.
Mexico City is going to have a more traditional and historic atmosphere than the more traditional touristy destinations you will see all around you in Sao Paulo. Thankfully, the oldest and most distinctive hotel in Mexico City is also one of the most affordable: the Hotel Gillow. Constructed in 1875, this Gothic-inspired hotel is both comfortable and elegant, with an affordable daily rate that is hard to resist.
Although Mexico City is a landlocked destination, Mexico's capital offers some of the most stunning views in the country. The Catedral Metropolitana is one of Mexico City's premier landmarks, and the stunning views of this landmark that come with a stay at Hotel Catedral are truly breathtaking. This hotel is ornate and has an old-world atmosphere; best of all, an affordable stay in the hotel puts you in the center of the city's thriving tourist district.
Main Attractions
There is an abundance of attractions and things to do in both destinations, many of which showcase the oldness of each city and the rich history that defined major eras in the city's respective journeys. Mexico City is the capital of Mexico and the most populous city in the Western world; distinctive cultural and historical sights and sounds are everywhere.
Sao Paulo is Brazil's largest city and alongside Rio de Janeiro, is one of the main identifiers of Brazilian culture in the nation. Some popular highlights of Sao Paulo attractions include:
Ibirapuera Park. This park is one of the largest in all of Latin America and offers the most pristine and tranquil outdoor experiences in all of Sao Paulo. Lush landscapes stretch for as far as the eye can see, and you are likely to spend an entire day just soaking up the cultural atmosphere of Sao Paulo in this stunning park.
Teatro Municipal. Sao Paulo's Municipal Theatre is a landmark attraction in downtown Sao Paulo that is distinctive for both its Art Nouveau architectural design and its hosting of popular art exhibits and performances. This attraction provides a great way to experience some of the city's most prized historical sites and to engage in the best of Brazilian art and culture.
Avenida Paulista. Nestled in the northwest corner of the city is the iconic Paulista Avenue. This nearly 2-mile long stretch of the city can be recognized for its vibrant lights and nightlife, in addition to being the city's bustling business, cultural, and political center. No trip to Sao Paulo is complete without a tour of this bustling section of the city.
Mexico City is considered to be the beating heart of the nation of Mexico. This expansive metropolis is a beacon of fast energy mixed with old world distinction and charm. Some major attractions to consider in Mexico City include:
Palacio de Bellas Artes. This unique, ornately-designed cultural center represents the epicenter of the arts in all of Mexico. In what appears to be a luxurious palace straight out of the imagination of Michaelangelo exists a beautiful space to watch a performance of opera, acting, literature, or large varieties of music play out. This iconic symbol of the city is an attraction not to be missed.
Catedral Metropolitana. Completed in 1813, the Catedral Metropolitana is a stunning representation of Spanish architecture and Catholic imagery. Built on the ground that was once worshipped by the Aztecs, this landmark is a major symbol of Mexican culture as well as an iconic symbol of Mexico City. You can easily spend hours touring the eye-popping architecture and historical wonder of this popular attraction.
Take a look at this video for a visual guide to some of Mexico City's best attractions:
Food
Brazilian cuisine offers a unique array of worldly-influenced ingredients and cooking styles. European, Asian, and Latin American cuisine are fused together to great effect in Sao Paulo. The city is overflowing with incredible restaurants but if you wish to taste true authentic Sao Paulo cuisine, a restaurant like Mocoto is a great choice.
This low-key cafe offers a range of dishes and flavors with a casual vibe; if you want to taste what the region has to offer, this is the place to dine.
Mexico City will taste a bit more familiar to American palettes; however, Tex-Mex is nowhere to be found in Mexico's capital city. Authentic Mexican cuisine in its truest form litters the sprawling metropolis, and there are many restaurants to choose from. Corn, rice, beans, various types of meat, and an array of mild to searing hot spices make up the main bulk of Mexico City ingredients.
There are numerous fine dining and casual restaurants to consider, but for the best restaurant in Mexico City that combines both the formal and laidback, Restaurante Nicos is hard to beat. This casual cafe offers the entire range of tastes available in the capital city as well as unique and offbeat pairings that make for an unforgettable dining experience.
Weather
Both Sao Paulo and Mexico City feature vastly different climates. Sao Paulo sits in the Southern hemisphere, which means that January-April are the hottest months of the year. Due to the city's subtropical climate, it matters not the time of year since the weather is either hot or mild, with high humidity year-round.
If you are looking for summertime weather for your vacation, consider booking your trip between January-April. October-December is ideal as this features the mildest temperature extremes of the year. Rainfall is plentiful throughout the year, and make sure to pack and plan accordingly for unexpected thunderstorms.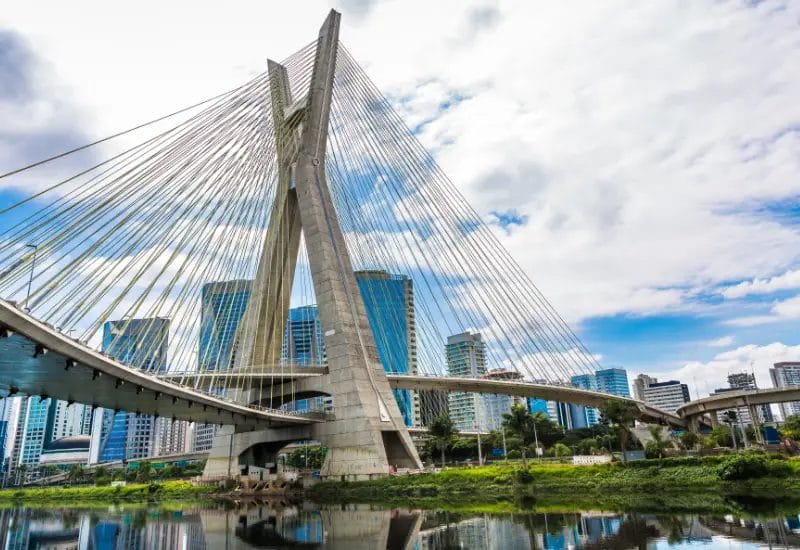 Mexico City is a bit on the opposite end of the meteorological spectrum; rainfall is intermittent, with nearly 8 months out of the year being incredibly dry. Mexico's capital city is consistently dry and warm throughout the year, with no extremes in either hot or cold. The summer months (late June-early September) are the best months to visit in terms of extracurricular activities; however, spring or autumn is the best time in terms of pleasant weather.
Safety
Safety concerns are always a major detail of research that should be undertaken when traveling abroad. When it comes to Sao Paulo and Brazil in general, crime is very common with violent crime (including homicide) being a common daily occurrence in many areas of both Sao Paulo and Rio de Janeiro. This does not mean that you will fall victim to crime, just be sure to avoid walking alone at night or away from major tourist spots; there is safety in numbers.
Avoid drinking unpurified water and steer clear of undercooked meats.
Mexico City can also be dangerous in terms of criminal activity. There is a lower prevalence of violent crime in Mexico City when compared to Sao Paulo; however, theft and fraud are major crimes in the area to be on the lookout for. Always catch a taxi from an official taxi stand. In fact, make sure everything you do is verified and official, including monetary transactions. Mexico City is a beautiful and exciting place, but some basic caution is needed.
Neither city is cause for concern in terms of extreme variations in weather or natural disasters. Therefore, basic caution to avoid criminal activity as you would anywhere else will see that you are perfectly safe throughout your trip.
Transport
One main thing to keep in mind when it comes to both cities is the incredible amounts of traffic and crowds that are a normal part of everyday life. If you do not enjoy walking amongst large groups of people or dealing with congested traffic, you may want to limit your sightseeing to one attraction per day.
Sao Paulo features a public bus line that covers nearly the entire length of the city. As previously mentioned, expect large crowds of people no matter the time of day. A subway system is also available to get from one end of the sprawling city to the other, as are pay services such as taxis and private drivers that will work for a fee. You do not have to worry about getting around Sao Paulo; transportation is everywhere.
Mexico City also offers numerous methods of travel. Uber and taxis are available all hours of the day and night (Mexico City is always on the move). Additionally, special bus lines are available that cater strictly to tourists for a daily or weekly fee; this is a great option if you want to see all parts of the city but cannot decide where to go first.
Customs
Sao Paulo requires a passport to enter the city as well as a 6-month visa signed and validated before your arrival into Brazil. Mexico City is a bit less restrictive, especially if you are traveling from the city's northern neighbor, the United States. All you will need to enter Mexico City is a valid U.S. passport; if you are staying less than six months, you will not need a visa to vacation or temporarily live in Mexico City.
Both cities are fairly lenient when it comes to vacationing.
Conclusion: Mexico City Vs. Sao Paulo
So, which is better for a vacation, Sao Paulo or Mexico City?
Overall costs are simply not too far off when comparing these two cities. Mexico City is slightly cheaper, but the difference is very small. Sao Paulo moves a bit faster and is more vibrant in terms of large crowds–but both cities are incredibly crowded.
It is hard to decide which destination is better; therefore, you will probably find either experience to be culturally-rich and satisfying.