San Juan vs. Havana Vacation: Which Is Better?
If you're looking to escape to a bright, bold, and cosmopolitan city with a Latin flair, you might want to consider a trip to San Juan or Havana. Both cities are a fiesta for the senses in the Caribbean, as they're bursting with a variety of exciting cultural attractions, rich historical sites, and irresistible dishes passed down from generation to generation.
San Juan is better than Havana for a vacation if you want to tour century-old fortresses, experience a vibrant nightlife with a twist of Caribbean charm, and lie out on sun-soaked beaches. However, Havana is better if you love art and enjoy colorful street architecture and salsa dancing at sunset.
| Category | San Juan | Havana |
| --- | --- | --- |
| Cost Range for 1 Week | $1,074 per person | $1,032 per person |
| Transportation | Taxis, shuttle service, public buses, car rentals, Uber | Rental cars, taxis, local bus service, coach bus services |
| Notable Attractions | Old San Juan, Fortaleza Street, Plaza Las Americas, Ocean Park, Condado, Paseo de la Princesa, San Juan National Historic Site, Fiestas de la Calle San Sebastián | Old Havana, El Malecón, El Morro, Museo Nacional de Bellas Artes, Paseo del Prado, Fusterlandia, Miramar, Havana International Jazz Festival, Habanos Cigar Festival |
| Weather | Hot all year round with a slightly 'cooler season' from December to March | Tropical climate with a dry season (December to May) and a wet season (June to November) |
| Food and Drink | Puerto Rican cuisine, seafood, international cuisine, numerous street vendors, lounges, and bars | Cuban cuisine, Caribbean & Latin cuisine, seafood, numerous street vendors, bars, and cafes |
| Activities for Kids | Aqua Adventure, Castillo San Cristobal, Museo del Nino, Parque del Indio, Miramar Food Truck Park, Castillo San Felipe del Morro (El Morro), Museo de Arte de Puerto Rico | Acuario Nacional, Parque La Maestranza, Plaza Vieja, La Cabaña (Fort of Saint Charles), Plaza de la Catedral |
| Nature Attractions | Isla Verde Beach, El Escambrón Beach, La Ventana al Mar, Bosque Urbano de San Patricio, Parque Luis Munoz Marin | Parque Almendares, Playas de Este, Santa María del Mar, Central Park, Havana Forest, Parque John Lennon, Jardin Botanico Nacional |
Overview: Havana Vs. San Juan
San Juan is the capital of the beautiful island of Puerto Rico, which is surrounded by the bright blues and turquoises of the Caribbean; visitors of the city can expect to take many pictures of restored 16th and 17th-century Spanish colonial buildings, and sample the delicious local street food. Meanwhile, Havana is a Cuban city that will sweep tourists back in time for a day of rich art and culture, and a night of passionate salsa dancing.
This article will explore these two cities to decide which destination will give you the best vacation experience.
Cost of Stay
A vacation to San Juan isn't cheap; its location in the Caribbean gives it the ideal tropical weather for a winter getaway, making it higher in demand, especially during the peak tourist season from mid-December to mid-April.
Accommodations, in particular, can easily eat up a large chunk of your budget. The good news is that most of the hotels in the main tourist zones are well worth the money as they are nice quality. The area known as Condado has a good mix of upscale and mid-priced hotels, while the area of Isla Verde is much larger and has a wider range of prices.
When it comes to a vacation in Havana, you can expect costs to be slightly lower. You can keep them even lower by eating and drinking at local spots.
Best Affordable Hotels
Havana has many options when it comes to budget-friendly accommodations.
If you don't mind skipping the hotel experience, staying in a casa particular, Spanish for the term private house, might be the way to stay on budget. You can rent a room from a local's house in the heart of Havana. It will cost you anywhere between 10-30 USD per room, depending on your haggling skills, and if you ask, many of the owners will include complimentary breakfast.
If you want a beachy feel to your island city vacation, San Juan has various cost-efficient lodging options. The pet-friendly, Verdanza Hotel is located in Isla Verde and is only a short walk away from the beach; it offers a nice pool, a variety of dining options, and a central location for a reasonable price per night.
Main Attractions
San Juan and Havana are both cities in the Caribbean known for intertwining the past and the present, and for having colorful historic sites at every turn.
Havana will appeal to travelers who enjoy a European-style vacation. There are plenty of museums, walking tours, and restaurants to take in. One way to have an unforgettable tourist experience is to take a ride in a 1950s Chevrolet car down Havana's streets. Or to stand at the top of Castillo de Los Tres Reyes del Morro, and absorb the beauty of the city below.
If you want a destination with beach access, San Juan is the place to go. You can easily jump into clear blue water from almost any point of the capital. The family-friendly, Balneario El Escambron Beach, is excellent for snorkeling and swimming. Whereas, Ocean Park Beach has vast white sands for sports such as beach volleyball and paddle tennis.
Activities for Kids
Older kids and teens will enjoy walking the streets of Old Havana. They will appreciate the authentic character of the buildings, from the Capitolio Nacional to the Great Theatre of Havana.
For the little ones, a snorkeling tour in San Juan with Aqua Adventure Inc. is an exciting treat! A friendly guide will take you and your kids along a rocky reef searching for colorful fish, seahorses, and squids.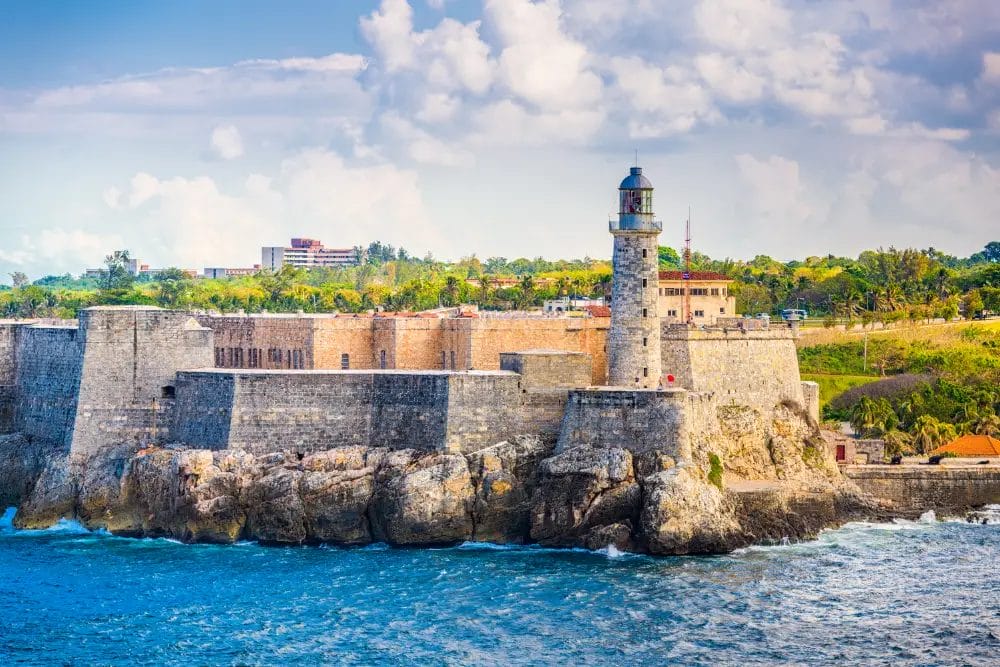 Food and Drink
You will find some of the freshest Latin-inspired dishes in the Caribbean on the streets of San Juan. Walk over to the Miramar Food Truck Park for various culinary creations, from soft tacos to artisanal beers.
Havana has an abundance of restaurants and cafes infused with local flavors that'll pop your taste buds! Visit El Floridita, the famous bar frequented by American novelist Ernest Hemingway, for a culturally rich dining experience.
Weather
The weather in Havana is split into two distinct seasons. The dry season runs from December to May and has warm, sunny days; the wet season, when there's a risk of hurricanes, is from June to mid-December.
San Juan is consistently warm throughout the year, with only minor temperature fluctuations.
Safety
Tourist areas in both cities are considered to be safe. However, visitors must stay alert at all times. Avoid deserted areas at night, and always be aware of your surroundings and belongings.
It is against the law in Cuba to take photographs of the military, police, airport, or other transportation facilities, so avoid taking pictures.
Transportation
The best way to get around in Havana is on foot. It's a highly walkable city. However, you can take buses and taxis to cover more ground. There is a tourist bus called the Habana Bus Tour that runs often and covers main tourist sights.
Similarly, San Juan is great to explore by walking, but you can jump onto an AMA bus at any time or catch an Uber.
Customs
When traveling to Cuba, you'll need a temporary visa known as the Cuba Tourist Visa card, as well as your passport, an application form, your travel plan, a return ticket, and travel health insurance. You can read more about the specific requirements on the Cuban Embassy website.
Conclusion: San Juan Vs. Havana
So there you have it. A rundown of two impressive Caribbean cities that both make for great travel destinations.
We recommend Havana for those travelers who want to be surrounded by history and culture all day long and want to dance and drink all night long.
Meanwhile, San Juan is a great getaway for those who want to experience a historic city, while also having the option to relax on a beach nearby.