San Juan vs. Cancun: Which Is Better for Vacation?
If you're looking for a tropical getaway filled with beach lounging, family-friendly activities, and a hopping nightlife, consider San Juan vs. Cancun as top destination choices! Both cities are known for their majestic beaches, delectable culinary options, and rich cultural sites.
San Juan is better for vacation if you're looking for a Caribbean island experience with exquisite architecture and beautiful weather. A vacation to Cancun is better if you're looking for an all-inclusive resort city with lots of public beaches and shopping centers to enjoy.
| Category | San Juan | Cancun |
| --- | --- | --- |
| Cost Range for 1 Week | $1,074 per person | $1,276 per person |
| Transportation | Taxis, shuttle service, public buses, car rentals, Uber | Taxis, public buses, car rentals, Uber |
| Notable Attractions | Fortaleza Street, Plaza Las Americas, Fiestas de la Calle San Sebastián, El Capitolio, Museum of Contemporary Art of Puerto Rico | El Centro, Zona Hotelera, Cancun Underwater Museum, Xcaret Park, Mercado 28, Avenida Tulum, Parque de las Palapas |
| Weather | Hot all year round with a slightly 'cooler season' from December to March | Semi-tropical with a wet season (May to October) and dry season (November to April) |
| Food and Drink | Puerto Rican cuisine, seafood, international cuisine, numerous street vendors, lounges, and bars | Mexican cuisine, seafood, international cuisine, a variety of restaurants, clubs, and bars |
| Activities for Kids | Aqua Adventure, Museo del Nino, Parque del Indio, Miramar Food Truck Park, Museo de Arte de Puerto Rico | Ventura Water Park, Interactive Aquarium Cancun, Scenic Tower, La Gran Rueda, Planetario Cancun, Museo Maya |
| Nature Attractions | Isla Verde Beach, La Ventana al Mar, Bosque Urbano de San Patricio, Parque Luis Munoz Marin | Isla Contoy, Playa Delfines, El Meco, Playa Tortugas, Coba, Ik Kil, El Rey Archaeological Zone |
Overview: Cancun Vs. San Juan
San Juan is the capital of the stunning island of Puerto Rico, which is located in the Caribbean. Visitors to the city can expect an old-world vibe mixed with a modern twist in dining and nightlife.
Cancun, on the other hand, is a popular resort city in Mexico that offers tourists plenty of exciting water activities to do, a lively culture full of great festivals and celebrations, as well as some of the best beaches to swim in!
This article will explore these two cities to help you decide which destination will give you the best vacation experience.
Cost of Stay
You'll most likely find a place in the Hotel Zone if you choose to vacation in Cancun; there are over 100 hotels and resorts located over miles and miles of gorgeous white-sand that are lapped by some of the warmest waves of the Caribbean!
Since Cancun is a popular tourist city, there are many options when it comes to accommodations. Most hotels in the Hotel Zone are all-inclusive and have a range of packages that suit all kinds of travelers, from budget-friendly to upscale.
A vacation to San Juan leans on the expensive side since its location in the Caribbean gives it the ideal tropical weather for a winter getaway. Accommodations, in particular, can easily eat up a large chunk of your budget if you don't do your research. The good news is that most of the hotels in the main tourist zones are well worth the money as they are nice quality.
The area known as Condado has a good mix of upscale and mid-priced hotels, while the area of Isla Verde is much larger and has a wider range of prices.
Best Affordable Hotels
Cancun has many lodging options that offer great value for less. From luxury beach resorts to budget-friendly hotels to backpacker hostels, you'll be able to find somewhere to stay that meets your needs.
If you're looking for a beachfront, kid-friendly, and all-inclusive hotel, the Cancun Bay Resort offers affordable rates. Guests will enjoy spacious rooms with private terraces, a large swim-up bar, and a laid-back property that is ideal for families.
If you want a lively beach feel to your island city vacation, San Juan has a variety of cost-efficient lodging options. A great pick in the Condado area is the Comfort Inn, which is in a great location, and has tidy rooms and FREE breakfast buffets every morning!
The picturesque, La Playita, is located in Isla Verde and is only a short walk away from two gorgeous beaches. It offers cheerful rooms with an appealing oceanfront restaurant and a FREE continental breakfast.
Main Attractions
San Juan is the place to go if you want out-of-this-world beaches! The family-friendly, Balneario El Escambron Beach, is excellent for snorkeling and swimming. Whereas, Ocean Park Beach has vast white sands for sports such as beach volleyball and paddle tennis.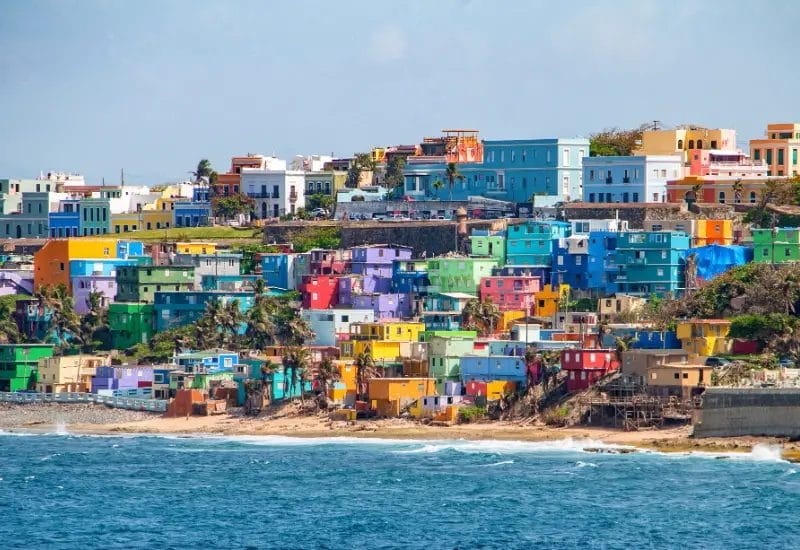 In Cancun, there are many Mayan ruins to explore. Chichen Itza, which was made one, is one of the more popular sites to see, you can tour many pyramids here, including El Castillo.
Another must-see attraction for divers (or snorkelers!) is the Cancun Underwater Museum, the biggest underwater museum in the world. If you're a water enthusiast, you will love to swim through the exotic fauna coupled with intriguing art pieces.
Activities for Kids
In Cancun, it's easy to find some fun excursions to do with little ones. The Interactive Aquarium is a great place to see all sorts of marine life and spend a day with the family in the water! All Ritmo Water Park is great if you're looking for water slides and plenty of outdoor activities!
A snorkeling tour in San Juan with Aqua Adventure Inc. is an exciting treat for kids and teens! A friendly guide will take you and your kids along a rocky reef in search of colorful fish, seahorses, and squids.
Food and Drink
You will find some of the finest international cuisines in the Caribbean on the streets of San Juan. Walk over to the Serafina in Condado for an array of delicious dishes, from melt-in-your-mouth Margherita pizza to the freshest of the fresh tuna tartare.
There are a limited number of oceanfront restaurants in and around the Hotel Zone in Cancun. You can still venture downtown (via taxi) and explore a range of Mexican and international dining options. We recommend El Rinconcito de Puebla for quick service, low prices, and authentic Mexican food.
As a general rule, you should avoid drinking tap water in all areas of Mexico. Bottled water is readily available throughout the country and is generally very affordable.
Weather
San Juan is consistently warm throughout the year, with only minor temperature fluctuations during the 'rainy season,' which lasts from May to October.
The best time to visit Cancun weather-wise is during the peak season, which runs from December to April. Yes, the crowds will be heavier, but you'll experience perfect tropical weather.
Safety
Tourist areas in both cities are considered to be safe. However, visitors must stay alert at all times. Avoid deserted areas at night, and always be aware of your surroundings and belongings.
Transportation
The best way to get around in San Juan is by foot, but you can easily jump onto an AMA bus at any time or catch an Uber.
The best way to get around in Cancun is by bus, but you can also ride a taxi or rent a car; there are private shuttles that will take you from the airport to your hotel.
Conclusion: San Juan vs. Cancun
So which of these sun-filled destinations should you escape to?
We recommend Cancun for travelers looking for an exciting resort city with a flashy nightlife and plenty of beaches to explore.
San Juan is an excellent getaway for those who want to visit a Caribbean island with lots of history, unique street vendors, and a variety of irresistible dining options.
Both cities are great!