San Diego vs. Hawaii: Which Is the Better Vacation?
Deciding between visiting the wonderful city of San Diego vs. Hawaii can be tricky since they are both beautiful travel destinations. However, one is significantly better for traveling if you have the finances to swing it. So which destination is best, Hawaii or San Diego?
Hawaii is the better vacation if you want a fun trip with good weather and warm water. Additionally, the Hawaiian islands have a more laid-back atmosphere and are stunning. The cost is the only drawback, as going to Hawaii is more expensive than going to San Diego.
| Aspect | San Diego | Hawaii |
| --- | --- | --- |
| Cost Range for 1 Week | $587 – $3,152 (source) | $894 – $6,827 (source) |
| Weather | Warm, occasional rain | Constantly warm, occasional snow |
| Cost | Relatively cheap | Costly due to high cost of living |
| Activities | Zoo, Sea World, beaches, fishing, whale watching, art galleries, botanical gardens, museums | Island greenery, ocean activities, cultural experiences, volcano tours, snorkeling, hikes, waterfalls |
| Atmosphere | Relatively laid-back | Laid-back and slow-paced |
| Overall | Great activities, but Hawaii is unique and beautiful with more options. Hawaii is better if you have the finances. | Hawaii is better due to uniqueness, stunning beauty, and abundance of activities. |
In the rest of this article, I will discuss the differences between vacationing in San Diego and Hawaii. I will also go over why one is a significantly better vacation than the other. So if you want to learn more about the difference between the two vacation hot spots, read on.
Vacationing in San Diego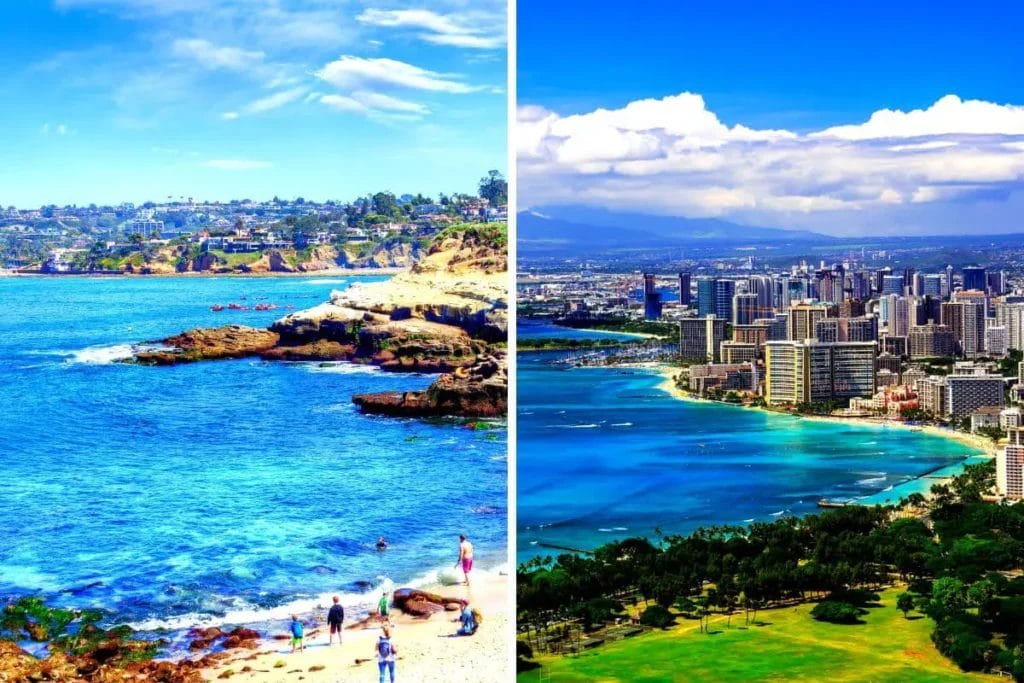 San Diego is a large city that runs along the beach in Southern California. Additionally, San Diego is the second–largest city in California but is still considered relatively laid back compared to the bustling city of Los Angeles.
This city is known for its:
Fair climate.
Beautiful beaches.
Central location.
Active city life.
Sea World.
When vacationing in San Diego, there is no shortage of fun things to do. However, it's important to note that the ocean can sometimes be frigid during the winter and, therefore, less pleasant to swim in.
That being said, you can always take a fishing charter out and even go whale watching during the months of December-May. There are also excellent restaurants, shopping, and clubs to explore during your stay in the city.
What To Expect From the Weather
When planning a vacation to San Diago, it's essential to understand what weather to expect. San Diago and most of California have a reasonably warm climate throughout the year. However, temperatures typically stay around 60°F (16°C) during the day and drop as low as 40°F (4°C) at night during the coldest months.
So what exactly should you expect during each season when vacationing in San Diego?
Summer
Summer in San Diego is typically pleasant and warm. However, from July-September, the city experiences a monsoon season. During these months, there is an increased frequency of rainfall.
However, the rain is often a welcome surprise that aids in combating the summer heat. Generally, San Diego temperatures range from 70-80°F (21-27°C) in the summer.
Fall
Fall starts towards the end of September in San Diego, and there are many festivals/activities to attend during these months. During autumn, the city's temperature varies and typically hovers around 70°F (21°C). You should note that September tends to be one of the warmest months of the year.
Winter
The Winter months in this large city aren't that cold. Typically the coldest weather you will experience is a low of 60°F (16°C). The winter months aren't great for swimming in the ocean as the water maintains a much colder temperature. However, the winter is prime whale watching time.
Spring
During the spring, temperatures tend to dip at their lowest at about 54°F (12°C) but also reach as high as 69°F (20°C). During the spring, you can expect colorful flowers to emerge and sweep through the city as the temperatures transition to summer.
General Cost for Vacationing in San Diego
Another essential factor is the cost of visiting this beautiful city. Compared to Hawaii, California is relatively cheap. When vacationing in San Diego, you should expect to spend about $180 daily. However, this number can significantly vary based on how luxurious you wish to go or if you are sticking to a tight budget.
Things To Do in San Diego
Since San Diego is such a large city, there is no shortage of fun activities and scenic sights. The city is a beautiful blend of fast-paced city life and relaxation. Of course, if you want more nature, you can always make your way to the beach, and if city exploration is your style, you are a quick drive to that.
Fun things to do in San Diego:
Visit the San Diego Zoo.
Stop by SeaWorld.
Play at the beach.
Go whale watching.
Take a deep sea fishing charter.
Frequent some of the many art galleries or studios.
Explore a few botanical gardens.
Visit some of the many historical museums.
The possibilities are truly endless. Plus, since San Diago is such a large city, there are so many unique dining experiences you can easily work into your trip.
Vacationing in Hawaii
Hawaii has a unique atmosphere compared to anywhere else in the US. The islands are very laid-back and slow-paced. The landscape is also out of this world, and the ocean is the most stunning shade of blue. Hawaii truly is a tropical paradise and the climate throughout the year stays relatively constant.
Hawaii is known for:
Stunning island greenery.
Beautiful ocean and snorkeling opportunities.
Unique cultural experiences.
Amazing animal encounters.
Tours of volcanoes.
Snorkeling with sea turtles.
Beautiful jungle hikes.
Waterfalls.
Though Hawaii does have some larger cities like Honolulu, it's primarily known for its outdoorsy attractions. Each Hawaiian island is different, but all have a variety of fun hikes and water activities for you to experience. So Hawaii is undoubtedly an excellent option for those who like to explore.
What To Expect From the Weather
As I previously stated, the weather in Hawaii is pretty constant and is generally warm. The great weather means the islands only have two seasons, winter and summer. However, Hawaii does also experience a monsoon season, and in addition, the islands sometimes experience occasional snow on the peaks of some of the islands (though this is rare).
Typically the temperature doesn't drop below 60°F (15°C) throughout the year, and Hawaii maintains a higher humidity level. These warm temps and humid air aid in the spectacular plant growth you see throughout the islands.
Summer
The summer months in Hawaii are considered May-October. These are the warmest times of the year and are also the peak tourist season. You can expect daily temperatures around 84°F (28.9°C) and nightly temps as low as 70°F (21.1°C).
Winter
Winter in Hawaii runs from November-April. The temperature stays quite similar to the summer months during the winter months. However, some of the islands receive occasional snow and mild temperature drops during the night time.
General Cost for Vacationing in Hawaii
Vacationing in Hawaii can be expensive. The cost of living on the islands is relatively high; therefore, it can be costly to visit. You should expect to pay about $280 daily to visit any Hawaiian islands. However, you can certainly spend less if you want to stick to a strict budget.
Things To Do in Hawaii
Hawaii is known for its beautiful island greenery and some of its many beautiful hikes. However, there are many fun things to do on the islands.
Fun things to do while in Hawaii:
Visit Diamond Head State Monument.
Snorkel with sea turtles and colorful fish.
Explore the road to Hana.
Swim on the black pebble beach.
Book a fishing charter.
Learn to surf.
Take a cultural tour of the island.
Explore traditional cuisine.
Each island offers a variety of things to do. Of course, some islands have more to do than others, but each one is breathtaking.
Hawaii vs. San Diego: Which Vacation Spot Is Better
Hawaii is the better vacation spot since it is so unique and beautiful. Only in Hawaii can you experience such a laid-back feeling while also being able to explore.
Additionally, the islands are geared toward tourism, so there is always plenty to do. Plus, experiencing Hawaii is a bucket list vacation.
Conclusion: San Diego vs. Hawaii
San Diego and Hawaii are both fun vacation destination spots. However, one is certainly much more fun than the other.
Hawaii is the best vacation if you have the finances since it's such a magical place. In addition, Hawaii has far more things to do and a more vacation-friendly atmosphere.