Rome vs. Milan: Which Is Better for Vacation?
Italy is a European nation that has captured the hearts and minds of travelers for centuries. Rome and Milan are two Italian cities that blend old-world romanticism with stunning views and unique cultural encounters that simply must be seen to be believed.
Rome is situated in the political and business-centric central region of Italy, and Milan serves as the epicenter of the more rural and rustic Northern region of the country, so which is better for a vacation?
Rome undoubtedly receives the most visits from foreigners every year and is one of the oldest and most culturally iconic cities in Europe. Milan is a thriving business district of Italy, as well as the nation's premier destination for the arts and fashion.
| Category | Rome | Milan |
| --- | --- | --- |
| Cost Per Person (one week) | $1,640 | $1,540 |
| Main Attractions | Vatican City, The Colosseum, Roman Forum, The Sistine Chapel, Trevi Fountain, Galleria Borghese, The Pantheon | Milan Cathedral, Galleria Vittorio Emanuele II, Santa Maria Delle Grazie, Castello Sforzesco, La Scala Opera, Brera District |
| Food | Roman cuisine features the most authentic and quintessential Italian dishes known all over the world in their truest form | Milanese cuisine represents the fresh and agricultural cuisine of Northern Italy with less of a focus on olive oil and tomatoes in favor of more robust and earthy flavors |
| Weather | Rome features four distinct seasons with moderately high humidity throughout the year | Milan features four distinct seasons with warm and humid summers and cold and foggy winters |
| Safety | Rome features a generally low crime rate with low statistics for violent crime; petty theft and fraud is common and travelers should exercise caution | Milan features a generally low crime rate with low statistics for violent crime; petty theft and fraud is common and travelers should exercise caution |
| Transportation | Buses, subways, trains, and streetcars are available in Rome and can be utilized with a transport card that is inexpensive; taxis and paid rides are also plentiful | Buses, subways, and tram are available in Milan, with walking and bicycling being a popular method of transport around the city |
| Customs | A valid passport is required to enter Italy; tourists staying less than 90 days will not need a visa but must complete and sign a statement of presence | A valid passport is required to enter Italy; tourists staying less than 90 days will not need a visa but must complete and sign a statement of presence |
Rome is one of the oldest cities in Europe and one of the most influential in world history. Milan is Italy's fashion and business capital with an equally striking art scene characterized by stunning architecture representing centuries of distinctive history. Both cities are influential Italian destinations, and this article will explore both cities through a range of categories to discover which is better for a vacation.
Cost of Stay
Rome is a European destination that has something for virtually anybody: stunning views, distinct cultural attractions, history aficionados, or the ultra-rich. There is no shortage of things to do in one of Europe's oldest cities; therefore, the associated costs for a standard one-week vacation are going to reflect this as well as find a middle ground for more visitors to enjoy the city.
A one-week vacation in Rome will cost roughly $1,640. This includes a stay at one of the city's plentiful and modestly-priced hotels as well as a rough estimate of how much you can expect to spend in one day for sightseeing and dining. Of course, the price can skyrocket astronomically if you want to experience this influential city's more elegant and glamorous side.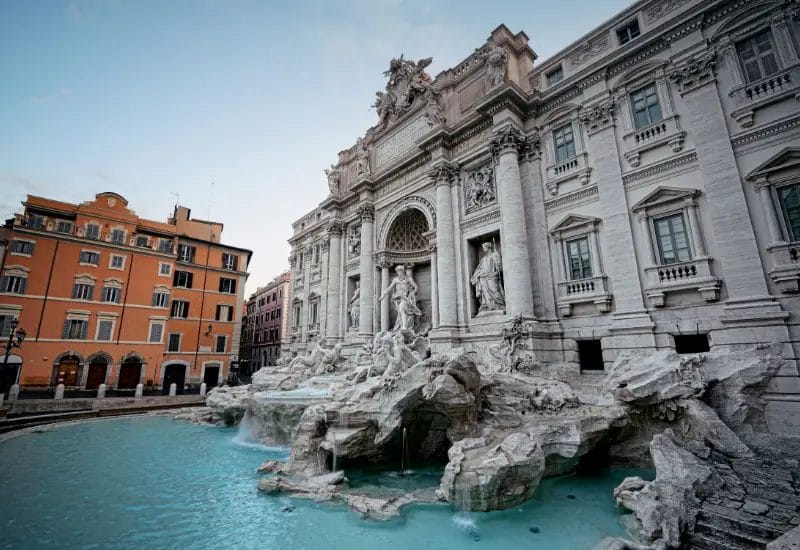 If you choose to eat at fine dining establishments, you can easily add a couple more thousand dollars to your budget. If you only want to save an elegant, fine dining experience in a nice sit-down restaurant only once per day (preferably the evening), then you can find a somewhat less-expensive middle ground with the overall costs of staying in Rome.
Transportation can also be costly; therefore, walking and public transportation should be utilized as often as possible.
Milan is a bit smaller than Italy's capital city Rome, yet the undeniable unique distinction that the city offers to both its residents and visitors is truly all it's own. You will probably find that Milan is a bit less hectic and more laid back than what you would experience in Rome. This city is the most popular within Italy's northern region, which is characterized by an arid atmosphere and a bustling business and fashion scene that gives Milan it's world-renowned reputation.
A one-week vacation in Milan will cost roughly $1,540. This is only slightly less than what you would spend in Rome. Milan has a ritzier and more glittering facade than Rome as a whole, which can be attributed to Milan's distinction of being the headquarters for Italy's renowned fashion industry; this alone makes the city expensive. But you can find many of the best attributes of Italian cuisine and culture in Milan as well.
Therefore, the price is similar.
Affordable Hotel Options
You may have gotten the vibe that both Rome and Milan are exclusively for the wealthy; this isn't the slightest bit true. Any vacationer can experience the beauty and wonder of both of these swank European cities, no matter if your funds are unlimited or you are on a tight budget. The best way to save money is to consider staying in an affordable and moderately-priced hotel, and both cities offer many options in this category.
Staying at a bed and breakfast is a great way to experience a classic Roman home with a reduction in the price you would find at a hotel. Relias Giulia is located five minutes away from the Campo de' Fiori district and offers a traditional Italian setting with some of the modern comforts that are expected of lodgers, despite the old-world decor. In addition to standard amenities, free breakfast is served every morning, which saves on daily expenses.
If hotels are more your style, wouldn't it be amazing to stay right at the edge of Vatican City itself? The Inn Urbe Vaticano is located directly inside of Rome's historic city center and a brief walk into Vatican City. This hotel has stood for nearly a century and comes with an affordable price tag for such an attractive and popular location within Rome. Amenities include free wifi, an Italian breakfast, and a complimentary tablet in your room.
Milan has a bit of a slower vibe than what you find in Rome, and there are many affordable hotels to choose from as well to match this quieter tone. The BioCity Hotel is a modern and hip affordable hotel located near Milan's Centrale Station. Organic and eco-friendly are the main themes of this unique hotel. Breakfast is served daily, and some rooms are available with a jacuzzi and a balcony with stunning city views for a special rate.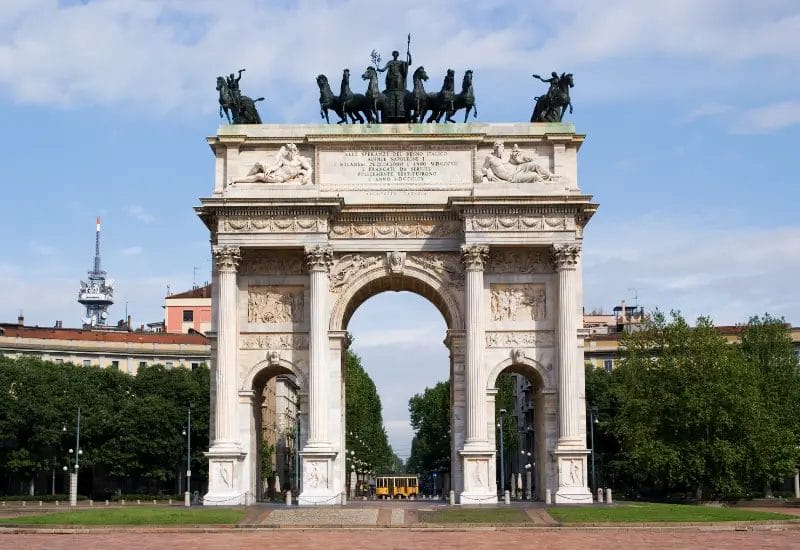 The eastern side of the city of Milan is a bit quieter and more laid back, which is exactly the kind of atmosphere you can expect to find at Hotel Pavone. This modest and standard hotel is a far cry from some of Milan's more extravagant lodging options, but the amazing customer service and comfortable accommodations at this quaint hotel are excellent based on the modest price. An on-site bar and free breakfast are the standout amenities available.
Main Attractions
Something you may notice about Rome and Milan are the similarities in each city's overall attractions–the old-world architecture. If you are looking for luxurious resorts and interactive attractions, these cities may not be the style you would appreciate. Romanticism and historical sites are what you can expect to find, and both cities have some of the most distinct historical attractions in all of Europe.
Let's take a look at each city's main attractions.
Rome Attractions
Vatican City. Nestled inside of Rome's city center is one of the world's oldest and smallest countries, Vatican City. The official capital of the worldwide Catholic Church and the home and office of His Holiness the Pope, a tour of Vatican City, is a must for anybody wishing to visit the most important places in Europe. The beauty of St. Peter's Basilica and Apostolic Palace must be experienced to be believed.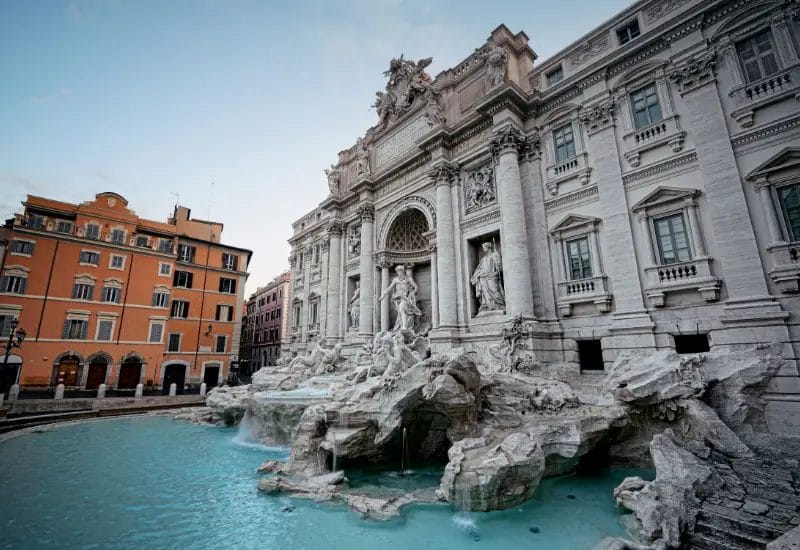 Galleria Borghese. There are many art galleries throughout Rome but if you can visit only one, choose the Galleria Borghese. This beautiful art gallery houses iconic statues of sculptor Gian Lorenzo Bernini, an artist famed for his romantic molds of the human form. Be sure to make reservations if you want to tour this popular attraction, which is also located in one of Rome's most pristine areas.
Take a look at this video to see some of Rome's main attractions in more detail:
Milan Attractions
Milan Cathedral. Gothic architecture is a hallmark of some of Europe's most popular buildings, and the Milan Cathedral is one of the most recognizable structures in Milan, as well as one of the most iconic examples of Neoclassical architecture. The cathedral took nearly 600 years to completely finish, and a tour of this attraction is somewhat of a required prerequisite if you ever visit Northern Italy.
Food
Italian cuisine sometimes unfairly earns a reputation as simply pasta and pizza dishes. The reality is, authentic Italian food is regional-based throughout Italy, with each area of the nation possessing its own unique and flavorful array of ingredients and dishes. The cuisine of Northern Italy is more rustic and bold than what may be found in Southern Italy. Therefore, both Rome and Italy have different types of Italian cuisine to offer visitors.
Let's take a look at some of the best restaurants in each city.
Roman Cuisine
Armando al Pantheon. This restaurant strikes the right balance between both elegance and traditional family dining in Rome's central district. Both seasonal offerings and traditional Roman favorites are offered in addition to a superb wine list that complements each meal. This restaurant has a local vibe and is a great way to experience traditional Roman cuisine in a setting that doesn't make you feel like a tourist.
Pierluigi. Dining al-fresco (outdoors) is a favorite pastime of many Roman locals, and Pierluigi offers a quintessential Italian eating experience with its cobbled streets and nice views of the wider city. The menu specializes in seafood offerings, with additional menu items that prioritize local and fresh ingredients made with the signature cooking styles that characterize Roman cuisine.
Roscioli. This restaurant may not seem like a restaurant when you walk through the doors; that's because Roscioli is essentially a food mart and deli/bakery that also offers its patrons a dine-in option. Foie gras, anchovies on buttered toast, classic Italian fare, and quality cuts of Italian-cured meats are all available in this unconventional eatery. You can order and go back to your hotel or dine in the quaint and cozy eating sections.
Milanese Cuisine
Pescaria. The cuisine of Milan is a bit less tangy than what you would find in Rome or Venice, and a restaurant like Pescaria is a fine example of the regional flavor. This small eatery is known for its seafood sandwiches that combine fresh seafood with traditional Italian ingredients like pesto and many blends of cheeses. The sandwiches are unique and delicious, and the intimate setting is alive with Milanese culture.
Langosteria. This restaurant also offers regional seafood selections in a more upscale, fine dining environment that also has a laid-back atmosphere, a combination that is hard to find. Langosteria offers classic seafood like king crab, regional fish, and lobster that is paired with delicious wines. Most of the seafood is sourced from the Mediterranean waters off of Sicily.
Ratana. Northern Italy is known for its heart and rich dishes that offer a more bold and rustic taste distinct from Southern Italy, and Ratana offers a great way to experience Italian cuisine that shifts away from pasta and pizza thinking. Dishes like saffron risotto with braised veal shank and a range of cheeses that are sweeter in flavor make this restaurant a standout option in a sea of restaurants throughout Milan.
Weather
The climate of Rome is characterized by a Mediterranean-type climate, which means that the spring and summer are typically dry and warm (not hot), and the fall and winter are more humid and cold. The sun's rays shine brightly across the Roman landscape, and you typically do not have to worry about drastic shifts in weather patterns; Rome is seasonal. No weather extremes really occur, but earthquakes are a possibility in Rome.
The climate of Milan is a bit different than what is felt in Rome. Milan is shielded to its north by the Alps, which prevent some of the more dry and cold conditions felt by the rest of Northern Italy. Spring is warm and humid, and the summer is also humid with generally hot (but tolerable) weather. Fall and winter can get cool to cold, and the humidity turns into fog, especially during the autumn months.
Both cities are about the same in terms of overall weather patterns, but it does get a bit hotter in Milan during the summer season.
Safety
Rome does experience crime, and some of it is targeted at tourists. With this being said, Rome is not an inherently dangerous city. The biggest type of crime against tourists is petty theft, mostly in the form of pickpocketing. Be sure to watch your belongings and try not to stand out. The outskirts of Rome (along the city edges) do feature some potentially dangerous areas. Therefore, these areas should be avoided, especially if you are alone at night.
Milan is about the same as Rome in terms of the kind of crime that occurs–petty theft. Pickpocketing and possible robbery can occur; however, this is rare in areas that attract a lot of tourists due to a strong police presence.
Like Rome, the outskirts of Milan should be avoided at all costs because these neighborhoods do feature crime, including violent crime. If you are mindful of your surroundings, you should be perfectly fine when visiting Milan.
Natural disasters are somewhat rare in both cities. Rome is prone to experience earthquakes due to its proximity to active volcanoes to the south of the city. Volcanic eruptions have also occurred within the last century; however, this is a rare occurrence, and earthquakes are much more probable.
Transportation
There are many options for transportation when in Rome. With this in mind, there is also a huge popularity with bicycling and even walking; therefore, you can feel free to walk or cycle throughout many of the city's popular areas. Buses and taxis are plentiful throughout the city, but the most popular form of transport is the Metropolitana. This underground subway system runs three times a day and will connect you to many different locations throughout the city.
Passes can be purchased in 24, 48, and 72-hour increments in most shops throughout the city or, you can purchase a Roma Pass, which allows you to book 3 days worth of transportation and other reservations for various attractions all on one card.
Transportation in Milan is similar to what you will find in Rome. Again, walking and bicycling are highly popular in Milan, as they are throughout Italy as a whole. Many attractions in Milan are clustered together, which makes this more feasible. Taxis and buses are also available. The most popular public transportation in Milan is the ATM, which is a collection of subways, buses, and trams that connect to points all over the city.
Taxis can become quite expensive in either city; therefore, using public transportation or just walking as far and as much as you can will save you a great deal of money.
Customs
Traveling to Italy from the United States is an easy process due to the lighter requirements to spend a vacation anywhere in the country. All you need to vacation in Italy is a valid U.S. passport; there are no requirements in terms of obtaining a visa. As long as your stay is 90 days or under, you do not have to worry about getting a visa. Border authorities will ask that you state your reason for entering the country.
Be advised that if you are a U.S. resident and have a permanent resident card or a visa, you will have to apply for and obtain a visa to enter Italy. Obtaining a visa is not difficult and only requires that you fill out the application form and provide a bank statement from the last three months as well as a photo I.D. You will also need to explain your travel statements and show proof of where you will be staying while vacationing in Italy.
Everybody wants to experience Italy at some point in their lives, and thankfully, the customs arrangements for doing so reflect this.
Conclusion: Milan vs. Rome
So, is Rome or Milan a better choice for a vacation?
Both cities have a similar vibe and share many of the same cultural customs. Additionally, both cities have similar attractions, with decent weather and distinctive cuisine to offer. Milan is only slightly less expensive for a vacation, but the sheer size and historical importance of Rome is hard to deny.
If this is your very first trip to Italy, it will likely be more exciting to vacation in Rome your first time.