5 Romantic Beaches for Couples in Turks and Caicos
Turks and Caicos, a tropical paradise renowned for its pristine beaches, offers a haven of romance for couples seeking an intimate getaway. Here are 5 of the most romantic beaches for couples in Turks and Caicos:
Pelican Beach
Sapodilla Bay
Grace Bay Beach
Malcolm Beach
Half Moon Bay
Here's why…
From the secluded sanctuary of Pelican Beach on North Caicos to the tranquil setting of Sapodilla Bay on Providenciales, these romantic beaches captivate with their natural beauty and idyllic charm.
Grace Bay Beach, with its luxury resorts and sunset strolls, beckons couples to indulge in a perfect blend of opulence and nature, while Malcolm Beach and Half Moon Bay invite seclusion and exploration amidst breathtaking scenery.
If you're short on time (or hate reading), here's a table highlighting the most romantic beaches in Turks and Caicos, along with key features and reasons to visit:
| Beach | Location | Key Features | Reasons to Visit |
| --- | --- | --- | --- |
| Pelican Beach | North Caicos | Intimate seclusion, stunning views, untouched paradise | Quiet retreat, breathtaking sunrise, serene beach experience |
| Sapodilla Bay | Providenciales | Tranquil setting, calm waters, picturesque sunset | Peaceful immersion, cozy picnics, shared silence |
| Grace Bay Beach | Providenciales | Luxury resorts, pristine beauty, vibrant coral reefs | Opulent experience, sunset strolls, candlelit dinners |
| Malcolm Beach | Providenciales | Tranquility, privacy, diverse marine habitat | Secluded sanctuary, turquoise sea, intimate bond |
| Half Moon Bay | Water Cay | Crystal-clear waters, soft white sands, picturesque lagoon | Romantic escape, shared exploration, natural beauty |
1. Pelican Beach: Intimate Seclusion and Stunning Views
Set on the tranquil island of North Caicos, Pelican Beach is an untouched sanctuary, perfect for couples yearning for quiet seclusion. The beach offers a peaceful retreat, well away from bustling tourist hubs. As you walk on the powdery white sand, you'll feel as if you've stepped into an uncharted paradise. Let the rhythm of the azure waves lull you into a serene state as you enjoy a truly intimate beach experience.
Beyond its quiet allure, Pelican Beach is also a stage for the grandeur of nature's performances. Here, couples have the unique opportunity to witness a breathtaking sunrise together, where the dawn sky dances with hues of rose and gold. This shared spectacle is certain to etch a romantic memory into the fabric of your relationship, one that embodies the awe-inspiring beauty of Turks and Caicos.
2. Sapodilla Bay: Romance in a Tranquil Setting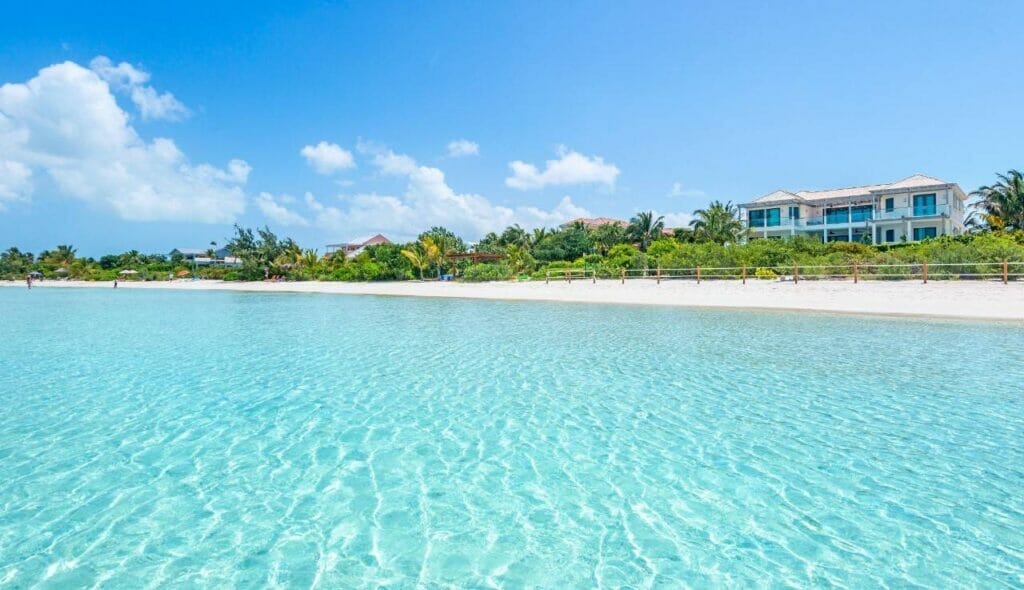 Sapodilla Bay is a serene refuge nestled on the island of Providenciales. Known for its calm, shallow waters, this bay is the perfect spot for couples to immerse themselves in the tranquility of nature. It's an excellent choice for a gentle swim or a languid float, soaking in the sun and each other's company. Let the simplicity of the setting stir your senses, drawing you closer in shared silence.
As day gives way to dusk, Sapodilla Bay transitions into a magical spectacle. The sky, a canvas of twilight hues, paints a dreamlike scene that breathes romance into the air. With the setting sun casting a golden glow on the tranquil bay, enjoy a cozy picnic on the sand, creating moments of shared laughter and love, bound to strengthen your bond.
3. Grace Bay Beach: Sunset Strolls and Luxury Resorts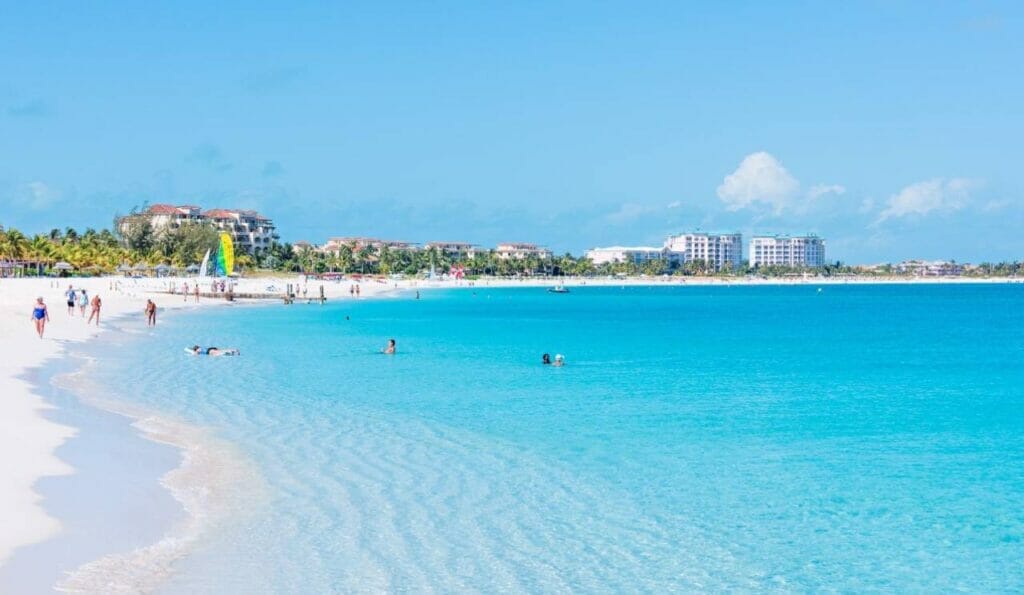 Turks and Caicos boast a gem that has been recognized globally – Grace Bay Beach. This slice of paradise blends pristine natural beauty with a touch of luxury, offering couples an ideal setting for a romantic retreat. The beach is lined with upscale resorts, providing all the amenities for a comfortable and lavish stay. Snorkel through the vibrant coral reefs, exploring the thriving marine life hand-in-hand with your partner.
As twilight approaches, the soft light transforms Grace Bay Beach into a haven for romance. The setting sun paints the horizon in vibrant colors, casting a soft glow on the beachfront, making it an idyllic location for an evening stroll. Following your walk, savor a candlelit dinner at one of the nearby restaurants, indulging in fresh seafood and local delicacies as the stars twinkle above. This combination of luxury and nature adds an extra layer of romance to your Turks and Caicos experience.
4. Malcolm Beach: Serene Beauty and Privacy
Malcolm Beach, known for its tranquility and privacy, is an off-the-beaten-path treasure that offers couples a secluded sanctuary. This beach's natural beauty remains undisturbed, providing a peaceful retreat away from the crowds. Marvel at the turquoise sea that is peppered with coral reefs, creating a diverse marine habitat ready to be explored.
An aura of quietude hangs over Malcolm Beach, interrupted only by the symphony of waves lapping at the shore. This silent melody seems as if it was composed solely for the two of you, providing a soundtrack to your shared moments. Dive into the serenity, allowing the seclusion to bring you closer together, fostering an intimate bond that is nurtured by the beauty of Turks and Caicos.
5. Half Moon Bay: A Romantic Escape in Nature's Embrace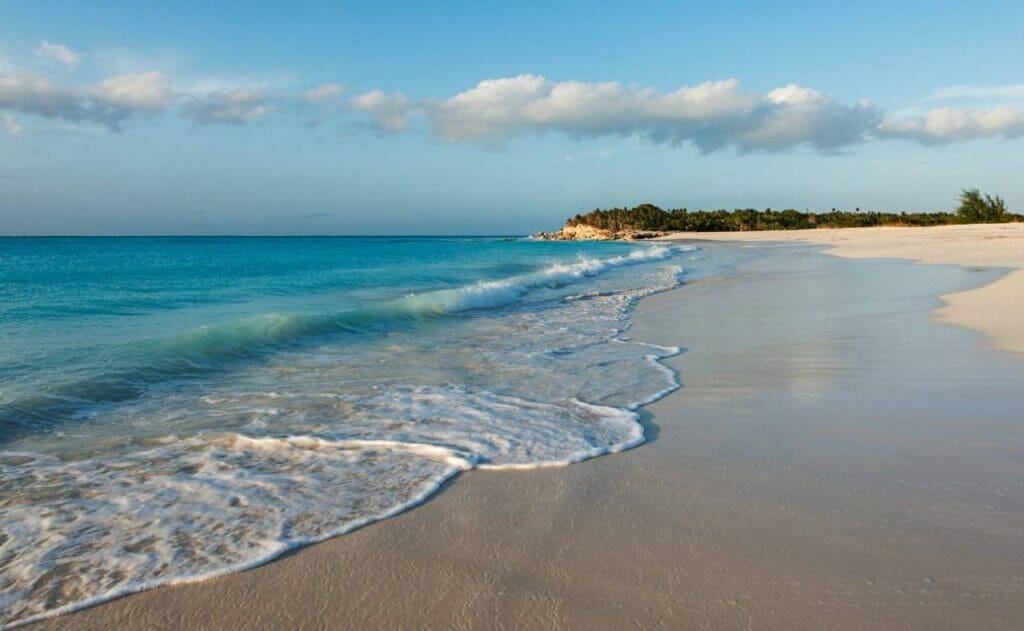 Our journey concludes with Half Moon Bay, a picturesque lagoon nestled between the uninhabited islands of Water Cay and Little Water Cay. Shaped like a crescent moon, the beach is known for its crystal-clear shallow waters and soft white sands. This natural marvel offers couples a chance to explore sandbars and tidal pools hand-in-hand, creating shared experiences that will remain etched in your hearts.
Half Moon Bay's mesmerizing beauty offers couples a surreal romantic escape. As the rustling palm leaves serenade you, take a moment to appreciate the rhythmic murmur of the ocean. This idyllic backdrop serves as the perfect setting to create timeless memories. Embark on this journey together, lost in the splendor of nature's embrace, as you discover the many charms of Turks and Caicos.
[bONUS] This is the Best Time to Plan Your Romantic Turks and Caicos Getaway
When planning a romantic getaway to Turks and Caicos, it's essential to consider the best time to visit these charming islands. The islands enjoy a tropical climate, meaning they're warm year-round, but there are still factors that could impact your beach experience.
From December to April, Turks and Caicos experience their 'high season.' The weather during this period is typically warm, with average highs in the 80s (°F), and the islands are at their busiest. The azure waters remain calm and clear, perfect for swimming, snorkeling, or just basking in the sun. This period coincides with North America's winter, making it a popular escape for those seeking a respite from the cold. However, keep in mind that accommodation rates tend to be higher during this peak season.
If you and your partner don't mind a bit of heat and want to avoid larger crowds, consider visiting between May and November, the 'low season.' Although this period falls within the Atlantic hurricane season, storms are typically rare, and there's still plenty of sunshine to enjoy the beaches. The islands are quieter during these months, and you'll likely have more of the beaches to yourselves, adding to the romance. Additionally, hotel rates tend to be lower, offering better value for your stay.
Regardless of when you choose to visit, Turks and Caicos' romantic beaches are bound to provide an unforgettable backdrop for your trip, creating memories that will last a lifetime.
FAQ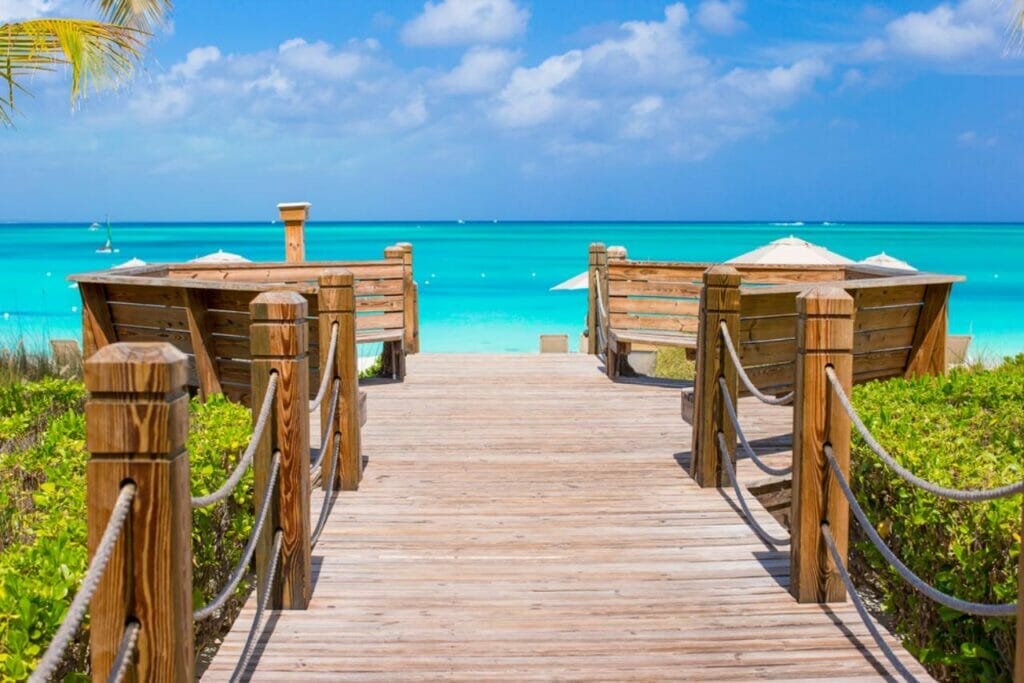 Is Beaches Turks and Caicos good for couples?
While Beaches Turks and Caicos is primarily known for being a family-friendly resort, it also offers amenities and services that can cater to couples. The resort provides adults-only areas, romantic dining options, couples' spa treatments, and a range of activities for couples to enjoy together. However, it's worth noting that Beaches is a larger, more bustling resort, and couples seeking a quieter, more intimate setting may prefer other adult-focused resorts in Turks and Caicos.
Is Turks and Caicos for couples?
Yes, Turks and Caicos can be an excellent destination for couples. The islands offer stunning natural beauty, pristine beaches, and a peaceful atmosphere, making it an ideal setting for a romantic getaway. There are luxurious resorts that provide couples with privacy, relaxation, and tailored experiences. Couples can indulge in activities such as sunset cruises, private beach dinners, snorkeling excursions, and leisurely walks along the beach, creating lasting memories in this idyllic Caribbean paradise.
Which part of Turks and Caicos has the best beach?
Grace Bay Beach, located on the island of Providenciales in Turks and Caicos, is widely considered to have the best beach in the region. Its turquoise waters and soft, powdery white sand stretch for approximately 12 miles, providing a picturesque backdrop for relaxation and water activities. Grace Bay Beach offers a perfect combination of natural beauty and amenities, with luxury resorts, water sports facilities, and dining options within easy reach, making it a popular choice for beach lovers.