Romantic Bahamas Getaways (2023 Guide)
Prepare to embark on a love-filled adventure as you and your significant other dive into a blissful escape to paradise. The Bahamas, a tropical haven boasting sun-kissed beaches and crystal-clear waters, beckons you to discover its top romantic destinations for couples. The Travel Tips Guide to romantic Bahamas getaways has you covered…
From the vibrant culture of Nassau to the secluded serenity of the Exumas, let this article be your trusted guide as you navigate a journey of breathtaking beauty, intimate hideaways, and unforgettable experiences.
Ignite the flames of passion and create cherished memories in the idyllic escapes that make the Bahamas the perfect backdrop for your romantic dreams. Get ready to fall head over heels in love all over again!
Romantic Resorts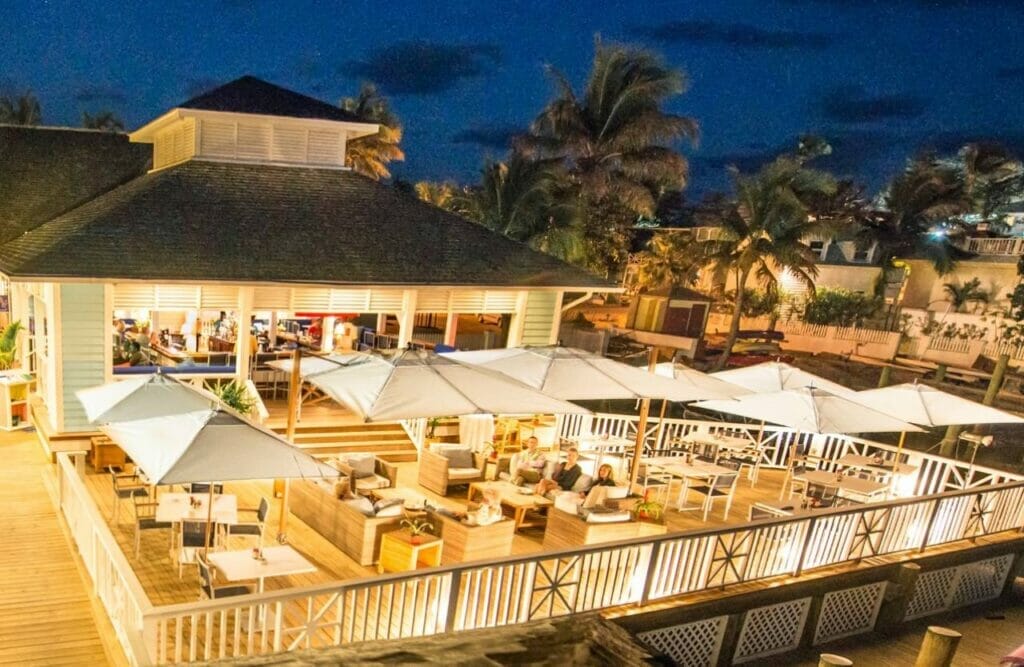 Nothing sets the tone for a romantic Bahamas getaway quite like checking into a cozy, couples-oriented resort. One of the top contenders is the Sandals Royal Bahamian, located in Nassau. Famous for its offshore island, the resort offers the perfect blend of relaxation and adventure. Couples can indulge in spa treatments, dine in candlelit restaurants, and end the day with a slow dance to live music. And, let's not forget, each room is a realm of comfort with a stunning ocean view.
If you crave a more intimate setting, Kamalame Cay in Andros is a must-visit. This private island resort, strewn with colorful tropical flowers and whispering palm trees, oozes seclusion. The suites and villas are dotted along the island, offering utmost privacy. Imagine waking up to the sound of waves, a refreshing dip in your private pool, and breakfast in bed, Bahamian style!
Must-Try Romantic Resorts
The Cove Eleuthera: Nestled on a secluded stretch of pink sand beach, this boutique resort offers a serene and romantic escape. Couples can enjoy luxurious oceanfront suites, private verandas, and breathtaking views of the Caribbean Sea. The resort's intimate atmosphere, combined with personalized service, creates a truly romantic experience.
One&Only Ocean Club: Located on Paradise Island, this elegant resort exudes luxury and romance. Couples can relax in spacious rooms and suites with stunning ocean views, indulge in gourmet dining at world-class restaurants, and enjoy private beach access. The resort also offers couples massages and romantic sunset cruises for a truly unforgettable experience.
The Dunmore: Situated on Harbour Island, The Dunmore is a charming and intimate resort perfect for couples seeking a romantic getaway. The resort features beautiful cottages and suites with private patios, a pristine beach, and a poolside restaurant serving delicious cuisine. Couples can take leisurely walks along the pink sand beach or explore the island's quaint town and local shops.
Valentines Resort & Marina: Located on the tranquil island of Harbour Island, Valentines Resort & Marina offers a romantic retreat with its luxurious accommodations and picturesque setting. Couples can relax in spacious suites with private balconies overlooking the marina or indulge in a candlelit dinner at the resort's waterfront restaurant. The resort also offers activities such as snorkeling, diving, and boat excursions for adventurous couples.
The Ocean Club, A Four Seasons Resort: Situated on Paradise Island, The Ocean Club offers a luxurious and romantic experience for couples. The resort features elegant rooms and suites with private balconies or patios, a stunning Versailles-inspired garden, and a pristine beach. Couples can enjoy gourmet dining, rejuvenating spa treatments, and romantic walks along the beach at sunset.
Couples Activities
The Bahamas is teeming with activities that will bring you and your partner closer while feeding your adventurous spirit. Dive into the mystical world beneath the turquoise waters with a scuba diving or snorkeling trip. The Bahamas' vibrant coral reefs and mysterious shipwrecks offer a dazzling spectacle that you'll remember for a lifetime.
For couples who share a love for wildlife, a visit to the Exumas, home to the famous swimming pigs, is a must. Kayak in the serene waters, spot iguanas on the beach, and yes, swim with those adorable pigs! If you're lucky, you might even catch a glimpse of nurse sharks on Compass Cay. On the more relaxing side, a sunset cruise offers a wonderfully romantic experience. As the sky paints a masterpiece of colors, enjoy the tranquility and the intimacy of the moment.
Explore the Underwater Wonders: Scuba Diving and Snorkeling
Immerse yourselves in the enchanting world beneath the crystal-clear waters of the Bahamas with a scuba diving or snorkeling adventure. Discover vibrant coral reefs teeming with colorful marine life and explore the intriguing shipwrecks that dot the ocean floor. Swim hand in hand as you encounter schools of tropical fish, graceful sea turtles, and perhaps even playful dolphins. This unforgettable experience will deepen your connection with nature and create lasting memories together.
Swimming with Pigs in the Exumas
For couples who have a fondness for unique wildlife encounters, a visit to the Exumas is a must. Embark on a journey to meet the famous swimming pigs, an endearing group of animals that have captured the hearts of visitors from around the world. Paddle through the serene waters in a kayak, relishing the tranquility of your surroundings. Explore the pristine beaches and spot friendly iguanas basking in the sun. And of course, don't forget to join the pigs for a swim! These adorable creatures will happily paddle alongside you, creating a truly extraordinary and Instagram-worthy experience.
Encounter Nurse Sharks on Compass Cay
Take your love for adventure to new heights by embarking on an exhilarating trip to Compass Cay. Here, you have the incredible opportunity to encounter nurse sharks up close. Dive into the crystal-clear waters and witness these graceful creatures gliding effortlessly through their natural habitat. Despite their intimidating appearance, nurse sharks are docile and pose no threat to humans. It's a thrilling experience to observe them in their element, gaining a deeper appreciation for the wonders of the ocean and sharing an unforgettable adventure with your partner.
Romantic Sunset Cruise
Indulge in a serene and romantic experience with a sunset cruise in the Bahamas. Step aboard a luxurious boat and set sail into the golden hour as the sun begins its descent. As the sky transforms into a mesmerizing palette of warm hues, you and your partner can revel in the tranquility of the moment. Toast to your love with a glass of champagne, savor delectable cuisine, and let the gentle ocean breeze carry your worries away. Whether you choose a private charter or join a small group, a sunset cruise is a perfect way to create cherished memories and bask in the intimate ambiance of the Bahamian paradise.
Romantic Dining
Food is at the heart of any romantic escape, and the Bahamas doesn't disappoint. At Graycliff Restaurant in Nassau, couples can savor Bahamian cuisine in a colonial mansion. The restaurant boasts an extensive wine cellar, and you can even partake in a cigar-rolling lesson after dinner for a unique experience.
If you're on Harbour Island, don't miss The Landing, a historic inn with an intimate restaurant. Their menu, focusing on fresh seafood and organic produce, is a delight for the palate. And as the evening unfolds, the soft glow of the candlelight and the sophisticated charm of the venue work their magic, creating an atmosphere of timeless romance.
Graycliff Restaurant in Nassau
Graycliff Restaurant in Nassau is a perfect destination for a romantic dining experience in the Bahamas. Housed in a charming colonial mansion, the restaurant offers an enchanting atmosphere that sets the stage for a memorable evening. Couples can indulge in delectable Bahamian cuisine crafted with care and precision. The highlight of Graycliff Restaurant is its extensive wine cellar, offering a wide selection of fine wines to complement your meal. After dinner, you can even participate in a cigar-rolling lesson, adding a unique and intriguing element to your romantic night out.
The Landing on Harbour Island
Situated in the historic inn of The Landing, the restaurant on Harbour Island exudes an intimate and romantic ambiance. The focus of their menu is on fresh seafood and organic produce, ensuring a delightful culinary experience. As you step into the restaurant, you'll be captivated by the soft glow of candlelight and the timeless charm of the venue. The combination of exquisite cuisine, intimate setting, and warm ambiance creates an enchanting atmosphere that enhances your romantic evening. The Landing on Harbour Island is an idyllic spot for couples seeking a memorable dining experience in the Bahamas.
The Ocean Club on Paradise Island
For an unforgettable romantic dining experience, The Ocean Club on Paradise Island is a must-visit destination. This luxurious resort offers several exquisite dining options that cater to couples seeking a romantic atmosphere. One such highlight is the renowned Dune Restaurant, located on a beautiful terrace overlooking the ocean. Here, you can indulge in a delectable fusion of French and Asian cuisines, expertly crafted by world-class chefs. The intimate setting, accompanied by the sound of crashing waves, creates an idyllic backdrop for a romantic dinner. The Ocean Club's commitment to impeccable service and attention to detail ensures that every moment of your dining experience is nothing short of extraordinary.
Flying Fish Modern Seafood in Freeport
Located in Freeport, Flying Fish Modern Seafood offers a contemporary and romantic dining experience for couples. The restaurant prides itself on serving a wide variety of freshly caught seafood prepared with innovative techniques and flavors. From lobster and snapper to shrimp and conch, the menu boasts an array of delectable options to satisfy your cravings. The sleek and modern interior design, coupled with attentive service, sets the stage for a sophisticated and intimate dining experience. Whether you choose to dine indoors or on the outdoor terrace, you'll be treated to a memorable culinary journey at Flying Fish Modern Seafood.
Sandy Toes Beach Bar & Restaurant on Rose Island
Escape to the secluded paradise of Rose Island and discover the romantic charm of Sandy Toes Beach Bar & Restaurant. This beachfront eatery offers a relaxed and laid-back atmosphere, perfect for a casual yet romantic dining experience. Sink your toes in the sand as you enjoy delicious Bahamian dishes and refreshing tropical cocktails. The unobstructed views of the crystal-clear turquoise waters and swaying palm trees create a picturesque setting that enhances the romantic ambiance. Whether you're lounging on beach chairs or enjoying a candlelit dinner under the starry sky, Sandy Toes Beach Bar & Restaurant provides an unforgettable and enchanting dining experience on Rose Island.
Secluded Beaches
In the Bahamas, romantic beach escapes come with a twist – you'll often have the entire beach to yourselves! Lighthouse Beach in Eleuthera is a pristine paradise that offers tranquillity. With its soft pink sands, clear waters, and hidden coves, it's the perfect spot for a romantic picnic or a lazy day of basking in the sun.
On the other hand, the remote Tahiti Beach on Elbow Cay is only accessible by bike, foot, or boat, ensuring it remains a tranquil sanctuary. Picture a day filled with soft sands beneath your feet, the sweet melody of the ocean, and your loved one by your side. As the sun sets, the colors reflecting on the gentle waves provide an enchanting backdrop to the perfect day.
Lighthouse Beach, Eleuthera
Lighthouse Beach in Eleuthera is a secluded paradise where you can experience ultimate tranquillity. With its soft pink sands, clear turquoise waters, and a lack of crowds, this beach offers an idyllic setting for a romantic escape. Whether you're enjoying a romantic picnic or simply basking in the sun, Lighthouse Beach provides a serene and peaceful ambiance.
Tahiti Beach, Elbow Cay
Tahiti Beach on Elbow Cay is a remote and secluded beach that can only be accessed by bike, foot, or boat, ensuring a tranquil and intimate atmosphere. As you stroll along the powdery sands and listen to the gentle lapping of the ocean waves, you'll feel like you've discovered your own private sanctuary. With your loved one by your side, Tahiti Beach offers the perfect setting for a romantic day spent in serenity, especially when the vibrant hues of the setting sun paint the sky and reflect on the calm waters.
Secret Beach, Kauai
Tucked away on the beautiful island of Kauai, Secret Beach lives up to its name by offering a secluded haven for couples seeking privacy. With its expansive stretch of golden sand, towering cliffs, and crashing waves, this hidden gem provides a romantic backdrop for a peaceful getaway. Take a leisurely stroll along the shore, marvel at the stunning views, and create lasting memories with your loved one.
Anse Couleuvre, Martinique
Anse Couleuvre in Martinique is a hidden treasure known for its seclusion and natural beauty. Accessible only by a scenic hike through lush rainforest, this secluded black sand beach is a paradise for couples in search of intimacy. Spend a day exploring the tranquil shoreline, enjoying the sound of waves crashing against the volcanic rocks, and reveling in the company of your partner amidst the serene surroundings.
Navagio Beach, Zakynthos
Navagio Beach, also known as Shipwreck Beach, is a secluded oasis nestled within a dramatic cove on the Greek island of Zakynthos. Enclosed by towering cliffs and accessible only by boat, this hidden gem offers a unique and romantic escape. Imagine sunbathing on the pristine white sand, taking a dip in the crystal-clear turquoise waters, and marveling at the rusting shipwreck that rests on the shore, all while relishing in the exclusivity of this breathtaking beach.
Maho Beach, Saint Martin
Maho Beach in Saint Martin is renowned for its secluded location and a thrilling experience like no other. Situated adjacent to Princess Juliana International Airport, this beach offers couples a unique opportunity to witness airplanes flying just a few feet above their heads during takeoff and landing. While the beach itself may be relatively small, the exhilarating spectacle combined with the intimate setting creates an unforgettable and romantic atmosphere.
Romantic Bahamas Getaways FAQ
Is The Bahamas Good For Couples?
The Bahamas is an excellent destination for couples seeking a romantic getaway. With its pristine beaches, crystal-clear turquoise waters, and luxurious resorts, the Bahamas offers a perfect setting for couples to relax, reconnect, and indulge in intimate moments. Whether it's strolling hand in hand on the white sandy beaches, enjoying sunset cruises, or exploring the vibrant marine life through snorkeling and diving, the Bahamas provides a captivating and idyllic experience for couples in love.
Is The Bahamas a romantic place?
Undoubtedly, the Bahamas is a truly romantic destination. Its breathtaking landscapes, secluded coves, and enchanting sunsets create an incredibly romantic ambiance. The archipelago's array of luxurious resorts and intimate boutique hotels cater to couples, offering private villas, candlelit dinners, and pampering spa experiences. Whether it's exploring the stunning Exuma Cays, taking a boat trip to the famous Pig Beach, or simply enjoying a romantic stroll along the picturesque harbors, the Bahamas provides an idyllic setting for lovebirds.
How To Stay In The Bahamas For Cheap?
To experience the Bahamas on a budget, consider a few strategies. Travel during the off-peak season when prices tend to be lower. Opt for accommodations in less touristy areas or consider renting a vacation home or apartment. Look for all-inclusive packages that include meals and activities, as they can offer better value. Additionally, explore local dining options and street food to save on meals. Finally, plan your activities wisely, taking advantage of free or low-cost attractions such as public beaches, nature reserves, and cultural festivals.