Outer Banks vs. Myrtle Beach: Which Is Better for Vacation?
The Carolinas are well-reputed vacation spots, popular for their warm, temperate climes and charming beach towns. Both the Outer Banks and Myrtle Beach are perennial tourist favorites, offering fresh seafood, Southern hospitality, and relaxing beaches. But which of these locales is right for you, Outer Banks or Myrtle Beach?
For the history buffs seeking a quieter and more laidback beach experience, the Outer Banks of North Carolina is better for vacation. At the same time, Myrtle Beach is a popular and accessible destination for those who crave more excitement and variety. 
| Category | Outer Banks (OBX) | Myrtle Beach |
| --- | --- | --- |
| Cost Range for 1 Week | $834 | $971 |
| Notable Attractions | Jockey Ridge State Park, Wright Brothers Monument, Elizabethan Gardens, Shipwreck Museum, Bodie Island Lighthouse, wild horses tour | Myrtle Beach Boardwalk, Myrtle Beach Skywheel, Pier 14, arcades, aquariums, amusement parks, shopping |
| Outdoors activities | Standup paddleboarding, surfing, fishing, shipwreck snorkeling/scuba diving, bioluminescent kayaking tours, ghost crab hunting | Myrtle Beach State Park, golf, fishing, kayaking, standup paddleboard, surfing. |
| Food & Drink | Seafood, beach dives, bistros, tiki bars | Seafood, Southern soul food, international cuisine, numerous lounges and bars, fast food chains |
| Weather | Hot, humid summers; mild, chilly winters | Hot, humid summers and mild, chilly winters with abundant sunshine year-round |
| Transportation | Car rental, ferries | Rentals (car, bike, scooter, moped, golf cart), shuttle, bus, taxi, Uber/Lyft |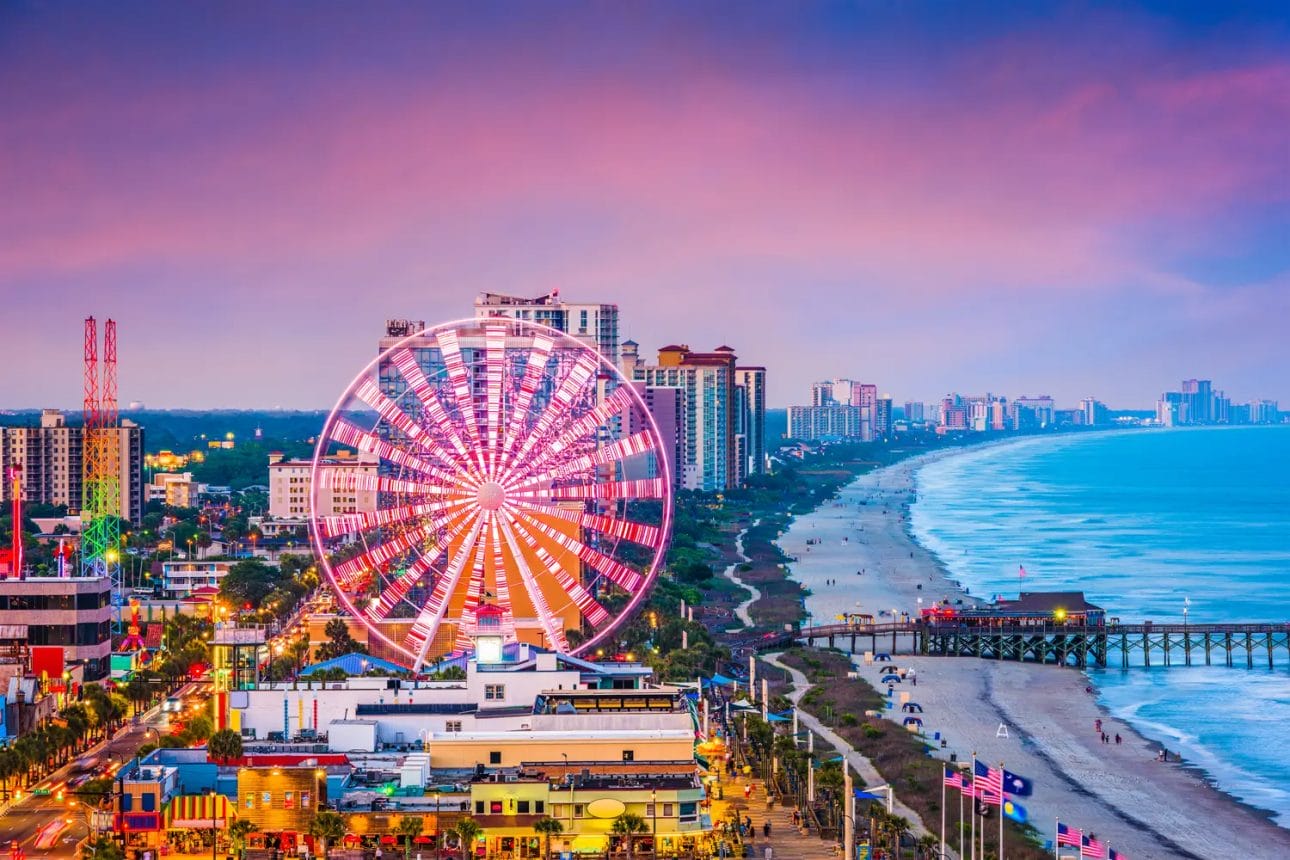 Cost of Stay: Myrtle Beach Vs. Outer Banks
It's not unreasonable to anticipate spending about $834 per person for a week-long visit to the Outer Banks.
On average, hotel rooms run about $100 a night, ranging from $64 on the low end to $200+ on the higher end. There is an abundance of other vacation rental options available, ranging from quaint seaside homes to spacious 6 bedroom beachside estates. The cheapest time to visit is March through May.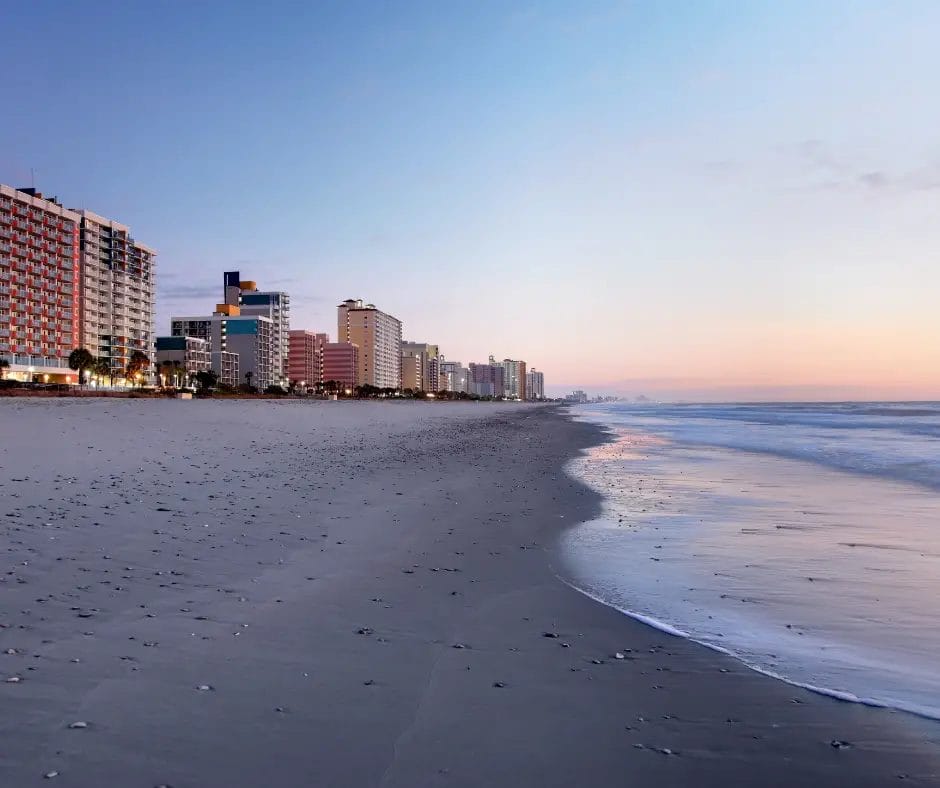 Myrtle Beach is a little more expensive than OBX, coming in at $971/person for one week of travel on average. Accommodation for one person is about $70/night for one person, $144/night for a couple; the average nightly price for an Airbnb is $123, where you can find luxury condos, seaside apartments, and some tiny homes for rent. The cheapest time to visit is early to mid-September.
Things to See & Do
OBX is known for its rich seaside history, where famous pirates once plundered the beaches and an entire colony once mysteriously vanished. Nicknamed "the Graveyard of the Atlantic" on account of the many shipwrecks that took place on its shores, it's also the site of the Wright Brothers' first successful airplane flight.
Visit Jockey Ridge State Park and hang glide over the tallest sand dunes in the Eastern US, then check out the nearby Wright Brothers Monument.
Get a glimpse of the islands' early colonial origins by visiting the Elizabethan Gardens and the Shipwreck Museum, or taking a tour to see the wild horses that still freely roam the Outer Banks. Check out the many lighthouses that dot the islands' shores, including the tallest lighthouse in the US, the Bodie Island Lighthouse.
With over 20 million visitors annually, there's no shortage of things to do in Myrtle Beach. The Myrtle Beach Boardwalk is nationally recognized, with both National Geographic and Travel + Leisure hailing it as one of the country's best boardwalks. Myrtle Beach is the largest shopping area in the Southeastern US, with lots of malls and boutiques throughout the city.
Take a ride on the Myrtle Beach Skywheel for gorgeous ocean views and stop by Pier 14 for delicious food, drinks, and fishing. The Boardwalk has lots of great entertainment options that provide ample fun for the whole family, such as arcades, aquariums, and amusement parks.
Outdoors Recreation
Standup paddleboarding, surfing, and fishing are the activities that a whole family will enjoy in the Outer Banks, as well as shipwreck snorkeling and scuba diving. At night there are bioluminescent kayaking tours and ghost crab hunting, and due to the islands' remote location, you may even be able to see the Milky Way.
Aside from frolicking on Myrtle Beach itself, check out Myrtle Beach State Park and its beautiful maritime forest. There are plenty of golf courses in the area to keep enthusiasts busy, and water sports are popular here as well, including fishing, kayaking, surfing, and windsurfing.
Eating and Drinking
Being right on the coast, OBX is known for its phenomenal seafood. Here's a list of local eateries recommended by travel bloggers Caroline and Craig Makepeace:
Fishhead's Bar & Grill – offering great beer and live music at cheap prices, Fishhead's is particularly exceptional in terms of its happy hour deals, offered from 4-6 every day, including 15 cent shrimp.
Miller's Waterfront Restaurant for great food and sunset views.
Mulligan's Tiki Bar – every beach town needs a tiki bar, and this one offers majestic ocean views.
Freshfit Café – a great breakfast spot with beautiful views over the Roanoke Sound.
As another coastal city, seafood reigns supreme in Myrtle Beach, although Southern soul food remains popular. However, you can find just about any type of cuisine you'd like there, with Myrtle Beach offering extensive options as far as food and drink.
Weather
In terms of climate, the best time to visit the Outer Banks is from March to May–OBX's shoulder season when rental rates are still low, and the weather is just starting to heat up. September and October are the worst months to visit, as lots of local businesses close in preparation for hurricane season.
Myrtle Beach enjoys abundant sunshine year-round, with more than 117 sunny days a year on average. For those expecting idyllic beach weather, the best time to visit is June through August.
Transportation
The best way to get around the Outer Banks is driving, whether in your own vehicle or picking up a rental at the airport—a lot of the Outer Banks' attractions are quite spread out, and traffic can be extensive during the busy season. If you're planning on using the ferries to make your way around the islands, it's best to make reservations ahead of time, as they often sell out during peak tourist seasons.
If you plan on flying, the closest major airports to the Outer Banks are Norfolk International Airport (ORF) to the north and Raleigh-Durham International Airport (RDU) to the west. ORF is the closer of the two at about a 2 hour and 15-minute drive, while RDU is a bit further away at a 3 hour and 40-minute drive.
Like Outer Banks, the best way to get around Myrtle Beach is by car. The city also offers a variety of other methods of transportation, including bike, moped, scooter, and even golf cart rentals! Take advantage of the shuttle that leaves from the downtown area and loops up to the northern end of the strip, with stops at lots of local points of interest. Buses run throughout the city, and plenty of traditional cabs line the streets in addition to Ubers and Lyfts.
The Myrtle Beach International Airport is only 3 miles from the downtown area, a well-connected hub for international and domestic tourists. Car rentals are available at the airport, or you may want to check with your hotel concierge and see if they provide an airport shuttle.
Conclusion: Outer Banks Vs. Myrtle Beach
While both the Outer Banks and Myrtle Beach are wonderful spots, it's the dealer's choice regarding what vacation experience you prefer. More relaxed and off-the-beaten-path, OBX is full of friendly locals and beachy small-town charm, while Myrtle Beach has far more amenities for those who prefer a more traditional seaside tourist experience.