Aloha, fellow travel enthusiasts! If you're dreaming of a tropical getaway and find yourself torn between Oahu, Maui, and Kauai, fear not, for I've got you covered. These three Hawaiian islands may share the same Pacific paradise, but each boasts its own distinct charm.
The main difference between Oahu, Maui, and Kauai lies in their unique offerings. Oahu boasts vibrant city life, iconic landmarks like Waikiki Beach and Pearl Harbor. Maui captivates with its stunning beaches, the Road to Hana, and Haleakalā National Park. Kauai, enchants travelers with lush landscapes, the Na Pali Coast, and a quieter, more laid-back atmosphere.
Choose Oahu for diverse urban experiences, Maui for scenic beauty and adventure, and Kauai for a tranquil and picturesque escape.
| Category | Oahu | Maui | Kauai |
| --- | --- | --- | --- |
| Cost Range for 1 Week | $808 – $7,565 (source) | $830 – $3,867 (source) | $584 – $2,525 (source) |
| Location | Third-largest Hawaiian Island | Second-largest Hawaiian Island | Fourth-largest Hawaiian Island |
| Geography | Diverse landscapes: mountains, urban areas, beaches | Volcanic peaks, rainforests, valleys | Lush greenery, canyons, waterfalls |
| Language | English and Hawaiian | English and Hawaiian | English and Hawaiian |
| Government | Part of the state of Hawaii | Part of the state of Hawaii | Part of the state of Hawaii |
| Currency | United States Dollar (USD) | United States Dollar (USD) | United States Dollar (USD) |
| Tourism | Major tourist destination with iconic landmarks | Popular for resorts, golf courses, scenic drives | Known for natural beauty, outdoor activities, hiking |
History and Geography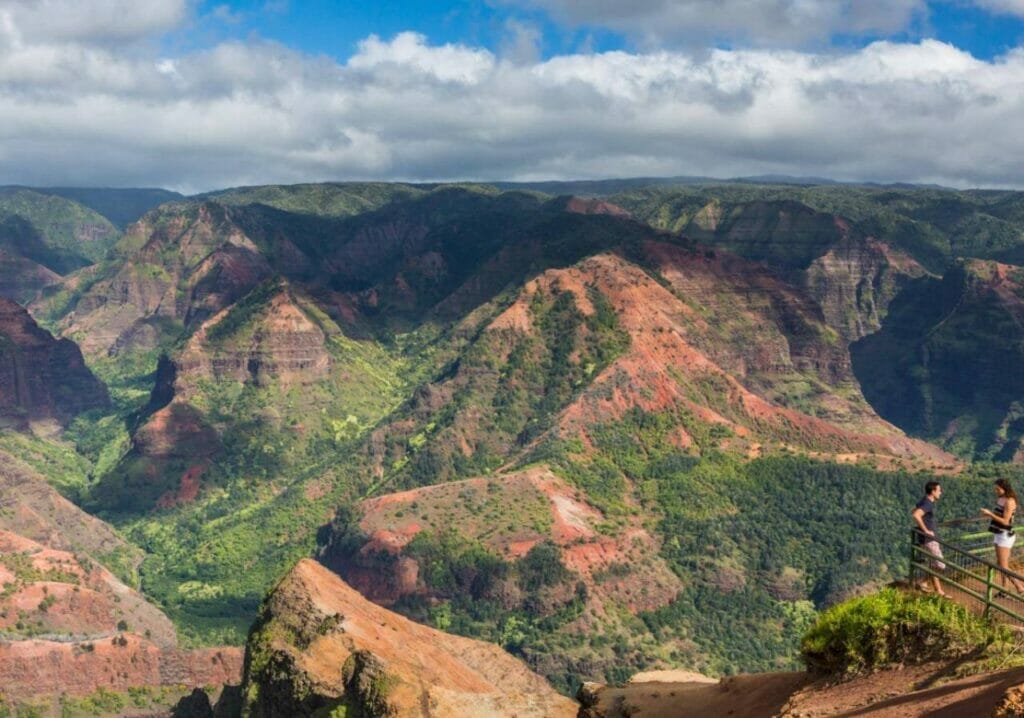 You're daydreaming about the swaying of the palm trees, the beautiful fragrance of plumeria in the air, and the warm Hawaiian sun caressing your skin, right? But, oh dear, can't quite decide on which island paradise to land on?
Well, you're in luck! I'm here to fill you in on all the details of Oahu, Maui, and Kauai, three breathtaking islands. Each one's brimming with its own special brand of magic, perfect for families, couples, thrill-seekers, and all you wallet-watchers and luxury lovers out there.
First stop, Oahu, the beating heart of Hawaii, where the timeless allure of the islands meets the thrill of the modern world. It's home to the bustling city of Honolulu and is a big hit with families and couples seeking a delightful mashup of culture and fun.
Can't-miss sights here include the majestic Diamond Head crater and the poignant history of Pearl Harbor. And hey, no worries about the budget or desire for luxury. Waikiki Beach has accommodations for everyone's pocket, while the island's plush resorts are all about indulging in some swanky island living.
Next, we have Maui, the alluring beauty queen of the Hawaiian islands and every adventurer's dreamland. You may marvel at lush rainforests, breath-taking waterfalls, and the amazing wonder that is Haleakal National Park in this treasure trove of different landscapes.
Looking for a romantic escape under the stars? Or maybe some fun water sports for the whole family? Or perhaps a cozy vacation rental that's light on the wallet or a lavish resort experience? Maui's got you covered!
Let's finish with a trip to Kauai, the largest of all the islands, where the natural world truly shows itself. This emerald beauty is a sanctuary for all of you nature buffs and adventure seekers out there. Take in the jaw-dropping splendor of the Na Pali Coast and Waimea Canyon, or enjoy some tranquil beach time. Kauai also has charming cottages for the budget-minded, and luxurious oceanfront resorts where you can live it up in style.
So, there you have it! Three islands—Oahu, Maui, and Kauai—each with a distinct personality and a desire to introduce you to island life. These tropical havens are prepared and eager to welcome you, whether what you're looking for is a deep dive into history, an exhilarating adventure, or a serene beachside escape.
best Beaches of Oahu, Maui, and Kauai
Let's start with Oahu, the vibrant "Gathering Place." It's the ideal spot for families yearning for both relaxation and fun-filled activities. Imagine building sandcastles or learning to surf with your kids on the iconic Waikiki Beach. Or perhaps you're a couple looking for a romantic getaway? Then make sure to take a dreamy stroll along Lanikai Beach, taking in the jaw-dropping views of the Mokulua Islands.
Now, for those of you with a thirst for adventure, you'll find your perfect playground on the North Shore, where epic waves attract surfers from around the globe. Regardless of your budget, Oahu's got you covered with accommodation options ranging from budget-friendly hotels to plush, luxury resorts.
Next up, we have Maui, the "Valley Isle," boasting a wealth of beaches to suit every kind of traveler. Families, you'll adore the calm shores of Kaanapali Beach, ideal for a swim or snorkel amid vibrant marine life. For lovebirds out there, a picturesque drive along the Road to Hana will lead you to the stunning red sand of Kaihalulu, setting the perfect scene for a touch of romance.
Adventure junkies, get your pulse racing windsurfing at Ho'okipa Beach or riding the infamous Jaws waves. From cosy bed-and-breakfasts to opulent five-star resorts, Maui's got your accommodation wishes granted.
Now, if your heart's longing for a more relaxed and intimate beach experience, let me introduce you to Kauai, the "Garden Isle." Families can have a great time in the calm waters of Poipu Beach, a safe haven for the kids to splash around. Couples looking for a serene escape will fall head over heels for the scenic Hanalei Bay, with its verdant mountains and glistening bay — it's a picture-perfect setting for romance.
And for the adventurers, the dramatic coastline of Na Pali is a hiker's dream with its awe-inspiring views. Whatever your budget, Kauai has an array of accommodations from economical vacation rentals to swanky beachfront villies.
Every island promises its unique allure, with Oahu's lively charm, Maui's varied delights, and Kauai's tranquil beauty. So, get your swimwear ready, don't forget your sunblock, and buckle up for an unforgettable Hawaiian beach escapade!
Exploring Activities and Attractions on Oahu, Maui, and Kauai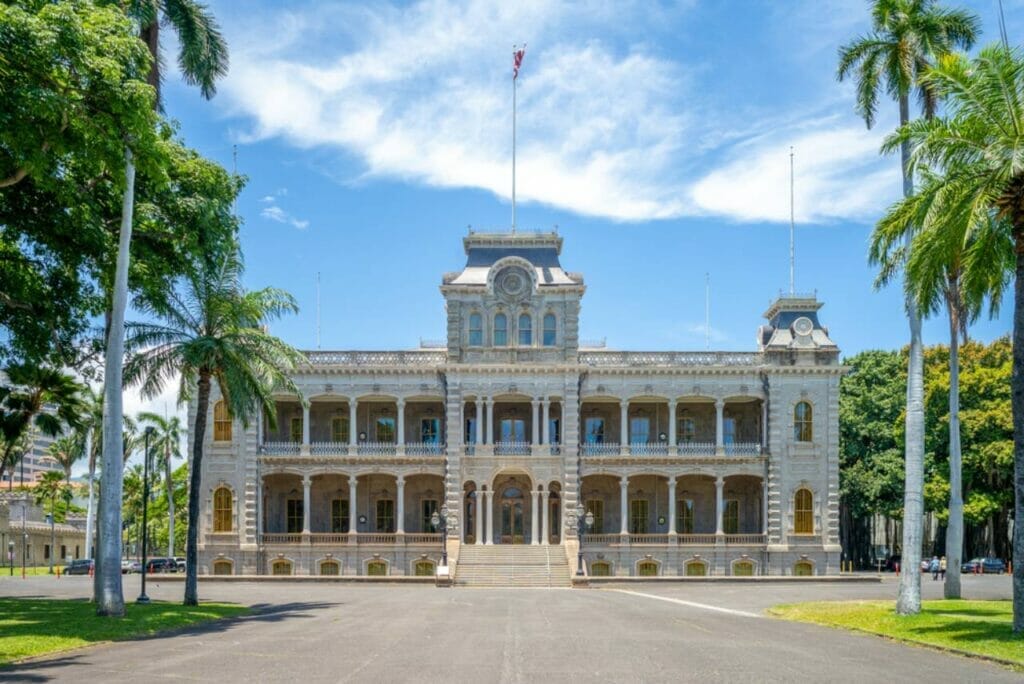 Oahu, the bustling and vibrant island, is an absolute paradise for families. Get ready for some action-packed fun! Waikiki Beach is calling your name, with its soft sands and gentle waves perfect for building sandcastles with the kids and taking a refreshing dip. The Polynesian Cultural Center will immerse you in the beautiful Hawaiian heritage, a treat for the whole family.
If you're up for some adventure, hike up to the Diamond Head Crater for breathtaking views. Oahu's got the best of both worlds – city life and nature's beauty – making it a fantastic choice for those looking for diverse experiences on a budget.
Now, Maui – oh, Maui, the epitome of romance and beauty! It's tailor-made for lovebirds like you. Take a whale-watching adventure with your sweetheart or explore the scenic Road to Hana, where you'll discover stunning waterfalls and hidden beaches that'll leave you in awe.
And get this: Maui's luxury resorts are all about pampering you with upscale amenities, private beaches, and oceanfront dining. It's pure bliss for couples seeking a dreamy escape. But hey, if you're feeling adventurous, don't worry – Maui's got thrilling options too! Witness the sunrise from the summit of the Haleakalā National Park, and trust me, it'll be an experience you'll never forget.
Now, let's talk about Kauai, the lush and rugged island where daring souls thrive! Nature lovers, this is your playground. Families will be blown away by the majestic Waimea Canyon, often dubbed the "Grand Canyon of the Pacific." And for couples seeking an intimate experience, picture this: a scenic helicopter tour over the jaw-dropping Na Pali Coast, with hidden waterfalls cascading into the sparkling blue sea.
And when you've had your fill of action, unwind at one of Kauai's luxury resorts, where you can relax and soak in the untamed beauty of the island.
So, choosing between Oahu, Maui, and Kauai comes down to what you're looking for. Oahu is perfect for families and budget travelers who want a mix of city excitement and beachy bliss. Maui is a haven for couples and luxury seekers searching for romance and upscale experiences. And Kauai is an adventurer's dream with its wild landscapes and thrilling outdoor activities. Whichever island you choose, you'll be embraced by the warm spirit of aloha, and the memories you'll make will be cherished forever.
Accommodation Options in Oahu, Maui, and Kauai
First stop, Oahu! Think of it as the vibrant heartbeat of Hawaii, brimming with life and love, and beckoning families, couples, and adventurers alike. If you're taking the kiddos along, consider the Four Seasons Resort Oahu at Ko Olina. It's more than just a hotel; it's a playground for all ages!
While the little ones are off on their mini-adventures, you can steal some 'me' time at the spa. And for those looking to ignite sparks of romance, Halekulani Hotel is your go-to spot. Imagine spending evenings with your special someone, enjoying a beachside dinner as the sun dips behind the horizon. Sounds magical, doesn't it?
Next up, we have the enchantress, Maui. It's not just her alluring beauty that will have you entranced, but also her call to the wild side! If your tribe leans towards a mix of chill and thrill, you'll love the Westin Maui Resort & Spa in Ka'anapali. Their water slides and fun activities are a hit with the kids, and the nearby snorkeling and surfing opportunities are a thrill-seeker's delight.
But if you prefer the high-life, the Wailea Beach Resort is your slice of paradise. With top-tier service, luxurious suites flaunting ocean views, and access to unspoiled beaches, it's an invitation to sit back, relax, and soak in the luxury.
Last, but never the least, let's sail to the tranquil shores of Kauai. Here, the pace slows down, inviting you to savor moments of serene beauty. If you're looking to escape the crowds with your better half, Koʻa Kea Resort on Poipu Beach will steal your heart.
It's a boutique retreat with mesmerizing ocean views and a palpable sense of romance. And for those family expeditions, The Royal Sonesta Kaua'i Resort Lihue strikes the perfect balance between fun and cultural immersion.
Whether you're a luxury lover, an adventure seeker, or a family on the move, there's a perfect fit for you in the Hawaiian islands. Be it opulent resorts with an array of amenities or quaint boutique hotels nestled amidst nature, Oahu, Maui, and Kauai are all set to welcome you with a warm aloha spirit.
Choosing the Right Car Rental for Oahu, Maui, and Kauai
Picture Oahu, the bustling heart of Hawaii. It's an intoxicating blend of vibrant city life and natural wonders. Whether you're a family on a mission to discover or a thrill-seeker with a taste for the wild, hitching a ride with Alamo Rent A Car or National Car Rental will set your journey on the right path.
They've got a whole menu of vehicles to choose from, so you can easily zip from the lively vibes of Waikiki Beach to the verdant trails of Diamond Head, or even the historical Pearl Harbor. It's all about cruising with comfort, convenience, and the freedom your vacation heart desires.
Next, imagine Maui, our "Valley Isle", celebrated for its awe-inspiring landscapes and dreamy beaches. Here, Makoa Rental Car Maui and Maui Budget Cars are your new best friends. Their local charm, personalized service, and reliable wheels are all set to help you uncover the beauty of the winding Road to Hana or witness the spellbinding sunrise at Haleakalā National Park. And the cherry on top? These friendly folks will even throw in some local tips and tricks to make your journey even more special.
For those whose hearts beat for untouched nature and tranquility, Kauai, the "Garden Isle," is calling your name. Dive into the pristine beauty of the island with Rent A Car Kauai or Island Cars LLC. Budget travelers and families will love their affordable and easy rental solutions, while luxury lovers can pick from a range of high-end rides.
Imagine cruising in style around the panoramic Waimea Canyon or setting off on the epic Nā Pali Coast hike. The gift of setting your own pace is truly priceless when you're exploring the lush embrace of Kauai.
Unraveling the Dining Scene in Oahu, Maui, and Kauai
First stop: Oahu, the vibrant heartbeat of Hawaii. Here, you'll find dining spots that cater to every craving. Want to keep things upscale but relaxed? PAI Honolulu's your place. Their blend of Asian and French flavors will have your taste buds twirling in delight.
And if you're eager to taste the dishes that put Hawaiian cuisine on the global food map, head over to The Original Roy's in Hawaii Kai. The waterfront view and historical touch make it perfect for families or couples wanting to make mealtime a memorable affair.
Next up: the beautiful island of Maui, where the views are as mouthwatering as the meals. A must-try here is Maui Mike's Fire-Roasted Chicken – a local favorite that'll leave you licking your fingers and yearning for more. If you and your partner are in search of a romantic culinary experience, the Lahaina Grill is where you want to be. With its sophisticated atmosphere and diverse menu, it's a winner for dreamy date nights.
Finally, we land in Kauai – the Garden Isle. This serene paradise offers an equally captivating food scene. Picture this: a meal at Sam's Ocean View Restaurant in Kapaa, where you're gazing out at the Pacific, while relishing fresh, delicious seafood. Sound amazing? It is!
And for a uniquely enchanting dining experience, you've got to check out Tidepools. Nestled amidst a lagoon and waterfalls, this open-air restaurant serves up a blend of Hawaiian and Asian flavors in a setting that's pure magic.
Nightlife Adventures in Oahu, Maui, and Kauai
The tropical islands of Oahu, Maui, and Kauai all have their own unique ways of lighting up the night, and there's something for every type of traveler. Let's kick off with Oahu, often seen as the pulsating heart of Hawaii. It's a melting pot of varied night experiences to suit anyone and everyone.
If a night of elegance and jazzy rhythms tickles your fancy, make your way to The Dragon Upstairs. This snug, speakeasy-style bar will serenade you with silky tunes and delectable cocktails. For a more upbeat vibe and a night filled with craft beers and live bands, you can't beat Bar 35 in downtown Honolulu, it caters to all – from the budget-conscious to the luxury-seekers.
Next stop is Maui where the party continues on the beach even after sundown! Haui's Life's A Beach is the go-to spot for families and couples to kick back, relax, and maybe show off some dance moves. Nestled in the heart of Kihei, this beach bar serves up local bands, a friendly atmosphere, and those tropical cocktails we all love.
Craving a little more action? The Dirty Monkey in Lahaina draws in the adventurous crowd with its electric energy and a variety of events ranging from themed parties to live DJ nights. Trust me, it's a real blast!
For those of you seeking a more chilled-out evening, Kauai has just the right places. A hidden treasure here is the Mahiko Lounge, an ideal spot for couples wanting a tranquil, romantic evening together. This place has a wonderfully relaxed vibe and serves unique cocktails that are as delightful as the ambiance. Whether you're on a budget or just in the mood for a quieter night, Kauai's night scene promises a memorable evening amidst the island's scenic beauty.
So, to wrap it up, each Hawaiian island – Oahu, Maui, or Kauai – has its own unique charm when it comes to night life. Whether you're a family wanting to enjoy laid-back beach bars, a couple looking for intimate spots, adventure junkies wanting to dance till dawn, or a traveler keeping an eye on their budget, you're sure to find the perfect place. It's impossible not to have an unforgettable night in Hawaii. Catch you on the islands, aloha!
Oahu Vs Maui Vs Kauai FAQ
Which island is better: Maui, Kauai, or Oahu?
Maui, Kauai, and Oahu each offer unique experiences, making it difficult to declare one as definitively better. Maui entices visitors with its stunning landscapes, including the majestic Haleakala and the scenic Road to Hana. Kauai captivates with its lush rainforests, dramatic cliffs, and the awe-inspiring Waimea Canyon. Oahu, on the other hand, offers a vibrant mix of city life and natural beauty, with iconic surf spots and cultural landmarks like Pearl Harbor. The best island for you depends on your preferences, whether it's adventure, tranquility, or a blend of both.
Is it better to go to Maui or Oahu?
Choosing between Maui and Oahu depends on what you seek in a Hawaiian getaway. Maui boasts diverse landscapes, from golden beaches to volcanic peaks, offering a balance of adventure and relaxation. Oahu, in contrast, combines bustling city life with stunning natural beauty, ideal for those seeking a mix of urban excitement and outdoor exploration. Whether you prefer exploring the Road to Hana or surfing world-class waves at Waikiki, both islands have their unique allure, so the better choice comes down to your personal preferences and interests.
Which island in Hawaii is the prettiest?
Beauty is subjective, and all the Hawaiian islands have their own exceptional beauty. However, many travelers consider Kauai as the prettiest island in Hawaii. Kauai's untouched natural landscapes, such as the Na Pali Coast and the verdant Waimea Canyon, are often described as breathtakingly beautiful. With its lush rainforests, secluded beaches, and dramatic cliffs, Kauai's raw and untouched beauty has earned it the nickname "The Garden Isle." But remember, beauty is in the eye of the beholder, and each island offers its own captivating scenery and charm.