Oahu Vs Maui Vs Big Island
Get ready for an epic clash of island paradises! Oahu, Maui, and the Big Island each boast their own unique wonders that will leave you awe-inspired and yearning for more.
The main difference between Oahu, Maui, and the Big Island lies in their unique offerings. Oahu is the vibrant hub of Hawaii, known for its iconic Waikiki Beach and urban allure. Maui, Renowned for its picturesque landscapes, including the stunning Road to Hana and Haleakalā National Park. The Big Island boasts diverse geography, featuring active volcanoes, black sand beaches, and rich cultural experiences.
Travelers seeking city-life and historical landmarks should opt for Oahu, while those craving natural beauty and adventure may prefer Maui or the Big Island. Choose based on your desired experiences!
| Category | Oahu | Maui | Big Island |
| --- | --- | --- | --- |
| Cost Range for 1 Week | $808 – $7,565 (source) | $830 – $3,867 (source) | $727 – $3,923 (source) |
| Location | Third-largest Hawaiian island | Second-largest Hawaiian island | Largest Hawaiian island |
| Geography | Diverse landscapes | Volcanic formations | Active volcanoes, diverse landscapes |
| Language | English, Hawaiian | English, Hawaiian | English, Hawaiian |
| Government | County of Honolulu | County of Maui | County of Hawaii |
| Currency | United States Dollar (USD) | United States Dollar (USD) | United States Dollar (USD) |
| Tourism | Popular attractions | Stunning beaches, parks | Volcanoes, nature, coffee farms |
Explore the history and geography of Oahu, Maui and big island
Aloha, fellow adventurer! So, you're eyeing a Hawaiian getaway? I completely understand the tug-of-war happening in your mind right now – choosing between Oahu, Maui, and the Big Island is no small feat. Each island has its own magical allure. But, hey, don't stress! I'm here to guide you through the maze of geographical and historical marvels each island holds.
Let's start with Oahu, fondly known as 'the gathering place'. It's where city life and nature seamlessly merge. Picture yourself at Pearl Harbor, delving deep into history with your family, or walking hand-in-hand with your partner on the romantic Waikiki Beach.
To all you adrenaline junkies out there, gear up to hike up Diamond Head for those Instagram-worthy views! If you're traveling on a budget, Oahu won't disappoint; there are heaps of affordable stays and lip-smacking local cuisines to try. And for the luxury lovers, rest assured, plenty of swanky resorts and gourmet dining spots await you!
Up next, we have the enchanting valley isle, Maui, a paradise tailor-made for romantics and nature aficionados. Visualize witnessing the awe-inspiring sunrise at Haleakalā National Park with your loved one, or going on an exciting snorkeling expedition at Molokini Crater with your family.
If you're a thrill-seeker, Maui's iconic Road to Hana, with its lush greenery and hidden waterfall gems, is your personal playground. Budget travelers, you'll find a sweet spot in the delightful B&Bs, while luxury lovers can soak in the grandeur at world-class resorts offering a mesmerizing view of the blue ocean.
Lastly, we come to the Big Island, also known as Hawai'i, which is a splendid concoction of diverse landscapes and profound cultural essence. Families, brace yourself for the spectacle that is Kilauea at Hawaii Volcanoes National Park. Couples, envisage a starlit romance at the summit of Mauna Kea.
For the brave hearts ready for some thrill, gear up to discover the awe-inspiring valleys and cascading waterfalls of Waipi'o and Pololū. Whether you're pinching pennies and dreaming of a quaint stay in a charming town, or yearning for a luxury extravaganza at a beachfront resort, the Big Island is prepared to spoil you.
So, no matter what your heart leans towards – Oahu, Maui, or the Big Island – brace yourself for a Hawaiian escapade you'll treasure forever!
which 3 destinations have the best beaches?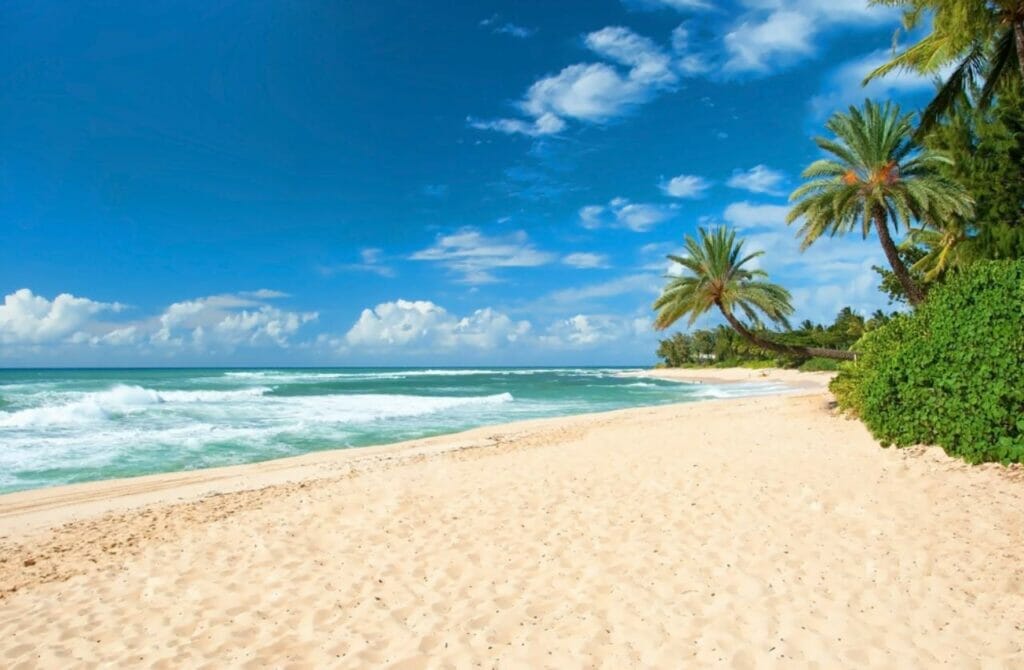 Three dazzling gems are calling out your name: Oahu, Maui, and the Big Island. Each island is a treasure trove of unique experiences and stunning beaches, tailored to fit travelers of all stripes. Be it fun-loving families, starry-eyed couples, thrill-chasing adventurers, or laid-back beach bums seeking budget or luxury escapes, these islands will greet you with open arms.
First off, let's introduce Oahu, the bustling heart of Hawaii that pulses with vibrant energy. Picture a family-friendly haven like Waikiki Beach, where soft waves are an open invitation for tiny tots to splash around while parents can join in or enjoy the plentiful beachside activities.
Love-struck couples can bask in golden sunsets and take dreamy beach strolls. Adventure enthusiasts, get ready to ride the surf waves or explore the underwater world at Hanauma Bay, bustling with marine life. For travelers mindful of their wallet, there are loads of budget-friendly stays around the beach, while luxury seekers can spoil themselves with ritzy resorts flaunting exclusive ocean vistas.
Next on the list is the dreamy Maui, where romance and raw natural beauty go hand in hand. The beaches here are a delightful blend of serene and adventurous. For families, Kaanapali Beach is a jackpot, with gentle waters and kid-friendly resorts nearby. Couples, prepare to lose your heart to the intimate and peaceful Wailea Beach, an ideal setting for lovey-dovey strolls.
Adrenaline junkies, try your hand at windsurfing at Hookipa Beach or soak in the breathtaking waterfall views from a helicopter. Budget-conscious folks can enjoy a wide range of vacation rentals, while luxury lovers can treat themselves to plush beachfront villas with their own piece of the ocean.
Finally, let's not forget the Big Island, a haven for the intrepid and nature buffs. Punalu'u Black Sand Beach offers an out-of-the-box experience for families – keep an eye out for sun-bathing sea turtles. Couples, escape to the secluded Makalawena Beach after a short but exciting hike, heightening the feeling of exclusivity.
Adventurers, dive into the underwater marvels of Kealakekua Bay or challenge yourself with a thrilling hike to the lava flow at Hawaii Volcanoes National Park. Budget and luxury travelers, fear not – the Big Island offers a spectrum of accommodations from cozy beachside cabins to grandiose resorts with private beaches and top-notch service.
Best Activities and Attractions
First off, let's think about Oahu, lovingly known as the "Gathering Place." It's the perfect mix of city life and stunning natural beauty. Imagine your family building sandcastles on the iconic Waikiki Beach or maybe you're more of a thrill-seeker ready to surf the world-renowned waves on the North Shore. For the romantics among you, think of sharing a quiet sunset at the picturesque Lanikai Beach.
History enthusiasts will adore stepping back in time at Pearl Harbor. And that's not all – there are plenty of free adventures to enjoy, like the invigorating hike up Diamond Head or discovering the lush, green wonder of Manoa Falls. And if you're a fan of the finer things in life, don't miss the chance to sample gourmet cuisine and shop till you drop in Honolulu.
Then, there's the heart-stealing Maui, also known as the "Valley Isle." It's a place that perfectly blends jaw-dropping landscapes and a relaxed island lifestyle. Picture taking your family on a memorable journey along the picturesque Road to Hana, full of cascading waterfalls, black sand beaches, and scenic views that'll make your heart skip a beat. For couples, imagine watching the sun rise from atop Haleakala or enjoying a tranquil sunset cruise along the coast.
Adrenaline junkies, gear up for some thrilling water sports, like windsurfing and kiteboarding. On a budget? Don't worry – the quaint towns of Lahaina and Paia are delightful and affordable. For the luxury seekers, you're in for a treat with indulgent spa experiences in Wailea and gourmet dining at Maui's finest restaurants.
Last, but certainly not least, is the Big Island, or Hawaii Island, which is an adventurer's paradise. It's a place of incredible diversity and grandeur that never fails to amaze. Imagine your family marveling at the power of nature in the Hawaii Volcanoes National Park or stargazing from the summit of Mauna Kea.
Couples, picture a romantic escape to the lush Waipio valleys or find your own private paradise on a secluded beach along the beautiful Kona Coast. For the thrill-seekers, snorkeling in Kealakekua Bay offers an underwater spectacle you won't forget, and a helicopter tour over lava fields is a one-of-a-kind experience.
If you're watching your budget, the lovely towns of Hilo and Kailua-Kona offer a taste of local life. Luxury lovers, the exclusive resorts on the Kohala Coast are your passport to pure indulgence.
The best place to stay
Take a dip into Oahu's blend of luxury and comfort. Marriott's Ko Olina Beach Club makes an ideal haven for families with roomy villas and a fabulous assortment of kid-friendly activities. Or if you're more into a chill vibe, Courtyard by Marriott Oahu North Shore is a delightful pick, close to stunning beaches and rich local culture. And for lovebirds seeking paradise, the Hawaiian Princess Resort is a dream come true. Imagine waking up to sweeping ocean views and lounging in style – pure bliss!
Next, let's set foot in Maui, the island of breathtaking beauty, and its captivating accommodations. Imagine a sanctuary of luxury at the Grand Hyatt Kauai Resort & Spa with verdant gardens, stellar spa services, and service that's second to none. The Grand Wailea is a paradise for families with an amazing water park and multiple pools to splash about. For an upscale getaway, The Ritz-Carlton Maui radiates elegance with chic suites, a beachfront location, and world-class culinary experiences.
Over on the Big Island, accommodations beautifully intertwine comfort with the island's singular landscapes. The Westin Hapuna Beach Resort offers a perfect retreat for both families and couples, with a tranquil white sand beach and loads of water sports. For adventurers, the Waikoloa Beach Marriott Resort & Spa is an ideal base, close to exciting outdoor activities like snorkeling and hiking.
For an undiluted Hawaiian experience, the Volcano Inn offers a snug, budget-friendly stay nestled amongst lush rainforests and volcanic wonders, just a stone's throw from Hawaii Volcanoes National Park.
Getting around paradise
Let's chat about how you can get around on Oahu, Maui, and the Big Island, and find the perfect fit for your whole travel gang!
Picture Oahu: the vibrant heart of Hawaii that beats with excitement. A perfect fit for independent souls and budget-savvy explorers, Lucky Owl Car Rental and SIXT Rent a Car can equip you with the freedom of your own set of wheels. Fancy a family outing to the legendary Waikiki Beach or a couple's adventure to the wild North Shore? With a rental car, you'll be writing your own Oahu story.
Ever dreamt of Maui? This slice of paradise, with its captivating landscapes and chilled-out rhythm, is ready to welcome all kinds of explorers. North Shore Maui Rent-a-Car and Cruisin' Maui Rent-A-Car are your ticket to a roving adventure. Imagine families darting from beach to glorious beach, or lovers chasing the setting sun along the coast. Picture the thrill-seekers navigating Haleakalā National Park's tricky terrains. With a rental car, the wonders of Maui are just a drive away.
Considering the Big Island with its grand, diverse landscapes? You'll need a reliable ride to tap into its magic. Enterprise Rent-A-Car and Alamo Rent-A-Car are trusted names here, ready to cater to families, duos, and adventure junkies. Picture epic road trips to active volcanoes, or serene drives through lush rainforests. Picture couples uncovering secret spots, or thrill-seekers venturing off the beaten track. All of these are possible with your own set of wheels.
Whichever Hawaiian haven you pick, having your own rental car can take your trip from good to unforgettable. Families can cart around kids and beach gear with ease, while couples can escape on private romantic adventures. Thrill-seekers get to chase the rush, and both budget or luxury travelers can find the right wheels for their needs.
ultimate food tour
If you're on the hunt for a culinary experience to make your heart (and your taste buds) sing, look no further than Hawaii's Oahu, Maui, and the Big Island! Each island is a foodie's paradise, offering a smorgasbord of dining experiences that promise to be unforgettable.
Let's kick off this tasty tour with Oahu, the pulsating heart of Hawaii. This place is an absolute delight for everyone – families, lovebirds, and thrill-seekers alike. Picture yourself in Honolulu, stepping into the charmingly hidden Restaurant 604. Here, you'll savor the local dishes all dressed up in a modern garb, creating a food memory that's as vibrant as the city itself.
If you're after an experience that brings together class and Hawaiian culture, you can't miss The Original Roy's in Hawaii Kai. This place offers an unparalleled dining experience that appeals to all – from families seeking diverse menus to couples on the lookout for intimate Hawaiian escapades.
Next stop: the stunning island of Maui. Famous for its breathtaking vistas and the air of romance that envelops it, dining in Maui is like a dream. Be sure not to miss the legendary Mama's Fish House. This iconic eatery brings together freshly caught seafood and a spectacular beachfront setting – the perfect recipe for a memory-making moment for couples.
If you're after a casual setting after a day of exploring Maui's natural wonders, Kimo's Maui in Lahaina, with its delicious Hawaiian food, is your go-to place. It's family-friendly, relaxed, and offers an amazing backdrop for great conversations.
Finally, we have the Big Island, which is nothing short of a culinary paradise. Picture this: dining at The CanoeHouse in the Mauna Lani Resort, where tradition meets innovation in a sublime blend that delights all your senses. Families will relish the diverse menu, while couples can enjoy the romantic setting as they watch the sunset over the Pacific.
Looking for something more relaxed? Huggo's in Kona is a fantastic casual spot right on the beach, offering fresh seafood and local dishes that will keep your foodie adventure going without burning a hole in your pocket.
enjoying the night life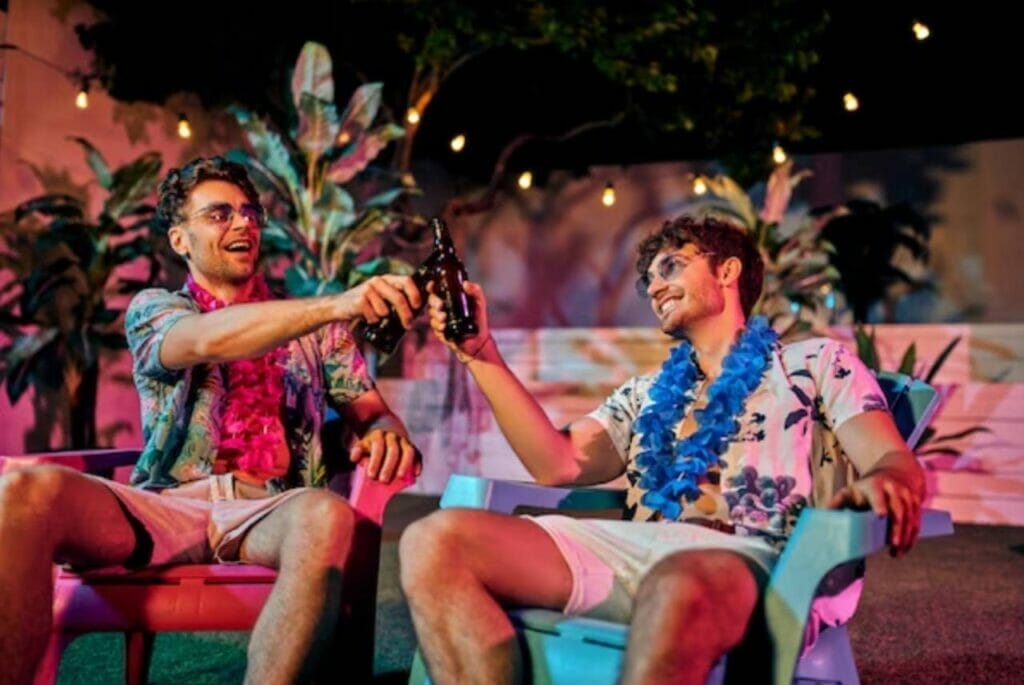 When it comes to Hawaii's nightlife, Oahu, Maui, and the Big Island are in for a treat! Every island has a unique charm that draws different kinds of visitors, including families, couples, adventurers, thrifty explorers, and those looking for luxury.

Start with Oahu, the energetic center of Hawaii. If you're a dance enthusiast, you can't miss Salsamor! It's the ultimate spot to groove to infectious salsa beats, and they even offer salsa lessons for beginners. Do you desire a more private setting? Head over to NextDoor, a hidden artsy gem where you can enjoy live music and captivating spoken word performances that'll leave you with unforgettable memories.
Picture yourself at Lava Lava Beach Club, embracing the true spirit of the island. You may unwind, take off your shoes, sink your toes into the sand, and gaze at the stars while sipping delicious tropical cocktails. On the Rocks is the place to go if you want to hang out in a more conventional setting. Live music and a friendly atmosphere will have you tapping your feet to the sound of the waves.
However, don't assume that the Big Island will disappoint you. For a mysterious and alluring evening, head to Mask-Querade Bar, where themed parties and creative cocktails will add a touch of magic to your night. Sam's Hideaway is the spot to go if you're hunting for a secret treasure. You'll discover a cozy atmosphere that's ideal for unwinding with friends, swapping tales, and making lifelong memories
No matter your preference, these islands have got you covered. Whether you're in the mood to dance till dawn, relax on a stunning beach with a tropical drink, or set off on a night of mystery and adventure, Hawaii's nightlife culture has something special in store for everyone. So go ahead, put on those dancing shoes or grab a cozy spot with a drink – the Hawaiian islands are ready to welcome you with open arms and an aloha spirit you'll cherish forever!
Oahu Vs Maui Vs Big Island FAQ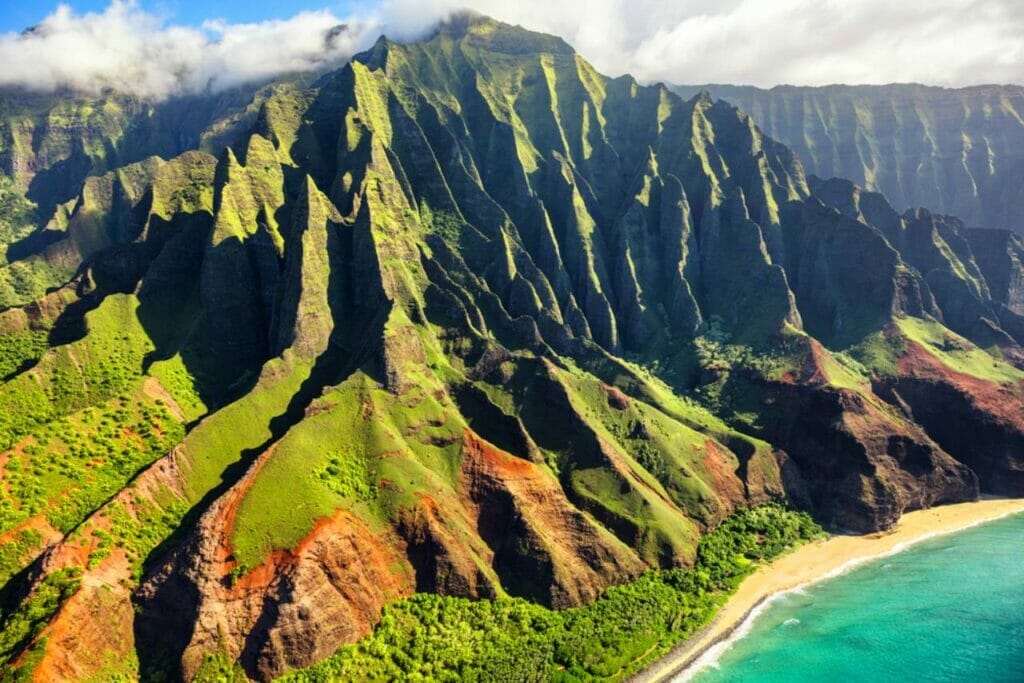 Which island is better to visit, Oahu or Maui?
Both Oahu and Maui offer incredible experiences, but the answer depends on your preferences. Oahu, known as "The Gathering Place," boasts a vibrant blend of city life, stunning beaches like Waikiki, and lush rainforests. Maui, the "Valley Isle," is famous for its world-renowned beaches, the sacred Iao Valley, and mesmerizing sunrises atop Haleakala. Choose Oahu for a mix of urban and natural beauty, or opt for Maui's laid-back charm and breathtaking landscapes.
Which is better, Big Island or Oahu?
The choice between the Big Island and Oahu depends on your desired experience. Oahu, nicknamed "The Gathering Place," offers a diverse blend of cityscapes, stunning beaches, and lush rainforests. On the other hand, the Big Island, also known as Hawaii Island, showcases unique volcanic landscapes, diverse climates, and the captivating Volcanoes National Park. If you seek a vibrant city atmosphere with a mix of natural beauty, choose Oahu. But if you're fascinated by volcanic activity and crave diverse outdoor adventures, the Big Island is a perfect fit.
Which island in Hawaii is the prettiest?
All the Hawaiian islands are stunning in their own way, so beauty is subjective. However, many consider Kauai, known as the "Garden Isle," to be the epitome of natural beauty. Kauai's lush rainforests, dramatic cliffs of the Napali Coast, breathtaking waterfalls, and pristine beaches create an enchanting paradise. Its untouched landscapes and secluded charm make Kauai a favorite among nature enthusiasts and those seeking tranquility.