10+ Natural Attractions in Jamaica
When you think of Jamaica, what first comes to mind? Most likely, it's the pulsating rhythms of reggae music, the sizzling flavors of jerk chicken, and the picturesque white sand beaches stretching as far as the eye can see.
For me? It's Usain Bolt. ⚡
But beyond these well-known Jamaican treasures, there's a different side to Jamaica. A side teeming with natural wonders waiting to be discovered.
Join us as we embark on a journey to uncover the captivating and diverse natural attractions in Jamaica.
Jamaican Waterfalls and Rivers
Jamaica is home to a host of spectacular waterfalls, offering a sublime experience for nature enthusiasts. The Dunn's River Falls in Ocho Rios, for example, is a sight to behold – a cascading waterfall that stretches for over 600 feet, culminating in a pristine, azure lagoon. Visitors can climb the terraced steps of the waterfall for an adventurous outing, or simply marvel at the sight from the viewing deck.
Flowing alongside these waterfalls are the untamed rivers that crisscross the island. One standout is the Rio Grande, an essential part of Jamaican heritage, once serving as a route for banana exports during colonial times. Nowadays, rafting down the Rio Grande on a bamboo raft, as the verdant jungle passes by, is an experience not to be missed.
The Reach Falls in Portland is a less frequented but equally mesmerizing waterfall. Its refreshing cascade is surrounded by lush foliage and hidden caves, creating a serene environment perfect for a refreshing dip.
The Martha Brae River, known for its tranquil and scenic rafting experience, offers a different perspective on the Jamaican landscape, guided by local captains narrating the folklore associated with the river.
Lush Rainforests in Jamaica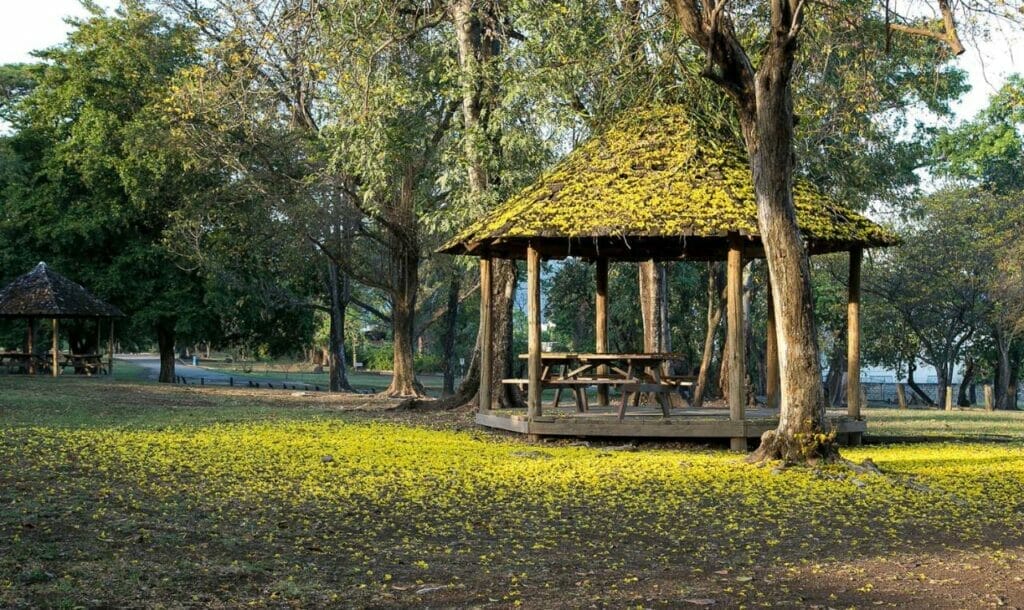 Jamaica's natural beauty extends to its lush rainforests, which are home to a varied range of plants and wildlife. The Blue and John Crow Mountains National Park, recognized as a UNESCO World Heritage site, spans four of Jamaica's parishes. There are several bird species within its boundaries, some of which are native to the island, such as the endangered Jamaican Blackbird.
Further west, the Cockpit Country is another wonder of Jamaica's lush rainforests. This unique region is characterized by its karst topography – a landscape created by eroded limestone, dotted with sinkholes and caves. This area is a biodiversity hotspot, home to various plant and animal species, many of which are found nowhere else on the planet.
The Fern Gully located near Ocho Rios is a rainforest known for its impressive collection of different fern species, creating a green canopy that offers a refreshing break from the sun.
The biggest botanical garden in the Caribbean, Hope Botanical Gardens in Kingston, shows a range of tropical plants and flowers, offering a beautiful look into the island's botanical richness.
Jamaica's Cave Systems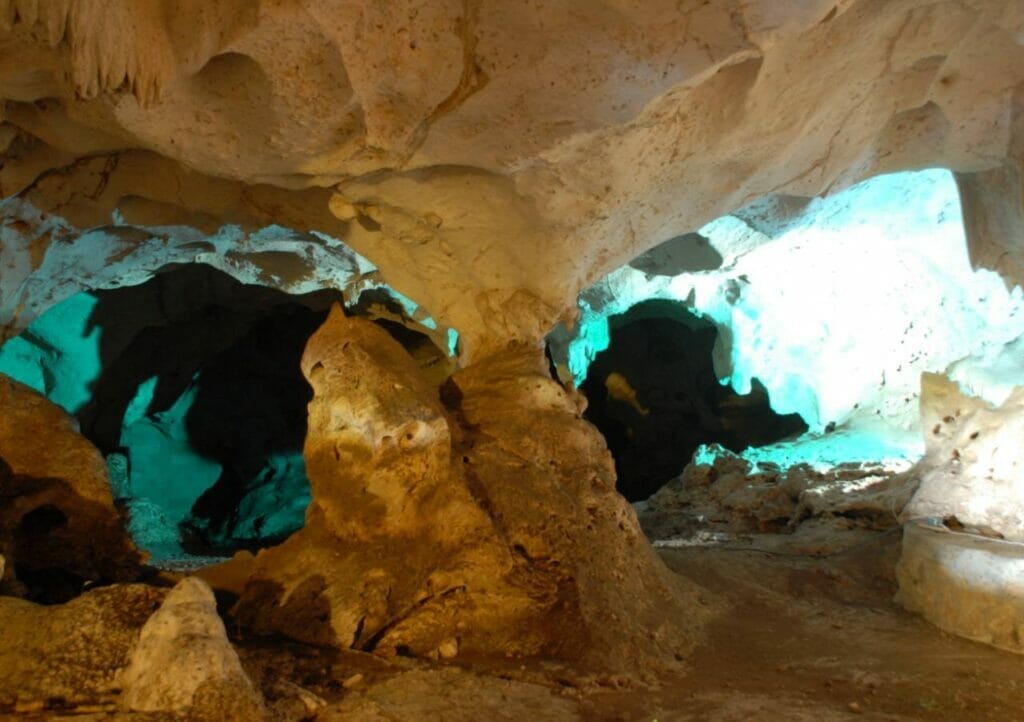 Jamaica's natural allure goes beneath the surface as well, with an extensive network of caves. The Green Grotto Caves, located on the north coast, have served various purposes over centuries, from hideouts for runaway slaves to storage areas during World War II. These caverns, ornamented with spectacular stalactites and stalagmites and a crystal-clear subterranean lake, provide an unparalleled glimpse into the island's geology and cultural history.
Similarly, the Windsor Caves in the Cockpit Country offer a unique opportunity for adventure seekers. Home to Jamaica's largest bat colony, these caves showcase a unique ecosystem within themselves. As you traverse the complex maze of tunnels, you'll encounter extraordinary rock formations that illustrate the passage of time and nature's artistic prowess.
The Runaway Bay Caves are a network of interconnected caves with fascinating rock formations and historical significance, offering a mysterious journey into the heart of Jamaica's underground.
The Thatch Hill Park Cave in Saint Ann is not only a geographical wonder but also an archaeological site, housing remnants from the island's first inhabitants, the Taino Indians.
Coral Reefs and Marine Life
Jamaica's marine world is as captivating as its terrestrial one. The island's shoreline is surrounded by enthralling coral reefs, which are home to a plethora of vivid tropical fish, sea turtles, and other marine animals. Montego Bay Marine Park, a fully protected marine reserve, is an underwater paradise for snorkelers and divers.
The ethereal Blue Lagoon, known for its magical hues ranging from turquoise to sapphire, is a testament to Jamaica's rich marine biodiversity. Sheltered and almost perfectly circular, the lagoon is home to a plethora of marine life and is considered one of the island's best kept natural secrets.
The Doctor's Cave Beach in Montego Bay is a prime snorkeling location with crystal-clear waters, vibrant corals, and abundant marine life.
The Ricks Cafe in Negril, while known for its cliff-diving experiences, also offers incredible snorkeling opportunities. The underwater life is bustling with different varieties of fish and coral reefs.
Mountains and Hiking Trails Around Jamaica
The landscape of the island, which is characterized by mountain ranges, provides several options for exploration and adventure. The Blue Mountains, the longest mountain range in Jamaica, offer some of the most challenging yet rewarding hiking trails. The climb to the peak is not easy, but the breathtaking panoramic views of the island at dawn make it worthwhile.
For a less strenuous but equally enjoyable hike, try the trails in the Hollywell National Park. Nestled within the Blue Mountains, the park offers several nature trails winding through cloud forests, past waterfalls and panoramic viewing points. A varied assortment of vegetation, including various types of ferns, wildflowers, and towering eucalyptus trees, may be found here.
Mount Moses in the Cockpit Country offers a unique hiking experience through its craggy landscapes and limestone hills, offering panoramic views of the vast terrain below.
The Catherine's Peak in the Blue Mountains, at a height of 5050 feet, is another trail that will challenge your endurance while rewarding you with sweeping views of Kingston and the lush surrounding areas.
Natural Attractions in Jamaica FAQ
What Are Some Natural Features Of Jamaica?
Jamaica boasts a diverse range of natural features. The Blue Mountains, famed for their lush foliage and high peaks, are its most notable natural feature. The island is also blessed with stunning waterfalls, such as Dunn's River Falls and YS Falls, and pristine beaches like Seven Mile Beach and Frenchman's Cove. Jamaica's natural beauty extends to its coral reefs, such as those found in Montego Bay and Negril, which provide great snorkeling and diving possibilities.
What Are 5 Things Jamaica Is Known For?
Jamaica is known for several distinct aspects. For starters, Jamaica is well-known for its reggae music, which was popularized by the iconic Bob Marley. Secondly, the island is famous for its vibrant and flavorful cuisine, including jerk chicken and ackee and saltfish. Additionally, Jamaica's athletic prowess shines through its world-class sprinters, like Usain Bolt. The country is also known for its Blue Mountain coffee and its distinctive, laid-back lifestyle that embodies the concept of "island time."
Why Is Jamaica A Tourist Attraction?
The attractiveness of Jamaica as a tourist destination originates from its natural beauty, cultural diversity, and genuine friendliness. The island offers stunning beaches, breathtaking waterfalls, and lush mountains for outdoor enthusiasts. Its vibrant music scene, reggae festivals, and lively nightlife attract music lovers from around the world. Furthermore, Jamaica's history, including its colonial past and heritage sites like Port Royal, add depth to its appeal. The genuine warmth and friendliness of the Jamaican people make visitors feel welcomed and ensure a memorable experience.