12 "Must-Do" Aruba Attractions (2023 List)
Aruba is a great vacation destination that attracts tourists for different reasons. Some visit the island for a peaceful tropical getaway, while others travel to it just to join beach parties and make friends. If you want to have a multi-dimensional experience in Aruba, you must start by learning about the best Aruba attractions:
Sunbathing, Kite Surfing, Diving, Swimming, fishing, Shopping, Caribbean dining, Ziplining and Water Leisure, Historic exploration, and beach parties are some of the best things you can do in Aruba. It is ideal to confine yourself to no more than one activity per day for an optimal vacation.
In this article, you will find out more about the best things to do in Aruba, including what you need to take part in them and where to go to enjoy them. By the end of this post, you'll have over a dozen ideas for your vacation itinerary. So, let's get started.
1. Sun Bathing
Aruba is a great place to get a holiday tan. While there is a portion of the year that's cloudy and rainy, it is possible to sunbath in Aruba at pretty much any point in the year. Even the rainiest month has 12 days of all-day sunshine and 7 hours of sunlight.
Items you need
70 SPF sunscreen – When you visit Aruba, you should have a high SPF sunscreen as the sunlight can be pretty harsh. Neutrogena Beach Defense sunscreen is waterproof and easy to apply, making it a convenient option. 
Beach mat – A beach mat can be pretty handy because the sandy beaches of Aruba are perfect for spontaneous sunbathing. You might not find them equipped with sun loungers, though. With a portable beach mat, you can easily sunbathe whenever you feel like it. 
Shades – Sunbathing is possible only when the sun is shining brightly, and the sky is clear. And that's also the type of weather where one can't open one's eyes. To avoid having to squint throughout the day, get anti-UV shades.
Places to go
Eagle Beach – Eagle Beach is one of the most urbanized beaches on the island. You can sunbathe there if you enjoy a suburban private beach vibe. 
Palm Beach – If you like your sunbathing spot peppered by tourists and backed by a luxury high rise, then Palm Beach is perfect for you. It is the most Instagram-worthy sunbathing spot. 
Manchebo Beach – This beach is a little more private than the most popular beaches in Aruba. It is ideal if you plan to sunbathe for long hours. 
Savaneta Beach – If you want to go beyond private-feeling beaches to local favorites, then you'll love Savaneta beach. It is a hidden gem of a beach located a 30-minute drive from the highrise strip.
2. Baby Beach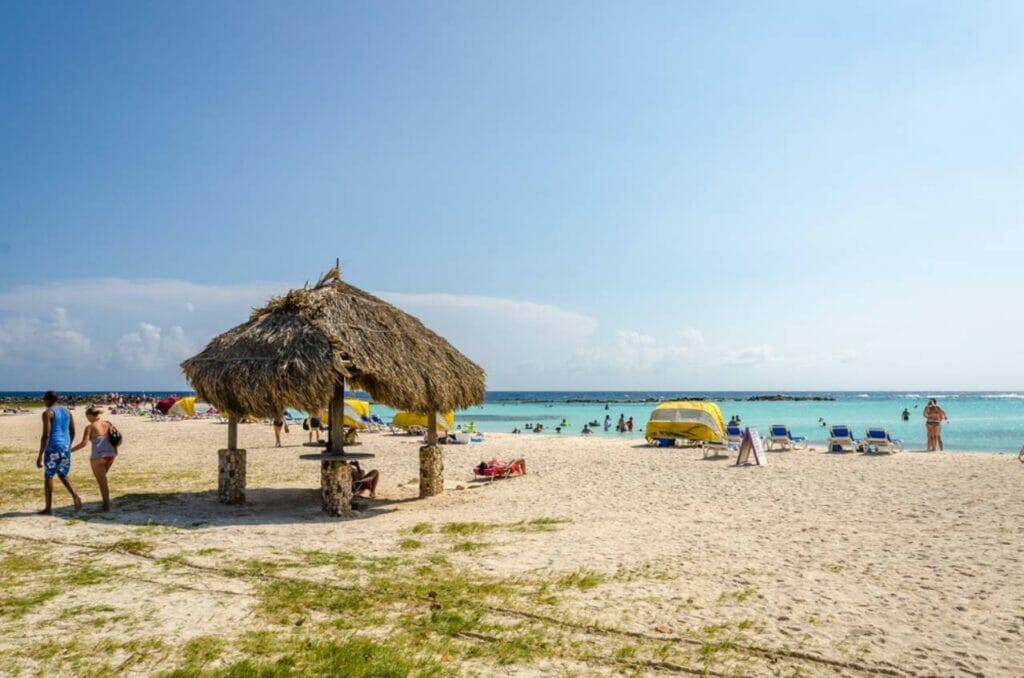 If you like the view of clear water and white sand, then you will like hanging out at this beach. It has a tropical theme even in its commercial aspects, like the thatched roofed snack bar.
The local feel of the beach seems well-preserved despite international tourist interest.
3. Surfing
Surfing opportunities in Aruba are pleasant and plenty. In fact, dedicated surfers travel to Aruba specifically to surf. Different coasts and dozens of beaches with a diversity of breaks make it a perfect destination for beginner, intermediate, and advanced surfers.
Items you need
Surfboard – It is better not to travel with your own surfboard because renting one in Aruba is convenient. The money you save bringing your own surfboard will be spent anyway as you'll be forced to take cabs everywhere. A surfboard-free traveler can take the bus to every spot. 
Surfer shorts – These, you're better off buying at and packing from home. Not only are shorts marked up in Aruba, but they're also quite limited in variety. QuickDry shorts are as rare in Aruba as they are beneficial. 
Quick dry towel – Quick dry towel (or any towel for that matter) can be helpful. You'll get wet surfing, and by quickly drying off, you can move on to the next activity.
Places to go
Kite surfing locations in Aruba are so many that an entire post is dedicated to where to kite surf in Aruba. Still, here are the top three surfing locations on the island.
Arashi – Arashi beach is perfect for surfing in the hurricane season. As an exposed beach break, it offers a challenge for intermediate surfers and an easy conquest for an advanced surfer. 
Rodger's Beach – Also known as Nanki, Rodger's Beach is a surfing spot with an exposed reef break. It is good for advanced surfers looking for a challenge. 
Manchebo – Manchebo has a consistent current with reliably gentle surf. You can go surfing at Manchebo at any point during the year.
4. Kite Surfing
Kite surfing is an exciting activity that combines the thrill of sky diving and surfing in an elevated-gliding experience.
Anywhere there is consistent wind, there is a possibility of kite surfing. It is an activity that takes some learning but is easy enough to get a grip on in a few hours.
You can get kite surfing education in Aruba from…
Aruba Kite Surfing School – This is a diverse training establishment that gives lessons in Kite Surfing, Paddleboarding, and Wing Surfing. 
Aruba Active Vacations – This is a Kitesurfing & Windsurfing school in Aruba. What makes Aruba Active Vacations unique is the amenities it offers, including free Wi-Fi and a rooftop lounge. 
Pro Kite School Aruba – Pro Kite School Aruba is best for those who want an upfront price and a description of what they're getting. As of 2023, you can expect a 6-class pack spanning over 12 hours for $750 ($62.5/hour).
5. Diving
Deep sea diving in Aruba is a worthwhile adventure because of Aruba's interesting shipwrecks and clear waters. Diving is also a heat-independent and rain-independent activity that you can engage in no matter how harsh the summer or how rainy the weather is.
That said, you'll be advised against diving when there is a storm or a hurricane affecting the coastal waters (very rare).
Diving Sites in Aruba
The Jane Sea – This is a huge cement freighter that was sunk by the local authorities to form an artificial reef. It is rumored that it was found smuggling coke, and the authorities let it stay docked to catch the claimant. But no one came to claim it, so it was sunk. Its nickname, "Jane C," was changed to "Jane Sea."
Pedernales – This is a World War II-era ship that was damaged by a torpedo and cut up into three pieces. It is now a popular attraction for diving enthusiasts. 
Antilla Wreck – The Antilla is special in scale. It is the largest shipwreck dive in the Caribbean (393 feet long) and is covered by a diverse range of marine life. You need to dive 60 feet under sea level to explore the Antilla.
6. Swimming
Given that the country has 40 beaches, swimming is one of the most popular tourist activities. You can swim in pretty much any body of water in Aruba because the water temperature is great throughout the year. You just need to be mindful of your safety because there are no coastguards in Aruba.
The best places to swim in Aruba are usually natural pools and relatively secluded beaches without the hustle and bustle of popular tourist spots. While Aruba has 40 beaches, here are the ones that swimmers love.
Eagle Beach – If you want to swim in high visibility and with a social ambiance, then there is no place better than Eagle beach for your next swim. The water starts out pretty shallow but eventually gets pretty deep. People are present at the coast at any given time, but there are no coast guards. 
Conchi Natural Pool – Separated from the sea with a natural rock formation, the Conchi Natural Pool is a unique phenomenon that attracts swimmers, photographers, and onlookers. 
Arashi Beach – Arashi is a peaceful stretch of sandy beach with clear water that turns blue as it stretches into the horizon. The beach is a great place for a swim followed by a sunbathing session. 
Baby Beach – Baby Beach is a smaller, private-feeling beach that is great for couples that want to swim together, dip their toes in the water, or just hang out away from the crowd. 
Cave Pool Aruba – The cave pool is in Santa Cruz, Aruba. As the name suggests, the structure itself is a cave, but the "cave" covers a body of water instead of land. So it is possible to swim into it.
7. Fishing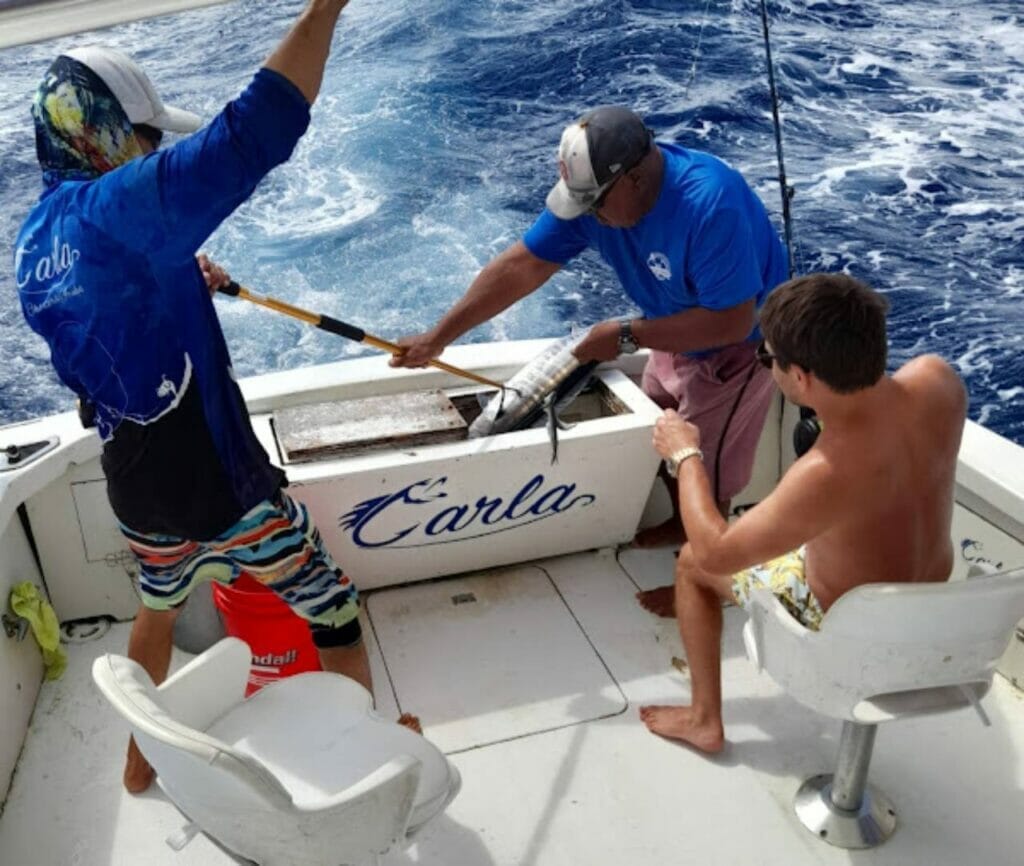 Fishing in Aruba is fun, and the diversity of marine life on the island provides opportunities for eccentric catches. You can angle for Kingfish, Sailfish, Blue Marlin, and Jacks. You can also get your catch barbequed on the beach or take your own grill kit to enjoy self-caught and self-cooked food by the beach.
Most of the fishing business, including charters and lesson providers, are concentrated in Oranjestad, near Reinnesance Marina. These charters navigate the water with the highest concentration of marine life, so catching fish is easier for intermediate anglers.
The top fishing charter businesses in Aruba include the following:
Fly & Spin Fishing Aruba 
Carla Fishing Charters Aruba 
Natasha Sport Fishing Aruba 
Hatts Off Fishing Charters Aruba
You can buy live bait from fishing supply shops around the arena. Often, the charter providers also sell bait and rent out fishing equipment. There is no need to travel to Aruba with your own fishing rod.
8. Shopping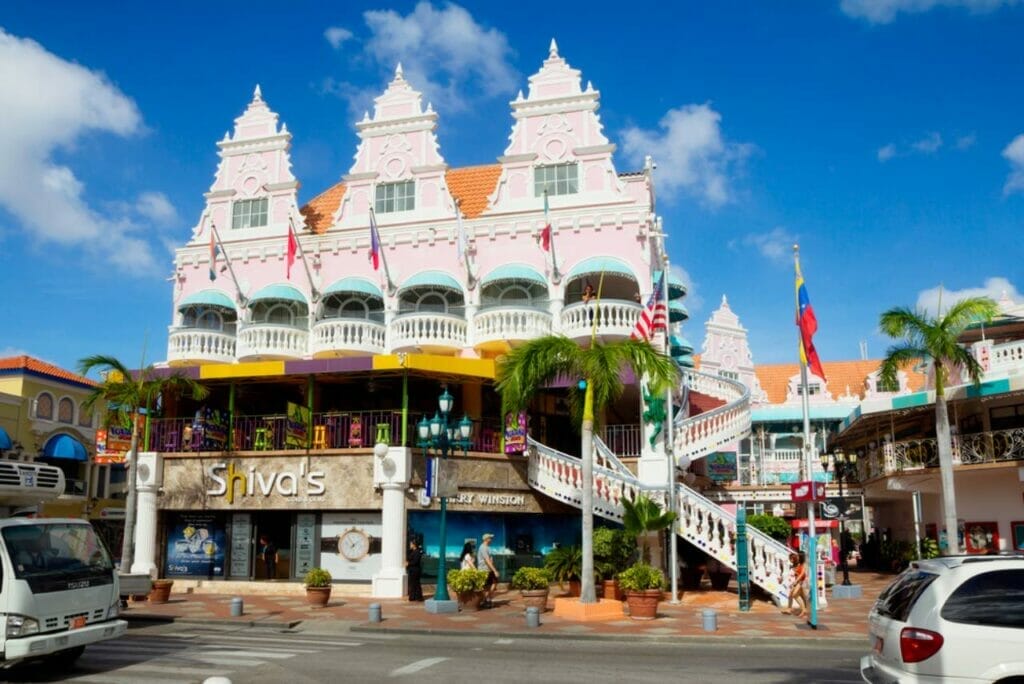 Aruba isn't the best choice for budget shopping, but it has plenty of places to go souvenir shopping. If retail therapy is your thing, then combining it with travel therapy can have double the benefits.
Here are some places to buy local souvenirs and items.
Aruba Glass Ceramics – While it might not be the brightest idea to haul large glass ceramics in your plane luggage. But aside from giving glass-shaping classes, Aruba Glass Ceramics also offers pocket-sized souvenirs. 
Aruba Aloe Factory – Aloe products are functional souvenirs that you can buy at Aruba aloe Factory.
9. Ziplining and Water Leisure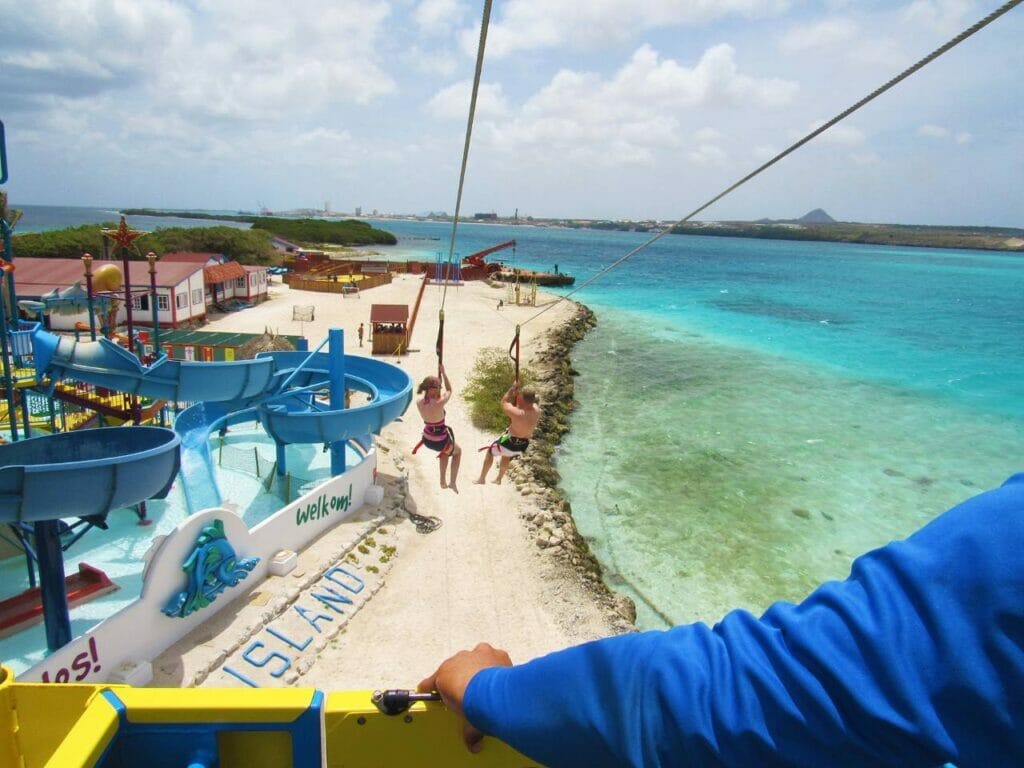 One place to visit in Aruba is the De Palm Island Resorts park. It has Aruba's only zipline as well as activities like banana boat rides and underwater helmet walks. It is a must-visit place if you want to have things to do with your family.
Among the activities you can enjoy at the De Palm Island Resorts are
Snorkeling 
Salsa Lessons 
Banana Boat Rides 
Hanging out with Flamingos 
Beach Cabanas 
Day Spa
10. Beach Parties
During the peak tourist season, there are plenty of outdoor parties that start as soon as the sun begins to set. Evening parties at Eagle Beach and Palm Beach are iconic for their spontaneity and fun atmosphere.
Top Party Beaches in Aruba include
Eagle Beach – Eagle beach is one of the most popular beaches in Aruba, with mid-rise and low-rise resorts at a stone's throw. Many tourists head out to the beach in the evening to enjoy the sunset parties and the social ambiance. 
Palm Beach – Palm Beach is close to high-rise resorts and attracts the party crowd consisting of locals and tourists. 
Boca Catalina (Beach Boat Parties) – For slightly more exclusive parties, give Boca Catalina a try. While there are no parties on the actual beach, boats and yachts off its coast, have night parties. You will need to either book a boat ride or join a pre-existing party to enjoy a Boca Catalina night out.
11. Caribbean Dining
Aruba is not just a vacation destination. It is a nation. It has a rich tradition of seafood-inspired cuisine with a strong tropical flavor. If you visit Aruba, please avoid sticking to American classics and junk food.
Aruban cuisine includes some of the most delicious dishes and delicacies like Keshi Yena, Fried Plantain, Cabrito Stoba, Sopi Mondongo, Cala, and Bolita di Keshi.
The best restaurants in Aruba include
Wilhelmina Restaurant – Try this restaurant's fresh seafood and delicious steaks paired with good wine. Its homemade pizza and pasta are favorites among locals and tourists alike. 
Ocean Z Restaurant – If you're over restaurant chains and big-name dining establishments, let Ocean Z Restaurant spoil you with attention and bespoke service. It is a boutique restaurant that prioritizes personal service over everything else. 
Po-Ke Ono Aruba – Po-Ke Ono brings authentic Asian cuisine to the Caribbean under the leadership of local superstar Chef Urvin. Definitely a must-visit for foodies. 
Restaurant Anno 1877 – A restaurant in an 1800s building creates the perfect atmosphere for a unique dining experience. The restaurant has a range of soups, appetizers, and salads and has been featured in Forbes. 
Senses Fine Dining Restaurant – This restaurant offers a refreshing break from Caribbean cuisine. It offers Scandinavian food with a french twist, which is a fusion that most foodies would love to try, especially in a tropical setting.
12. Historic Exploration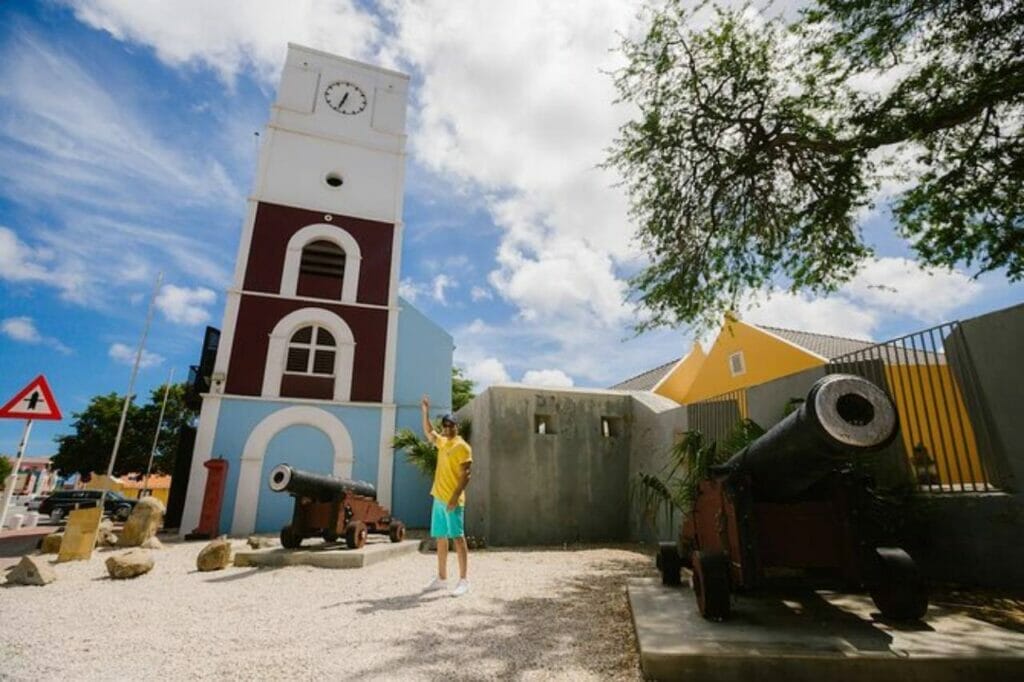 Aruba's history is interesting, and taking a trip to the National Archeological Museum Aruba can be an insightful experience. If you're interested in foreign history, you should definitely include Aruban Museums in your itinerary.
Aside from the archeological museum, there's Museo Historico Aruba, which is slightly less developed but still rich.
Aruba's history is quite interesting, and multiple historic tour operators help tourists understand how One Happy Island became what it currently is. Its heritage and history are worth exploring for those interested in foreign cultures, international history, and engaging, non-touristy activities.
Here are the best historical tours in Aruba
Aruba Historic and Cultural Downtown Walking Tour – This tour costs $40 and comprises a downtown stroll with a tourist guide. On this tour, you learn about the historical significance of different locations that can be spotted in downtown. It is far from an in-depth induction into Aruban history but is a great activity for a slow day. 
Aruba Island Sightseeing Tour – This tour features small doses of knowledge and history and more island-wide coverage of significant sights. It costs $41 to book this tour. 
Aruba Countryside Tour – If you want to learn more about the hidden gems in Aruba, then the countryside tour is something to look into. It costs $42 and comes with a knowledgeable guide and a bus ride. The route covers the scenic countryside of Aruba, and the guide tells the passengers more about the agricultural history of Aruba. 
Fusion of the World Food Tour – If learning about random sights' significance and the history of Aruba, in general, doesn't sound interesting, you might want to add food to spice things up. Fusion of the World Food Tour costs $79 and is akin to a pub crawl but for bites. It takes place in Oranjestad, which is home to some of the best restaurants and food vendors in the Caribbean.
Final Thoughts: Aruba Attractions
Aruba is one of the few vacation destinations that can keep tourists busy regardless of the span of their vacation.
You can take a 3-day trip to Aruba and have a well-rounded foreign tourist experience.
Or…
You can stay for a month engaging in different activities each day and still not run out of things to do. You can spend a month just visiting different beaches on different days!