Miami Beach vs. Clearwater Beach: The Ultimate Comparison
Welcoming more than 313 million tourists in 2019 alone, Florida boasts some of the United States' most stunning beaches and impressive resorts. If you're planning a sunny getaway, bustling Miami Beach and dreamy Clearwater are sure to be on your shortlist. But who wins in the Miami Beach vs. Clearwater Beach battle?
Miami Beach is better if you're looking for glamorous energy and dynamic nightlife right on the beach. Clearwater is better if you are looking to enjoy natural beauty in the Gulf of Mexico in a more laid-back family vacation.
| Category | Miami Beach | Clearwater Beach |
| --- | --- | --- |
| Natural Beauty | Blue ocean and white sand | Blue-green ocean, white sand, dolphins, mangroves |
| Weather | Avoid hurricane season from June through November | Avoid hurricane season from June through November |
| Activities | Sunbathing, swimming, cruises, jet skis, nightclubs | Sunbathing, swimming, dolphin tours, jet skis, Caladesi Island |
| Activities for Kids | South Pointe Park | Waterslide, Pier 60 celebrations, Pirate Tour |
| Food and Drink | Latin American cuisine, seafood, international cuisine, bars and clubs, fast food chains | Seafood, international cuisine, fast food chains |
| Parking | Parking lots and structures, $2-$4/hour | Parking lots and structures, $3/hour, free at ferry ports |
| Accessibility | Free manual and motorized beach wheelchairs, Mobi-mats | Free manual wheelchairs |
Miami Beach and Clearwater Beach: The Basics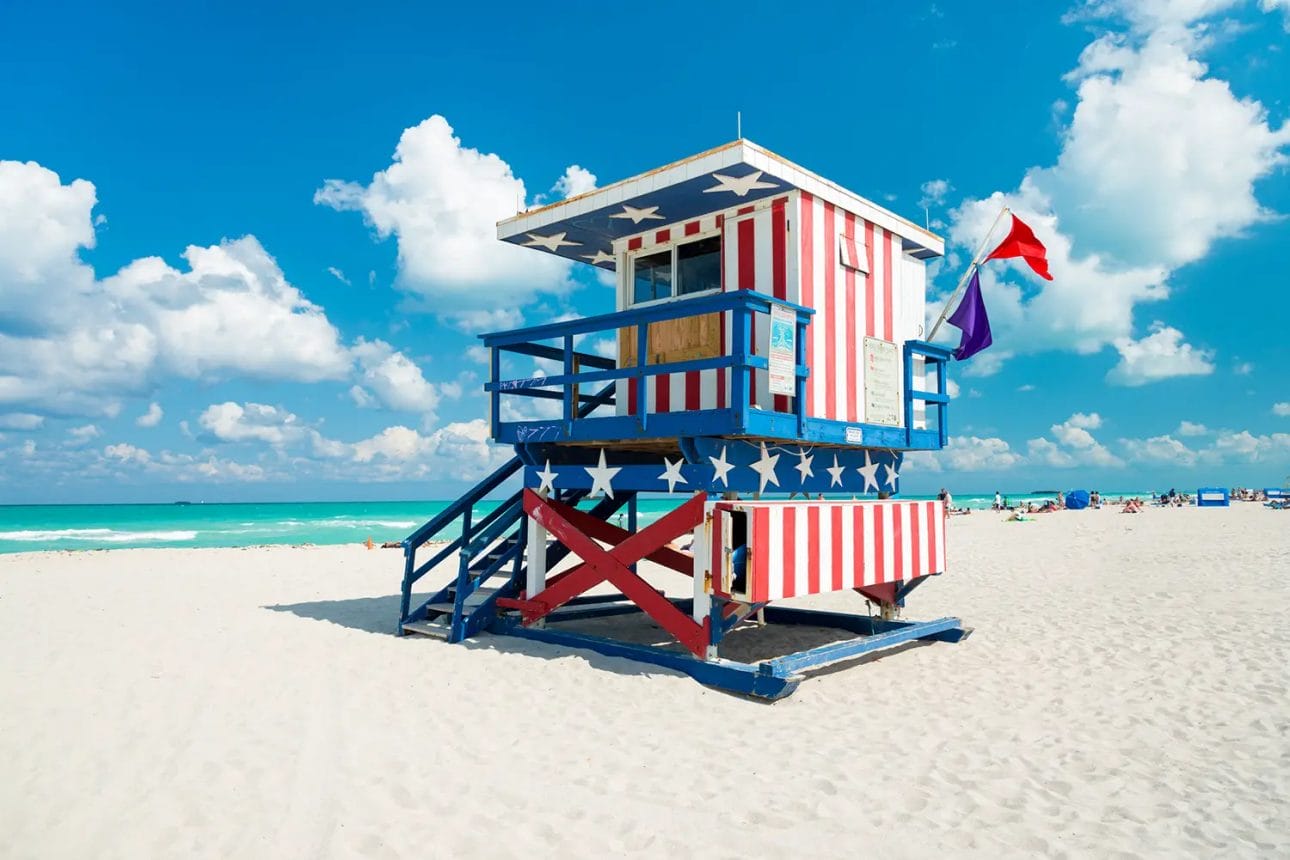 Miami Beach is a city connected by bridges to the larger Miami, the second most populous city area on the East Coast. Facing the beautiful Atlantic ocean, its beach is a popular destination for snowbirds and celebrities. Visitors can expect near-constant sunny weather, vibrant people-watching, and plenty of entertainment.
Clearwater is on the west side of Florida, on the coast of the Gulf of Mexico. Clearwater Beach has topped Trip Advisor's annual list of best beaches in America three years out of the last five. Tourists enjoy the vibrant scenery, friendly atmosphere, and excellent seafood.
This article will explore different key aspects of each beach so that you can decide which is better for you and your needs.
Natural Beauty
Both of these beaches are pristine and beautiful. Miami beach is four miles of white sand and blue Atlantic ocean, backed by palm trees and glittering hotels.
On the other hand, Clearwater beach is famous for its very fine and soft white sand. The Gulf waters have a slightly green shine and are full of captivating wildlife like dolphins and whales. Nearby Caladesi Island State Park, a short boat trip away, boasts an untouched grove of mangroves and is well worth a visit.
Weather
You'll want to avoid hurricane season in Florida, which stretches from June to November. Miami runs slightly hotter than Clearwater, but both Clearwater and Miami experience high temperatures and sunny weather. For milder temperatures, visit Clearwater between December and March when temperatures hover in the high 60s.
Activities
Many activities in Clearwater Beach center around opportunities to enjoy the breathtaking coast. Dolphin tours allow you to encounter these incredible creatures in the wild, or, if you prefer, you can rent a jet ski for your own adventure. If you're staying for more than a day, you can't miss a boat ride to the unspoiled Caladesi Island State Park. And make sure you walk Pier 60.
Miami Beach also offers ocean cruises and water sports, but a whole new scene opens up at night. Try Basement Miami on mid-beach for a nightclub with bowling lanes and a mini-icerink, or, for something more sophisticated, Nikki Beach in South Beach serves drinks in a beautiful atmosphere right on the sand.
And of course, if lounging and tanning is more your style, both beaches have chairs, beach umbrellas, and cabanas available to rent.
Activities for Kids
Kids will love Miami Beach's warm waters and white sand. To mix things up, take them to South Pointe Park at the tip of the boardwalk. This beautiful green space offers wide views of the bay, family-friendly walks, playgrounds, and even some mini water features for kids to play in.
Families visiting Clearwater Beach have plenty of options. Kids can ride a massive waterslide at Pier 60, and there are also bungee ropes and other activities. As the day heads into the evening, Pier 60 is transformed by a four-hour sunset celebration with street performers, music, and an outdoor movie theater. For something extra-memorable, consider booking onto Captain Memo's Pirate Cruise – an ocean tour in a pirate ship manned by friendly pirates.
Food and Drink
Both Clearwater Beach and Miami Beach offer a huge variety of restaurant options. Familiar fast food places stand alongside charming local seafood restaurants and establishments ranging from the quick and easy to the lavish and high-end.
Miami Beach is famous for its Latin American cuisine, and you'll find plenty of examples of that down by the beach. One example is La Ventana, a great Columbian restaurant down in South Beach. But if you're looking for classic American family-eating comfort food, check out the iconic Big Pink. Lincoln Rd stretches from the beach across the island: it is a charming pedestrianized street with plenty of places to eat.
Clearwater's Pier 60 plays host to many food trucks and other fun, affordable food options. If you're looking for dinner and drinks with a view, you'll find it at Sandbar. For delicious seafood and a family-friendly atmosphere, Salty Crab North Beach is a great option. For something more lively in the evening, check out Beach Fire Bar on North Beach, a grill and karaoke bar where food is prepared over an open fire.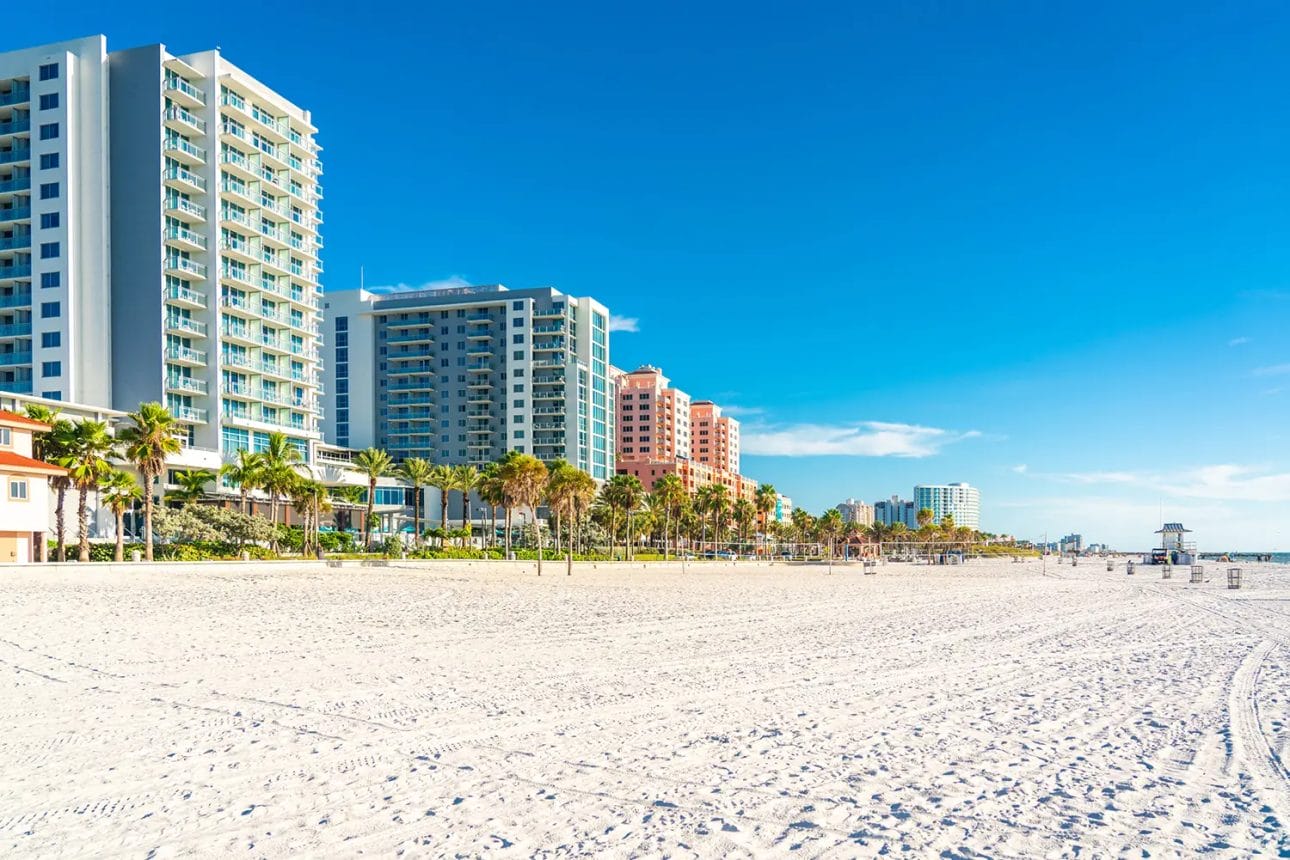 Parking
There are beachside parking lots and parking structures in Clearwater, typically charging $3/hour. Depending on your plans, a cheaper option might be Clearwater Ferry, which offers free parking at its downtown departure sites and will take you directly to the beach. Rates run at $4 each way for adults with concessions for seniors and children.
Miami Beach has plentiful parking, with rates ranging from $4 to $2 an hour. If you're planning to stay for a few nights, look for hotels with free parking.
Accessibility
Both Clearwater Beach's and Miami Beach's boardwalks are accessible to wheelchairs, and both have free beach wheelchairs available to visitors on a first-come, first-serve basis.
In Miami, motorized and manual beach wheelchairs are offered at the Beach Patrol stations at Southe Pointe Park and 1001 Ocean Drive from 9:00 am. It's worth calling ahead to check availability. Access directly onto the beach via Mobi-mats is available at certain places along the boardwalk, including Southe Point.
Clearwater beach's Pier 60 is wheelchair accessible, and you can find free manual beach wheelchairs at the Clearwater Life Guard building at the Pier 60 parking lot. They are available from 10 am, and it's a good idea to be there early in the day to get one before they are gone.
If you miss the last one, both Clearwater and Miami Beach have several places that rent beach wheelchairs for your convenience.
Final Thoughts: Clearwater Beach Vs. Miami Beach
Clearwater is better for a slower-paced, family-oriented vacation soaking in the beauty of the Gulf of Mexico's waters by boat or jet ski. Miami Beach is better for trips with friends or couples' getaways, offering dynamic nightlife along with an exciting city backdrop.
Whether you're looking for an energetic day of fun in the ocean or a relaxing vacation on a beautiful beach, both Clearwater and Miami Beach will deliver. They are both world-class beaches with incredible amenities and opportunities for fun in the sun.