Maui and Oahu, two enchanting Hawaiian islands, offer distinct paradises for travelers seeking unforgettable experiences. With their diverse landscapes and vibrant cultures, these Pacific gems present a delightful dilemma when choosing your tropical escape.
The main difference between Maui and Oahu lies in their distinct atmospheres. Maui offers a more laid-back and serene ambiance with its breathtaking beaches, lush landscapes, and tranquil surroundings. Oahu is a vibrant and bustling island, home to the city of Honolulu and a diverse range of cultural experiences.
Travelers seeking relaxation amidst natural beauty may prefer Maui, while those looking for a mix of urban adventures and Hawaiian culture may find Oahu more appealing. Choose based on your desired vacation vibe!
| Aspect | Maui | Oahu |
| --- | --- | --- |
| Cost Range for 1 Week | $830 – $3,867 (source) | $808 – $7,565 (source) |
| Location | Part of the Hawaiian Islands | Part of the Hawaiian Islands |
| Geography | Stunning beaches, rainforests, and Haleakalā volcano | Waikiki Beach, Pearl Harbor, and Koʻolau mountain range |
| Language | English and Hawaiian | English and Hawaiian |
| Government | County government | County government |
| Currency | United States Dollar (USD) | United States Dollar (USD) |
| Tourism | Relaxation, outdoor activities, and natural beauty | City life, historical sites, and urban attractions |
| Economy | Tourism, agriculture, and renewable energy | Tourism, military, finance, technology, and manufacturing |
Island Landscapes: Geography of Oahu and Maui
Aloha, fellow wanderers! Dreaming of Hawaiian sunsets and beachy days? Let's embark on a journey together to the heartbeats of Hawaii: Oahu and Maui. I'll help you find the perfect fit for your island escapade!
First stop, Oahu, the lively soul of Hawaii. Trust me, Oahu is the real deal! Picture this: emerald mountains, pristine beaches, and iconic surf waves like Waikiki. Got kiddos? They'll be over the moon snorkeling in the North Shore's clear waters.
And for my hiking buddies, reaching Diamond Head Crater's peak is like touching the skies—those views are unbelievable! From pocket-friendly stays to mouthwatering food hubs, Oahu never disappoints. And for those seeking a touch of luxury, you're in for oceanfront treats that are just beyond words.
Next up, the romantic gem, Maui. Sigh, Maui feels like a love letter written by nature. Imagine waking up to the sight of waterfalls pouring through verdant rainforests or witnessing the break of dawn at Haleakala National Park. Sounds magical, right? Couples, prepare for those dreamy beach sunsets that look straight out of a painting.
And to my adventurers, the iconic Road to Hana is a ride filled with twists, turns, and treasures. Whether you're counting pennies or splurging on luxury, Maui offers cozy B&Bs, local grub spots, and plush resorts that showcase the vast ocean.
Deciding between Oahu and Maui? Think of it this way: if you're seeking a lively, everything-for-everyone kind of trip, Oahu's buzzing energy is perfect for you. On the other hand, if you're chasing tranquility and romantic vibes, let Maui's charm pull you in.
Whichever you lean towards, both islands promise adventures and views that'll etch into your heart forever. So pack that sun hat, your favorite swimwear, and a heart ready for wonder. Let's lose ourselves in Hawaii's embrace!
Sun-Kissed Shores: Beaches of Oahu and Maui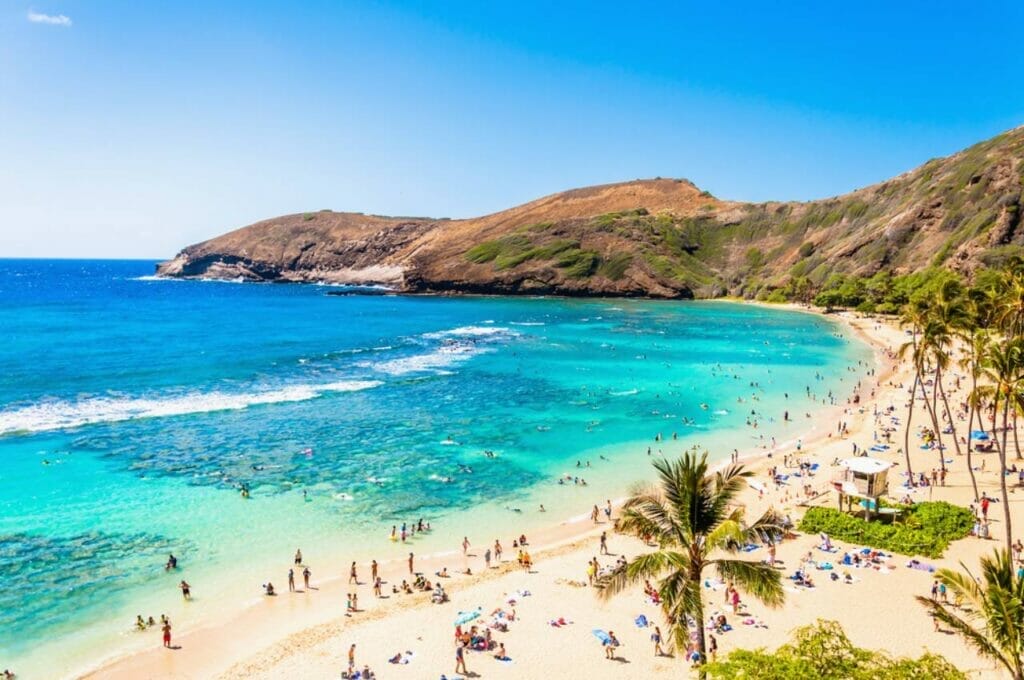 Oahu, fondly called "The Gathering Place," is a vibrant melting pot of experiences. Imagine taking your kids to Waikiki Beach, feeling the soft golden sands tickle your toes as you create sandcastles and memories. Picture yourself with your partner, hand in hand, wandering along Lanikai Beach, pausing to take in those picture-perfect Mokulua Island views.
And if you've got an adrenaline junkie's heart, the monstrous waves of the North Shore's Banzai Pipeline are waiting for you. No matter your budget or craving for luxury, Oahu's got a cozy spot for you – be it a snug beachside shack or a lavish beachfront resort.
Now, for those looking to escape the hustle and connect with their inner zen, Maui extends a warm, relaxed embrace. Envision your family at Kaanapali Beach, eyes wide with wonder spotting majestic humpback whales or swimming with vibrant marine wonders. For couples in search of an intimate retreat, the enchanting Honokalani Beach, with its contrasting black lava rocks and rich green landscape, offers a serene sanctuary.
And for the explorers at heart, the Road to Hana presents a journey filled with secret beaches and cascading waterfalls just waiting to be discovered. Whether you're on a shoestring budget or in the mood for opulence, Maui has a spot that feels just right.
Though both Oahu and Maui are drenched in sun and saltwater, they each have a special story to tell. While Oahu hums with a lively spirit and rich diversity, Maui sings a soothing lullaby of peace and nature's beauty.
Best-Kept Secrets: Uncovering Attractions in Oahu and Maui
Oahu, fondly known as the "Gathering Place," is a mesmerizing blend of rich culture and breathtaking nature. If you're planning a family trip, imagine the awe on your kids' faces as you wander through the historic Pearl Harbor and uncover tales of the island's past.
If it's a romantic getaway, imagine walking beside your loved one, your toes sinking into the golden sands of Waikiki Beach. And for the adventure lovers? The North Shore's roaring waves are calling your name.
What I adore about Oahu is its versatility. Whether you're on a shoestring budget looking for cozy stays and local delicacies or desiring a lavish escape with sumptuous resorts and exquisite meals, Oahu's got your back.
Now, if you're seeking a more tranquil and intimate vibe, Maui, the "Valley Isle," awaits! Families can bond over the enchanting journey along the Road to Hana, where waterfalls and vivid rainforests will leave you spellbound.
Couples, find your own secret spot on Maui's pristine beaches, ideal for watching the sun melt into the horizon. And if you're itching for an adrenaline rush, the majestic Haleakalā volcano or exhilarating water sports are sure to thrill.
Maui's charm extends to its range of accommodations and dining. From quaint B&Bs and tantalizing local eateries to luxury resorts serving gourmet delights, there's something for every traveler's taste and budget.
So, what's it going to be? Oahu's vibrant spirit, perfect for families and culture enthusiasts? Or Maui's calming allure, tailor-made for couples and those seeking a tranquil retreat? And let's not forget, both islands are a playground for thrill-seekers!
Hawaiian Hospitality: Accommodations in Oahu and Maui
If you're dreaming of a Hawaiian escape, both Oahu and Maui beckon with a tapestry of stays tailored to every kind of wanderer. Let's dive into the tropical wonders each island has to offer, whether you're with family, your significant other, seeking adventure, on a budget, or aiming for the pinnacle of luxury.
Oahu, fondly referred to as the "Gathering Place," is a paradise for families and those with a zest for adventure. If you're traveling with the kiddos, Marriott's Ko Olina Beach Club is your go-to, boasting spacious villas that'll feel just like home after a day of island discovery.
Craving a sprinkle of opulence? The Four Seasons Resort Oahu at Ko Olina promises romance with breathtaking ocean views couples will swoon over. And for the savvy traveler hoping to soak in Oahu's charm without splurging, the Embassy Suites by Hilton Oahu Kapolei has you covered, blending affordability with quality.
For couples yearning for a serene oasis, the Sheraton Maui Resort & Spa is your ticket with its expansive pools and pristine beachfront. Seeking that extra dash of luxury? The Andaz Maui At Wailea Resort is a marvel, combining modern design with gourmet delights, perfect for those who love the finer things.
Families, don't feel left out; the Four Seasons Resort Maui at Wailea will charm both kids and adults alike with a delightful mix of fun-filled activities and sophisticated allure.
Oahu or Maui, whichever you lean towards, you're guaranteed a kaleidoscope of stays fitting all tastes and wallets. Oahu thrills with adventures, while Maui mesmerizes with its tranquil beauty.
Cruising the Islands: Car Rentals in Oahu and Maui
Venturing into the heart of Hawaii, on the beautiful islands of Oahu and Maui? Let's chat about getting you around!
Oahu, with its buzzing city vibes and jaw-dropping landscapes, is all about choices. If you're traveling with the kiddos, imagine the joy on their faces when you roll up in a spacious ride from Lucky Owl Car Rental. Want a dash of luxury for those romantic getaways? National Car Rental has got just the classy touch you're after. And for the wild at heart? G.I. Jeep Rental Oahu promises rugged rides for those unbeaten paths.
Now, let's hop over to Maui, the island that feels like a spell has been cast over it. On a tight budget but still want to see all the wonders? Makoa Rental Car Maui has got you covered. If you're thinking of a dreamy drive with your partner, Frank's Friendly Cars Maui Car Rental LLC knows all the romantic spots and offers the kind of service that makes you feel like family. Families wanting to take the scenic route? North Shore Maui Rent-a-Car has everything from zippy compacts to roomy SUVs.
Whether you're chasing the hustle and bustle of Oahu or the calm waves on Maui's beaches, the magic of Hawaii is waiting. It's not just the places but how you get there that makes the journey special. From the thrill-seekers considering G.I. Jeep Rental Oahu to those looking for elegance with National Car Rental or budget explorers leaning towards Makoa Rental Car Maui, there's a ride for everyone.
At the end of the day, it's all about the memories you make. Families, couples, adrenaline junkies, or those just looking for a peaceful escape, Oahu and Maui are calling out to you. Let your chosen wheels be the chariot to your adventures.
Hawaiian Gastronomy: Dining Experience Comparison for Oahu and Maui
Oahu is a flavor-packed island where every corner offers a unique foodie experience. Got a special celebration? Make a beeline for the 53 By The Sea. It's not just a restaurant, but an awe-inspiring encounter with the sea, where stunning vistas meet exquisite fine dining. Now, if it's romance you're after, La Mer wraps you in a cocoon of elegance, serving a delicious platter of French-inspired cuisine amidst a fairytale ambiance.
But don't worry, if you're on a fun-filled family escapade, Mud Hen Water's fusion of Hawaiian meets Southern comfort food is your go-to spot. It's like a bear hug for your taste buds that every family member will love!
On to Maui, your pit stop for a charming mélange of flavors that beautifully ride the waves between relaxation and adventure. Swinging by Wailea? Don't miss out on the farm-fresh delights at Monkeypod Kitchen by Merriman. Their farm-to-table approach is like a love letter to local produce that your taste buds will fall head over heels for.
For a sprinkle of tradition mixed with a whiff of oceanfront nostalgia, the legendary Kimo's Maui in Lahaina is a crowd-pleaser. That ocean breeze mingling with mouthwatering seafood? Unforgettable! And of course, if you've got Iron Chef Masaharu Morimoto on your culinary hero list, then his restaurant, Morimoto Maui, is a must-try for its fusion of Asian culinary mastery with a Hawaiian twist.
Both Oahu and Maui are like a food lover's treasure chest, overflowing with culinary riches that cater to every palate and pocket. So whether you're adventuring with the kiddos, swooning on a romantic retreat, hunting for heart-racing adventures, or simply out to pamper yourself with luxurious eats, these Hawaiian islands have your cravings covered.
Maui Vs Oahu FAQ
Is Maui or Oahu nicer?
Maui offers a more serene and laid-back atmosphere compared to the bustling energy of Oahu. With its picturesque beaches, lush landscapes, and diverse outdoor activities, Maui provides a peaceful escape. In contrast, Oahu has a vibrant metropolitan environment, well-known attractions like Waikiki Beach, and a long history of cultural diversity. The choice between the two ultimately depends on personal preference for tranquility or urban excitement.
Is Maui more expensive than Oahu?
Maui tends to be pricier than Oahu due to its luxurious resorts, upscale dining options, and exclusive amenities. Additionally, the cost of living on Maui is generally higher. Oahu, being more urban and populated, offers a wider range of accommodations and dining choices at various price points, making it relatively more affordable for travelers on a budget.
Should I go to Oahu or Maui first?
For an ideal itinerary, starting with Oahu before venturing to Maui is recommended. Oahu provides a dynamic introduction to Hawaiian culture, historical sites, and vibrant city life. This makes for the perfect setting for tourists to Maui to unwind and take in the gorgeous beaches, natural beauty, and outdoor activities of the island.