Lahaina vs. Kaanapali: Which Is the Better Place To Stay?
Lahaina and Kaanapali are neighboring towns on the west side of Maui, and since they are close, it can be challenging to determine which place is better to stay in. Each offers a unique atmosphere with different amenities, price ranges, attractions, and activities.
Lahaina is the better place to stay if you don't mind spending more on a smaller hotel or resort and want to be close to the best historical sights. Kaanapali is the better place to stay if you want to be close to the famous Kaanapali beach and the more modern attractions. 
So, let's see what both Lahaina and Kaanapali have in store and determine which town might be best for you. I'll discuss each place's costs, attractions, atmosphere, and outdoor activities to help you plan your stay in Maui.
Lahaina vs Kaanapali: An Overview
| Category | Lahaina | Kaanapali |
| --- | --- | --- |
| Cost Range for 1 Week | $1,735 per person | $1,222 per person |
| Transportation | Walking, bus, ridesharing, taxis, rentals, shuttles, chartered drivers | Walking, bus, ridesharing, taxis, rentals, shuttles, chartered drivers |
| Atmosphere | Historic town with a quaint appearance | Popular tourist area with a clean, modern look |
| Notable Attractions | Banyan Tree, Front Street, Baldwin Home Museum, Wo Hing Museum | Whalers Village, Hawaiʻi Wildlife Discovery Center |
| Best Outdoor Activities | Wahikuli Wayside Park, Baby Beach, Lahaina Beach | Swimming, surfing, snorkeling, and cliff diving at Kaanapali Beach, Golfing |
Cost of Stay
The most significant difference between Lahaina and Kaanapali is the cost.
Kaanapali is cheaper than Lahaina because there are many hotels, resorts, restaurants, and transportation options, allowing you to find lower, more competitive rates there.
In addition, Kaanapali's resorts and hotels are right on the beach, and you can usually find affordable accommodations with great ocean views here.
On the other hand, Lahaina has fewer resorts and hotels, although you may find vacation rentals, bed and breakfasts, and smaller local hotel. Since there is less competition between business owners, prices are consistently higher in Lahaina.
If you want to assess the available rentals in the area, you might find my other article on the Best Maui Condo Rentals and Resorts helpful.
Transportation
Because Lahaina and Kaanapali are so close together, you'll have the same access to transportation in both areas. However, walking around to the best attractions is easier if you stay in Lahaina.
You can get ridesharing —through Uber, Lyft, and HoloHolo—, use the Maui Bus, rent cars or scooters, take taxis, or charter drivers for the day in either of these places.
Ridesharing isn't always the best way to get around in Lahaina and Kaanapali since there aren't always many drivers out on the road, especially late at night. However, there's always a way to get around – and even get from Lahaina to Kaanapali – by taxi, bus, shuttle, or chartered driver.
Still, walking is always an option in either of these areas.
When staying in Lahaina, most businesses and attractions are all within walking distance of the best accommodations. If you want to be very close to restaurants, the downtown area, and sites, Lahaina is the best place to stay.
In Kaanapali, most hotels and resorts are on the beach, so if you want to be just minutes away from the sea, Kaanapali might be the best place for you.
Nevertheless, although not all visitors would want to do so, you can even take the 3.0-mile (4.8 km) walk from downtown Lahaina to Kaanapali Beach if you feel like a beachside hike.
Atmosphere
Although Lahaina and Kaanapali are very close together, they have completely different atmospheres.
Lahaina was once the capital of Hawaii and is home to some of the oldest buildings in the entire state. This history is apparent in the plantation-style architecture, museums, and small-town feel of Lahaina.
On the other hand, Kaanapali is a more modern area and was founded as a resort town. As such, it has more of a clean, modern, stylish atmosphere with more tourists than locals.
Notable Attractions
Another marked difference between these two places is the kind and amount of attractions each one has. Lahaina may have fewer accommodations than Kaanapali, but it has many more attractions.
Lahaina Attractions
You'll find plenty of museums, shops, and tours in Lahaina.
The Banyan Tree is one of the best things to see while in Lahaina. Planted at the courthouse square in 1873, this tree is one of the largest banyan trees in the USA, and it's quite a sight to see. It's now the main interest of a park downtown – the best place for a memorable picnic!
Other historical attractions, like the Baldwin Home Museum and Wo Hing Museum, can let you take a step back in time to the Lahaina of the 19th and 20th centuries. If you like history and museums, Lahaina is undoubtedly worth a visit.
Still, one of the major appeals of Lahaina is its quaint and beautiful downtown area, Front Street, which runs right along the shore. There are many shops, galleries, privately owned museums, restaurants, and other shops along this street, and it's an excellent place for a long yet leisurely stroll.
Kaanapali Attractions
On the other hand, Kaanapali has many more hotels and commercial businesses than attractions. It's primarily a hotel town, and most people who stay in Kaanapali spend most of their visit either at the beach or in Lahaina.
Still, there are a few points of interest other than the beaches, including Whalers Village, the prime shopping and dining area in Kaanapali. Inside this sizable open-air mall, you'll find luxury shops, souvenir spots, a whaling museum, and all the best restaurants in Kaanapali.
The Whaler's Village also holds fantastic free events, including ukulele lessons, hula lessons, movie nights, and wildlife lessons. So, if you want a great time without breaking the bank, check out their events schedule here!
Another great place to spend some time is the Hawaii Wildlife Discovery Center, a small museum and art gallery focused on educating locals and visitors about marine wildlife in Maui.
Kaanapali vs. Lahaina: Best Outdoor Activities
If you want to enjoy the beach for most of your trip, Kannapali is your best bet. However, if you want more variety than beach parks, Lahaina might be better for you.
Kaanapali Outdoor Activities
The biggest reason to stay in Kaanapali is its beach, which is arguably one of the best beaches in all of Hawaii. Lahaina still has some fantastic beaches, but they are less impressive than Kaanapali.
Kaanapali Beach, which covers the entire coastline of Kaanapali proper, is one of the best places in Hawaii for snorkeling, surfing, scuba diving, sailing, cliff jumping, and swimming.
If you are interested in snorkeling or cliff diving, stop by Black Rock Beach, part of the more extensive Kaanapali beach. Here, you'll swim with green sea turtles and tons of vibrant reef fish under the tall black volcanic rock cliff that gives this area its name.
However, if you are a surfer, swimmer, sun-soaker, or stroller, you can hang out in any other area on the beach.
To learn more about what beaches to visit while in the area, you might want to check out my other article on Best Maui Beaches for Swimming.
Kaanapali is also a prime destination for golfers, with four colossal golf courses close to most of the hotels in the area. So, if you like golfing, Kaanapali should be your top pick.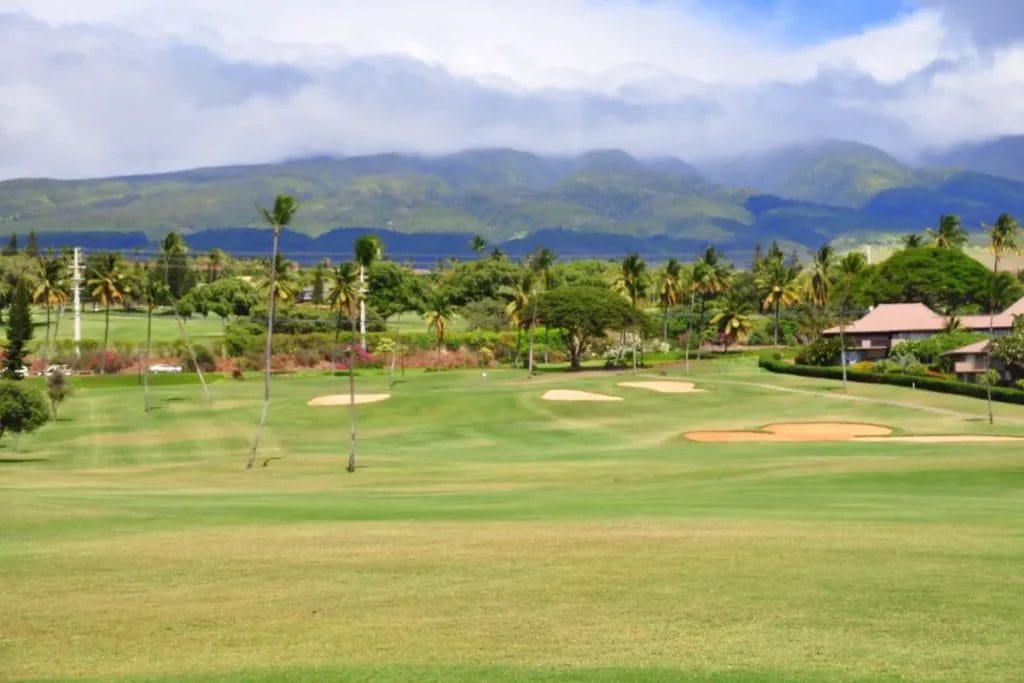 Lahaina Outdoor Activities
Although Kaanapali beach is the main attraction in Lahaina Town, Lahaina still has some great opportunities for outdoor activities.
Lahaina's beaches are far less crowded than Kaanapali, so it's much easier to find secluded spots on the sand here. Parks like Wahikuli Wayside Park and beaches like Baby Beach are small, but you won't find many tourists there. Instead, you'll find locals and plenty of food vendors selling Huli Huli chicken, shave ice, and more.
Most people's favorite spot for snorkeling in Lahaina is Historic Mala Wharf, an old wharf where sea turtles, coral, white tip reef sharks, and tons of fish have found shelter. The water is gentle and clear here, so you can get some stellar views!
Lahaina vs. Kaanapali: Which Is the Better Place To Stay?
When comparing Lahaina and Kaanapali, Kaanapali is the better place to stay if you want to find an affordable seaside hotel or resort with beachside access. However, if you want to be closer to most of the best attractions and historical sights, stay in Lahaina. Just be prepared for a slightly more expensive, less luxurious hotel in Lahaina.
If you still can't decide, I encourage you to stay in the southern reaches of Kaanapali. Since these places are so close together, you can get the best of both worlds by booking a hotel between them!