Kuala Lumpur vs. Penang: Which Vacation Is Better?
Malaysia is a tourist paradise with so much to offer visitors. The country has breathtaking caves, mountains, islands, numerous temples, ultra-modern buildings, and colonial palaces. So, which one is better between Kuala Lumpur and Penang?
Penang is the better choice if you love art and enjoy a slow pace of life with beautiful beaches. On the other hand, if you like city life and enjoy shopping and visiting museums, Kuala Lumpur should be your choice. 
| Category | Kuala Lumpur | Penang |
| --- | --- | --- |
| Cost Range for 1 Week | $720 per person | $650 per person |
| Transportation | Public express buses, privately-run bus services, Railway, Taxis | Public bus services, Taxis, and Railway system |
| Notable Attractions | Petaling Street, Merdeka Square, Kuala Lumpur Tower, Sultan Abdul Samad Building, Sunway Lagoon Theme Park, and Aquaria KLCC. | Penang war Museum & Art Gallery, Fort Cornwallis, Kek Lok Si Temple, Penang National Park, Penang Hill Funicular train. |
| Weather | Kuala Lumpur experiences the summer season between March to September and temperature average about 28oC (82.4oF). Winter is from January to February when temperatures average 27oC (80.6oF) and 23oC (73.4oF) at night. | March is the hottest month in Penang reaching 32oC (89.6oF). Between January and February the temperature averaged about 31oC (87.8oF). Winter season temperatures average about 27oC (80.6oF). |
| Food and Drink | Nasi Lemak, Curry Laksa, Prawn Mee, Bak Kut Teh, Chicken rice, Roasted Pork Rice, Wantan Mee, Fish Head Noodle, Pork Noodle, Cendol. | Nasi Lemak, Nasi Kandar, Penang Hokkien Mee, Rojak, Tandoori Chicken, Masala Dosai, Roti Canai, Satay, Kway Chiap (Duck Soup), Cendol. |
| Activities for Kids | A visit to Aquaria LKCC, Petrosains Discovery Centre, Sunway Lagoon Theme Park, Kidzania edutainment centre, Berjaya Times Square Theme Park, i-City Theme Park, District 21 Kuala Lumpur, Kuala Lumpur National Zoo & Aquarium. | Adventure zone playground, Batu Ferringhi Beach, Visit to Entopia Butterfly farm, A ride on a funicular tram train, A visit to the Youth park, cyclo rickshaw ride, Kek Lok Si Temple and Liberation Pond. |
| Nature Attractions | Batu Caves, Perdana botanical garden, Kuala Lumpur bird park, Bukit Gasing forest reserve | Penang Hill, Penang national park, Teluk Bahang Forest Park, The Tropical Spice Garden, Tropical Fruit Farm, |
Kuala Lumpur is Malaysia's capital city with numerous attractions like colonial architecture, imposing skyscrapers like Petrona Twin Towers, high-end shopping malls, and plenty of exciting things to explore and see.
Penang is a Malaysian state that borders Thailand with Georgetown as its state capital and is a world-famous exotic vacation destination with beautiful natural scenery and many cultural sites. Part of the old town in Penang was named a world heritage site by UNESCO in 2008 because of its unique architecture not found anywhere else in East and Southeast Asia.
This article looks into these holiday destinations in more detail to decide which one will give you a memorable experience.
Attractions
Kuala Lumpur
The country's capital is located in the center of the island, and it's relatively easy to get to from any part of the country. The city is home to the country's largest airport, making it easy for international travelers to access. Kuala Lumpur is Malaysia's leading financial hub and dotted with modern, tall, and futuristic buildings.
Petaling Street
Petaling street is in Chinatown in Kuala Lumpur, and it's a shoppers haven that transforms into a vibrant and lively market when the night falls. It is home to hundreds of stalls selling all types of stuff at extremely low prices, making it the most active night market.
It's not uncommon to find a signboard with a warning against selling imitation goods. However, the whole street is awash with fake branded products.
If you're on a budget and looking for cheap goods, Petaling street is the place for you. Prices are typically quoted 15% to 35% higher, and you should be ready to bargain. The prices could be quoted even higher for tourists. You can also sample a wide array of local cuisine.
Merdeka Square
Merdeka Square is a vast open park used to hold public events and rallies. The 100 m (328 feet) tall flagpole commemorates the first Malayan flag raised there in 1957. The streets around the square have numerous historical buildings, and most of them are open to visitors. The famous Sultan Abdul Samad building with Moorish architectural style constructed in 1894 is near the Merdeka square.
The British administration used the building during the colonial period. Now it houses the ministry of information, communication, and culture. Near the square is the Victorian era fountain where visitors can relax. St. Mary is one of the oldest churches in Malaysia and is only a few steps away.
Kuala Lumpur Tower
Kuala Lumpur Tower is among the world's tallest freestanding towers and is currently the tallest in South Asia. KL tower is 421meters (1382 feet) tall and is used as a communication and TV tower. You can also make your way to the open-air observation platform or the revolving restaurant, 300 meters (984 feet) above the ground. There is an elevator that takes less than a minute to the revolving restaurant.
KL tower houses different attractions, including a small aquarium, a skybox, an upside-down funhouse museum, a souvenir shop, and a glass box, which extends out of the sky deck. You can have an unobstructed view of the city from the glass box in all directions, including under your feet.
Penang
Penang is an island lying to the northwestern part of the Malaysian peninsula, and it borders Thailand. The extensive bus network connects every part of the island. The Penang International Airport is connected to all other cities and towns in the region. Beautiful white beaches are on the island, and it has been named the Pearl of the orient due to its numerous attractions.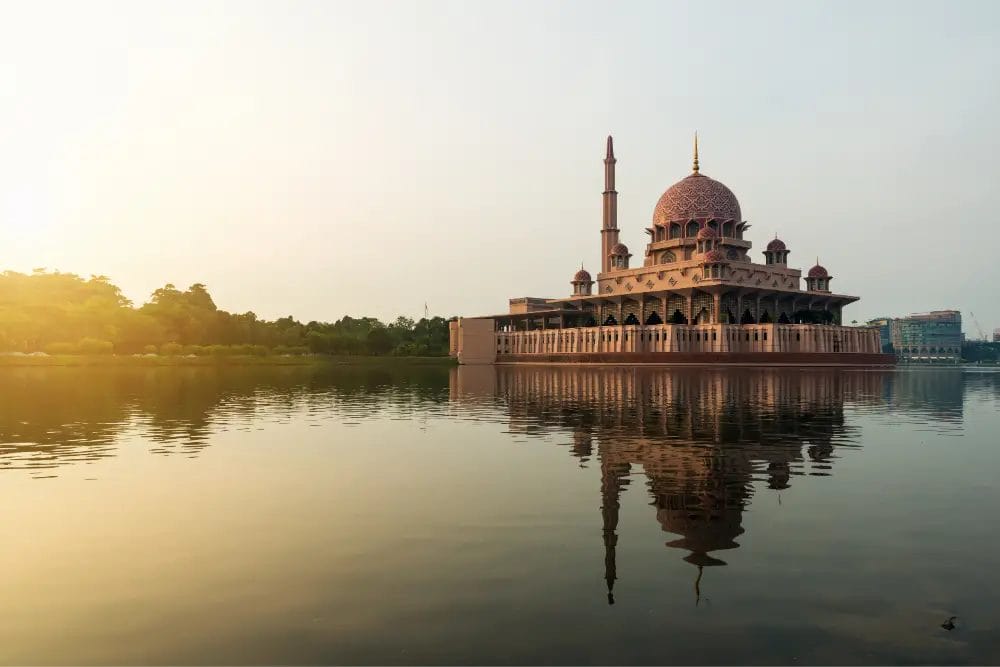 Penang Hill
Penang hill is also known as Bukit Bendera, and it's a hill that reaches 821 meters (2693 feet) above sea level. It is approximately 6 km (3.7 miles) away from Georgetown, the largest urban center. Penang hill is the leading hill resort in the state. Visitors go to the mountain to enjoy the cold and fresh air. The region is home to more than 100 bird species and some of the highlights you'll find include the magnificent Hindu temple, mosque and a church.
Penang War Museum
The British built the museum in the 20th century, and during the second world war, it was used as an army base by the Japanese. There are tales that the prisoners of war were tortured to death, and locals believe the building is haunted. It has numerous underground tunnels and shafts for ventilation, making it an exciting place to explore.
You would see the old ammunition bankers, medical infirmary, sleeping quarters, cookhouses, and cannon firing bays if you visit the museum. Presently, the museum holds the record as the largest war museum in Southeast Asia and is open to the public from nine in the morning to seven in the evening.
Fort Cornwallis
Fort Cornwallis is among the famous landmarks in Penang. It has a bastion fort built in the 18th century by the British East India company. The fort's walls reach 10 meters (32.8 feet) high, and it's the largest standing fort in Malaysia today. It was named after the Governor-General of Bengal at the time of construction. Originally it was built entirely out of wood, but it has been refurbished over the years leading to its present concrete facade.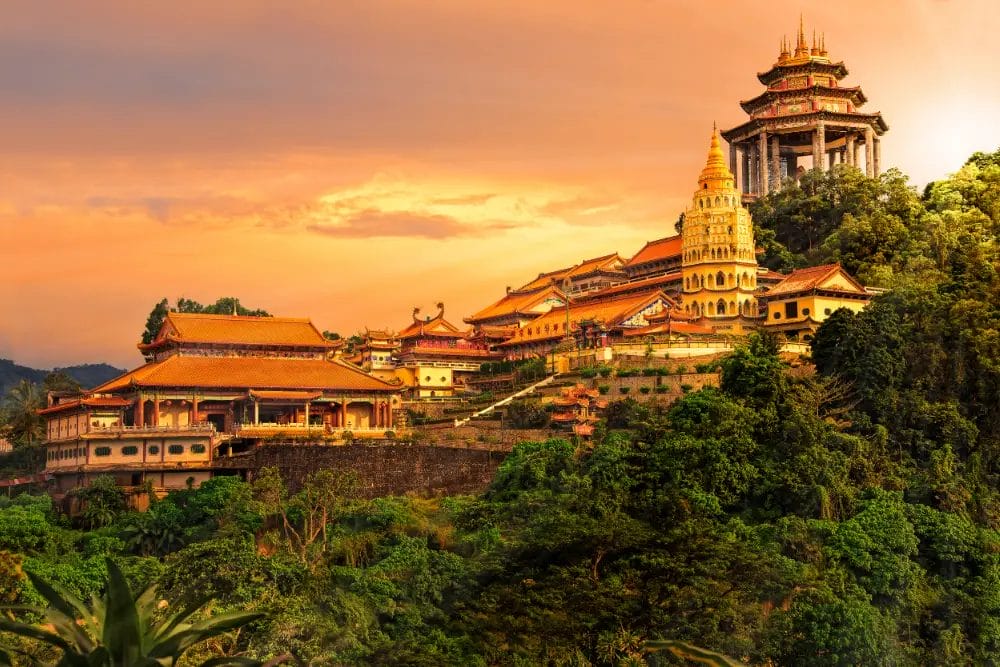 Breathtaking Beaches
Penang has some of the beautiful beaches in Malaysia that attract local and foreign visitors throughout the year. Most of these tranquil locations are found along the northern part of the island and few along the southern, western, and southwest coastlines.
Other beaches include Tanjung Bungah and Batu Ferringhi, each having five-star hotels and resorts. Popular sports on its clear waters include windsurfing, jet skiing, and parasailing. These places are ideal for people who prefer a quiet and tranquil location.
Conclusion: Penang vs. Kuala Lumpur
Both Kuala Lumpur and Penang are fantastic vacation destinations, each offering unique and different activities.
If you love a quiet place away from city life, then Penang is the best place. However, If you prefer city life, shopping malls, and other urban activities, Kuala Lumpur is the best place.