Kihei vs. Lahaina: Which Is the Better Place To Stay?
Selecting where to stay on the island of Maui can be tricky – after all, there are many unique places with stunning views and fun activities nearby. That said, of all the options available to you, Kihei and Lahania are two of Maui's most popular places to stay. So which one is the better place to stay while on vacation?
Lahaina is the better place to stay in Maui. However, you can't go wrong with either spot. Both have stunning beaches and excellent restaurants. Lahaina is best for its nightlife and being within walking distance of most activities. Kihei is great for sunning yourself and relaxing on the beach.
In the rest of this article, I will discuss the differences between Lahaina and Kihei. I'll also go over tips for staying in either location. So if you want to learn more about the best place to stay during your trip to Maui, keep reading.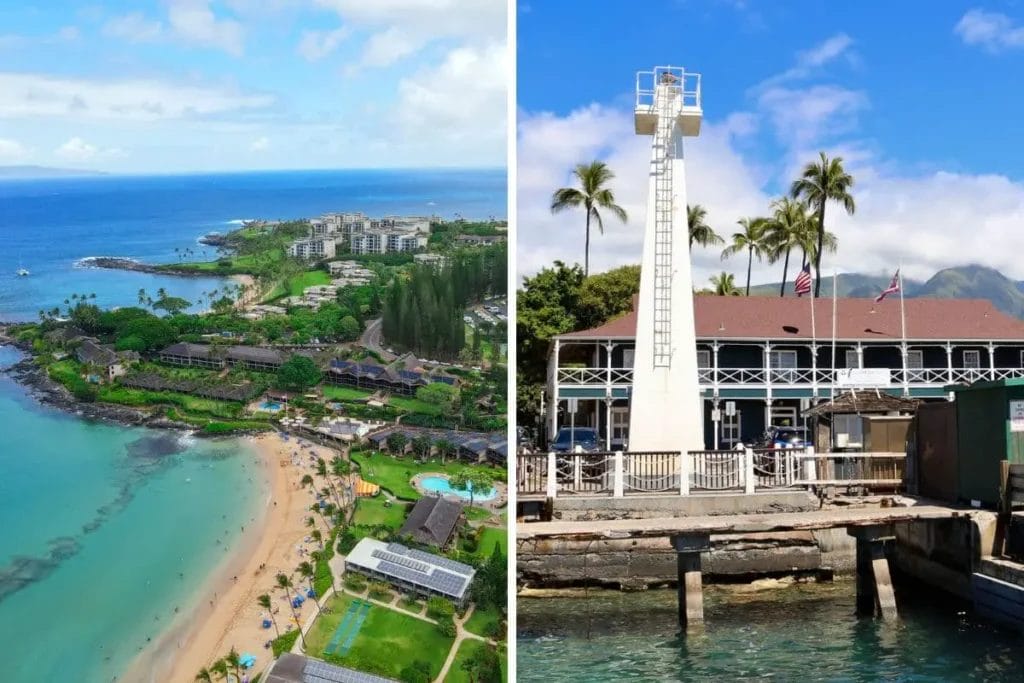 About Vacationing in Lahaina
Lahaina used to be Hawaii's capital before becoming a part of America. It's often referred to as the old whaling town, full of rich history, making it an excellent place to stay during your trip to Maui.
The old city of Lahaina has since become quite the tourist attraction due to:
The number of shops.
Restaurants and other dining experiences.
Vibrant nightlife.
Inspiring art displays.
Stunning beaches.
Walkability.
One of the most incredible things about this old port city is its walkability. You can easily stroll down Front Street, leading past shops and restaurants. Additionally, you stay relatively close to the beach, and something fun always happens.
Since Maui is relatively small, you can easily explore much of the island no matter which side you decide to stay on. Lahaina is a short drive from many unique experiences like Iao Valley State Park and Botanical Gardens.
Though Lahaina caters to a more exciting city experience, it's still quite laid back compared to the mainland and a short distance from many nature adventures.
Benefits of Staying in Lahaina
Now that you know more about what staying in Lahaina entails, it's time to discuss the many benefits. As I previously stated, you can't go wrong staying almost anywhere in Maui. The whole island is stunning.
However, depending on what your goals for your vacation are, some locations will better suit your individual needs. So what are some of the benefits of staying in Lahaina?
Benefits of choosing Lahaina for your vacation:
Geared toward tourism. When I say, Lahania is "geared toward tourism," I mean that it's built to house and provide entertainment for travelers. Back in the day, the town was an important port and saw a lot of travelers. Today, the number of travelers visiting has only increased.
Easy to walk around. The walkability of Lahania is excellent since most of the restaurants, shops, and accommodations are close together. Additionally, walking is the preferred method as parking on Front Street can be difficult.
Everything you need is close to your hotel, resort, or condo. Because of the proximity of necessities like food and entertainment, staying in Lahaina is ideal for many people.
Old Lahania has so many things to do and explore. Because of the town's rich history, there are plenty of museums and historical sights to explore during your stay. You can also book tours and excursions to help you learn even more about the fantastic place you're staying.
Great dining options and activities. Many of Maui's best restaurants are located in this part of town. Some of these restaurants fill up quickly and will require reservations to get in during your stay.
Has some stunning beaches. There are beautiful beaches across Maui, but Lahania has some gorgeous ones.
All of these things make Lahaina a fantastic place to stay. However, it's important to note that Lahania is a large area of Maui, and if you want to be near the fun and shops, you need to select Old Town Lahaina when searching for lodging.
Bottom line: you will significantly enjoy staying in Lahaina if you enjoy places with fun nightlives, shopping, and great food. It's also an excellent option for those who don't want to do a lot of driving during their stay and love to explore history.
About Vacationing in Kihei
Staying in Kihei is vastly different than spending time in Lahaina. Kihei is much more laid back and has more to offer in terms of nature. Instead of exploring shops, restaurants, and other activities, Kihei is geared more toward nature enthusiasts.
That being said, Kihei still has nearby shops and fantastic restaurants you can visit. However, shops tend to be more spread out, so you will need a car to get around. Additionally, Kihei tends to be less crowded as it draws fewer tourists.
The main draws to staying in Kihei include:
Beautiful sand beaches.
Calmer ocean conditions.
Better snorkeling.
Excellent water sports opportunities.
It's in a central location.
Warmer/better weather.
Laid-back environment.
One of the best things about Kihei is its beaches and calm ocean. Because of this, it's perfect for exploring off the coast and spotting unique fish hiding in the reefs. It's also close to Makena Beach, where you can dive and swim with sea turtles. But remember to keep your distance, or you will receive a fine.
Kihei's great location makes it easy to book island tours and activities like The Road to Hana. If you don't have much time in Maui staying in Kihei is a good idea as it's closer to many of Maui's tourist hot spots.
So Kihei is an excellent option if you want a more laid-back nature-based experience during your stay. That being said, no matter where you stay, you can easily explore both places because they are close.
Benefits of Staying in Kihei
Kihei is a fantastic place to stay, and now that you understand a little more about what staying there is, it's time to discuss some of the benefits in greater detail. But, again, which place you prefer will heavily rely on what you value in a vacation. So what exactly are the benefits of choosing Kihei over Lahaina?
The benefits of choosing Kihei for your vacation:
Over 6 miles (10km) of coastline. The Kihei coastline stretches for miles, meaning it's perfect for long walks at sunset or even a morning jog down the beach. Additionally, there is a good chance of you stumbling across extraordinary marine life as you explore.
Stunning soft sand beaches. The sandy beaches are pretty soft and great for bare feet. Additionally, you can easily walk in the water without fear of cutting your feet on sharp rocks. However, you still need to be wary of the occasional sea shell.
Ideal temperatures. Kihei is known for being warmer and getting less rain than other parts of Maui. The lack of cool weather and moisture is ideal for aquatic sports and exploration.
Calm ocean water for exploring. Because of the currents and location of Kihei's beaches, the water is often calmer than in other locations on the island. This makes it perfect for snorkeling and other water activities.
Relaxing atmosphere. Because Kihei is less geared toward tourism, it's extremely laid back. However, it's important to remain respectful to the locals just trying to enjoy their day.
Slightly cheaper to stay in. It's often easier to find cheaper accommodations since there are fewer resorts and more condos.
Good location. As I previously stated, Kihei is central to most island activities and is a great place to base out from if your goal is to explore Maui thoroughly.
Each of these list items makes Kihei a lovely place to vacation. Additionally, when staying in Kihei, Lahania is only a short drive away if you wish to explore the historic town. Plus, it has some of the best beaches on Maui. [XX Best Maui Beaches for Swimming]
Bottom line: Kihei is perfect for those who want to be closer to nature and are looking for a more relaxed vacation. It's also a great spot if you're doing a lot of excursions exploring the island.
Kihei vs. Lahaina: Which Is Better?
Before the question of which island town is best to stay in can be answered, you must first decide what matters most to you on vacation. If you enjoy a faster-paced city experience with nightlife, then Lahaina is a great fit. Many first-time visitors prefer this town to stay in.
However, if you're looking for something slower-paced with plenty of nature experiences, then Kihei is better. It's an excellent base for other island activities and is incredibly peaceful.
Either way, these towns are close together and can easily be visited from either location.
Conclusion
If I had to choose one town that is better to stay in, it would be Lahaina, because it's geared toward tourists and most things are within walking distance. Additionally, it has a relatively vibrant nightlife. That said, Kihei also has some strong draws, and you can't go wrong choosing either location.