9 Jamaican Track and Field Athletes to Know
Famed for their explosive speed and striking agility, Jamaican track and field athletes have etched their names in the annals of sports history. This Caribbean island, though small in size, has been a cradle for world-beating sprinters, hurdlers, and jumpers, defying odds and inspiring awe on international tracks.
As we go on this thrilling adventure, we'll take a deeper look at the legacy they've left behind as a tribute to the force of the human spirit and the never-ending quest for perfection.
Intro to Jamaican Track and Field History
Long before the island nation became synonymous with blazing speeds and breathtaking finishes, track and field in Jamaica was modest, deeply rooted in community spirit and school competitions.
The Jamaican athletic scene started gaining global recognition in the mid-20th century. Boy's and Girl's Champs, the annual high school athletics championship that started in 1910, served as the breeding ground for many future stars.
These grassroots competitions not only nurtured raw talents but also instilled a deep love for the sport among Jamaicans, fostering a culture that continues to thrive.
The watershed moment for Jamaica in track and field was the 1948 London Olympics when Arthur Wint clinched gold in the 400 meters race. His victory broke barriers and paved the way for future athletes, positioning Jamaica as a credible force in world athletics. This triumph signified the nation's potential and announced its arrival on the global stage, setting the scene for many more victories to follow.
A Brief Timeline of Jamaican Track and Field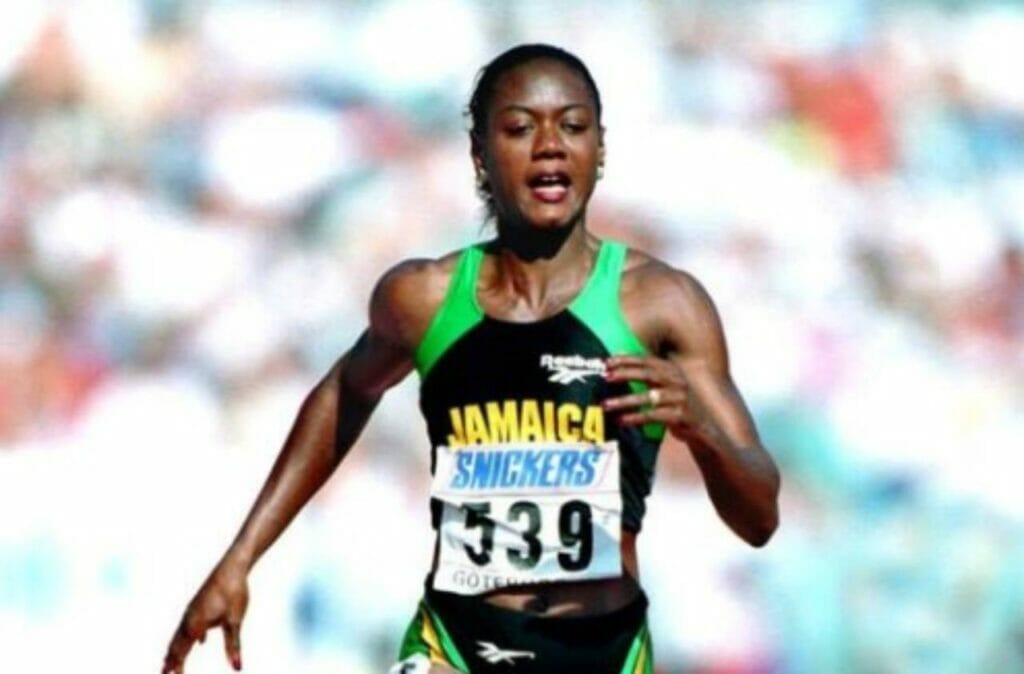 Early Beginnings: Jamaican track & field dates back to the late 1800s, with the foundation of the Jamaica Amateur Athletic Association in 1910. This body aimed to promote and develop athletics within the country, sowing the seeds for future success.
The Influence of Schools: Integral to the growth of track and field in Jamaica are its schools, notably Kingston College and Calabar High School, which have cultivated numerous champions. Their annual face-off in the Boys' Champs is a cherished tradition, demonstrating the rich talent nurtured at the school level.
Rise of Female Athletes: Merlene Ottey, often called the "Queen of the Track", emerged as one of the first globally recognized female athletes from Jamaica. Her success in the 1980s and 1990s paved the way for future stars like Shelly-Ann Fraser-Pryce and Veronica Campbell-Brown.
Coaching and Training: The role of dedicated coaches and rigorous training regimes cannot be overstated in Jamaica's track and field success. Coaches like Stephen Francis and Glen Mills have been instrumental in molding raw talent into world champions.
Growth of Domestic Competitions: Domestic competitions have played a crucial role in the development of athletics in Jamaica. Events like the Jamaica International Invitational and the Racers Grand Prix provide local athletes with high-level competition experience, contributing to their preparedness for international events.
These elements collectively paint a vibrant picture of the evolution of Jamaican track and field history, a testament to the hard work, determination, and passion that have driven Jamaica's success in this domain. The historical trajectory showcases how a small island nation could make such a significant impact on the world stage.
Famous Jamaican Sprinters
No discussion about Jamaican sprinters would be complete without mentioning Usain Bolt, the man whose name has become associated with speed.
Bolt, the world's fastest athlete, has left an indelible impression on the sport with his personality and unrivaled success on the track. His records in the 100m and 200m are still untouched, showcasing the stellar heights he achieved in his career.
Another star of the sprinting scene is Shelly-Ann Fraser-Pryce. Often referred to as the "Pocket Rocket", Fraser-Pryce's prowess in the 100m race has secured her place among the greatest sprinters of all time. With numerous Olympic and World Championship medals to her name, she exemplifies the remarkable depth of sprinting talent in Jamaica.
Asafa Powell: Known as the "Sub-10 King", Powell has clocked sub-10-second 100m races more than any other sprinter in history. His consistent performances and former world record holding status in the 100m are testament to his legacy in the sprinting world.
Yohan Blake: Often overshadowed by his teammate Usain Bolt, Blake has had a highly successful career in his own right. He is the second fastest man ever over 100m and 200m, and a key member of Jamaica's gold medal-winning relay teams.
Veronica Campbell-Brown: Campbell-Brown is an Olympic and World Champion sprinter who has excelled in both the 100m and 200m sprints. Her longevity and success across different sprinting events speak volumes about her talent and dedication.
Elaine Thompson-Herah: Following in the footsteps of Fraser-Pryce, Thompson-Herah has made her own mark, becoming the fastest woman alive over the 100m and 200m. Her double gold in the 2016 and 2020 Olympics places her among the greats in Jamaican sprinting history.
These athletes have further solidified Jamaica's reputation as a dominant force in world sprinting. Their achievements are a testament to the rich vein of athletic talent running through this Caribbean island.
Jamaican Hurdlers and Jumpers
Jamaican athletes have excelled not just in sprinting, but also in hurdling and leaping.
Janieve Russell, a formidable 400m hurdler, has represented Jamaica in numerous international competitions. Her exceptional speed and technical ability have won her a place among the world's top hurdlers.
In the world of field events, Trecia Smith is a prominent figure. An accomplished triple jumper, Smith's career is adorned with several international medals. Her success underscores Jamaica's versatility in track and field, proving the nation's proficiency extends beyond the sprinting track.
Hansle Parchment: Known for his impeccable technique and tenacity, Parchment is one of Jamaica's finest 110m hurdlers. His biggest success was a bronze medal at the 2012 London Olympics, followed by a gold medal at the 2021 Tokyo Olympics, showcasing his endurance in the sport.
Omar McLeod: A sprint hurdler who has made waves on the global stage, McLeod became the first Jamaican to win the 110m hurdles at the Olympics in 2016. His extraordinary speed and consistency have elevated him among the world's top hurdlers.
Kimberly Williams: An accomplished triple jumper, Williams has represented Jamaica in multiple international competitions. Her outstanding exploits in the Commonwealth Games and the World Indoor Championships have earned her multiple medals, cementing her position in Jamaica's track and field heritage.
Shanieka Ricketts: A key figure in the world of triple jump, Ricketts has consistently performed well in international competitions. Her silver medal at the 2019 World Athletics Championships is a testament to her technical prowess and determination.
The impressive performances of these athletes in hurdling and jumping events reflect Jamaica's well-rounded strength in track and field. Their contributions have played a significant role in shaping Jamaica's athletic history and its formidable reputation in the global sports scene.
Jamaican Athletes in International Competitions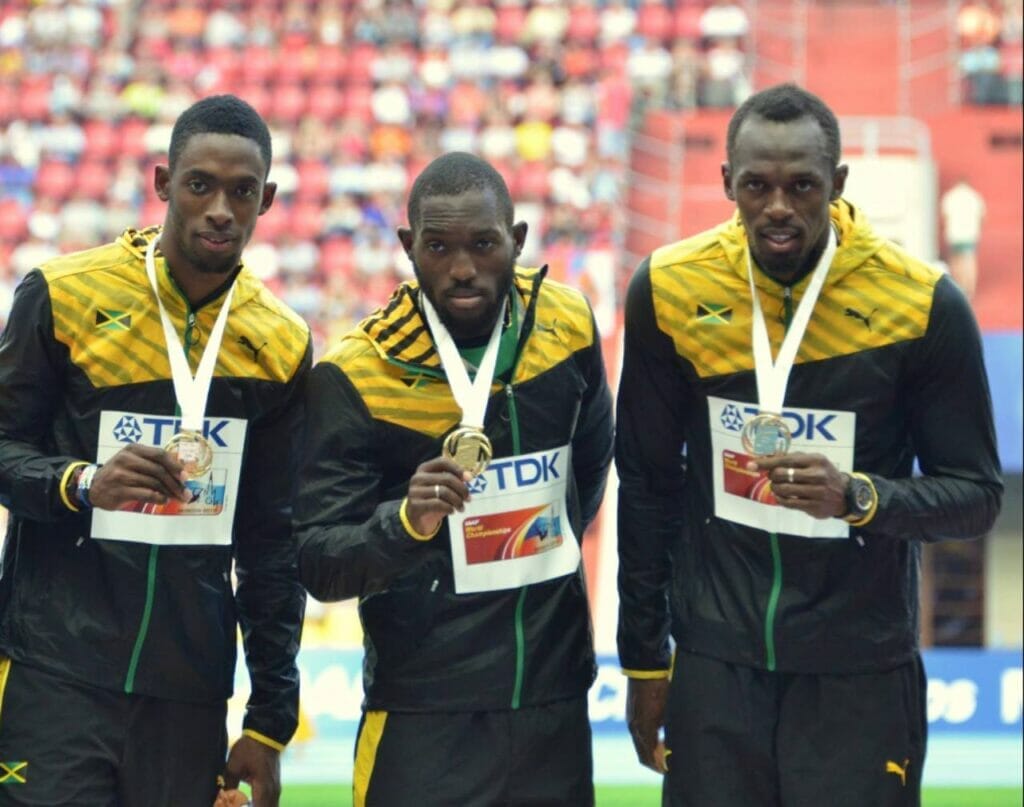 Jamaican athletes' performances in international competitions have consistently raised the bar, confirming the country's status as a powerhouse in athletics. Usain Bolt's triple-triple achievement—three gold medals in three consecutive Olympics—is widely regarded as one of the greatest accomplishments in Olympic history.
Yet, the legacy of Jamaican track and field is not confined to individual accomplishments. The island nation's relay teams have also displayed exceptional prowess, often dominating 4x100m and 4x400m relay events in the World Championships and Olympics. Their breathtaking speed and seamless baton exchanges underscore the depth of talent and teamwork that propels Jamaican athletics.
The 2008 Beijing Olympics: Jamaica dominated the sprinting events, with Usain Bolt securing double gold and setting world records in the 100m and 200m races. Shelly-Ann Fraser-Pryce led the women's squad to victory in the 100m.
The 2012 London Olympics: Jamaica's dominance continued in London, where they won the men's 200m and both the men's and women's 4x100m relays, with the men's team breaking a new world mark.
The 2016 Rio Olympics: Elaine Thompson emerged as a new star, winning gold in the 100m and 200m. Usain Bolt achieved his "triple-triple" by winning gold medals in the 100m, 200m, and 4x100m relay for the third time in a row.
World Championships: Jamaican athletes have consistently performed exceptionally in the World Athletics Championships. Memorable moments include the 2009 Berlin Championships, where Usain Bolt set his current world records, and the 2015 Championships in Beijing, where Jamaica topped the medal table in the sprinting events.
Commonwealth Games: Jamaica's prowess extends to the Commonwealth Games as well. The 2014 Games in Glasgow saw the country taking home a total of 22 medals in athletics, underlining the nation's impressive talent depth.
These instances demonstrate Jamaica's continued strength and performance in international competitions, upholding its status as a global track and field powerhouse. The country's remarkable record of success is a testament to its exceptional talent pool and commitment to athletics.
FAQ: Jamaican Track and Field Athletes
Who Is The Famous Jamaican Male Sprinter?
Usain Bolt is the most famous Jamaican male sprinter. Bolt's incredible speed and record-breaking performances have made him a global icon in the world of athletics. Bolt is widely considered as one of the best sprinters of all time, having won eight Olympic gold medals and countless world records while mesmerizing spectators with his blazing speed and engaging demeanor.
Who Is Both A Jamaican Athlete And Olympian?
Usain Bolt is both a Jamaican athlete and Olympian. Representing Jamaica in multiple Olympic Games, Bolt has achieved remarkable success on the Olympic stage. His several gold medals and record-breaking exploits have cemented his place as one of Jamaica's most notable Olympians, leaving an everlasting influence on the sport of sprinting.
How Many Jamaican Athletes Are In The Olympics?
The number of Jamaican competitors competing in the Olympics changes by year. However, Jamaica consistently sends a strong contingent of athletes to compete in various disciplines, particularly in track and field events. Known for its sprinting prowess, Jamaica often showcases a talented pool of athletes who proudly represent their nation on the Olympic stage.