Jamaican Art and Its Historical Evolution
Prepare to be swept away on a captivating voyage through the vivid brushstrokes, captivating sculptures, and thought-provoking murals that compose the mesmerizing realm of Jamaican art.
Like a pulsating heartbeat, Jamaican art reverberates with an unyielding spirit, blending a myriad of influences and defying conventional boundaries. From the resilient echoes of the Taino people's symbolic legacy to the rebellious brushstrokes of contemporary trailblazers, this is a story of passion, heritage, and the relentless pursuit of artistic expression.
Join us as we embark on a dazzling expedition into the soul-stirring world of Jamaican art, where every stroke tells a tale and every masterpiece speaks volumes about the island's indomitable creative pulse.
Introduction to Jamaican Art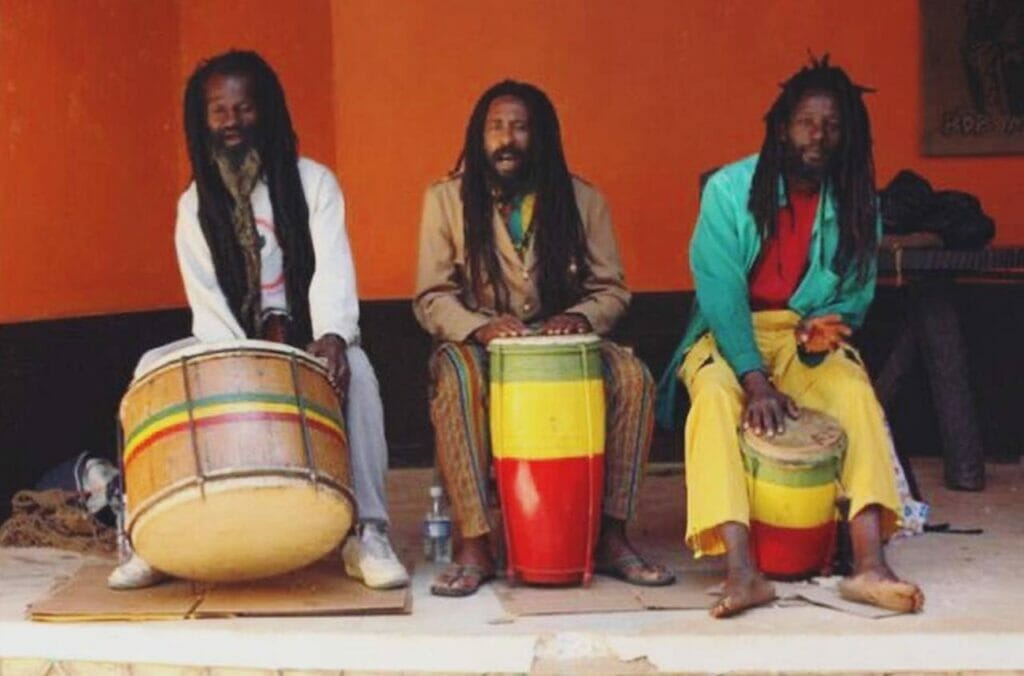 Jamaican art is a vibrant tapestry of diverse styles, mediums, and influences, reflecting the island's rich history and dynamic cultural evolution. Its scope extends beyond simple aesthetics, serving as a voice and a mirror to societal changes, historical milestones, and cultural shifts. In essence, Jamaican art is a visual narrative of the people's spirit, struggles, and victories.
Rooted in tradition yet embracing modernity, Jamaican art is known for its diversity. It's shaped by a myriad of influences, including indigenous Taino, African heritage, European colonial past, and the island's unique Rastafarian culture. It has evolved over the centuries, expanding its boundaries to incorporate contemporary global trends while maintaining its unique Caribbean essence.
The Influence of Taino Art and Symbolism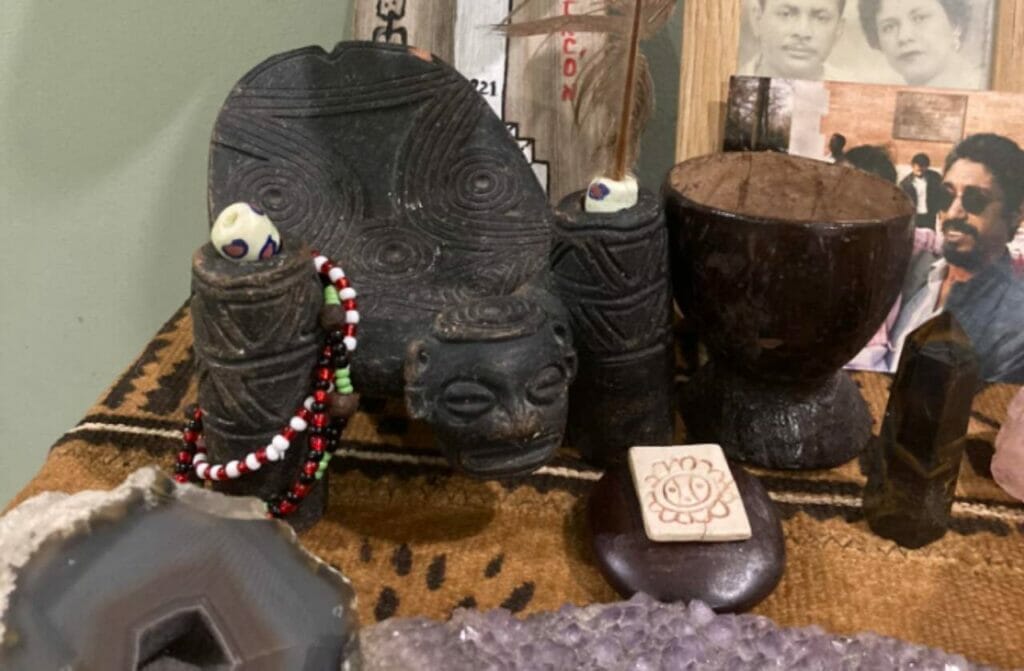 The indigenous Taino people, Jamaica's original inhabitants, made a profound impact on Jamaican art. They utilized materials at their disposal—rock, wood, clay—to create expressive sculptures, pottery, and petroglyphs. These artefacts embodied their spiritual beliefs and everyday experiences, portraying a profound relationship with nature and the cosmos.
Modern Jamaican art reflects the Taino's symbolic vocabulary in various ways. Themes of nature, spirituality, and connectivity recur in today's art, paying homage to their ancestral roots. Artists like Gene Pearson, known for his iconic mask-like faces, draw upon the Taino's stylistic influence, evoking a timeless link to the island's indigenous past.
Early European Art in Jamaica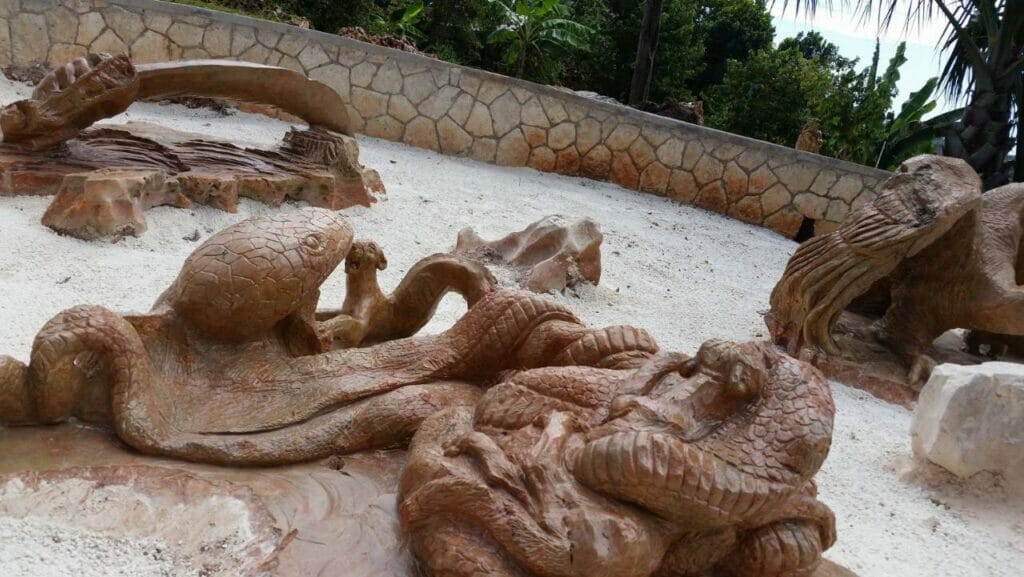 European influence came into Jamaican art with colonization. From the 15th century onwards, European settlers introduced new artistic techniques and styles. Early works often centered around portraiture of the colonial elite and picturesque landscapes, largely influenced by romantic and realist trends in European art of the time.
However, this period also saw a subversion of European styles as enslaved Africans and their descendants began to infuse their artistic expressions with African aesthetics and narratives. Despite the oppressive circumstances, they found ways to retain and assert their cultural identity. This convergence of European and African elements formed the bedrock for the evolution of unique Jamaican artistic styles.
Rise of Jamaican Intuitive and Self-Taught Artists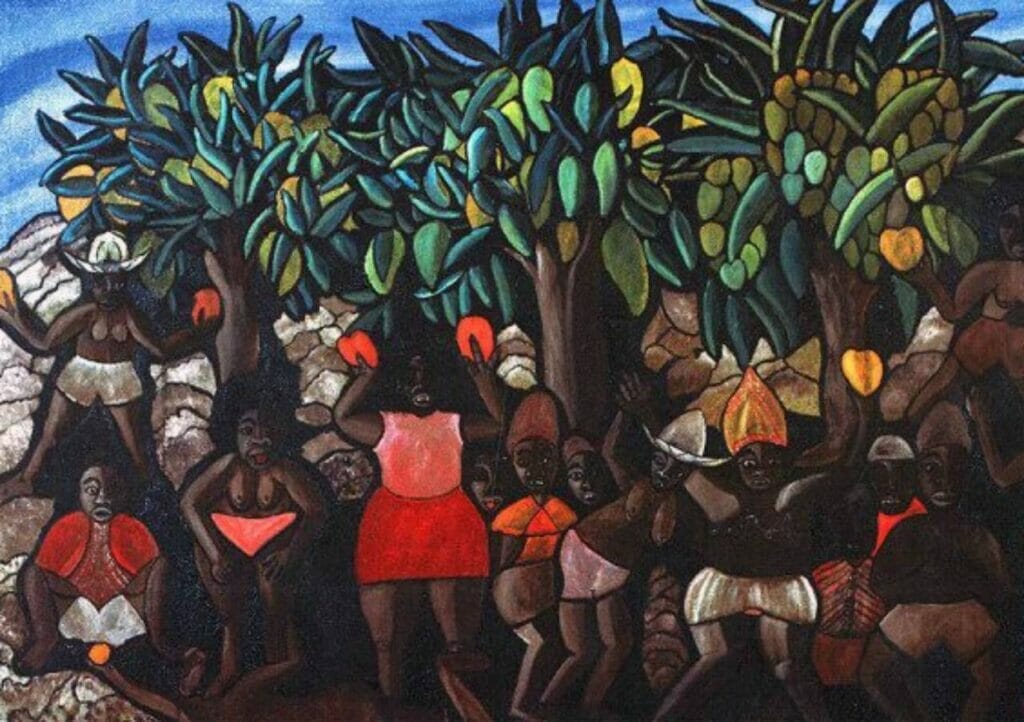 In the 20th century, Jamaica witnessed the rise of self-taught, 'intuitive' artists. These creatives, often with little formal training, started to gain recognition for their instinctual and expressive styles. Their artworks, characterized by powerful imagery and raw emotions, broke away from established conventions and resonated with the Jamaican ethos.
Artists like Mallica 'Kapo' Reynolds and Everald Brown embodied this movement. Their works were deeply connected to their personal beliefs, drawing on religious, folk, and mystical themes. They played a significant role in establishing a distinctive, authentic Jamaican artistic identity.
The Jamaican National Gallery and Prominent Artists
The Jamaican National Gallery, established in 1974, has been instrumental in promoting and preserving Jamaican art. It houses an impressive collection of artworks spanning different periods and styles, ranging from Taino artefacts to modern and contemporary masterpieces.
Prominent artists represented in the gallery include Edna Manley, often considered the 'mother of Jamaican art' for her contributions to the island's artistic community and cultural identity. Albert Huie, dubbed the 'father of Jamaican painting', is also renowned for his landscape and portrait works that beautifully capture the island's spirit.
Rastafarian Art and Its Cultural Expressions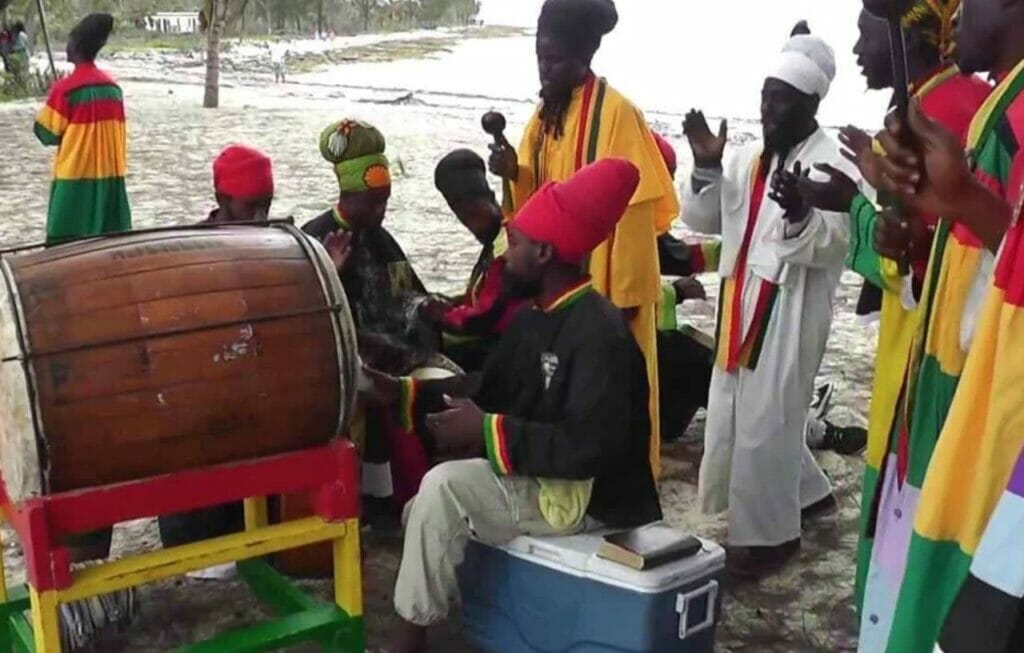 Rastafarianism, a religious and cultural movement originating in Jamaica, has significantly influenced Jamaican art. This movement, with its Afrocentric philosophy and spiritual teachings, inspired many artists to explore new thematic and stylistic directions.
Rastafarian art often includes symbolic colors—red, gold, green—and references to African heritage and spirituality. Artists like Neville Garrick, whose work includes album covers for Bob Marley, have played a key role in spreading the visual language of Rastafarianism globally.
Street Art and Murals in Jamaican Cities
Jamaican cities are alive with vibrant street art and murals, turning public spaces into open-air galleries. These art pieces serve multiple purposes: showcasing local talent, narrating community stories, fostering social dialogue, and beautifying urban environments.
Kingston, the capital city, is a significant hub of this street art culture. Renowned spots like Fleet Street are adorned with stunning murals that reflect the city's cultural vibrancy. Artists like Matthew 'Painta' McCarthy are driving this movement, transforming cityscapes through their powerful, socially-engaged artworks.
Contemporary Art Movements and Emerging Artists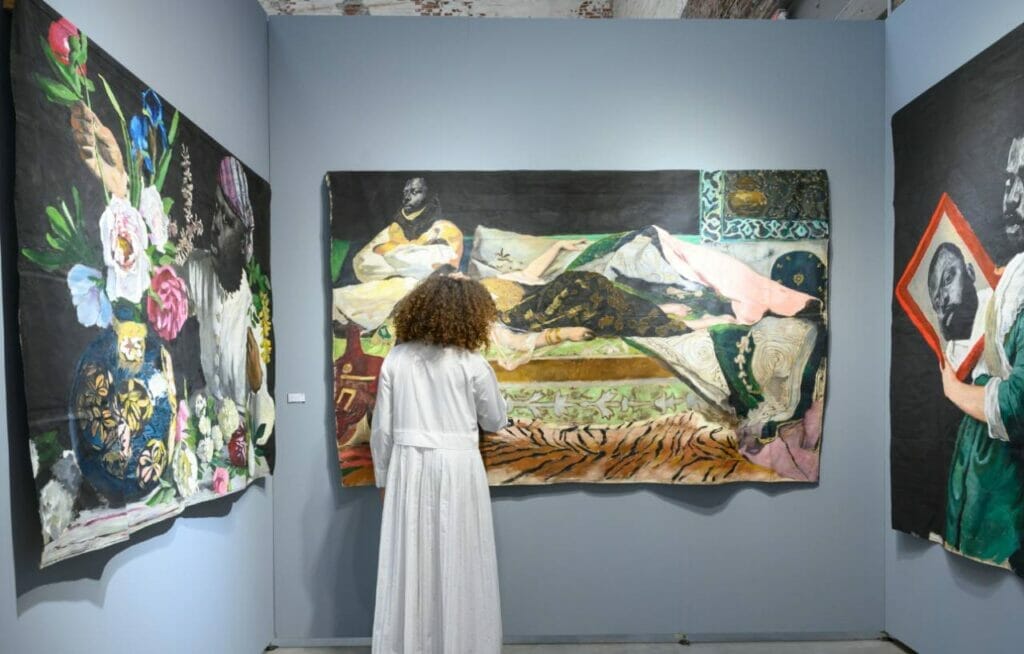 Contemporary Jamaican art is a dynamic field, witnessing an influx of young, innovative artists. They're pushing boundaries, exploring diverse mediums, and addressing topical issues, ranging from politics to environmental concerns.
Emerging artists like Leasho Johnson are gaining international recognition for their groundbreaking works. Johnson's art, marked by provocative symbolism and subversive humor, challenges societal norms and stimulates critical dialogue. These contemporary artists are carving new paths in Jamaican art, ensuring its continuous evolution and relevance.
Jamaican Art in the Diaspora
Jamaican art has a significant presence beyond the island's shores, thanks to the diaspora communities worldwide. These artists, rooted in their Jamaican heritage yet influenced by their adopted homes, create unique cross-cultural narratives through their art.
Artists like Nari Ward, based in the US, reflect on their dual identities in their works. Their art explores themes of migration, cultural assimilation, and the diaspora experience, contributing a valuable perspective to the global art scene.
The Evolving Role of Art in Jamaican Society
Over the years, art has played a pivotal role in shaping Jamaican society. It's been a platform for cultural expression, a catalyst for social change, and a means of historical documentation. Moreover, art has contributed to the nation's identity and pride, enabling Jamaicans to assert their unique cultural narratives on a global stage.
Today, art continues to evolve with society. Contemporary artists are engaging with pressing issues, such as social justice and environmental conservation, using their creativity to inspire change. Thus, Jamaican art remains a dynamic, evolving entity, reflecting the pulse of the nation.
FAQ
What Type Of Art Is Jamaica Known For?
Jamaica is primarily known for its vibrant and expressive form of art called "Jamaican Folk Art." This artistic style encompasses various disciplines such as painting, sculpture, ceramics, and textiles. Influenced by African, European, and indigenous traditions, Jamaican Folk Art showcases vivid colors, intricate patterns, and a strong cultural narrative, reflecting the island's rich history and diverse heritage.
What Is The Origin Of Jamaican Art?
The origin of Jamaican art can be traced back to the island's indigenous Taino people, who created pottery and petroglyphs. However, Jamaican art has evolved through centuries of cultural influences, including African traditions brought by enslaved Africans and European artistic styles introduced during colonial rule. This fusion of diverse cultural elements has given rise to the unique and vibrant art forms seen in Jamaica today.
What Is The Jamaican Drawing Style?
Jamaican drawing style is characterized by its expressive and lively nature. It often features bold lines, vibrant colors, and a sense of movement. Artists in Jamaica draw inspiration from their surroundings, depicting scenes of everyday life, cultural events, and historical narratives. The Jamaican drawing style reflects the island's vibrant spirit and is renowned for its ability to capture the essence of Jamaican culture, traditions, and social dynamics.