Jamaica vs. Hawaii: Which Is the Better Vacation?
At a glance, Jamaica and Hawaii seem like very similar vacation destinations. However, if you look a little closer, you'll see that there are many differences between these gorgeous island spots that might make one better for you.
The main difference between Jamaica and Hawaii is Jamaica is a better vacation for adventurous outdoors lovers who want to experience a new culture on a budget. However, Hawaii offers more attractions, a refined atmosphere, better amenities, and more transportation opportunities at a higher cost.
If you're still trying to find your ideal vacation destination, keep reading. I'll provide an in-depth comparison of cost, transportation options, dining options, weather, and more. By the end of this article, you'll be able to choose the destination that works best for you.
Jamaica vs. Hawaii Overview
| Category | Hawaii | Jamaica |
| --- | --- | --- |
| Cost Range for 1 Week | $1,919 per person | $742 per person |
| Transportation | Uber, Lyft, HoloHolo, city buses and shuttles, taxis, rental car, sailing, walking | Route taxis, bus, rental vehicles, walking |
| Notable Attractions | Waikiki Beach, Honolulu, Mauna Kea and Mauna Loa | Seven Mile Beach, Rio Grande, Night Life and Reggae, The Blue Hole |
| Weather | Warm, humid, and rainy year-round | Warm, humid, and slightly rainy year-round |
| Food and Drinks | Diverse offerings with tons of Korean, Japanese, Chinese, and traditional Hawaiian food | Local fruits and dishes like curry, jerk BBQ, seafood, and rum |
| Nature Activities | Beaches, surfing, snorkeling, hiking, sailing, swimming, kayaking | Beaches, hiking, swimming rafting, |
| Customs | No passport is necessary for US Citizens and DACA recipients | Passport necessary |
Cost
When comparing costs, Jamaica will always come out as the clear winner. It costs around $742 per person to stay in Jamaica for a week, including accommodations, food, drinks, transportation on the island, and entertainment.
Part of the reason it's so inexpensive is the exchange rate, which works out in favor of US tourists. The food is also cheaper here since it's so close to the US mainland, making importation less costly.
On the other hand, it usually costs two times as much to stay in Hawaii for a week. Although the price per island will vary, expect a stay in Hawaii to cost at least $1,000, even if you're budgeting tightly, staying at hostels, and eating food from Costco.
Still, if you want to get by on little money in Hawaii, staying in a major city like Honolulu is a must. Honolulu has many attractions and hotels, increasing competitiveness and lowering rates. There are also plenty of low-cost places to eat in the city, and you can save on transportation by walking.
Transportation
Hawaii has more transportation options than Jamaica, so it's a clear winner in this category.
Transportation in Jamaica
Jamaica does not offer ridesharing services like Uber or Lyft, but they have many route taxis and mini-buses. (Route taxis are like tiny buses in that they travel set routes and you can hop in and out at any point along the route.)
Route taxis and mini-buses are a bit different from US taxis. They generally travel in one area, and the government sets the fees. Their driving range is similar to the public buses you'll find in most cities in the USA.
Route taxis are very inexpensive, though, which is part of what makes Jamaica a budget-friendly destination. Plus, if you want to go somewhere specific, you can always charter a route taxi for a set fee.
Jamaica also offers "The Yellow Bus," an inexpensive city bus with hourly routes.
Most cities with resorts and hotels are easy to walk in, so you won't necessarily need much transportation while you are here.
You could rent a car, but I don't recommend it. Driving in Jamaica may be difficult due to unfamiliar traffic rules, a surplus of pedestrians and wild animals, and many potholes.
If you want a better idea of what transportation is like in Jamaica, check out this video from Jamaica With Irie on YouTube:
Transportation in Hawaii
On the other hand, travel in Hawaii is a bit more expensive, although it's readily available.
You can use ridesharing services like Uber, Lyft, and HoloHolo to get around in most major cities in Hawaii. Still, islands like Maui and Kauai have limited ridesharing, but you can usually find affordable car rentals and public transportation on any Hawaiian island. Plus, driving in Hawaii is easy.
If you choose to stay in Honolulu or Waikiki, you have the additional benefit of being able to walk almost anywhere.
Main Attractions
Hawaii has more conventional attractions than Jamaica. Still, both places are tropical jungles with white sandy beaches, fantastic hiking spots, historical points of interest, and unique cultures to learn about.
The most popular attraction in Hawaii is the city of Honolulu, complete with a zoo, aquarium, tons of restaurants, and plenty of tours. With swimming spots, sailing, reef snorkeling, and surfing abounding in Hawaii, it's an ocean lover's paradise.
Jamaica has some incredible beaches, but the most popular activities there are more laid-back and naturalistic. You won't find as many busy urban areas, but you'll find local marketplaces, cabanas by the beach, and some of the most scenic and beautiful freshwater rivers and waterfalls to swim and raft in.
Jamaica also has a thriving nightlife. People come to Jamaica to hear reggae music, learn about Rastafarianism, partake in local ganja, and drink incredible rum at night, so Jamaica might be right for you if that's your idea of a good time.
Nightlife in Hawaii, however, is a bit different. You'll only find late-night bars and clubs with live music in big cities like Honolulu, and they generally have a more "polished" feel than the best spots in Jamaica. There's still nightlife there, but it has more of an urban, American feel.
Weather
Both Jamaica and Hawaii are warm all-year round with frequent rainstorms. However, Hawaii sees a bit more rain than Jamaica.
Jamaica generally never gets warmer than 91°F (32.8°C), and it rarely gets colder than 70°F (21.1°C).
On the same note, the average annual highs and lows in Hawaii are 81°F (27°C) and 73°F (23°C).
So, both Jamaica and Hawaii offer a warm spot to soak up some sun, whether it's winter or summer.
Food and Drinks
Jamaica and Hawaii have unique traditional food and drinks to try during your visit.
Hawaiian traditional foods include many seafood-based dishes with Asian influences. For example, one of their most famous dishes, poi, consists of seasoned raw fish over rice, putting a Hawaiian twist on sashimi. You'll also find spam musubi, tons of incredible sushi, Hawaiian BBQ and Huli Huli Chicken, plenty of Korean food, and classic Hawaiian lunch plates like loco moco.
In my opinion, one of the best parts of Hawaii is the abundance of fresh fruit. Pineapple, lychee, bananas, and coconuts are available almost anywhere–even on the trees surrounding parks.
Unique beverages and cocktails are abundant in Hawaii as well. Mai Tais are an all-time favorite, but you'll find that the best taste of Hawaii comes in POG–passion fruit, orange, and guava–juice.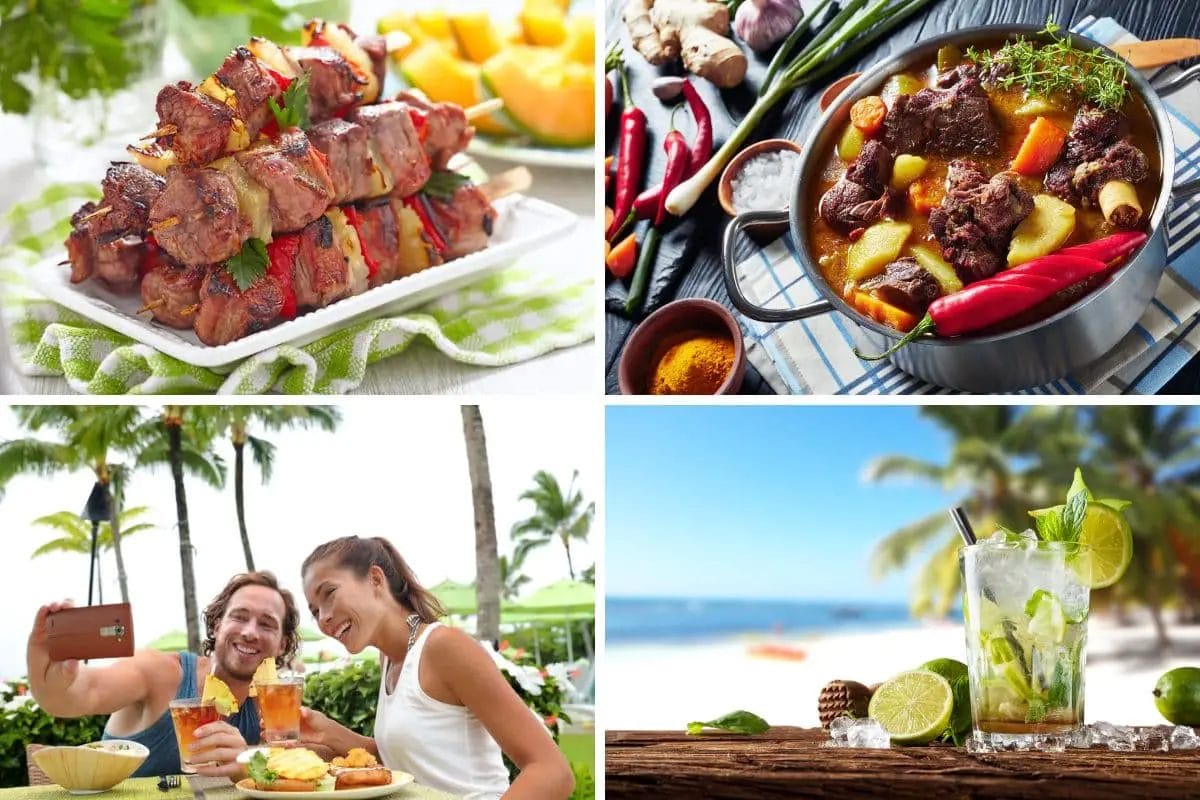 Jamaican food is generally what I'd describe as "warm." Many vendors sell meat pies, rum cake, goat stew, boiled crabs, seasoned shrimp, yellow yams, and so much more. Curries are also very popular, as are their peas and rice.
However, you'll also get a taste of some of the best fruit you'll ever have, from fresh bananas and papaya to the more exotic ackee and breadfruit.
However, Jamaica takes the cake if you want a unique drinking experience. Like other Caribbean islands, Jamaica is renowned for rum production. You'll find many rum distilleries, such as the historic Hampden Estate, which also offer tons of tropical cocktails.
Nature Attractions
Hawaii and Jamaica come to a tie when considering nature attractions.
Hawaiian islands like Maui and Kauai are some of the best islands to visit for hiking, while you'll also find tons of beaches on any island. Whether you're looking for secluded coves, wildlife sanctuaries to snorkel with turtles in, prime surfing spots, party beaches, or swimming holes, you'll find it in Hawaii.
Still, the biggest draw of Jamaica is its natural attractions. Some of the best things in Jamaica include rafting down the famous Rio Grande, swimming in forested waterfalls, soaking up some sun on Seven Mile Beach, and hiking the Blue John Crow Mountains.
Nature plays a huge role in both Hawaiian and Jamaican culture, so you'll find some of the most immaculate, well-protected, and remarkable natural attractions at either of these destinations.
Customs
Since Hawaii is a US state, you won't need a passport to travel there. That makes Hawaii a great destination if you don't want to invest in a passport. Still, it's also the perfect place for DACA recipients to visit, as I discuss in my other article, Can DACA Recipients Travel To Hawaii?
However, that is not the case with Jamaica. You'll need to go through customs when you enter Jamaica, and you'll also need a passport.
Other Differences Between Vacationing in Jamaica and Hawaii
Aside from the points of comparison most people use to weigh out the pros and cons of visiting a prospective destination, there are some special considerations when comparing Hawaii and Jamaica.
If I had to boil it down to one difference, I'd say this: If you want a polished, elegant, conventional vacation, go to Hawaii. If you want to visit an area with a completely different culture than you've ever experienced, go to Jamaica.
The biggest complaint that most people have about visiting Jamaica is that it is a poor, developing country. Venturing from the tourist areas and into the bush can be a bit dangerous if you're not using common sense, and you'll find more vibrant local markets, hawkers, and small businesses here than superstores.
While that might sound like a great reason to pick Hawaii over Jamaica, Jamaica has a lot of charm. Jamaica is for adventurous people who are more interested in learning about a new culture than the conveniences of urban areas. However, it can feel a bit "rough" in some places, which may or may not be a dealbreaker for you.
Conclusion: Hawaii Vs. Jamaica
So, when comparing Jamaica vs. Hawaii, the better vacation depends on what you're looking for.
If you prefer a budget vacation, want to experience a new culture in a new country, love the outdoors, and don't mind your destination being a little rough around the edges, Jamaica is better.
However, if you want to visit a more refined destination within the USA with more conveniences, Hawaii is the best place to stay.