When you consider taking a vacation, setting out on holiday to explore some of the world's iconic sites, do you feel excited by the idea of an adventure but so overwhelmed by the planning required that you can't get past the imagining stage?
Of course, there are many leisure and travel organizations, like Contiki Tours, that will do the planning for you, so all you have to worry about is the fun, but how do you know they will deliver a quality vacation? Are Contiki vacations a good option if your goal is to have a culturally expanding experience, or would you only be paying for a big bus party disguised as a tour?
Is Contiki a party tour? Contiki is not a party tour. It is a professionally guided group tour aimed at the 18-35-year-old traveler. Depending on what type of tour you choose, you can spend your time partying and recovering throughout the trip; however, you are paying for an organized, resourced, and guided trip with a seasoned and knowledgeable tour guide whose goal is to help you experience social travel in a personal and worry-free manner. 
This article will talk about the history of Contiki and give you a sense of what a
21st century Contiki trip might look like if you choose to sign up for one.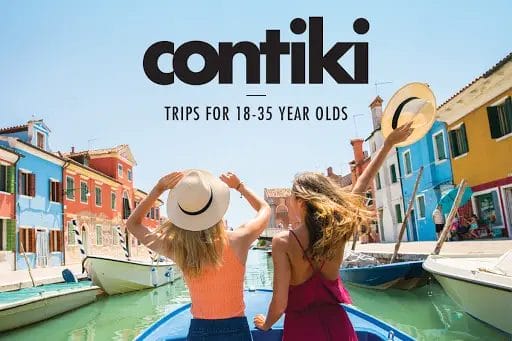 What Is Contiki?
John Anderson is the company's founder, and perhaps, is even more accurately described as the founder of an idea: group travel with the goal of saving money, reducing travel arrangement hassles, and having fun.
In 1961, with very little money but a talent for networking, John turned a trip from New Zealand to England to visit his father into a grand tour, stopping along the way wherever he had friends or acquaintances, so he had a place to stay and a buddy with whom to explore.
It was this holiday that inspired him to begin planning his next great adventure to mainland Europe. Still lacking enough money, he extended an invitation to 11 others to join him on this epic tour, making sure to emphasize that seats were limited, so getting a spot meant you had to book your reservation early.
All 11 spots filled quickly, leaving the last seat, fully paid for, for him, and just like that, John Anderson had launched his own travel and leisure touring company, Tiki Tours.
Who Travels on Contiki?
Before he even began that very first tour around mainland Europe, John had a second tour lined up with all the seats filled. That second excursion didn't go as smoothly, as John shares in his autobiography, Only Two Seats Left.
After some issues over the original name, Tiki Tours was rebranded Contiki, incorporating the word "Continent" into the company's name. Particularly in Tiki Tours' beginnings, avid au naturel backpackers looked down upon this planned and directed adventuring versus the spontaneous adventuring they preferred.
However, for many people new to travel, this guided tour was a good way to get a sense of the area before considering setting off their backpacking adventures. That it was exotic travel in a group setting was especially enticing to the 19-25-year-old customers Contiki courted. In the 1980s, Contiki expanded its customer base to 18-35-year-olds as business continued to grow.
What never changed was the type of people who chose Contiki: young adventurers longing to see a new part of the world with a fun group of like-minded young people who might end up being their best friend.
Booking a Contiki Today
By 1989, John Anderson was forced to declare bankruptcy and sell his shares of Contiki stock. However, this pioneering leisure and travel business lives on. Today, Contiki is owned by the leisure and travel company The Travel Corporation. With more than 150,000 travelers a year, they have cornered the market of younger travelers and boast something for everyone in almost every part of the world.
Tours include exploring Russia, Egypt, Latin America, Africa, Australia, Asia, the U.S., or Canada. They still focus on their "bread and butter" age group of 18-35-year-olds, but now the many choices create a personalized vacation easy. Today you can choose who you travel with, the general pace of the tour, and the comfort level you prefer, from camping and hostels to hotel accommodations.
In Conclusion: Is Contiki a Party Tour?
Even though John Anderson's original company no longer exists, today's adventurous traveler can still book a Contiki Tour, and those tours still promise a fun, stress-free travel experience with a little self-discovery possible along the way.
The tours remain true to the original intent of providing a positive group experience, so the team aspect of their travel adventures continues to resonate with the 18-35-year-old group. In reviews, many of these young travelers remark on the friendships and connections made during their Contiki trips. With humble beginnings in 1961, John Anderson's entrepreneurial idea proved to be a huge and enduring success.
The expression "doing a Contiki" is understood to mean you are going on a group bus tour, whether with Contiki Tours or another leisure and travel company.