How To Get to Molokai From Maui: 5 Cheap Travel Options
Unfortunately, travel options to Molokai are somewhat limited. The only way in now is by plane, which can complicate finding cheap travel options. Luckily, flying into Molokai is relatively easy and cost-effective to do.
You can get to Molokai from Maui by catching a flight out of Kahului or Kapalua airport. Both airports offer excellent flight options that can directly charter you to your next island destination. Additionally, flights only take about 30 minutes and offer great views of the Pacific Ocean. 
In the rest of this article, I will discuss the two best travel options to get to Molokai from Maui and some cheap travel options for moving around the island. So if you would like to learn more about visiting Molokai and procuring transportation, read on.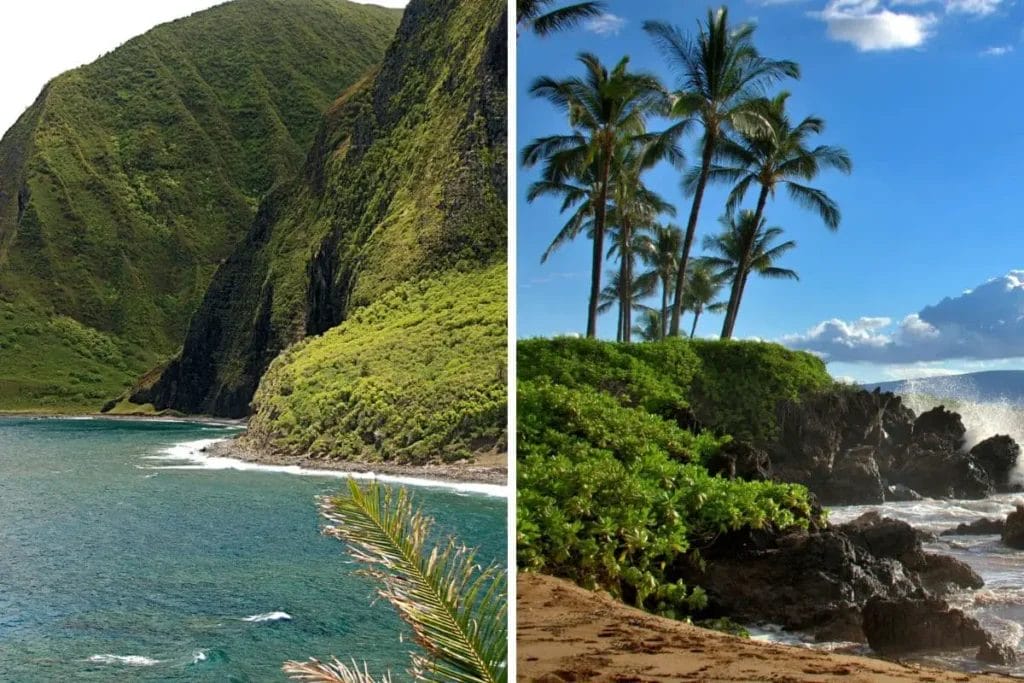 1. Catch a Flight Out of Kahului Airport (OGG)
Getting to and from Molokai can be tricky since flying is the safest option and the old ferry used to charter passage is no longer in operation. Sadly, boats don't like to travel between Molokai and Maui due to strong and dangerous currents. Luckily, catching a flight at Kahului Airport isn't too tricky.
The flight from Kahului takes approximately 25 minutes, and the TSA requests that you arrive at least 2 hours before departure. Even though the airport is smaller, they can still become backed up when things get busy. So, it's essential to arrive ahead of time to ensure you make your flight.
Flights between islands are easier to catch than ones coming from the mainland. Once the Hawaiian TSA has processed you, you won't have much hassle leaving Maui. Additionally, you can take things like fruit with you from island to island.
As for pricing, the flight fare is pretty standard and doesn't shift much. However, you can always use a flight-watching app like Hopper to alert you when prices have dropped to your price range.
The planes that travel between the islands are much smaller than the ones coming to and from the mainland. So, be prepared to board a smaller plane than you're used to for your trip to Molokai from Maui.
When flying from OGG, be sure to remember:
Photo ID
Requested health documents
Your plane tickets
Easy-to-pack luggage
Before setting out for the airport, it's always a good idea to double-check what documents the airport requires. Additionally, ensure those items are ready to speed up the check-in process.
Once you land in Molokai, there are shuttle services and taxis that can take you to the nearest rental car company or your hotel.
2. Take a Plane From Kapalua Airport (JHM)
Another flight option is taking a plane out of Maui's Kapalua Airport, located on the west side of the island. This airport is considered a private use airport and is much smaller. Additionally, there is no TSA, so the flight restrictions are far more relaxed.
Kapalua airport was created in 1987 by Hawaiian Airlines and has since grown in popularity. Today, the airport takes up over 50 acres (20 hectares) of land, though there isn't room for the airport to expand further due to agreements made with Maui County.
Because this airport is so much smaller, there are far fewer people to contend with when trying to catch a flight. As a result, the atmosphere at this airport is far more laid back and less busy.
When catching a flight from JHM to Molokai, most take Mokulele Airlines. These smaller planes are perfect for chartering visitors to and from each island. Additionally, this airline is an island hopper favorite.
When flying out of Kapalua, the flight will take approximately 30 minutes. During your trip, you can expect to see the beautiful blue of the pacific and eventually the stunning green of an island emerging from the ocean.
When flying out of JHM, remember to:
Pack light since bags have a 15-lb (6.8-kg) limit unless checked.
Have your ID ready.
Have requested health documents.
As with most airports, arriving 2 to 3 hours before your flight is a good idea. This time ensures you have plenty of time to check in safely for your flight.
3. Get a Rental Car Once on the Island
Now that you're on the island, you will need a cheap way to get around. The island of Molokai is relatively rural and therefore doesn't have a robust public transportation system. So, a rental car is an ideal way to get around the island.
However, getting a suitable rental car for a fair price on the island can sometimes be tricky. Rental cars are in high demand due to the difficulty of getting new cars onto the island. Additionally, the rentals go fast, so they should be booked well in advance if you want reliable transpiration during your trip.
When getting a rental car on Molokai, there are a few car rental companies for you to choose from:
Alamo Rent A Car
Molokai Rental Car
Mobettah Car Rentals
It's important to note that the rental car companies on Molokai have limited inventories and therefore book out quickly. Additionally, though the island has a taxi service, this service is also limited, so booking a rental car ahead of time is your best cheap travel option.
4. Rent a Bicycle for Exploring
You can always rent a bike if you are out of luck in the rental care department. Using a bike can be a great way to get experience and travel around some of the island. However, places will be too difficult to traverse on a bike, which may not be a problem depending on your goals while visiting the island.
A great thing about biking across the island is the slow-paced traffic. But, most importantly, you can enjoy the scenic ride with minimal disruption from passing vehicles. Also, bikes are great for getting you to Molokai's beautiful sand beaches.
5. Catch a Taxi Around the Town
Finally, you can always try to catch a taxi. Unfortunately, Molokai only has one taxi service company, Hele Mai Taxi. They do a great job of getting tourists and locals where they need to go. However, their services can sometimes be limited due to demand.
Also, as for Uber and Lyft, these services haven't become popular yet and therefore are unreliable. If you don't want to rely on others to drive you around, your best bet is to procure a rental car for your trip.
Conclusion
Ultimately, you will have to fly to Molokai from Maui. You can choose between the Kahului or Kapalua airports based on airfare, convenience, and flight schedules. Once on the island, your best bet is to rent a car to drive around as public transit is scarce. You could also rely on bicycles and taxis to get around.