How Many Airports are in Aruba in 2023?
Aruba is a constituent country of the Kingdom of Netherlands in the Caribbean Sea, about 18 miles north of the Paraguna peninsula and 50 miles from Curacao. The island's main economic activity is tourism, with the island receiving about 807 million overnight visitor arrivals in 2021. So, how many airports are in Aruba?
Aruba has one airport, Queen Beatrix International Airport, in the capital city of Oranjestad. It caters to passenger and cargo services from the island to various regional and international destinations. The Aruba Airport Authority N.V. manages Aruba's airport manages its operations, providing a safe, secure, and prosperous airport business community.
Here is an overview of Aruba's main airport, including its history, capacities, and travel tips when visiting the island.
What is the History of Queen Beatrix International Airport?
The airport was established in 1934, offering weekly mail and passenger services between Aruba and Curacao. It had a mud-flat runway catering to small aircraft like the Loening C-2, a US-made amphibious airliner from the 1920s.
Towards the end of 1934, Dutch-owned KLM took over the commercial services, converting the airport surface to a graded runway.
The United States Army Airforce also used the airport as a base during World War Two, when they were defending the Panama Canal, and Caribbean Shipping routes from German Submarines. At this time, it was known as Dakota Field, with the terminal facilities renamed Dakota Airport.
The airport's current name dates back to 1980 to commemorate the ascension of Princess Beatrix of the Netherlands to the throne.
What Are the Airport's Official Capacities?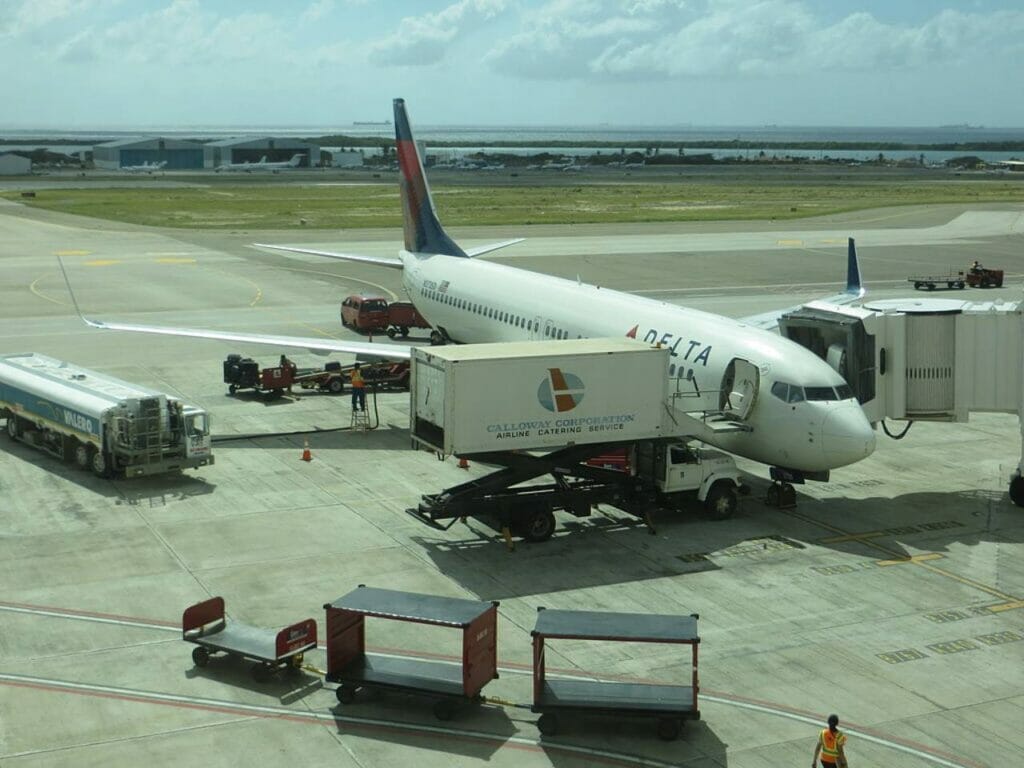 Queen Beatrix International Airport (IATA: AUA) features an 8,999 ft asphalt runway at an elevation of around 60 ft. It only has one terminal with two levels, offering various services to travelers.
Ground Level
This level has the Check-in, arrivals, and amenities sections of the terminal. You can also access different transport options, including taxis, buses, and car rental services. Other amenities available at this level include a separate check-in counter for U.S. passengers, complete with baggage claim, immigration, and information counters.
First Level
This section features the airports boarding gates 1 to 7, with gate 8 serving as the international VIP lounge. Services at this level include duty-free stores, restaurants, slot machines, a smoking area, and vending machines. There is also a kids' playing area and a sculpture garden to keep you busy while waiting for your flight.
Who Flies to Aruba?
Queen Beatrix International Airport receives over 150 flights weekly from carriers like Southwest, American Airlines, Delta, KLM, United Airlines, Avianca, and Aruba Airlines.
According to the Aruba tourism authority:
Below are the international routes that serve Queen Beatrix International Airport in Aruba:
USA – Atlanta, Miami, Baltimore, New York, Chicago, Boston, and Philadelphia
Canada – Toronto
Cuba – Havana, Santa Clara, Holguin
Panama – Panama City
Dominican Republic – Santo Domingo
Netherlands – Amsterdam
Belgium – Brussels
The airport also serves as the regional hub for the locally-owned Aruba Airlines, which plies several routes across the Caribbean. These include destinations like Bonaire, Curacao, Trinidad and Tobago, St. Maarten, and Nicaragua.
Air Travel Tips to Aruba
Below are important factors to consider for air travel to Aruba.
Entry Requirements
You must complete the Aruba Embarkation/Disembarkation card before arriving in Aruba. The card is a digital form covering the customs and immigration process for visitors spending more than 24 hours on the island. Once you complete the form, you will receive an email confirmation of your approval for travel, which you will show either digitally or in print form during check-in.
Security Checkpoints
All passengers undergo security checks at the airport. U.S. passengers will undergo security checks at the U.S. Customs and Border Protection facility at the ground level of Queen Beatrix International Airport's terminal. All other passengers undergo their security checks once they clear with Aruba Immigration.
Medical Considerations
You should notify the security checkpoint personnel if you have any implanted medical devices. These include bone shafts, staples, or any metal parts that may trigger the metal detectors. You should also store your necessary medication in your carry-on luggage. Ensure the medication has a clear label from a recognized medicine manufacturer, with an accompanying doctor's note.
Disability Access
Queen Beatrix International Airport has the required facilities to accommodate physically challenged travelers. All airlines operating from the airport also provide wheelchair assistance to their passengers. You can request the service during booking or when checking in for your flight.
Luggage Requirements
The amount of luggage per passenger varies between airlines. Ensure you check with your airline before traveling to avoid inconveniences. Avoid carrying items with metal finishing in your luggage to prevent extra security checks. Carrying conch shells, sea stars, coral pieces, and turtle eggs in or out of Aruba is illegal.
Air travelers to Aruba older than 15 years can import these items at bi extra cost:
2.25 liters of wine, 3 liters of beer, or 1 liter of distilled drinks.
50 cigars or up to 200 cigarettes
Souvenirs or gifts not exceeding a value of 400 Aruban Florin (AWG). Any items exceeding this value need to be declared on the customs form.
Aruba Airport Flow Control Program
The Aruba Airport Flow Control program is an initiative by the airport authority to provide visitors with efficient service and reduce crowds at the terminal.
The airport requests you to arrive during an allocated time slot, depending on your flight's scheduled departure time. Only passengers who arrive at the indicated times will be allowed access to the check-in areas.
Here are the available timeslots according to the Aruba Airport Authority N.V.:
Passengers with 2 PM or earlier departure times can access the terminal check-in between 8 AM and 10.30 AM.
Passengers leaving between 2 PM and 3 PM can access the check-in area from 10.30 AM to 11.30 AM.
Those departing between 3 PM to 4 PM can access the terminal from 11.30 AM to 1 PM.
Passengers with departure times from 4 PM to later have access from 1 PM to 3 PM.
Ensure you double-check your departure time with your airline or travel operator before traveling to the airport. This is because you must still arrive at the check-in counter during your allocated timeslot.