Hey there, fellow wanderers! Can't decide whether to head to Honolulu or Miami for your next beach escapade? Don't you worry, I've got you covered!
The main difference between Honolulu and Miami lies in their geographical locations and climates. Honolulu, situated in Hawaii, offers stunning tropical landscapes, pristine beaches, and a relaxed island vibe. Miami, located in Florida, boasts vibrant city life, a mix of cultures, and a subtropical climate.
Travelers seeking a tranquil paradise with cultural diversity may prefer Honolulu, while those looking for a dynamic urban experience with beautiful beaches may opt for Miami. Consider your preferences and priorities when deciding between these two captivating destinations. 
| Aspect | Honolulu | Miami |
| --- | --- | --- |
| Cost Range for 1 Week | $741 – $5,699 (source) | $602 – $3,179 (source) |
| Location | Capital and largest city of Hawaii | Major city in the state of Florida |
| Geography | Located on the island of Oahu | Situated on the southeastern coast of Florida |
| Language | English | English, with a significant Spanish-speaking population |
| Government | City and County of Honolulu, Mayor-Council system | City of Miami, Mayor-Council system |
| Currency | United States Dollar (USD) | United States Dollar (USD) |
| Tourism | Popular tourist destination with stunning beaches, Pearl Harbor, and cultural sites | Major tourist hub with beaches, Art Deco District, and vibrant nightlife |
So, grab your favorite pair of shades, sit back, and let's embark on an epic showdown between these two beachy gems – Honolulu vs Miami!
Geography of Honolulu and Miami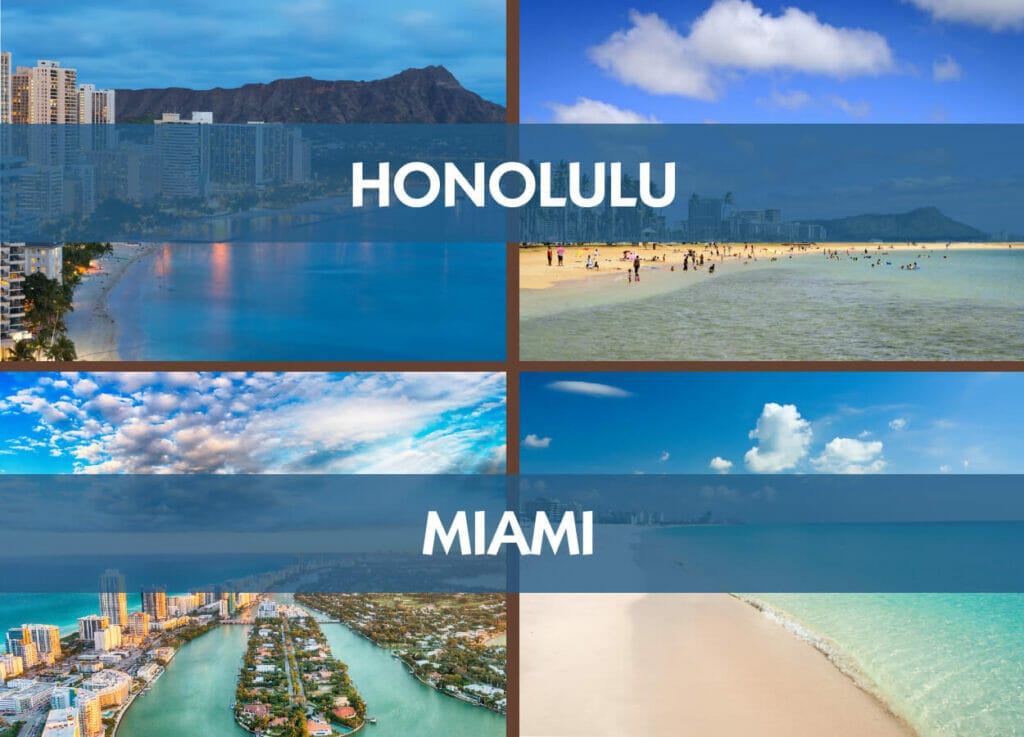 Hello, fellow wanderers! Stuck choosing between the serene waves of Honolulu and the pulsing heart of Miami? Let's embark on a little virtual journey of both destinations to find the perfect fit for your desires, be it family fun, a romantic getaway, some adrenaline-pumping action, or finding that sweet spot between luxury and affordability.
Starting with Honolulu, nestled cozily on Oahu island: imagine waking up to the sound of waves on the renowned Waikiki Beach or being greeted by the misty embrace of the Ko'olau Mountains. Families, picture your kids laughing and splashing in the gentle waters, with family-centric resorts ensuring every little need is met.
Couples, think moonlit walks, hand in hand, the salty breeze wrapping around you. And for the daredevils? Tame the mighty waves at the North Shore! Whether you're pinching pennies or ready to splurge, Honolulu offers a bed for every budget, from the modest to the magnificent.
Switching gears, let's cruise down to Miami, Florida's dazzling star. With its infectious energy, striking art deco designs, and a melting pot of cultures, Miami dances to its own rhythm. Families can let their imaginations run wild at the Miami Children's Museum or build sandcastles at Crandon Park.
Lovebirds, immerse yourselves in the heartbeat of Little Havana or paint your love story amidst the vibrant canvases of Wynwood. And adrenaline junkies? The Everglades beckons, promising wild adventures and airboat thrills. Whether you're looking for an intimate B&B or a luxe hotel suite, Miami's got you covered.
Honolulu's volcanic allure versus Miami's eclectic blend of beach and buzzing city life – it's like choosing between two treasures. If your heart yearns for a touch of Polynesian magic, Honolulu welcomes you. But if the fusion of urban vibes, artsy streets, and culture strikes a chord, Miami's siren song will pull you in.
Beaches Comparison for Honolulu and Miami
Dreaming of sun, sand, and surf? Both Honolulu and Miami shine as coastal wonders, each with its own personal touch to offer everyone — from families to thrill-seekers, from penny-pinchers to luxury lovers. Let's dive deep into what makes each of these beach cities a must-visit.
Imagine Honolulu: On the mesmerizing island of Oahu in Hawaii, it's where you'll find postcard-worthy beaches. The powdery white sands cradle your feet, palm trees dance in the gentle breeze, and the shimmering waters beckon. It's a paradise for families, with safe shores for the little ones and a plethora of water activities like snorkeling, paddleboarding, and yes, even surfing classes tailor-made for kiddos.
Couples? Think hand-in-hand sunset walks, with the skies painting themselves in shades of pink and orange. And if you've got that adventurous spirit, Honolulu's trails, especially the iconic Diamond Head, promise views that'll take your breath away. Whether you're munching on a meal from a local food joint or soaking in the luxury of world-class resorts, Honolulu ensures everyone leaves with a heart full of memories.
Now, picture Miami: Florida's energetic jewel that pulsates with life and diverse cultures. Families can frolic on the beaches equipped with fun playgrounds and join in on the lively beachside vibes. South Beach? It's where couples can bask in the glamour of Art Deco buildings, hip beach clubs, and a nightlife that buzzes with excitement.
For those with a wild side, the nearby Everglades promise exhilarating airboat rides amidst nature. And whether you're looking for an affordable stay or aiming for opulence, Miami's got your back.
Honolulu and Miami, each with its own flavor, both promise beachy wonders. No matter who you are or what you're seeking, these two have something special for everyone.
Honolulu and Miami Attractions and Activities
Imagine waking up on the pristine shores of Oahu, in Honolulu. This tropical haven has something for everyone — families, couples, and solo travelers. Start your day with a heartfelt visit to Pearl Harbor, stepping back into the pages of history. Fancy a hike? The trails of Diamond Head await, promising awe-inspiring views of the city and shimmering Pacific.
Little adventurers in your family? They'll be talking about their encounters at Honolulu Zoo and Waikiki Aquarium for ages. From snorkeling in the serene Hanauma Bay to dancing away at a traditional luau, Honolulu feels like a beautiful dream you never want to wake up from.
Then there's Miami, that sun-kissed slice of Florida's paradise. Adventure junkies, prepare to get your heart racing with airboat rides in the Everglades or jet skiing across Miami Beach.
If you're traveling with that special someone, let the pastel hues of the Art Deco Historic District or a romantic dinner cruise along the Miami River kindle your romance. For those with a penchant for luxury, Miami's oceanfront resorts with their lavish spas are nothing short of a haven.
On a tight budget? No worries! Both Honolulu and Miami have got your back. How about a lovely afternoon picnic at Ala Moana Beach Park in Honolulu? Or perhaps exploring Miami's colorful Little Havana and Wynwood Walls without breaking the bank.
For those wanting to bask in luxury, Honolulu's upscale shopping at Ala Moana Center or a bespoke catamaran cruise can be enchanting. Meanwhile, in Miami, the glitz of Bal Harbour Shops and a sky-high helicopter tour redefine extravagance.
All said, both Honolulu and Miami are treasure troves of experiences waiting to be unearthed. They're not just cities but experiences — from family adventures and romantic getaways to adrenaline-packed escapades and serene retreats.
Honolulu or Hawaii? Selecting the Ideal Accommodations
In Honolulu, you'll find a paradise of options for all budgets. For families and couples, The Laylow, Autograph Collection, is a gem that blends modern amenities with Hawaiian charm. Its laid-back ambiance and proximity to Waikiki Beach will surely steal your heart.
If you're seeking a more spacious and home-like atmosphere, Hilton Grand Vacations Club Hokulani Waikiki is the perfect pick. With its well-appointed suites, it caters wonderfully to families. Meanwhile, the Hilton Hawaiian Village Waikiki Beach Resort caters to adventure seekers, boasting an array of water sports and on-site activities for all ages.
Now, let's jet off to Miami's vibrant scene, where beachfront luxury awaits! For families and couples, the Four Seasons Hotel Miami is a sophisticated oasis offering top-notch amenities and stunning skyline views.
If you're in the mood for some Asian-inspired luxury, the Mandarin Oriental, Miami, will delight your senses with its elegant design and exquisite dining options. For budget travelers who refuse to sacrifice style, Hotel AKA Brickell provides comfortable and chic suites that won't break the bank.
Whether you find yourself in the aloha spirit of Honolulu or the glitzy ambiance of Miami, rest assured that accommodations are aplenty, tailored to suit your needs.
Car Rental Options in Honolulu and Miami
In Honolulu, a tropical dreamland, a range of car rentals await to complement your journey. Paradise Rent-A-Car, for instance, will hand you the keys to a ride fit for Oahu's breathtaking sights. If you're into greener options, WeedriveTesla Car Rentals Hawaii lets you glide silently in a chic electric car, taking in the island's beauty while being kind to Mother Earth.
Jumping over to the sun-soaked streets of Miami, the scene changes but the thrill remains. For families and lovebirds, Miles Car Rental Miami provides classy options to cruise past Miami's iconic vibes. On a tight budget? Drive A Rent a Car Miami ensures you won't miss out on the fun. And if luxury's your language, Florida Premium Rentacar speaks it fluently with its swanky fleet.
Imagine driving along Honolulu's Waikiki Beach, with the wind in your hair, courtesy of Amazing Car Rental Honolulu. Or, picture yourself navigating Miami's energetic streets, the city's beat syncing with your heart, all thanks to the city's top-notch car services. Both cities promise exhilarating experiences; it's just about how you wish to ride through them.
So here's the deal – whether it's the serene embrace of Honolulu or the contagious enthusiasm of Miami you're seeking, there's a car waiting to be part of your story. Families, couples, thrill-seekers, or budget travelers – there's something for everyone. Choose your vibe, and let Honolulu and Miami's car rentals drive your story forward.
Honolulu and Miami: Taste-Off!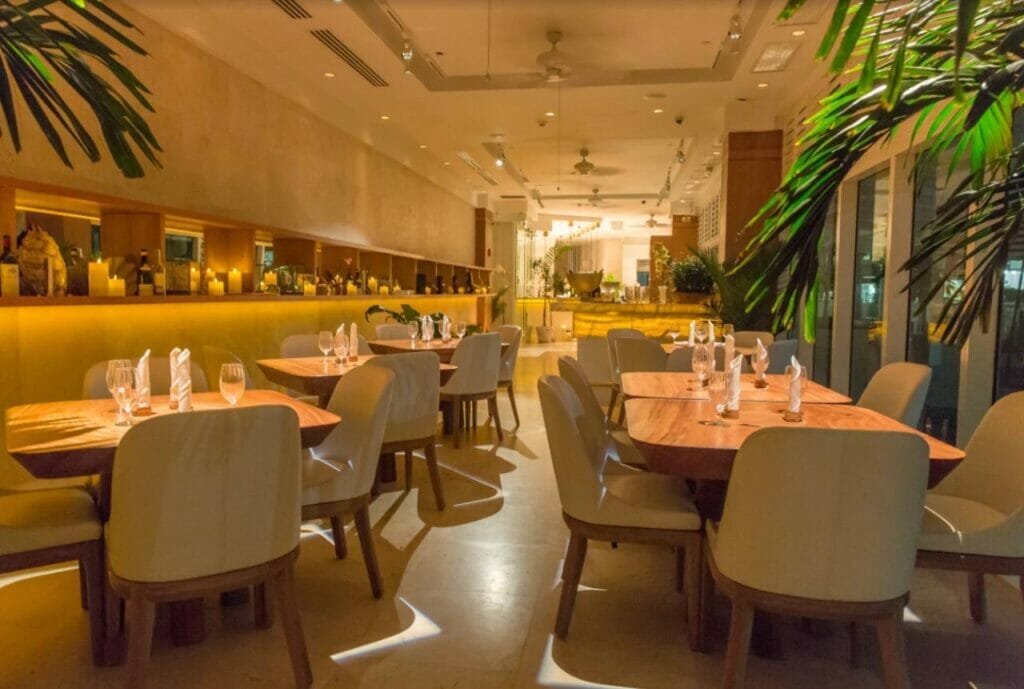 Over in Honolulu, imagine the soft sway of palm trees and the gentle hum of the ocean as a backdrop. If you've got kids in tow, the beachhouse at the moana in the legendary Moana Surfrider is a treat. Here, the Pacific Rim's flavors dance on your plate while the panoramic ocean views steal your heart. For a touch of romance, make a reservation at Duc's Bistro.
Picture a fusion of French elegance and Vietnamese zest, all under one roof—dreamy, right? And for those with a penchant for adventure, Ka ʻIkena Lauaʻe Restaurant offers a taste of Hawaii like no other—dine amidst cascading waterfalls and blooming gardens for a true island experience.
Now, if Miami's calling your name, buckle up for a ride through culinary paradise! Got kids? You can't miss Barton G. The Restaurant Miami Beach. It's where food transforms into enchanting art pieces—both kids and adults will be wide-eyed and wowed.
If it's a date night, the sublime dishes at Stubborn Seed, curated by the brilliant chef Jeremy Ford, are bound to kindle romance. And for those always chasing the next big flavor, Elcielo Miami By Juan Manuel Barrientos promises a sensory explosion, marrying Colombian roots with modern culinary flair.
Honolulu or Miami, these cities promise a gastronomic journey like no other. So, whether you're soaking up the Hawaiian sun or salsa dancing down Miami's avenues, there's a plate with your name on it, waiting to sweep you off your feet.
Honolulu Vs Miami FAQ
Which is better, Miami or Hawaii?
Both Miami and Hawaii have their own unique charm and appeal, making it difficult to determine a definitive "better" option. Miami offers a vibrant cityscape with a bustling nightlife, diverse culinary scene, and a melting pot of cultures. On the other hand, Hawaii boasts stunning natural beauty, pristine beaches, lush landscapes, and a rich indigenous culture. The choice ultimately depends on personal preferences, whether you prefer a dynamic urban experience or a tranquil tropical paradise.
Is Miami cheaper than Honolulu?
When it comes to cost, Miami generally offers more affordable options compared to Honolulu. Accommodation, dining, and entertainment options in Miami tend to have a wider range of prices, making it easier to find budget-friendly choices. Honolulu, being a popular tourist destination, can be pricier in terms of accommodation and dining. However, it's important to note that prices can vary depending on the specific location, time of year, and individual preferences.
Is Miami warmer than Honolulu?
In terms of average temperatures, Miami tends to be slightly warmer than Honolulu. Miami enjoys a subtropical climate with hot and humid summers, mild winters, and warm temperatures year-round. Honolulu, located in a tropical climate, experiences warm temperatures throughout the year but with relatively more consistent and moderate conditions. It's worth mentioning that both destinations offer fantastic beach weather, but Miami's temperature range leans towards consistently warm and balmy conditions.