Honolulu and Kauai, two lovely places in Hawaii's beautiful state, provide different landscapes and natural features that will captivate any traveler.
The main difference between Honolulu and Kauai lies in their distinct atmospheres and attractions. Honolulu, located on Oahu, is a bustling cosmopolitan city with vibrant nightlife, high-end shopping, and iconic landmarks like Waikiki Beach and Pearl Harbor. Kauai, known as the "Garden Isle," offers a serene, laid-back ambiance, boasting lush landscapes, stunning waterfalls, and beautiful beaches perfect for nature enthusiasts and those seeking tranquility.
Travelers seeking an urban experience may prefer Honolulu, while those craving natural beauty and a slower pace may opt for the enchanting allure of Kauai. 
| Aspect | Honolulu | Kauai |
| --- | --- | --- |
| Cost Range for 1 Week | $741 – $5,699 (source) | $584 – $2,525 (source) |
| Location | Oahu, the third-largest Hawaiian Island | Fourth-largest Hawaiian Island |
| Geography | Urban city with beaches, mountains, and valleys | Rural island with lush landscapes and rainforests |
| Language | English and Hawaiian | English and Hawaiian |
| Government | City and County of Honolulu | County of Kauai |
| Currency | United States Dollar (USD) | United States Dollar (USD) |
| Tourism | Major tourist destination, high visitor influx | Popular tourist destination, less crowded |
| Economy | Diverse economy, including tourism, military, and finance | Relies heavily on tourism and agriculture |
Whether you're seeking adventure or tranquility, both Honolulu and Kauai have something unique to offer. So pack your bags and get ready to explore these stunning Hawaiian paradises!
Hawaiian Topography: Geography of Honolulu and Kauai
Imagine this: in Honolulu, on the heart-throbbing Oahu Island, your family can dive into a mix of city vibes and Mother Nature's touch. Picture your kids making their very first sandcastle at the famous Waikiki Beach or maybe even catching their first wave.
Fancy a romantic moment? How about snuggling up with your partner, watching the sun set over Diamond Head? And hey, if you've got an adventurous bone, that volcanic crater hike offers a panorama you won't forget. Plus, whether you're saving up or splurging, Honolulu's got just the right stay for you.
Now, if you're in the mood for something quieter and closer to nature, Kauai is whispering your name. Families think epic adventures – from the green magic of the Na Pali Coast to spotting humpback whales playing in the horizon. For all the lovebirds out there, Kauai's secret beaches and whispering waterfalls set the scene for those cherished moments.
And adrenaline junkies, this island won't disappoint. Ever tried ziplining amidst the trees? Here's your chance! While Kauai's a bit more on the quiet side, it doesn't skimp on accommodation options, from cute cottages to swanky beachside hideouts.
And hey, no matter what you're willing to spend, both spots promise a great time. In Honolulu, you can munch on mouth-watering local dishes or step back in time with some historic sites without emptying your pockets.
But if luxury's your middle name, the city's ritzy eateries, shopping spots, and plush resorts are calling. Kauai, on its part, lets you marvel at nature without costing an arm and a leg. But if you're up for some pampering, the island's posh resorts promise to spoil you silly.
So, here's the thing: whether you're a family craving fun and nature or a couple longing for some quiet, romantic moments, Honolulu and Kauai are ready to cast their spell. Ready for some action or relaxation? These spots have both in spades. And no matter your budget, they're geared up to give you a Hawaiian holiday you'll treasure forever.
Tropical Getaways: Beaches of Honolulu and Kauai
For families looking to bond over sun, sand, and surf, these islands are pure magic. Imagine your little ones giggling as they play on Waikiki Beach's soft sands in Honolulu or snorkeling side-by-side with sea turtles at Kauai's Poipu Beach. Trust me, these are the moments that turn into treasured memories.
For lovebirds seeking that romantic beach backdrop, it's a tie between the two. Picture this: In Honolulu, as the sun sets over Waikiki Beach, you have the mesmerizing silhouette of Diamond Head behind, while in Kauai, a peaceful walk with your partner on Hanalei Bay's secluded shores is pure bliss. It's all about the sunsets, sea breezes, and those shared smiles.
Adventurous souls? You're in for a treat too! How about surfing the legendary waves at Honolulu's North Shore or hiking the awe-inspiring cliffs of Kauai's Napali Coast? Whether you're a daredevil or just dipping your toes into adventure, these islands promise a thrilling experience.
And, let's not forget, whether you're balling on a budget or looking for some luxury, both islands cater to your desires. In Honolulu, find comfy spots near the beach that won't empty your pockets, and in Kauai, cozy B&Bs or budget-friendly rentals await. But if luxury calls your name, both islands boast plush resorts where pampering is the order of the day.
So, whether you're hunting for family fun, romantic rendezvous, adrenaline-pumping adventures, or just the perfect place to rest and recharge, Honolulu and Kauai have got you covered.
From Honolulu and Kauai: Top Attractions Compared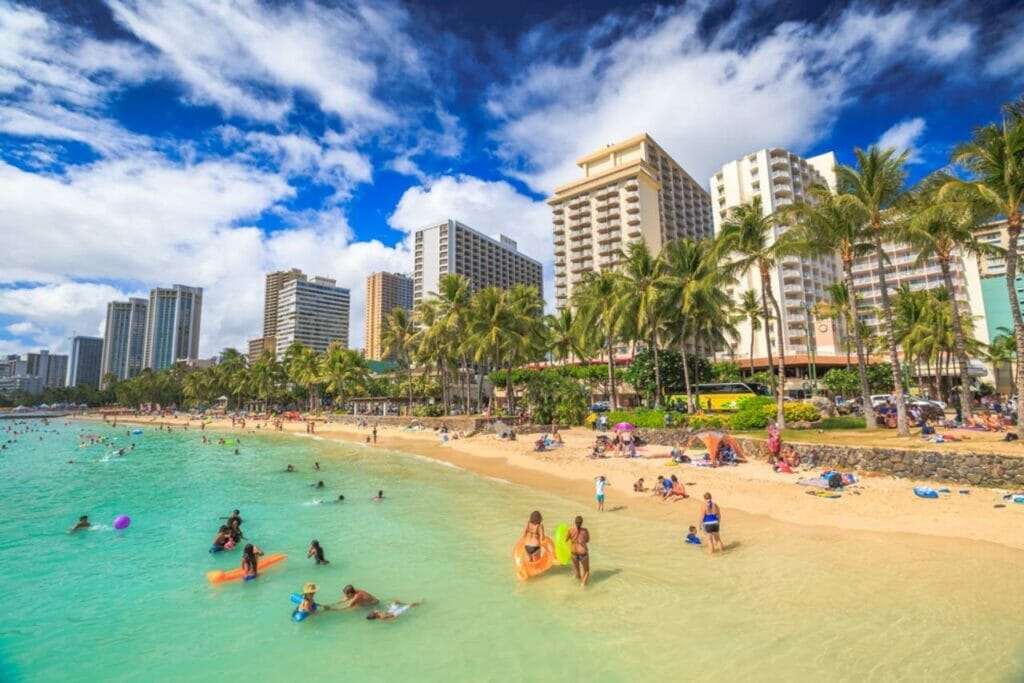 Imagine yourself in Honolulu, Hawaii's bustling heart. Here, the city meets the sea, making it a playground for both families and couples. Picture your kids giggling as they build sandcastles on the iconic Waikiki Beach while you and your partner revel in the golden hues of a Hawaiian sunset. If you're one with a thirst for thrill, don't forget to try your hand at surfing or snorkeling – there's an adventure waiting at every corner!
And if you're a history buff or a culture enthusiast, a visit to the Polynesian Cultural Center or the evocative Pearl Harbor is a must. The cherry on top? Whether you're on a shoestring budget or in the mood to splurge, Honolulu's got your back with its range of accommodations.
Now, close your eyes and think of Kauai, the "Garden Isle". A haven for those seeking solace in nature's lap, Kauai mesmerizes with its emerald beauty. Families can wander along the trails of the Na Pali Coast, where waterfalls play hide and seek. And couples? There's nothing more romantic than a quiet boat ride on the Wailua River or gazing into the depths of the majestic Waimea Canyon, Hawaii's own "Grand Canyon".
Adrenaline enthusiasts, gear up for a bird's-eye view of this paradise with a thrilling helicopter ride! And when the day winds down, find your perfect hideaway among Kauai's range of lodgings, from quaint cottages to plush beach resorts.
In a nutshell, whether you're drawn to Honolulu's vibrant pulse or Kauai's tranquil allure, Hawaii promises an experience like no other. Families, couples, and thrill-seekers alike will find their piece of paradise in these islands.
Island Accommodations Showdown: Honolulu and Kauai
Imagine the vibrant heartbeat of Honolulu. Families, if you're hunting for a gem of a stay, look no further than The Kahala Hotel & Resort. Tucked away from the city's buzz, this place offers the perfect serene beach spot sprinkled with activities for everyone.
For the couples out there, the enchanting Moana Surfrider, A Westin Resort & Spa on Waikiki Beach, is a romantic getaway waiting to happen. It's where history and modern luxury dance. And for our thrill-seekers, the Prince Waikiki isn't just a luxury hotel; it's your launchpad to both water escapades and the city's vibrant pulse.
On the flip side, Kauai whispers tales of nature's grandeur. Families, imagine diving into the Grand Hyatt Kauai Resort & Spa's pools, feeling the rush of waterslides, and sinking into island tranquility. Couples, the Koʻa Kea Resort on Poipu Beach is romance personified, offering dreamy sunsets and private beach moments. And adventurers, at the Kauai Beach Resort & Spa, you're a step away from hiking the island's heart, kayaking its serene rivers, or soaring over its landscapes.
Worried about budget? Fret not. Honolulu boasts accommodations from cozy to plush without skimping on quality. Kauai, with its mosaic of stays ranging from wallet-friendly to luxury, ensures you soak in the island vibes without any financial hiccups. If pure opulence is on your mind, Honolulu's Prince Waikiki and Kauai's Grand Hyatt are where luxury finds its definition.
In a nutshell? Whether you're lured by Honolulu's lively spirit or Kauai's calming embrace, Hawaii promises stays that resonate with every kind of traveler. So, grab your beach hat, those comfy hiking boots, and let Hawaii's magic wrap around you. See you in paradise!
Exploring Hawaii: Car Rental Tips for Honolulu and Kauai
Aloha, adventurous souls! Are you torn between the city buzz of Honolulu and the peaceful allure of Kauai? Let me give you a peek into their transportation scenes, ensuring you set out on a trip that'll be etched in your memories forever.
Honolulu is a bustling joyride waiting to happen! For those traveling with family or friends, look no further than SIXT Rent a Car right at the airport. They've got an impressive line-up to fit everyone, including that fun beach umbrella.
Ready to hop in and discover Oahu's wonders? If saving is your mantra, Lucky Owl Car Rental will be your best friend on the road. They have sweet deals and dependable cars that'll make your island hopping a breeze. And for my luxury enthusiasts, National Car Rental promises to give you that royal feel as you sweep through the city's picturesque lanes.
Drifting over to Kauai, our Pacific jewel, Rent A Car Kauai awaits with a plethora of choices. Whether you're in the mood for romance under the stars or an epic road trip with your pals, they've got you covered.
Craving a more intimate, local vibe? Alii Rental Cars LLC beams with that genuine aloha touch, making your island experience truly personal. And for those who like their journey as grand as the destination, Elite Kaua'i Car Rental promises luxury like no other, ensuring your Kauai escapade is as stylish as it is scenic.
Honolulu's city lights or Kauai's tranquil nights, Hawaii's got transport choices for all – families, lovebirds, adrenaline junkies, savvy savers, and the glam travelers. So, pop on that sunscreen, rally your favorite folks, and embark on a Hawaiian dream.
Culinary Escapes: Dining in Honolulu and Kauai
When exploring the culinary delights of Hawaii, you're in for a treat whether you're hanging loose in Honolulu or basking in Kauai's beauty. Dive with me into Honolulu's rich palette of flavors – it's as vibrant and diverse as a sunset over Waikiki Beach.
If you're a family eager to immerse yourselves in the heartbeat of Hawaiian culture, you can't miss House Without A Key. Nestled in the legendary Halekulani hotel, you'll relish mouthwatering meals with the backdrop of gentle palm trees and heartfelt Hawaiian melodies. It's like a big aloha hug for your senses!
Looking for a touch of romance? Grab your special someone and head to Stage Restaurant. Picture this: an evening of modern elegance, sizzling seafood, and that steak you'll be dreaming about for days. The ambiance here could easily rekindle a first-date kind of excitement.
Gaze over the endless ocean horizon while savoring an exquisite French-Hawaiian fusion – it's the stuff celebrations are made of.
Now, let's catch a wave over to the magical island of Kauai. Fancy a family dinner with sand between your toes? Beach House Restaurant is where you'll want to be. Imagine this: sipping on a tropical drink, devouring fresh catches of the day, all while watching your kids craft the perfect sandcastle. It's pure bliss!
For those with a dash of adventure in their soul, Sam's Ocean View Restaurant in Kapaa beckons. Dine al fresco and let the hypnotic ocean waves be your dinner soundtrack – it's a treat for wanderlust hearts. And if you're someone who cherishes nature's bounty, you'll fall head over heels for JO2 Natural Cuisine. A celebration of farm-fresh ingredients, every dish here tells a story of Kauai's lush landscapes.
Honolulu Vs Kauai FAQ
Is Honolulu or Kauai better?
Kauai and Honolulu offer distinct experiences, making it subjective to determine which is better. Honolulu is a bustling city with a vibrant urban atmosphere, renowned beaches like Waikiki, and numerous cultural attractions. Kauai, on the other hand, boasts untouched natural beauty, including the stunning Waimea Canyon and secluded beaches. The choice between the two depends on personal preferences, whether one seeks a lively city experience or a tranquil island retreat.
Is Honolulu more expensive than Kauai?
Generally, Honolulu is considered more expensive than Kauai. Honolulu, as the capital city, has a higher cost of living, particularly in terms of lodging, food, and entertainment. Kauai, with its more laid-back atmosphere, tends to offer a range of more affordable options for travelers. However, prices can vary depending on the specific location within each island and the level of luxury desired.
Which island in Hawaii is the prettiest?
Determining the prettiest island in Hawaii is subjective and varies depending on personal preferences. Each island has its unique natural beauty. With its pristine landscapes, thick rainforests, and breathtaking coastline, Kauai is known as "The Garden Isle" and is regarded as one of the most beautiful islands. However, other islands like Maui, with its diverse landscapes and iconic Road to Hana, or the Big Island, with its active volcanoes and black sand beaches, also offer breathtaking beauty. It is ultimately up to the person to determine which island best represents their concept of beauty.