Discover the enchanting contrasts between Honolulu and the Big Island, two remarkable destinations that showcase the stunning beauty of Hawaii.
The main difference between Honolulu and Big Island lies in their ambiance and attractions. Honolulu, located on the island of Oahu, offers a bustling urban experience with vibrant nightlife, shopping, and cultural sites like Pearl Harbor. Big Island, also known as Hawaii Island, presents a more laid-back, natural setting with diverse landscapes, including volcanoes, waterfalls, and pristine beaches.
Travelers seeking a mix of city life and historical landmarks would prefer Honolulu, while those seeking adventure and nature's wonders would find Big Island more appealing.
| Category | Honolulu | Big Island |
| --- | --- | --- |
| Cost Range for 1 Week | $741 – $5,699 (source) | $727 – $3,923 (source) |
| Location | Island of Oahu, Hawaii, USA | Island of Hawaii, Hawaii, USA |
| Geography | Located on southeastern Oahu | Largest island in the Hawaiian chain |
| Language | English, Hawaiian | English, Hawaiian |
| Government | City and County of Honolulu | County of Hawaii |
| Currency | US Dollar | US Dollar |
| Tourism | Major tourist destination | Popular tourist destination |
| Economy | Diverse economy, tourism-driven | Agriculture, tourism, and astronomy |
Whether you crave the vibrant energy of a bustling metropolis or the tranquility of a nature-filled escape, both destinations offer an exquisite blend of the ocean, mountains, and tropical greenery, each with its unique flavor of the Hawaiian experience.
Natural Wonders: Geography of Honolulu and Big island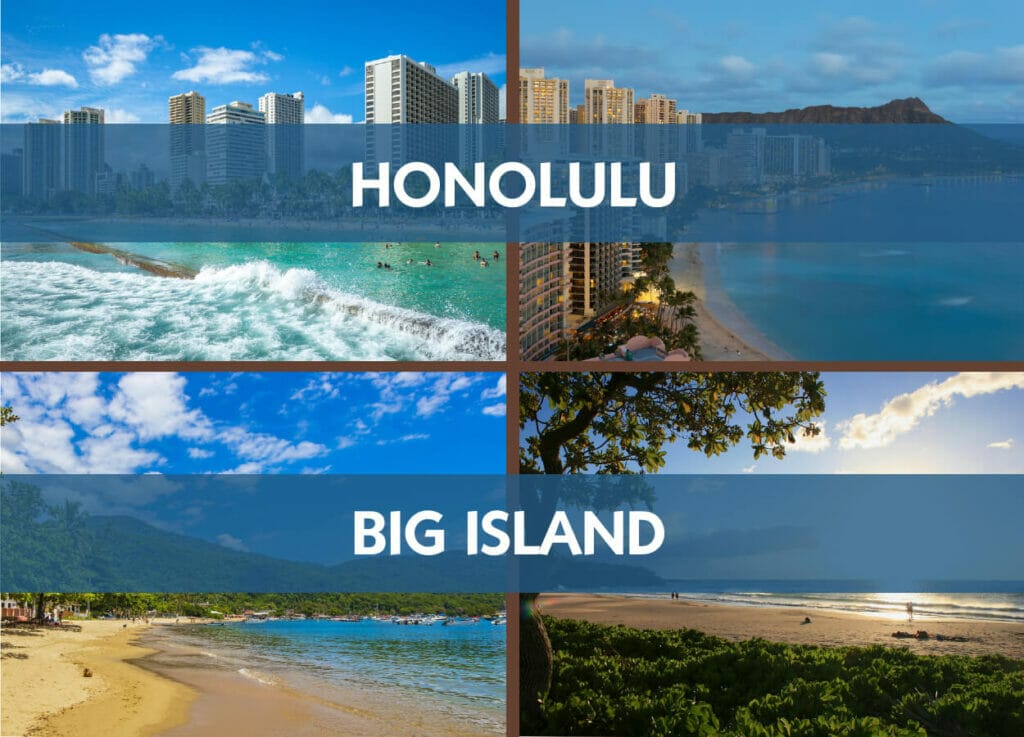 Feeling a bit caught up trying to pick between the inviting beaches of Honolulu and the heart-stopping natural beauty of Big Island for your next vacay?
Whether you're orchestrating a family trip, planning a romantic retreat, seeking an adrenaline-filled quest, or simply hunting for a spot that fits just right with your budget or luxe cravings, these twin Hawaiian jewels are all set to dazzle you! So, come on, let's board our virtual plane and preview the wonders these island paradises hold!
Our first destination: Honolulu, the humming hub of Hawaii, a harmonious blend of tropical splendor and urban glam. Picture this – your family basking in the sun on the iconic Waikiki Beach, the kiddos architecting majestic sandcastles, while you savour the Hawaiian sun's warm embrace. And for all the couples, envision yourselves sauntering hand in hand, with the twinkling blue ocean completing the romantic frame.
Got an adventurer's spirit? How about diving into surfing or paddleboarding in the pristine waters? And for all you hiking enthusiasts, the towering Diamond Head crater is your challenge, with an unforgettable panoramic view as your trophy! Whether you're watching the pennies and need a cosy nook, or you're after the high-life with top-notch resorts and gourmet feasts, Honolulu is eager to play host.
Next, we jet-set to Big Island, an imaginative realm brimming with geological surprises that truly justifies its grand name. Here, families can gaze in wonder at the fiery performance of active volcanoes in Hawaii Volcanoes National Park, a sight where molten lava paints the night sky. For couples in search of an escape, Hilo offers idyllic settings, complete with dreamy waterfalls and lush rainforests.
And for thrill-seekers, the cryptic lava tubes or the rare black sand beaches are your playground. Just like its sister Honolulu, Big Island welcomes all travelers, from the budget-conscious seeking modest homestays to the ones who want to spoil themselves in sumptuous resorts snuggled along its awe-inspiring coastlines.
So, here's the skinny: Honolulu, with its lively urban pulse and stellar beaches, is the perfect playground for families, lovers, and adventure junkies, no matter what your budget. Meanwhile, Big Island is the perfect destination for those eager to witness the raw beauty of nature, offering stays from the budget-friendly to the ultra-luxurious.
Whatever gets your heart racing, both these dream locations are ready to gift you unforgettable experiences and precious memories. So, it's time to get those suitcases out, because the enchantment of Hawaii is all set to cast its spell on you during this trip of a lifetime!
Tropical Beach Bliss: Beaches on Honolulu and Big Island
Visualize this scene: You're stepping foot onto the iconic Waikiki Beach in Honolulu. Instantly, you're enveloped by a lively energy that's utterly infectious. Feel the golden sand beneath your toes and the shimmering turquoise waters teasing the shoreline. Doesn't it feel like the perfect spot to unwind? And the cherry on top? All your needs are met, just a stone's throw away.
From delightful eateries serving tantalizing treats, to surfboard rentals for those with a bit of daring in their heart, it's like your own slice of beach haven, with the convenience of urban life close at hand. Even those new to surfing can take it easy here with gentle waves shielded by a distant reef, perfect for a relaxing paddleboard session. And hey, if you're tagging along with your family, no worries! Ala Moana Beach, with its shallow and serene waters, is ideal for your little ones to splash about and giggle with joy.
Now, ready for a leap over to the Big Island? Here, your beach experience multiplies with an incredible diversity that's mind-boggling. Every beach you stumble upon has a distinctive allure that's irresistible. Picture walking along the palm-adorned white sands of Hapuna Beach – it's pure paradise. Swimmers, boogie boarders, and sunbathers alike, you're all welcome here.
But hold on, the adventure doesn't stop here! For those seeking a heart-thumping thrill and a perfect snapshot, Punalu'u Beach is a must-visit. It's home to a breathtaking black sand beach, formed by millennia-old volcanic lava. Trust me, it's an encounter you'll cherish. But why stop there? If you have a touch more adventure in your soul, dare to explore Papakolea Beach and its stunning green sand—Mother Nature's spectacular surprise!
In a nutshell, if the blend of modern convenience, an urban pulse, and pristine beaches tickles your fancy, Honolulu is bound to captivate you. On the flip side, if the thrill of exploring uncharted territories and remarkable landscapes excites you, then the Big Island is your perfect haven. Hawaii is a treasure trove that caters to all – families, couples, adrenaline junkies, or travelers on a budget.
Honolulu and Big Island Excursions: Unmissable Attractions
Picture this: you're in Honolulu, nestled on the lively island of Oahu. This bustling city combines the thrill of urban life with the breathtaking beauty of nature. If you're a family, imagine your little ones making sandcastles on the world-renowned Waikiki Beach while you catch some golden sunshine.
Picture yourself, as a couple, taking a romantic walk along the scenic Diamond Head Crater trail, the Pacific Ocean and cityscape providing a stunning backdrop. And for you thrill-seekers, how about riding the waves on a surfboard or exploring the captivating world beneath the sea while snorkeling?
Now, let's hop over to the Big Island, or as it's also known, Hawaii Island. Here, you'll discover a completely different ambiance, marked by diverse landscapes and untouched wilderness. Imagine your family's faces light up with awe as they witness the raw power of active volcanoes in the Hawaii Volcanoes National Park.
Picture you and your partner walking hand-in-hand on the pristine white sands of Hapuna Beach, enjoying the serene intimacy. And for you adventurers, envision embarking on a heart-pumping hike through lush rainforests, like Akaka Falls State Park or the Waipio Valley, where every turn reveals a new spectacular vista.
For those traveling on a budget, both destinations have got you covered. Honolulu offers a spectrum of accommodations, from budget-friendly hotels to homey vacation rentals. Similarly, on the Big Island, you can find wallet-friendly stays in quaint towns like Hilo and Kailua-Kona, where you'll get to soak in the local culture and warmth without straining your budget.
And for you luxury seekers, Honolulu spoils you with posh beachfront resorts and top-notch dining experiences. Picture relaxing in a chic infinity pool overlooking the ocean, or indulging your taste buds with gourmet meals prepared by world-renowned chefs.
Meanwhile, on the Big Island, immerse yourself in luxury at high-end resorts, relax with spa treatments, and enjoy unique excursions for an unforgettable dream vacation.
Hawaii Hideaways: Accommodations in Honolulu and Big Island
Are you heading out with the family? Say Aloha to The Kahala Hotel & Resort, nestled right in the heart of Honolulu. Imagine this – a peaceful haven sitting along a spotless beach, offering expansive rooms and suites for the entire family to unwind and relax. Picture your kids building sandcastles while you soak in the tranquility.
And if you're embarking on a romantic getaway, the Halekulani Hotel is your dream destination. As a couple, you'll feel the romance swirling in the air, fueled by enchanting ocean views and the kind of service that leaves you feeling like royalty. It's an intimate experience you'll remember forever.
Are you a luxury seeker? Then, say no more! Standing tall and majestic in Honolulu, the Prince Waikiki is your gateway to lavish indulgence. Imagine breathtaking vistas, modern amenities, and a dining experience that speaks of nothing but class – it's a luxury lover's dream come true.
For those of you craving an adventure on the Big Island, the Royal Kona Resort is your go-to. Nestled on the stunning Kona coast, this place gives you the best seat in the house for thrilling water adventures and hikes through the lush trails. It's nature's playground, and you're invited!
For budget-conscious travelers, your Hawaiian home awaits you at the Honu Kai Bed & Breakfast. It's a place where warm hospitality, charming rooms, and mouth-watering homemade breakfasts come together to provide a stay that's as cozy as it is affordable.
And let's not forget the couples seeking a tranquil hideaway. The Horizon Guest House on the Big Island is your secluded sanctuary, offering an intimate setting that's the perfect backdrop to a serene escape amid the island's natural beauty.
Honolulu or the Big Island, luxury or budget, family trip or romantic retreat, adventure or tranquility, whatever your travel style may be, there's a Hawaiian destination with your name on it. Each promises unforgettable experiences and memories that you'll hold dear for a lifetime.
Honolulu vs Big Island Car Rentals: Making the Right Choice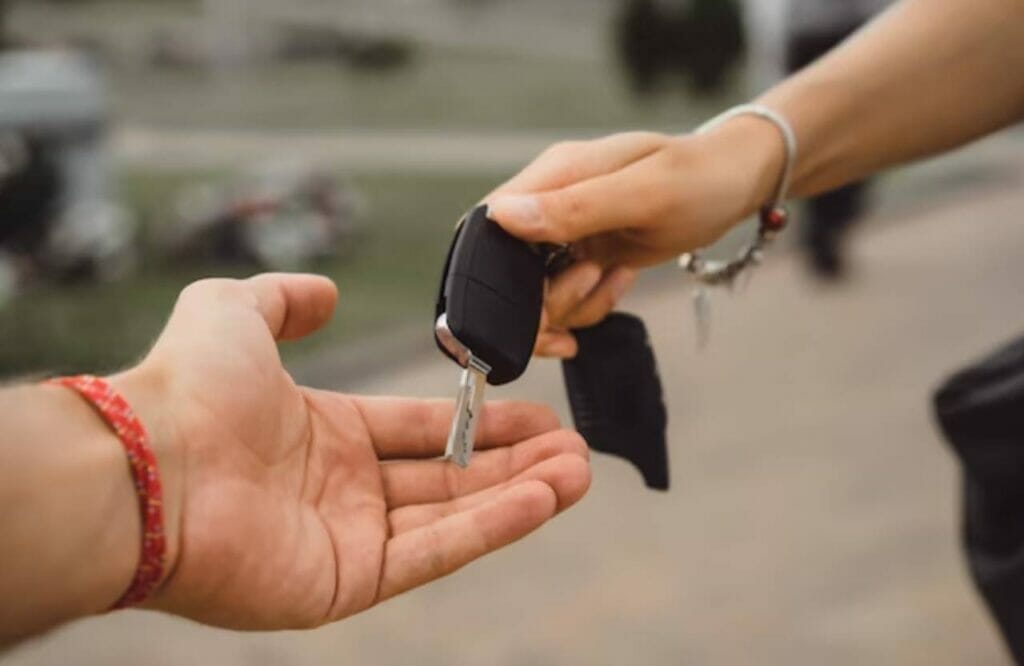 Welcome to vibrant Honolulu, the entryway to Oahu, where a diverse range of transportation options await you. If you're an independent soul who loves the thrill of adventure, why not try First Rent A Car? They have a vast array of vehicles, from sleek compact cars to roomy SUVs, ideal for discovering every nook and cranny of this stunning island. Fancy a touch more luxury and excellent service?
Then M Select Car Rental has got your back. Their super-friendly staff will get you on the road faster than you can say 'Aloha', freeing up your time to indulge in sun-soaked beaches and fascinating cultural highlights. And for the savvy travelers watching their budget, we highly recommend Enterprise Rent-A-Car – they provide top-tier service at a wallet-friendly price. Get ready to rev up those engines and embark on a memorable journey through Honolulu's lively streets and iconic sights!
The next stop is the Big Island, where mesmerizing landscapes and volcanic wonders will leave you breathless. If comfort and sophistication are your travel companions, then National Car Rental will cater to your every need with its luxurious lineup. Imagine cruising the picturesque routes with your partner in a high-end vehicle, creating cherished memories against the backdrop of the island's remarkable natural beauty.
For those of you with a taste for the rugged, Big Island Rental Cars is the way to go. Their range of robust off-road vehicles and SUVs are just what you need to traverse the wild terrains of this diverse island. And for all you adrenaline junkies out there, we've got something extra special! With Hawaii Lifted Jeep Rentals, you can experience the ultimate off-road adventure, discovering hidden trails and secret gems that are far from the beaten track.
Whether you're a family in search of convenience, a couple seeking romance, an adrenaline chaser ready for a rush, or a budget-conscious traveler planning to squeeze every bit of joy from your Hawaiian escape, both Honolulu and the Big Island are ready to greet you with a fantastic selection of transportation options.
City Lights: Nightlife in Honolulu and Big Island
I have the low-down on nightlife in two of Hawaii's biggest hotspots – Honolulu and the Big Island. It doesn't matter if you're counting pennies or throwing down with Benjamins, both islands offer a memorable time once the sun sets. Ready? Let's dive into the moonlit vibes of these paradises.
In the heart of Honolulu, you'll find the bustling and vibrant nightlife where a mix of locals and tourists congregate. One of my absolute favorites is Bar 35. Nestled in Chinatown, this upscale joint offers more than 200 beers from around the world. Even if you're not an ale aficionado, there's an extensive menu of expertly-crafted cocktails, perfect for a relaxing night out.
For those with a taste for the vibrant, don't miss Hula's Bar & Lei Stand, a rainbow-friendly space with killer views, excellent drinks, and live music. Or try Bacchus Waikiki, a laid-back wine and martini bar that's perfect for couples seeking a quiet, romantic evening.
Humpy's Big Island Alehouse in Kailua-Kona is a must-visit for beer lovers. With its extensive draft list and a menu filled with comfort food, it's a hit with both families and budget travelers. Imagine a laid-back evening with loved ones, where the kids enjoy their cheeseburgers, and you savor a cold, local brew – absolute bliss, right?
On the wilder side, the Mask-Querade Bar in Kona brings a sense of intrigue to your night with its themed parties and colorful masks. It's an adventure-seeker's delight! But if you want to wind down in luxury, the Lava Lava Beach Club is the place to be. Imagine enjoying a tropical cocktail with your toes in the sand, watching the sunset into the Pacific. Now, that's my idea of a perfect evening in Hawaii!
Honolulu and Big Island Restaurants: Unforgettable Dining Experiences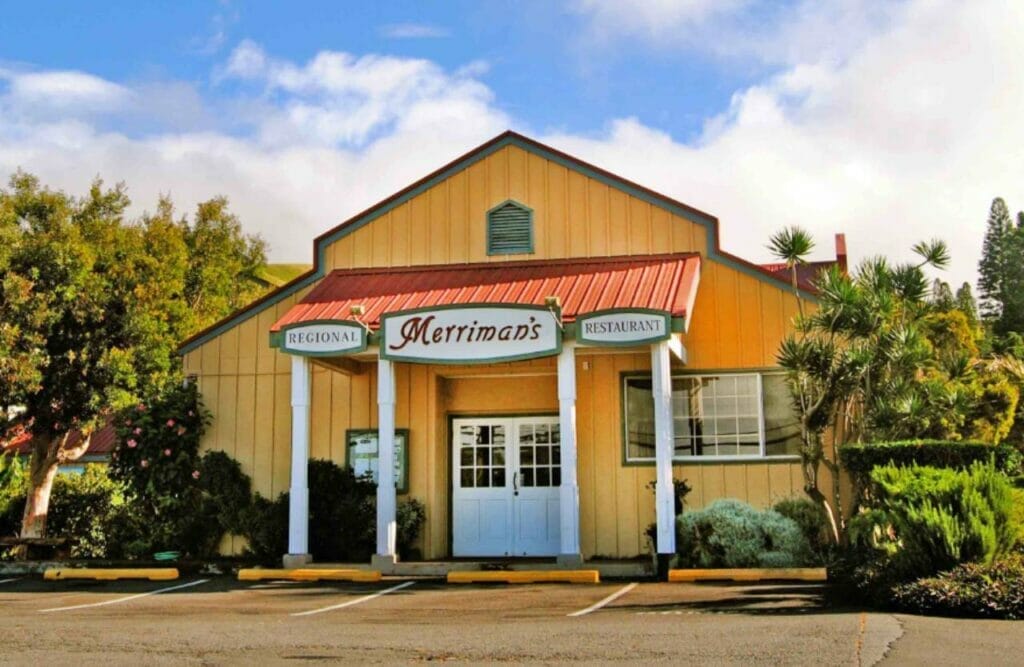 Honolulu, with its captivating beaches, mirrors this diversity in its culinary scene. For families craving a spoonful of authentic Hawaiian cuisine, you absolutely must pop into The Original Roy's in Hawaii Kai. This charming eatery merges local flavors with a global twist in the most friendly environment – it's a hit with both kiddos and grown-ups! For couples seeking a dash of romance with their meal, Istanbul Hawaii awaits.
Picture this: a mesmerizing, Istanbul-inspired decor while you savor the finest Turkish fare. Now, if you're looking to lavish yourself with a grand steakhouse dinner, Ruth's Chris Steak House will sweep you off your feet with its sophistication and delectable steak cuts.
Now, let's hop over to the Big Island, another culinary haven! If you're an adventurous foodie, you'll fall head over heels for Merriman's Big Island. Tucked away amidst verdant surroundings, this farm-to-table oasis promises a plateful of Hawaiian love with locally-sourced ingredients.
For those traveling on a budget but still want a taste of the ocean's treasures, Quinn's Almost by the Sea is your perfect seafood hub. Their fresh poke bowls and juicy shrimp dishes are a steal! And for the ultimate luxury dining experience, BROWN'S BEACH HOUSE will win your heart with its spectacular oceanfront views and a menu bursting with the island's best bites.
So, whether you're exploring the lively streets of Honolulu or soaking up the tranquility of the Big Island, these culinary havens have got you covered for all tastes and budgets.
Honolulu Vs Big Island FAQ
What distinguishes Honolulu from the Big Island?
Honolulu and the Big Island differ in terms of geography, lifestyle, and attractions. On the Hawaiian island of Oahu, the bustling city of Honolulu is home to stunning cliffs, clear oceans, and well-known attractions including Diamond Head. It offers a vibrant city life, high-end shopping, and a lively atmosphere. The Big Island, commonly known as Hawaii Island, is larger and more rural, with varied terrains including as snow-capped peaks, lava-spewing craters, black sand beaches, jungles, and deserts.. It offers a slower, more laid-back lifestyle and appeals to nature lovers and adventure seekers.
Is Hawaii Island the same as the Big Island?
Yes, Hawaii Island and the Big Island refer to the same place. The Big Island is another name for Hawaii Island, the largest of the Hawaiian islands, which is used to distinguish it from the state of Hawaii.The term "Big Island" was given to it because it was bigger than all the other Hawaiian islands put together. To avoid confusion with the name of the state, it is most frequently referred to as the Big Island even though it is officially recognized as Hawaii.
What is the Big Island known for?
The Big Island is known for its remarkable geographical diversity and natural wonders. When measured from its base on the ocean floor, Mauna Kea, one of the tallest mountains in the world, has one of its snow-capped peaks. Kilauea is one of the island's many active volcanoes, which provide stunning volcanic scenery and the opportunity to watch lava flows. Additionally, the Big Island boasts stunning black sand beaches, lush rainforests, and a rich cultural heritage deeply rooted in ancient Hawaiian traditions.