5 Hidden Gems in Jamaica to Discover
Discover hidden gems in Jamaica as we take you on an off-the-beaten-path excursion. Away from the bustling cities and tourist hotspots, Treasure Beach awaits with its tranquil six-mile stretch of sandy beaches and vibrant community spirit.
Journey through the scenic landscape, exploring the Black River's mangroves and spotting crocodiles.
Continue your exploration to Reach Falls, where lush rainforests surround cascading waterfalls, offering both serene beauty and thrilling adventures. 
Delve into the depths of the Green Grotto Caves, a historical underground network dating back hundreds of thousands of years. Lastly, immerse yourself in the postcard-perfect Somerset Falls, with guided boat tours and hidden grottos adding to the enchantment.
Unveil the allure of Jamaica's natural treasures, often overlooked but waiting to be discovered.
1. Treasure Beach
Away from the bustle of Kingston and the tourist hotspot of Montego Bay, you'll find the hidden gem that is Treasure Beach. It's a serene, six-mile stretch of sandy beaches, private coves, and azure waters. But don't be fooled by its peaceful exterior – this place is as vibrant as they come. The community spirit here is tangible, with friendly locals hosting impromptu football matches and fish fries, making you feel part of the island life from the moment you step foot on the sand.
When you're not lazing on the beach, take the opportunity to explore the scenic landscape. Treasure Beach is the gateway to the Black River, Jamaica's largest wetland area, where you can boat your way through the mangroves, spotting crocodiles and a variety of bird species. Between its captivating community and its abundant natural beauty, Treasure Beach truly encapsulates the hidden charm of Jamaica.
Getting there: Treasure Beach is about a two-hour drive from Montego Bay. The most convenient way to get there is by renting a car or hiring a taxi.
Entrance Fees: Access to the beach is free.
Important Tips: Check local listings for any public events happening during your visit. Remember to pack sun protection and be respectful of the local community events and spaces.
Best Time to Visit
The best time to visit Treasure Beach is between November and mid-December. This is when you'll find comfortable temperatures, fewer tourists, and lower prices. However, if you're a fan of cultural events, consider visiting in May during the Calabash International Literary Festival. This three-day event attracts authors, musicians, and artists from around the world, adding a vibrant edge to the peaceful community.
2. Reach Falls
Next on your Jamaican off-the-beaten-path adventure, head to Reach Falls in the Portland parish. Surrounded by lush, untouched rainforest, the waterfalls offer not only a refreshing dip but also a tranquil experience in the lap of nature. The cascading waterfall feeds into a heart-shaped pool, a picturesque setting that's perfect for that Instagram-worthy shot.
For the adventurous, there's an upstream trek that takes you through a variety of smaller cascades and pools. The cherry on top? A hidden underwater cave where the daring can swim through to pop up right under the falls. Reach Falls offers a blend of serene beauty and thrilling adventure that's a testament to Jamaica's diverse allure.
Getting there: Reach Falls is located about an hour drive from Port Antonio. You can rent a car or take a local taxi.
Entrance Fees: The admission cost for adults is roughly $10 and $5 for youngsters.
Important Tips: It's recommended to hire a guide for the upstream trek. They can show you the safest paths and best spots, including the hidden cave.
Best Time to Visit
Reach Falls is a year-round destination, thanks to Jamaica's consistent tropical climate. But if you're keen on avoiding the crowds, consider visiting between April and June. This is when the Portland parish hosts the Marlin Tournament and the Portland Jerk Festival, offering the perfect mix of tranquility and local flavor.
3. Green Grotto Caves
For a truly unique Jamaican experience, venture into the Green Grotto Caves in Runaway Bay. This underground network of caves, with a history dating back over half a million years, will transport you to a different world. The stalagmites and stalactites, coupled with fascinating tales of their role in Jamaica's history – from a haven for the indigenous Taino people to smugglers' hideouts – add an element of intrigue.
A tour of the caves unveils an underground lake and rock formations that take on shapes reminiscent of mystical creatures. Illuminated by the occasional ray of sunlight piercing through the openings, the Green Grotto Caves is a fascinating peek into Jamaica's natural and historical treasures that often go unnoticed.
Getting there: Green Grotto Caves are easily accessible from either Ocho Rios or Montego Bay by car or taxi. It's roughly a 30-minute drive from Ocho Rios and about an hour from Montego Bay.
Entrance Fees: The standard entrance fee is around $20 and includes a guided tour.
Important Tips: Wear comfortable shoes for the tour. Photography inside the caves is allowed, but flash photography is prohibited to protect the cave's ecosystem.
Best Time to Visit
To avoid the summer heat and humidity that could make the cave exploration less comfortable, it's best to visit the Green Grotto Caves between December and April. This period offers pleasant weather, making your spelunking adventure more enjoyable.
4. Somerset Falls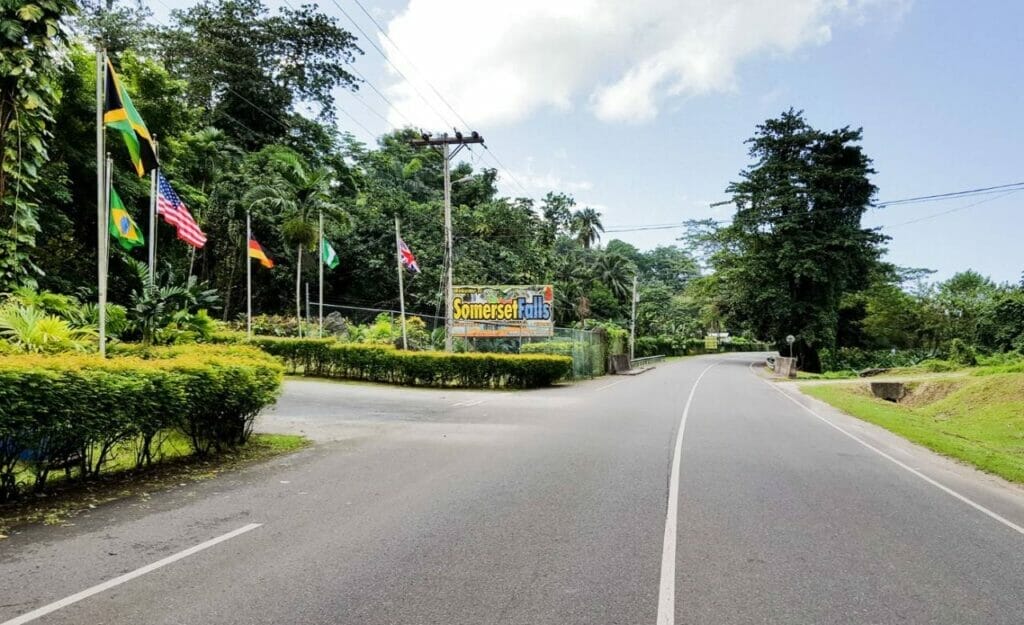 Nestled deep within the tropical rainforest of Portland, Somerset Falls is a vision straight out of a postcard. This hidden paradise comprises a set of cascading waterfalls flowing into an azure pool. It's a fantastic spot to unwind, with the waterfall's mist providing a refreshing respite from the Caribbean heat.
To enhance your experience, hop on a guided boat tour that takes you along the Daniels River to a hidden grotto behind the falls. Once there, you're welcomed by a mini waterfall flowing into the cave, a sight that makes this trip worthwhile. Whether it's the peaceful ambiance, the beautiful scenery, or the friendly locals, Somerset Falls is a hidden gem that enriches the Jamaican experience.
Getting there: Somerset Falls is located near Hope Bay in Portland, and it's about a two-hour drive from Kingston. You can get there by car, taxi, or local bus.
Entrance Fees: The admission charge is around $10 for adults and $5 for youngsters.
Important Tips: The guided boat tour to the hidden grotto behind the falls comes at an additional cost. It's worth it for the unique experience, so consider budgeting for it.
Best Time to Visit
While Somerset Falls may be viewed year-round, the spectacle is most impressive during the rainy season (May to June and September to November), when the water flow is at its peak. However, do keep an eye on the weather forecasts as heavy rainfall can sometimes lead to temporary closures.
5. Folly Ruins
A testament to time and history, the Folly Ruins in Portland offer a different kind of Jamaican experience. Originally a mansion built in the early 1900s, it's now an intriguing site of crumbling brick and concrete, overtaken by nature. The site paints a picture of Jamaica's rich past, and wandering around these ruins feels like stepping back in time.
The mansion overlooks the azure Caribbean Sea, offering breathtaking views and a serene atmosphere. The ruins are a piece of the island's history waiting to be explored and appreciated. So, if you're a history buff or just someone looking for a peaceful afternoon amidst beautiful surroundings, Folly Ruins is a must-visit hidden gem in Jamaica.
Getting there: The Folly Ruins are located in Portland Bight, about a 15-minute drive from Port Antonio. You can get there by car, taxi, or bicycle.
Entrance Fees: Access to the ruins is free.
Important Tips: The site is not maintained as a tourist attraction, so it's important to tread carefully and respect the area. Also, remember to bring your camera – the views are incredible!
Best Time to Visit
As an outdoor attraction, the Folly Ruins are best enjoyed when the weather is dry and the skies clear. The ideal time to visit would be between December and April. But if you can brave a little rain, a visit in the off-peak season can give you the ruins almost to yourself, offering a unique, uninterrupted experience of exploring Jamaica's past.
Hidden Gems in Jamaica FAQ
What Is Jamaica Most Famous For?
Jamaica is most famous for its reggae music, particularly popularized by legendary musician Bob Marley. Reggae's infectious rhythms, heartfelt lyrics, and cultural significance have captivated audiences worldwide. It has become an iconic emblem of Jamaica's cultural identity and serves as a strong reflection of the country's diverse heritage.
What Is Special In Jamaica?
Jamaica is known for its amazing natural beauty, which includes lush jungles, gushing waterfalls, and clean beaches. Hiking, river rafting, and snorkeling are among the recreational activities available on the island's different landscapes. This unique blend of tropical paradise and adventurous spirit makes Jamaica a coveted destination for nature enthusiasts and thrill-seekers alike.
What Is The Most Famous Part Of Jamaica?
The most famous part of Jamaica is Montego Bay. This bustling coastal city is known for its beautiful beaches, blue oceans, and opulent resorts. Montego Bay also offers a lively nightlife, bustling markets, and a rich history, including the historic Rose Hall Great House. It has continually drawn people from all over the world, establishing itself as Jamaica's main tourism attraction.