Which Hawaiian Island Has the Best Hiking in 2023?
Hawaii has always been a dreamy travel destination, but with so many islands to choose from, it can be challenging to pick which one to visit. However, if you are a hiking enthusiast, one island stands above the others regarding hikes.
The best Hawaiian island for hiking is Kauai. The Garden Isle is known for its lush greenery and is one of the smaller Hawaiian islands. It has many stunning hikes and is relatively rural compared to larger islands like Oahu. Many of the hikes showcase beautiful water scenery and tropical forests.
In the rest of this article, I will discuss why Kauai is the best island for hiking, which hikes you must visit during your trip, how to stay safe, and what you should pack for these hikes.
Why Kauai Is the Best Island for Hiking
Kauai is nicknamed the garden isle for a reason. This stunning island is over 619.96 square miles (1606 sq km), making it relatively small compared to larger islands. As a result, Kauai doesn't have the same draws as the bustling city of Ohau. However, Kauai is perfect for those seeking the solace of nature.
Reasons Kauai is the best Hawaiian island for hiking:
Its trails are well maintained.
The island is more rural.
It has incredibly scenic views.
It's less crowded.
The island is home to several famous movie sets like Jurassic Park.
It's one of the greenest islands due to its rainfall.
It's home to the Grand Canyon of the Pacific (Waimea Canyon).
The island of Kauai is breathtaking, feeling almost otherworldly due to the majestic rainforests covering most of the island. Not to mention the tremendous sweeping volcanic cliffs that overlook a vibrant blue ocean.
Additionally, even though the island isn't as geared toward tourism as some other Hawaiin islands, there are still plenty of fun amenities for you to visit during your travels. Plus, if you're visiting Kauai solely for its hikes and nature, then you're in luck.
Kauai's Best Hikes
Kauai is the perfect island for you if you love hiking or exploring. The lush rainforests, towering green mountains, craggy cliffs, and ocean view make it an ideal hiking destination for many.
When booking a trip to this stunning wild island, it's essential to plan. Creating a hiking itinerary is a good idea as many hikes require reservations for non-locals. Additionally, planning your hikes can help you cram in all the hikes you have your eye on before your trip ends.
So what hikes does Kauai have to offer? Which hikes do you need to include in your hike plans?
Kalalau Trail
First, one of the most popular hikes is the Kalalau Trail. This trail starts at Ke'e beach, and gradually ascends over slippery stones up into the mountains overlooking the bright blue ocean. The 22-mile (35 km) hike is considered hard since a significant portion is uphill and can take about 13 hours to complete.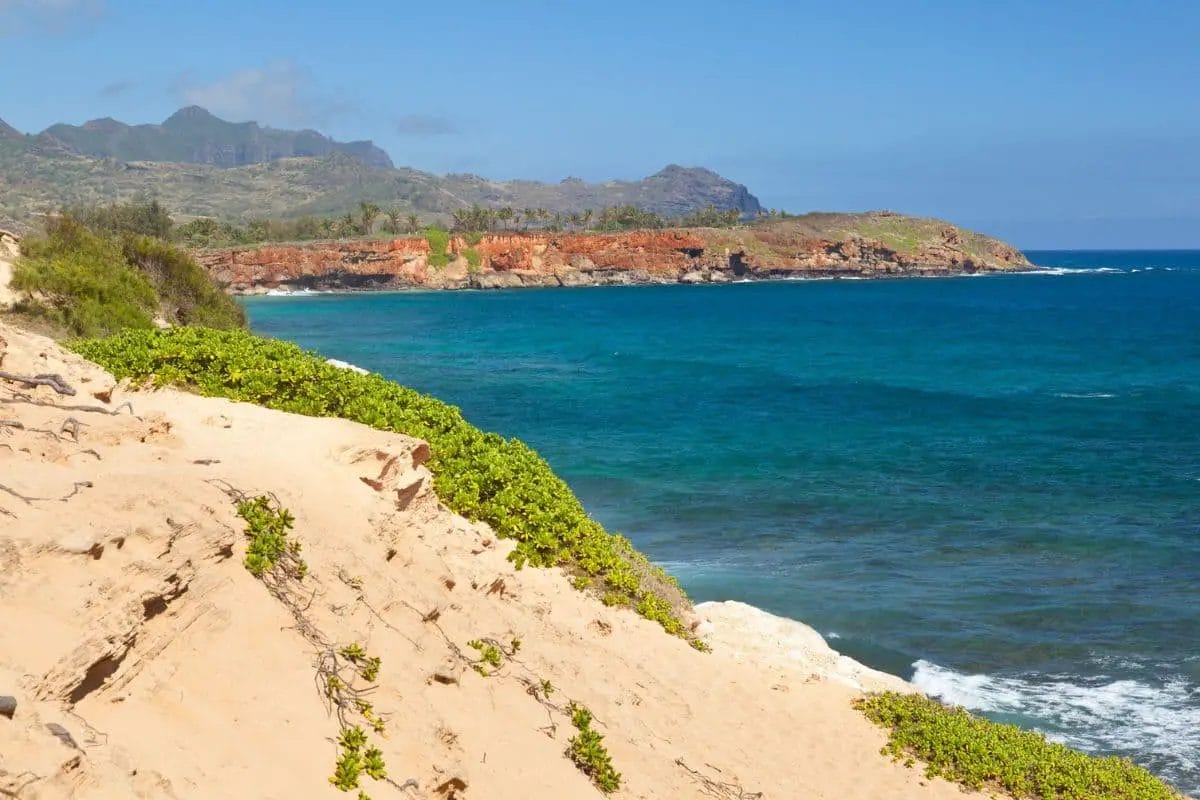 You need to make a reservation well in advance to hike this stunning trail. Without a reservation, you will likely be turned away upon arrival.
If you're looking to become one with nature, Kalalau is also a hot spot for camping, so long as you book ahead of time.
It's not every day that you get to hike through dense jungle foliage on an island. However, it's essential to exercise extreme caution when hiking Kalalau since the trails are slick, narrow, and often overlook steep drop-offs.
Therefore, this hike is best completed by advanced hikers, especially as the last few miles of the hike can be quite difficult.
Sleeping Giant Trail
The Sleeping Giant Trail, also known as Nounou Mountain Trail, is one of the most popular hikes on the island of Kauai. The hike is nicknamed the Sleeping Giant due to its appearance. If you look closely, the mountain looks like a giant humanoid figure slumbering beneath a thick layer of greenery.
The hike generally takes about 2 hours to complete and covers about 3.4 miles (5.5 km) there and back. Therefore, hikers should be prepared for a challenging incline. However, moderate hikers should be able to accomplish this hike due to its brevity.
There are a few different trailheads from which you can start the Sleeping Giant hike. The trail heads are as follows:
East trail. The east trail takes you up the mountainside along a series of switchbacks and eventually leads you to the summit. This trail is the most straightforward path to hike the Sleeping Giant.
West trail. A stunning trail that takes you through a tunnel of jungle trees and switchbacks. Eventually, the trail will lead you through a dense forest of pine trees before meeting up with the Kuamoo trail.
Kuamoo trail. This trail takes a more scenic approach and adds some length to your hike. However, this trail takes you to a small stream and stunning jungle before linking up with the Sleeping Giant hike.
Whatever path you choose, be sure to use caution. Kauai receives a lot of rainfall during the year, making many of these trails slick and easy to slip on. Good hiking shoes are essential for any of these hikes.
Kauai Path
Kaui Path is perfect if you're looking for a relatively easy hike along the beach. Many parts of this trail are paved, making it ideal for bike rentals. This simple path overlooks the ocean and runs over 17 miles (27 km). Additionally, there are many scenic locations along the route which you can pull off to explore, like stunning sandy beaches.
This path takes you along the coastline of Kauai and is a great way to get the layout of the island. Not to mention, the path takes you through a diverse landscape, from craggy cliffs, tunnels of trees to soft sand beaches.
Ho'opi'i Falls
Another extremely popular hike is Ho'opi'i Falls. The falls hike is considered moderate in difficulty as it takes you to the small falls and pool. The hike takes about an hour to complete at 2.4 miles (4 km). Additional time is needed if the trail is particularly slick.
Additionally, this hike is often overcrowded, so it's a good idea to choose a less tourist-heavy day to visit. Also, Ho'opi'i Falls passes close to locals' homes, so respecting their property is essential.
The locals ask that:
You don't arrive at Ho'opi'i Falls before 8 AM.
That you park your vehicle only in designated areas.
Pack out all the trash with you.
Stay on the designated trails.
Following these few steps keeps residents happy and will allow you to enjoy your time at the falls better. Another essential thing to note is that swimming in the falls is not advised. Bacteria is found in the water there and is not great for your health. They are a stunning sight to behold but staying out of the cold water is best.
Maha'ulepu Heritage Trail
This hike is a popular seaside trail due to its stunning views. The hike is moderate in difficulty and it takes about 1 ½ hours to complete the 3.7 mile (6 km) trail. This hike leads you along the coast, starting at Shipwreck's Beach and ending at Mahaulepu Beach.
Along this trail, you should expect to see stunning sights like:
Tide pools
Tall cliffs
Ocean caves
Sand dunes
Unique lava rock formations
Stunning greenery and exotic plants
Petroglyphs
Whales (during the winter months)
Monk seals
The stunning oceanside trail is open year-round and takes you on a breathtaking adventure along the coast. It's important to note that this trail is extremely popular, so you will likely encounter others during your hike.
This hike is also ideal if you are going with young children or dogs. The trail itself is simple though it does require a lot of walking as you explore each excellent nature spot.
Kuilau Ridge Trail
This trail is another popular choice since it requires moderate hiking abilities and takes about 2 hours to complete. The hike is about 3.6 miles (6 km) in length. You should expect to traverse the lush and muddy rainforests of Kauai. Once at the summit, the hike offers a stunning view of the island, rainforest, and surrounding mountains.
This hike is ideal if you want to capture that perfect nature shot. There are plenty of stunning lookouts and places to pause for photos or to enjoy nature.
However, it's important to note that the mud on this trail can be torturous, and the mesquites are sometimes unbearable. So be sure to come prepared with good shoes and bug spray if you want to enjoy this fantastic hike.
Packing List for Hiking Kauai's Trails
There are many hiking locations in Kauai, all stunning and worth visiting. However, no matter the hike you choose during your stay, there are a few hiking essentials you should pack.
What to pack when hiking in Kauai:
Ankle supportive hiking boots. The boots you bring should preferably be water resistant but must support your ankles. Many of the hikes on this island are muddy and can result in you twisting an ankle.
Waterproof socks. The island often sees rain and is humid. Many of the hikes also feature some water attraction, resulting in your feet getting wet. Having socks that won't absorb all that water will be much more comfortable on your hike back.
Hiking sticks. Utilizing hiking sticks while hiking muddy or difficult trails is ideal as they can help you from falling on the trail.
Bug repellent. Staying away from harmful chemicals is best when visiting the Hawaiian Islands. However, many companies make natural insect repellents that don't come in aerosol canisters.
Reef safe sunscreen. Putting on sun protection is extremely important, especially if you aren't used to spending your entire day outdoors.
Moleskin. If you plan to do a lot of hiking, packing items like moleskin can help guard your feet against unwanted blisters.
Waterproof camera. This hike's many sights are water-based, making waterproof cameras ideal.
Sunglasses. Eye protection is essential while hiking on the island as some areas will be very bright.
Comfortable swimwear. Wearing a swimsuit under your hiking clothes is a good idea since many locations allow swimming, and it often rains in Kauai.
A waterproof bag. The bag stores items like electronics and snacks that shouldn't get wet.
If you don't already own an excellent waterproof bag, I recommend Earth Pak's Waterproof Dry Bag (available on Amazon.com). The bag is great because it's compact and guaranteed to keep contained items dry. Plus, this fabulous bag also comes with a waterproof phone case.
How To Stay Safe When Hiking in Kauai
Finally, safety is essential when hiking on any of the Hawaiian Islands. As I previously stated, Kauai is a humid place; the moisture allows the island to stay incredibly green. However, with all that moisture comes a lot of slick mud, which can be hazardous to some hikers.
Staying safe on Kauai hikes:
Wear the proper gear.
Tread carefully on slick surfaces.
Stay on the trails.
Hike during the day.
Go slowly when hikes feel difficult.
Select hikes that meet your skill levels.
It's no secret that Kauai is full of some of the most beautiful hikes in Hawaii. These hikes and their stunning views make it a popular tourist destination. However, it's essential to avoid overdoing it and wear good gear to stay as safe as possible when hiking.
If you want to learn a little more about what to expect when hiking in Kauai I recommend watching Alice Ford's Video on hiking in Kauai. She does a great job of showcasing what to expect when hiking like hiking conditions and terrain.
Conclusion: Best Hawaiian Island for Hiking
Kauai is hands down the best Hawaiian island to hike. Compared to other islands, it's relatively less crowded, and its stunning green landscapes are difficult to beat.
Many hikes along the island feature waterfalls, pools, or stunning ocean views. There are hikes for all levels and ages. 
However, many hikes on this island require reservations, or parking is limited, so it's best to call ahead to reserve a slot. Additionally, it's crucial to be respectful to locals so that these stunning locations will remain open to the public.