Hawaii vs. Puerto Rico: Which Vacation Is Better?
If you are looking to spend a relaxing few days or weeks in a glorious island getaway filled with sunny beaches, mouthwatering seafood, and exotic natural attractions, either Hawaii or Puerto Rico might be for you. Both destinations allow you to escape the everyday grind and enter the slower rhythm of the islands.
Hawaii is better for vacation if you enjoy hiking, outdoor adventures in comfortably warm weather, and vibrant local culture. Puerto Rico is better if you are a beach lover who likes exploring historical sites such as forts, swimming in fish-rich waters, and spending nights on the dance floor.
| Category | Hawaii | Puerto Rico |
| --- | --- | --- |
| Cost Range for 1 Week | $1,876 per person | $1,214 per person |
| Transportation | Rental cars, shuttle buses, taxis, Uber, Lyft, local bus service | Taxis, público (shuttle service), public buses, car rentals, Uber |
| Notable Attractions | Queens' MarketPlace, Mauna Kea Observatory, Diamond Head, Pearl Harbor, North Shore, Oahu, Maui, Honolulu, Waipio Valley | Old San Juan, Museo de Arte de Ponce, Playa Mar Chiquita, Castillo San Felipe del Morro, Cabo Rojo Lighthouse, San Sebastián Street Festival |
| Weather | Warm all year round with a wetter 'winter season' from November to April | Hot all year round with a slightly 'cooler season' from December to March |
| Food and Drink | Hawaiian regional cuisine, international cuisine, numerous family restaurants and cafes | Puerto Rican cuisine, seafood, international cuisine, numerous restaurants and cafes |
| Activities for Kids | Luau and hula performances, Honolulu Zoo, swimming with dolphins, surfing, hiking, Maui Ocean Center | Observatorio de Arecibo, Parque de las Palomas, Museo del Niño, Playa Flamenco, Las Cascadas Water Park, Aqua Adventure Inc. |
| Nature Attractions | Hawaii Volcanoes National Park, Hawaii Tropical Botanical Garden, Akaka Falls State Park, Magic Sands Beach | El Yunque Natural Rainforest, Camuy Caves, Bioluminescent Mosquito Bay, Parque Isla Verde, Condado Beach |
Hawaii, or the Aloha State, is a naturalist's paradise; visitors can expect no shortage of natural parks, volcanic landscapes, and cascading waterfalls to explore. Puerto Rico, offers its distinct island charm; fondly known as the Island of Enchantment, it boasts many beautiful beaches, unforgettable historical sites, and delectable culinary dishes.
This article will explore these two island getaways to decide which destination will give you the best vacation experience.
Cost of Stay
A Hawaiian vacation can be costly. Because the Aloha State is made up of a series of islands. However, you can only visit 6. The ones you decide to explore will likely determine how much money comes out of your wallet.
For instance, if you decide to stay on Oahu's island, where hotels, activities, tours, and attractions are abundant, it may lower your daily expenses as the prices tend to be competitive. This might be a better option if you are traveling as a family.
One of the great perks about a trip to Puerto Rico is its diversity of lodging. You can find beachfront luxury resorts located only a short walk away from a bargain-priced inn, and you will have the same access to amazing sandy beaches at a fraction of the cost!
If you are on a budget, we advise that you plan your vacation to Puerto Rico during the long off-season, which runs from May to November. As it is storm season, there is a drastic drop in both airfare and hotels.
Best Affordable Hotels
To give you a bit of a head start on your accommodation search, we advise looking through a guide on affordable hotels in Hawaii, as it can be useful when deciding which island fits your budget.
A popular and budget-friendly choice on the island of Oahu is Queen Kapiolani Hotel. It is a one-minute walk from Waikiki Beach and right beside the Honolulu Zoo. There is also a beautiful onsite spa!
There are plenty of reasonably priced hotels located in San Juan, the exciting capital of Puerto Rico!
We recommend The Dreamcatcher in the Ocean Park neighborhood in San Juan for an idyllic Bohemian experience. While this bed and breakfast is located in a residential area, it is only a 10-minute walk from shops and restaurants. Vegans and vegetarians have a special breakfast menu as well.
Main Attractions
While both Hawaii and Puerto Rico offer clear blue skies and warm sandy beaches, they each have their special attractions.
Hawaii has more of an edge when it comes to sightseeing, hiking, and outdoor excursions. You can explore an active volcano system at Volcanoes National Park, and gaze at the prehistoric cliffs at the Nā Pali Coast State Park.
Old San Juan is jam-packed with historical sites to see and explore. The El Morro Fort is a tourist favorite, as it has several levels and a big lighthouse to check out. You can either tour the fort on your own or join a ranger-guided tour that is offered daily.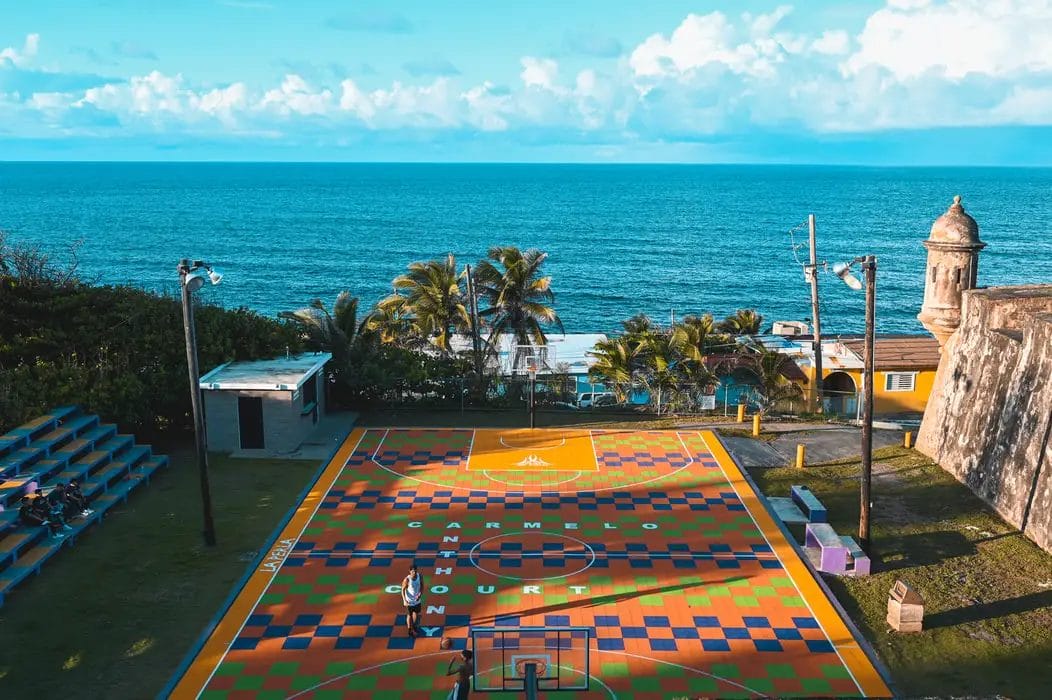 If you want an area with fantastic beaches, San Juan is the place to go. You can easily jump into clear blue water from almost any point of the capital. One we recommend you check out is Condado Beach, which is located just east of downtown San Juan. There are many quaint outdoor bars and cafes around the area that overlook the splendid Caribbean.
Activities for Kids
Kids will really enjoy taking hula lessons at the Polynesian Cultural Centre; they can also interact with friendly villagers during entertaining presentations that embody the island's customs and traditions.
You can fully appreciate what Old San Juan offers by taking the kids on a segway tour. Not only is it educational, but it is an exciting way to see the city.
Food and Drink
When you are in Puerto Rico, you will find a nice blend of Creole-Caribbean options for local cuisine.
A popular dish you will want to try is mofongo. It is a simple dish of pickled, fried, and mashed plantains mixed with garlic, pork cracklings, and olive oil. We recommend trying the trifongo at El Jibarito in Old San Juan.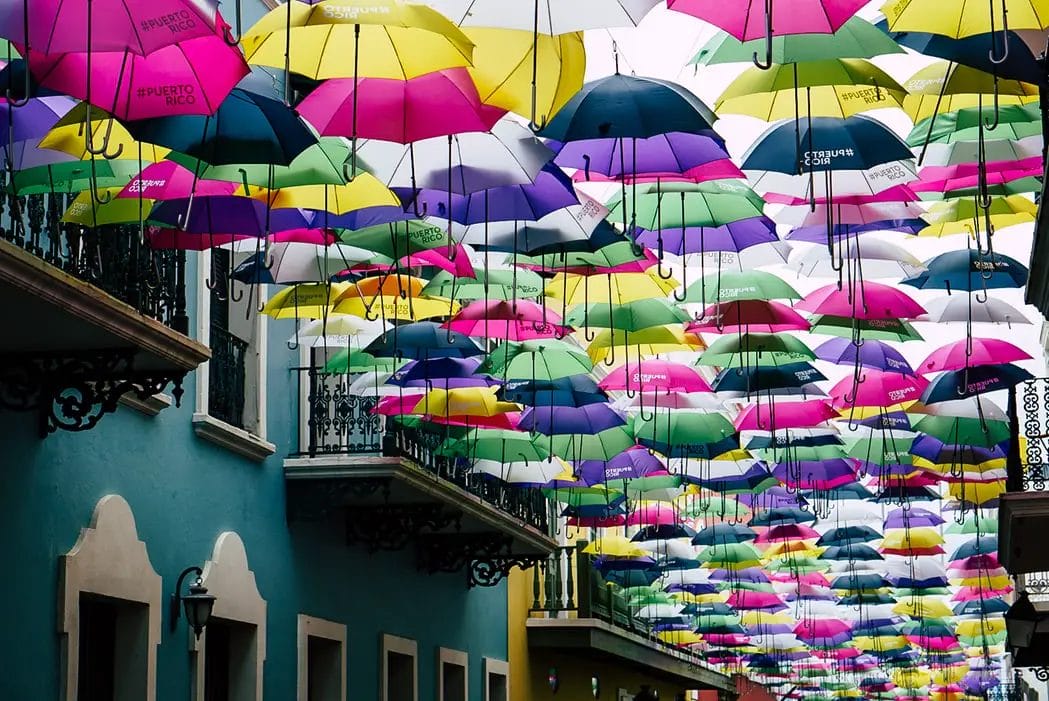 Hawaii is the place to go when it comes to getting the freshest fruits and seafood. You will experience a beautiful combination of local tropical flavors. You must try poi, a staple food made from the stem of taro, a native root vegetable.
We also recommend trying the hand-pounded poi at the Waiahole Poi Factory in Oahu.
Weather
The weather in the Hawaiian Islands is consistently warm throughout the year, with only minor temperature fluctuations. The same can be said for Puerto Rico; however, there is a distinct wet season from June-November.
Safety
Although tourist areas on both island destinations are generally considered to be safe, visitors must stay alert. Avoid deserted areas at night, and always be aware of your surroundings and belongings.
Transportation
The Aloha State is bus-friendly. Other ways to get around include taxis, rental cars, and Uber and Lyft services.
There are various towns in Puerto Rico that have trolleys offering transportation to key locations. Ridesharing is only common in districts near the capital of San Juan; Uber is the only major rideshare company offering services on the island at this time. You can also jump onto an AMA bus at any time.
Conclusion: Hawaii Vs. Puerto Rico
You have many options when it comes to island getaways with beautiful sandy beaches and warm tropical breezes galore.
While both Hawaii and Puerto Rico can offer that idyllic paradise feel, we recommend the Aloha State to tourists with a larger travel budget and enjoy lots of natural attractions. Meanwhile, Puerto Rico might be better suited for travelers interested in rich cultural sites and beach and water activities.