Grenada Tourism and Hospitality Sector
Grenada's tourism forms an integral part of the country's identity. With its captivating history and vibrant attractions, the island offers an abundance of experiences for travelers to savor.
From the historic charm of St. George's to the natural wonders of Grand Etang National Park and the unique Underwater Sculpture Park, Grenada is a paradise waiting to be explored. The accommodation options cater to every taste, from luxurious beachfront resorts to intimate boutique hotels.
Culinary delights reflect the island's rich cultural heritage, and the commitment to sustainability shines through eco-tourism and responsible practices in the spice industry. Immerse yourself in the island's lively culture, filled with music, festivals, and local craftsmanship. Accessible flights from various destinations make Grenada a dream Caribbean getaway for all.
| Tourism Area | Attractions/Activities | Accommodation Options |
| --- | --- | --- |
| Grand Anse Beach | – Snorkeling, diving, water sports. – Beachfront bars and restaurants. | – Luxurious beach resorts and guesthouses. |
| St. George's | – Fort George, Grenada National Museum. – Shopping at Market Square. | – Hotels in city center, some luxury options. |
| Grand Etang National Park | – Hiking, wildlife spotting, Grand Etang Lake. | – Rustic lodges and limited eco-friendly options. |
| Levera Beach | – Turtle watching, swimming, hiking. | – Small resorts and vacation rentals nearby. |
| Underwater Sculpture Park | – Diving, snorkeling, underwater photography. | – Accommodations available in nearby St. George's. |
Tourist Attractions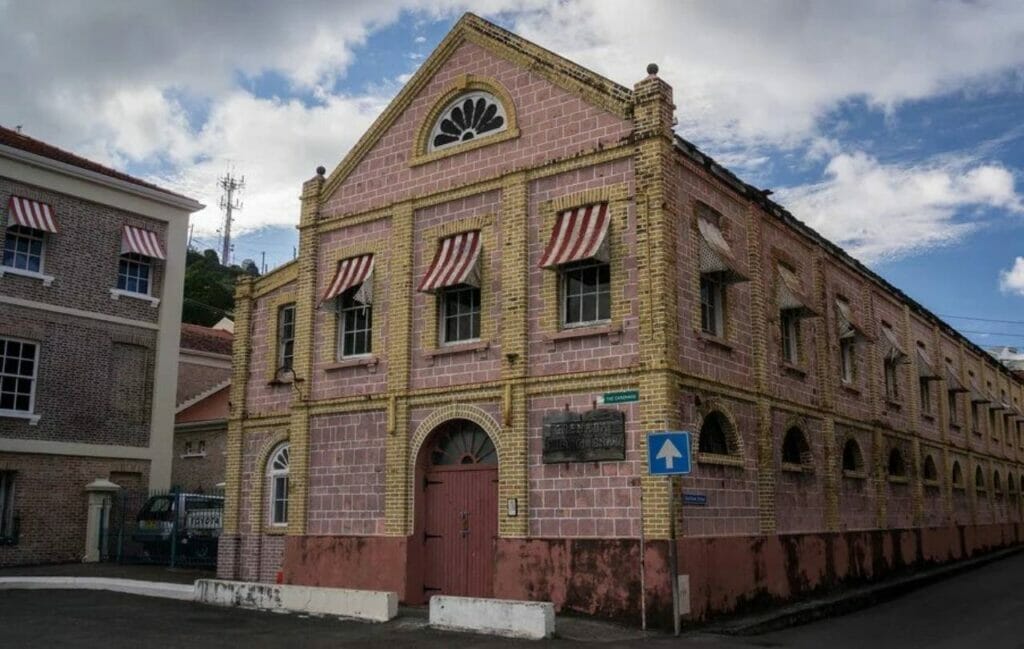 In Grenada, there's an overabundance of fascinating tourist attractions waiting to be discovered. With its vibrant history, Grenada's capital, St. George's, is home to Fort George, a French fortification dating back to the early 18th century. You'll enjoy breathtaking views of the town and harbor. Nearby, the Grenada National Museum offers insights into the island's past, from indigenous peoples to the post-colonial era.
Venture inland and you'll discover the Grand Etang National Park. Known for its rich biodiversity and the stunning Grand Etang Lake, it's a paradise for hikers and nature enthusiasts. The Underwater Sculpture Park in Moliniere Bay, an innovative art project turned artificial reef, is a unique site that divers worldwide flock to see.
The island also boasts numerous pristine beaches. Grand Anse Beach is the most popular, featuring calm turquoise waters and powdery white sand. Bathway Beach, a favorite among locals, offers a more authentic Grenadian experience. While navigating through Grenada, the intoxicating aroma of nutmeg, cinnamon, and other spices will often fill the air – a testament to its nickname, "the Spice Island."
Accommodation Options
When it comes to accommodation, Grenada offers a diverse array of options catering to every type of traveler. At the luxury end, resorts such as Silversands and Spice Island Beach Resort offer guests a world-class experience with beachfront suites, personal butlers, and state-of-the-art spas. They provide the quintessential Caribbean luxury experience, ensuring the utmost comfort for their guests.
For those seeking a more personalized and intimate experience, boutique hotels and B&Bs are plentiful. Laluna Hotel, with its Balinese-inspired cottages and Italian cuisine, is an example of the unique offerings available. True Blue Bay Boutique Resort is another gem, its rooms decorated with vibrant Caribbean colors and eco-friendly materials.
There's no shortage of self-catering apartments and villas for travelers who prefer a home-away-from-home setup. Alternatively, adventurous spirits might opt for eco-lodges nestled in the rainforest. Levera Beach Resort, for instance, offers eco-friendly domes for a truly unique and immersive stay.
Culinary Tourism
Grenada's culinary scene is a rich tapestry that mirrors the island's multicultural history. Traditional dishes like "oil down," a flavorful one-pot featuring local breadfruit, meats, and coconut milk, offer a delectable taste of the island's soul. Street food stands peppered around the island sell everything from fried jackfish to the beloved "roti," an Indian-influenced flatbread filled with curried meat or vegetables.
High-end dining also has its place, with restaurants such as the Beach House and BB's Crabback serving gourmet Caribbean cuisine with a contemporary twist. They source ingredients locally, ensuring freshness and supporting local farmers and fishermen.
Cacao and rum are two key elements in Grenada's culinary identity. Belmont Estate offers tours around their organic cocoa plantation, ending with a chocolate tasting that's simply unforgettable. Meanwhile, River Antoine Estate Rum Distillery gives visitors a peek into the traditional rum-making process, with samples of their potent brew to round off the tour.
Sustainable Practices
In recent years, Grenada has made significant strides towards sustainable tourism. Many hotels and resorts are making concerted efforts to reduce their environmental footprint, employing practices such as rainwater harvesting, solar power usage, and plastic reduction. Initiatives like these not only contribute to environmental conservation but also enhance the attractiveness of Grenada as a sustainable destination.
Furthermore, the local government has been actively implementing policies aimed at preserving the island's natural resources. This includes enforcing strict fishing regulations and establishing marine protected areas to conserve Grenada's diverse marine life. The Moliniere-Beausejour Marine Protected Area, home to the Underwater Sculpture Park, is one such success story.
Grenada's thriving spice industry also follows sustainable practices. Many spice plantations, like the Belmont Estate, employ organic farming methods, eschewing harmful pesticides and encouraging biodiversity. This commitment to sustainability is what makes Grenadian nutmeg, cocoa, and other spices so special.
Eco-tourism
Eco-tourism is a rapidly growing sector within Grenada tourism. This small island nation is packed with natural treasures, from lush rainforests and cascading waterfalls to crystal-clear rivers and abundant marine life. Eco-tours provide an opportunity to experience these natural wonders while maintaining respect for the environment.
Rainforest tours take visitors deep into Grenada's verdant interior, where they can spot rare birds, hike through lush foliage, and swim in natural pools under waterfalls. For water lovers, snorkeling and scuba diving tours reveal the stunning diversity of Grenada's coral reefs and marine creatures.
Grenada's eco-tourism isn't just about appreciating nature—it's about conservation, too. Turtle watching tours, for example, educate visitors about the importance of sea turtle conservation. Participants get the chance to witness leatherback turtles laying eggs—an unforgettable experience that drives home the importance of protecting these majestic creatures.
These eco-tours are led by knowledgeable local guides who are passionate about preserving their island's natural beauty. They are a testament to Grenada's commitment to sustainable tourism, combining exploration and education to create unforgettable and meaningful experiences.
Cultural Aspects
Culture is the soul of a destination, and Grenada has an incredibly vibrant one. The island is steeped in tradition, with African, French, and British influences evident in the local customs, music, and festivals. Spicemas, Grenada's annual carnival held in August, is a thrilling spectacle of color, music, and dance. Traditional "jab jab" revelers smeared in oil or paint parade through the streets, a symbol of the island's resistance to past injustices.
The Pure Grenada Music Festival is a major event showcasing local talent and attracting musicians worldwide. The pulsating beats and melodious tunes are bound to get your feet tapping.
Local crafts also speak volumes about the island's culture. Artisans craft beautiful items from locally sourced materials like bamboo, calabash, and straw. The Grenada Craft Center in St. George's is a great place to appreciate and buy these handmade crafts.
Food culture is another aspect that is intertwined with Grenada's history. The island's Afro-Caribbean, Creole, and Indian influences converge in dishes like oil down, Grenada's national dish.
Religion also plays a significant role, with most Grenadians being Roman Catholic. Their devotion is evident in the island's numerous charming churches, with St. George's Cathedral being a notable example.
Accessibility
Grenada's Maurice Bishop International Airport is well connected, serviced by various airlines from North America, Europe, and other Caribbean islands. Regular flights are available from major cities like Miami, New York, Toronto, and London. Regionally, LIAT and Caribbean Airlines provide services connecting Grenada with neighboring islands.
Upon arrival, visitors will find a variety of transportation options. Car rentals are available for those who prefer the freedom of self-driving, while taxis offer convenience. Just remember that driving is on the left side of the road here!
For more local travel, the colorful public buses are an inexpensive and authentic experience. They follow specific routes but do not have a strict schedule, running "as they fill" with passengers.
By sea, Grenada is a popular stop for cruise ships, with the St. George's port frequently welcoming visitors. Yacht charters and ferries are also options for exploring Grenada's beautiful coastline and the surrounding islands of Carriacou and Petite Martinique.
FAQ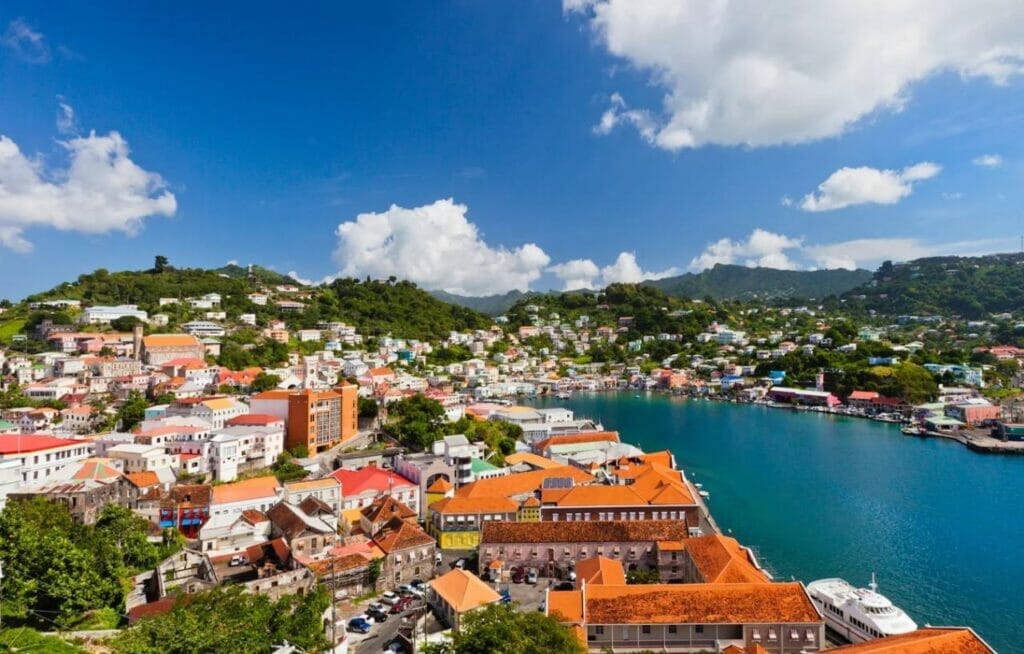 Is Grenada good for tourists?
Grenada is an excellent destination for tourists, offering a diverse array of attractions and experiences. The island is known for its captivating history, vibrant culture, and stunning natural beauty. Tourists can explore historic sites in St. George's, indulge in delicious cuisine, and enjoy pristine beaches. With a strong commitment to sustainability and eco-tourism, Grenada provides a rewarding and memorable vacation for visitors of all interests.
What is Grenada best known for?
Grenada is best known for its title as "the Spice Island," renowned for producing an array of flavorful spices like nutmeg, cinnamon, and cloves. Tourists also flock to Grenada for its breathtaking landscapes, including Grand Etang National Park and the iconic Underwater Sculpture Park. The island's vibrant cultural scene, with festivals like Spicemas and lively music traditions, further adds to its distinctive appeal.
Who visits Grenada the most?
Grenada attracts a diverse range of visitors, but the country receives a significant number of tourists from North America. Travelers from the United States and Canada are among the most frequent visitors to Grenada, drawn by its Caribbean charm, natural attractions, and warm hospitality. Additionally, Grenada's accessibility and well-connected airport contribute to its popularity among travelers from various parts of the world.