Grenada Sports and Athletic Achievements
In the captivating world of Grenadian sports, there are tales of triumph, unity, and promise that resonate from every corner of the island.
Leading the way is the illustrious Kirani James, a name synonymous with greatness and pride. Hailing from the charming fishing town of Gouyave, James sprinted into global consciousness at the 2012 London Olympics, securing Grenada's first-ever Olympic gold medal in a mesmerizing 400-meter dash. His relentless spirit, record-breaking performances, and international accolades have inspired a new generation of athletes on the island. 
But Grenada's sports story doesn't end there. Cricket, more than just a game, weaves its magic, creating social gatherings that forge lifelong memories. Football, too, has risen to be a passion shared by many, with local clubs fostering talent and instilling a sense of community. And as we peer into the future, promising talent like Jonair Thomas and dedicated sports development programs ensure Grenada's sporting legacy remains one of growth and success. 
| Sport/Event | Notable Achievements |
| --- | --- |
| Athletics | Kirani James – Olympic & World Gold (400m) |
| | Bralon Taplin – World Championship Silver |
| | Grenadian relay team – World Championship Bronze |
| Cricket | Windies (West Indies) – ICC World T20 Champs |
| Soccer/Football | Grenada National Team – Caribbean Cup finals & Grenadian players signed by European clubs |
| Boxing | Gairy St. Clair – WBA Super Featherweight Champ |
| Swimming | Esau Simpson – Representing Grenada at FINA WC |
| Triathlon | Grenada – Representation at ITU events and Caribbean Championships |
Beyond its sandy beaches and lush landscapes, Grenada shines as a vibrant sporting hub, a place where dreams become reality, and the spirit of competition unites hearts.
Athletics – Spotlight on Kirani James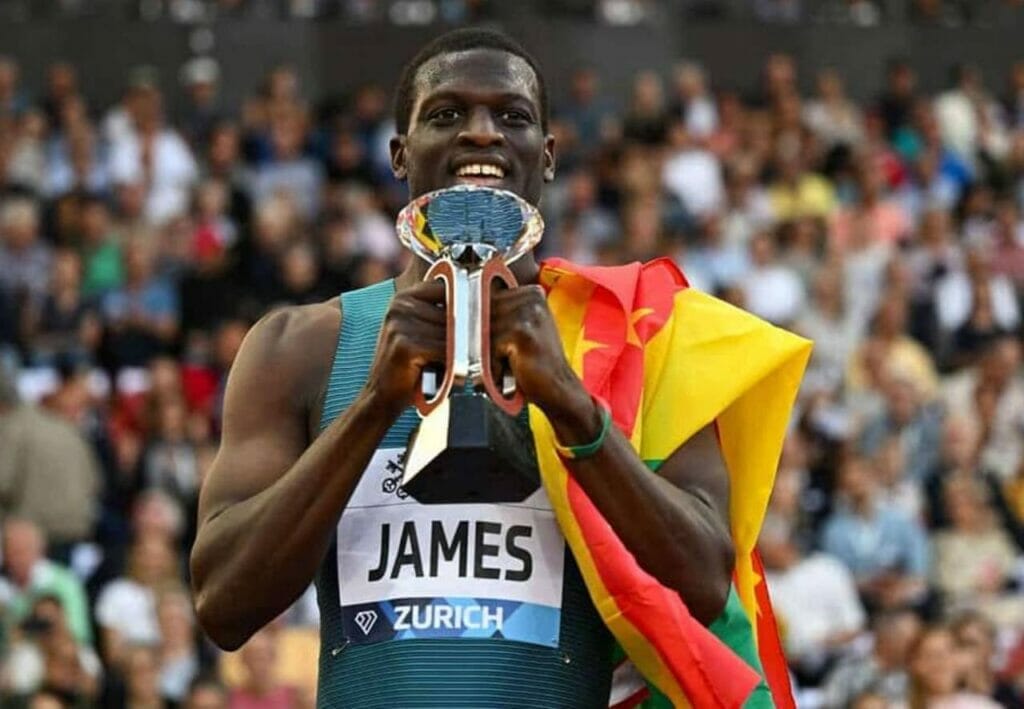 Ah, Kirani James! This is a name that not just resonates with every Grenadian but has caught the world's attention too. Born and raised in Gouyave, a fishing town on Grenada's west coast, James is a shining beacon in Grenada sports, especially athletics. His beginnings were humble, but his dreams were anything but.
James sprinted into global consciousness at the 2012 London Olympics. The entire globe gasped when he finished the race 400 meters from the starting line. He had brought Grenada its first gold medal at an Olympics. The heart of the country swelled with pride as a new star emerged.
Since that unforgettable day, James has never slowed down. He raced against the best, broke records, and bagged numerous international titles. In the process, he inspired a new generation of Grenadian athletes. His silver medal in the 2016 Rio Olympics, amid intense competition, is a testament to his relentless spirit.
As the 'Jaguar' of the tracks, James symbolizes the fierce determination of Grenadian athletes. His influence is felt far beyond the running track, as he uses his global platform to advocate for charitable causes and inspire young minds.
Indeed, Kirani James is not just a world-class athlete, but he's a national hero too. His legacy will resonate for generations, redefining Grenada's sports scene forever.
Cricket – More Than Just A Game
Cricket is more than simply a sport to Grenadians; it's a way of life. Grenada's cricket matches are more than just competitive athletic events. They are social events where fans come together to support their teams and make lifelong memories.
The National Cricket Stadium in St. George is one of Grenada's top cricket venues in the Caribbean. When it held its first ever international match in 2002, it attracted attention on a global scale. The sound of the leather ball hitting the willow bat has since become a common melody in the stadium.
Cricketers from Grenada, such as Devon Smith, have competed for the West Indies squad internationally. Smith, an opening batsman who bats with his left hand, is a prime illustration of Grenada's cricketing prowess. He has had a fantastic career and made a significant impact on cricket.
However, Grenada's local matches are just as beautiful as the international ones when it comes to cricket. You can find competitive games going on in backyards, parks, and even on the weekends. Every boundary hit, every wicket taken, is celebrated with gusto, illustrating the island's undying passion for the sport.
Cricket still has a special place in the hearts of Grenadians, despite the popularity of other sports. It's about community, togetherness, and honoring the Grenadian spirit; it's not only about runs and wickets.
Football – A Growing Passion
Grenada's love for football runs deep. Although it may not have the same historical foundations as cricket, the emotion is just as great. Football has significantly increased in popularity over the past few decades and is now a prominent sport in Grenada.
Local clubs form the backbone of Grenadian football. Clubs like Hard Rock FC and Paradise International FC have nurtured talent, fostering a competitive spirit. They might not have the glamour of international football clubs, but their contribution to Grenadian football is immeasurable.
Grenadian footballers have shown they can compete with the best. Take Shalrie Joseph, for instance. Born in St. George, Joseph left a notable mark in Major League Soccer in the United States. His ascent to the pinnacles of football is a perfect example of the potential of footballers from Grenada.
However, Grenada's love of football extends beyond the playing field. It has significantly influenced society by providing young people with a positive outlet, encouraging discipline, and cultivating a sense of belonging. Every goal scored and every save made adds to the shared passion and national pride.
The future of Grenadian football appears more promising than ever because of an increase in football development programs and international exposure. The game has played a significant part in forming Grenada's sporting environment and will continue to do so.
Sporting Events and Achievements
Over the years, Grenada has hosted a variety of international sporting events, reinforcing its status as a sporting nation. From athletics to cricket and football, these events have put Grenada on the global sports map.
One such iconic event is the annual CARIFTA Games, one of the top junior athletics competitions in the world. Hosting these games not only brings global attention to Grenada but also motivates young athletes to strive for greatness.
Similarly, Grenada's National Cricket Stadium has been a venue for several high-profile cricket series. These matches offer an excellent platform for Grenadian athletes to showcase their skills and make their nation proud.
The Spice Island Billfish Tournament, another hallmark event, attracts international anglers and contributes to Grenada's economy. It underlines the fact that sports in Grenada isn't confined to just land-based activities.
Every sporting event held, every record set, and every international match played brings the nation closer, fueling the collective Grenadian spirit.
More Athletes' Stories – Grenada's Unstoppable Talents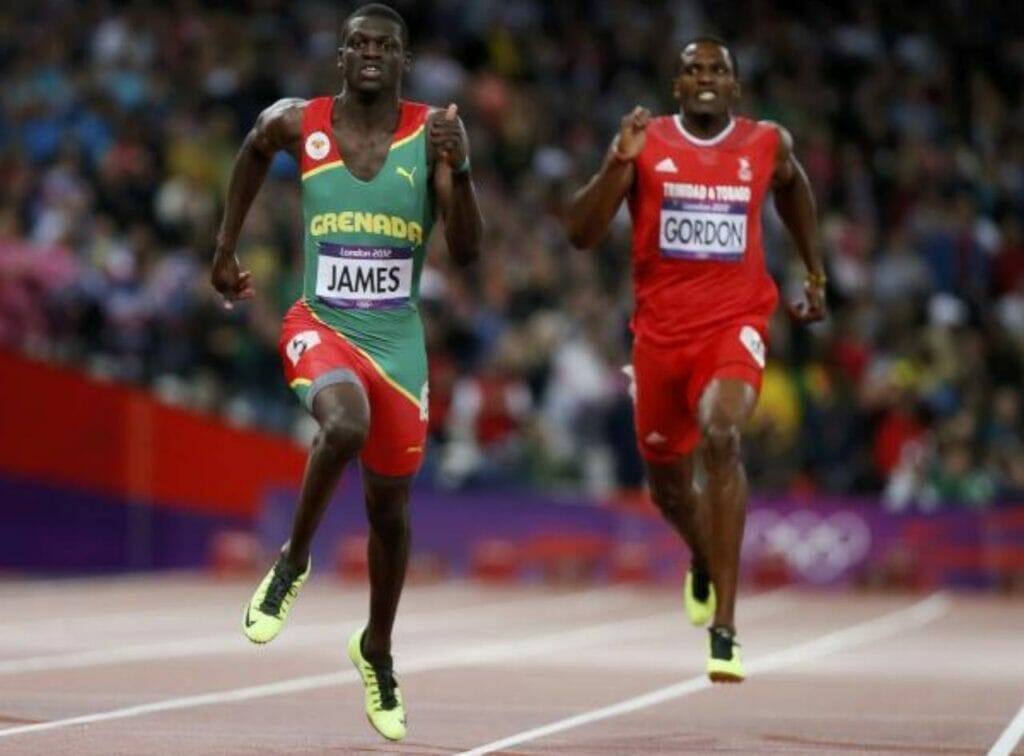 In Grenada, Kirani James may be the brightest star in the athletic sky, but he's not the only one. Grenada's talent pool goes beyond athletics, highlighting the nation's diverse sports culture. Let's take a glimpse into the stories of a few other athletes who've made Grenada proud.
Take Junior Murray, for instance. This talented batsman and wicketkeeper had a distinguished cricketing career, playing for the West Indies in both Test and One-Day International competitions. Murray has made a lasting impression on cricket fans all across the world with his gutsy batting style and quickness behind the stumps.
Then there's Neisha Bernard-Thomas, a stellar athlete in middle-distance running. She competed for Grenada in a number of major events, such as the World Athletics Championships and the Commonwealth Games. Many young Grenadian athletes found inspiration in her perseverance and sportsmanship.
In the world of boxing, there's Rolande Moses. The hard-hitting Grenadian has been making waves in the professional boxing circuit. His explosive power and fighting spirit have made him a promising figure in Grenadian sports.
Lastly, we can't forget Melvin Adams, a professional basketball player who had an accomplished career in the United States. Adams' story, born in the heart of St. Andrew's, Grenada, and going on to play at the highest level of basketball, speaks volumes about the potential of Grenadian athletes. Each of these individuals' stories underscores the island's rich sporting heritage and immense talent pool.
Future Prospects – The Promising Horizon of Grenada Sports
Grenada's sports culture is not just about its past and present; it's about the future too. The nation is dedicated to nurturing its young talents, with several sports development programs in place. What does the future look like for Grenada sports? Let's peer into the horizon.
At the grassroots level, initiatives like the Grenada Youth Adventurers (GYA) provide opportunities for young people to engage in various sports, from athletics to sailing. These programs are breeding grounds for future sporting stars, laying a strong foundation for Grenada's sports scene.
On the athletics track, keep an eye out for rising stars like Jonair Thomas. A talented sprinter, Thomas has shown impressive potential, already making a name for herself in regional competitions.
In football, the Grenada Football Association's (GFA) youth development programs are promising. They focus on technical skills, tactical understanding, and promoting a love for the game among youngsters. These initiatives are shaping the next generation of Grenadian footballers, who are expected to carry the island's footballing legacy forward.
The ongoing upgrades to sports facilities across the island also reflect Grenada's commitment to its sporting future. The renovation of the Kirani James Athletic Stadium and the development of multi-purpose sports complexes are set to provide world-class training facilities for athletes.
The future of Grenada sports looks brighter than ever. With promising talent, excellent developmental programs, and improving infrastructure, Grenada is poised to continue its sporting success and build on its rich athletic heritage. Indeed, the Spice Isle is more than just a tourist destination; it's a vibrant sporting hub that has much to look forward to.
FAQ
What is the popular sport in Grenada?
In Grenada, cricket is the most popular sport. It has considerable cultural value and gives Grenadians a strong sense of belonging. The island boasts fine cricket grounds, and matches are not only sporting events but also social gatherings.
What sports are played in Grenada?
In addition to cricket, Grenadians actively engage in athletics and football. Athletics has gained prominence, thanks to athletes like Kirani James, who won Grenada's first-ever Olympic gold medal. Football's popularity is also on the rise, with local clubs nurturing talent and promoting the sport's growth.
What is the main sport in the Caribbean?
Cricket is the main sport in the Caribbean region. It has a rich history and is passionately followed by people throughout the Caribbean islands. The sport has produced legendary players and is an integral part of the Caribbean's cultural identity and sporting heritage.