Beautiful Grenada Beaches
Discover Grenada's beautiful beaches, each offering a unique and captivating experience that's sure to leave you enchanted.
Start your adventure at the lively Grand Anse Beach, where two miles of pristine white sand meet the turquoise waters, creating a postcard-perfect view. Indulge in local delights at the beach bars and restaurants while enjoying the gentle waves, perfect for a relaxing swim. As the sun sets, take a romantic stroll along the shore, witnessing a breathtaking spectacle. 
If you seek a tranquil escape, Magazine Beach awaits with its untouched natural beauty and warm, crystal-clear waters perfect for snorkeling. Dine at the famed Aquarium Restaurant, savoring fresh seafood amidst a panoramic view. For a taste of Grenada's vibrant culture, head to Bathway Beach in the northeast, where locals gather for picnics and barbecues, offering an authentic experience. 
| Beach Name | Location | Features |
| --- | --- | --- |
| Grand Anse | South Coast | Powder-white sand, turquoise waters |
| Levera Beach | North Coast | Secluded, nesting site for leatherback turtles |
| Morne Rouge | South Coast | Calm waters, perfect for swimming |
| Magazine Beach | South Coast | Scenic views, water sports hub |
| Bathway Beach | North Coast | Dramatic landscape, natural tidal pools |
| Pink Gin Beach | South Coast | Relaxed atmosphere, beachfront resorts |
Regardless of your preference, water sports enthusiasts will find their paradise here, with scuba diving, jet skiing, fishing, and more. Get ready to be mesmerized by Grenada's extraordinary beaches and the wonders they hold.
Grand Anse Beach
Just a stone's throw away from the lively St. George's, Grenada's capital, you'll find the spectacular Grand Anse Beach. This two-mile stretch of white sand fringed by turquoise waters is not only Grenada's largest beach but also its most popular, making 'Grenada beaches' synonymous with this grand spectacle for many visitors.
An assortment of beach bars and restaurants are scattered along the coast, offering the perfect spots to enjoy a cold Carib beer or a local dish while soaking in the stunning views. The gentle slope of the beach into the calm sea also makes it a safe and ideal place for swimming.
Accommodations range from luxury resorts to budget-friendly guesthouses, each providing a unique charm and warmth that Grenada is known for. Don't miss the vibrant local market nearby, where you can shop for spices, crafts, and souvenirs.
Evenings at Grand Anse are magical. As the sun dips below the horizon, the sky transforms into a riot of colors, offering a mesmerizing sunset view. It's the perfect time for a romantic stroll along the beach, making it an unforgettable experience.
Magazine Beach
Next on the list is Magazine Beach, a hidden gem on Grenada's southwestern coast. Unlike the bustling Grand Anse, Magazine Beach offers a tranquil escape where you can experience Grenada's untouched natural beauty.
Lush vegetation borders the beach, adding a tropical allure to its stunning beauty. The warm, crystal-clear waters here are perfect for snorkeling, offering glimpses of colorful reef fish and turtles. It's an underwater paradise waiting to be explored.
Onshore, you'll find the famed Aquarium Restaurant, which serves up delicious meals with a unique island twist. Try their fresh seafood dishes, made even better by the magnificent beachfront view. It's dining with a panorama you won't forget.
Despite its relative seclusion, Magazine Beach is easily accessible. It's a must-visit for those who enjoy the serenity away from the crowd, making it an integral part of the Grenada beaches experience.
Bathway Beach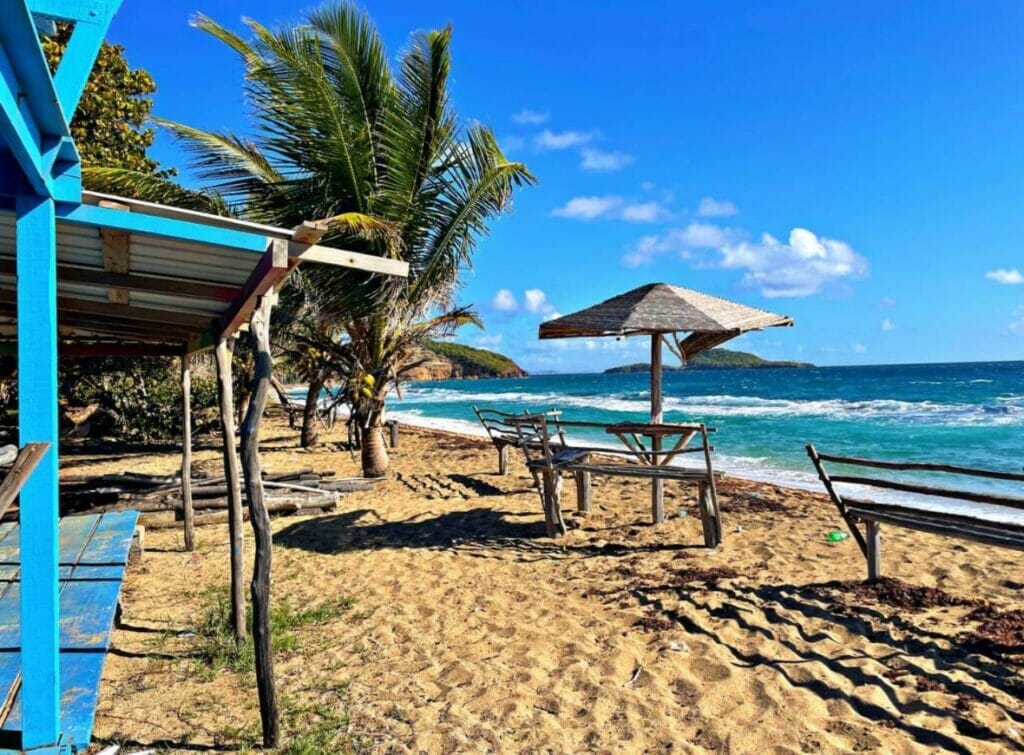 Moving to the northeastern part of the island, Bathway Beach offers a distinctive charm. It's a favorite among locals, which makes it an excellent spot for those wanting to immerse themselves in Grenada's vibrant culture.
Bathway Beach also comes alive during public holidays and weekends, as Grenadian families flock to enjoy picnics and barbecues. Joining them is a unique opportunity to learn about local customs and traditions.
Despite its rugged beauty, facilities at Bathway Beach are basic, preserving its natural charm. There's a handful of snack bars offering local food and drink, which complements the laid-back, authentic vibe of this location.
Water Sports Activities
When it comes to water sports, Grenada's beaches offer a variety of options. The island's warm, clear waters make it a fantastic destination for scuba diving and snorkeling. Grand Anse and Magazine Beach, in particular, have excellent sites teeming with vibrant marine life.
For those who prefer an adrenaline rush, there's plenty of opportunities for jet skiing, windsurfing, and kitesurfing. Grenada's steady trade winds provide ideal conditions for these thrilling activities.
The island's rich aquatic biodiversity also makes it a paradise for fishing enthusiasts. Whether it's deep-sea fishing or light tackle fishing, the thrill of the catch in Grenada's abundant waters is unmatched.
Kayaking and stand-up paddleboarding are also popular water sports in Grenada. These activities offer a unique way to explore the coastline, discover hidden coves, or simply enjoy a peaceful time on the water.
FAQ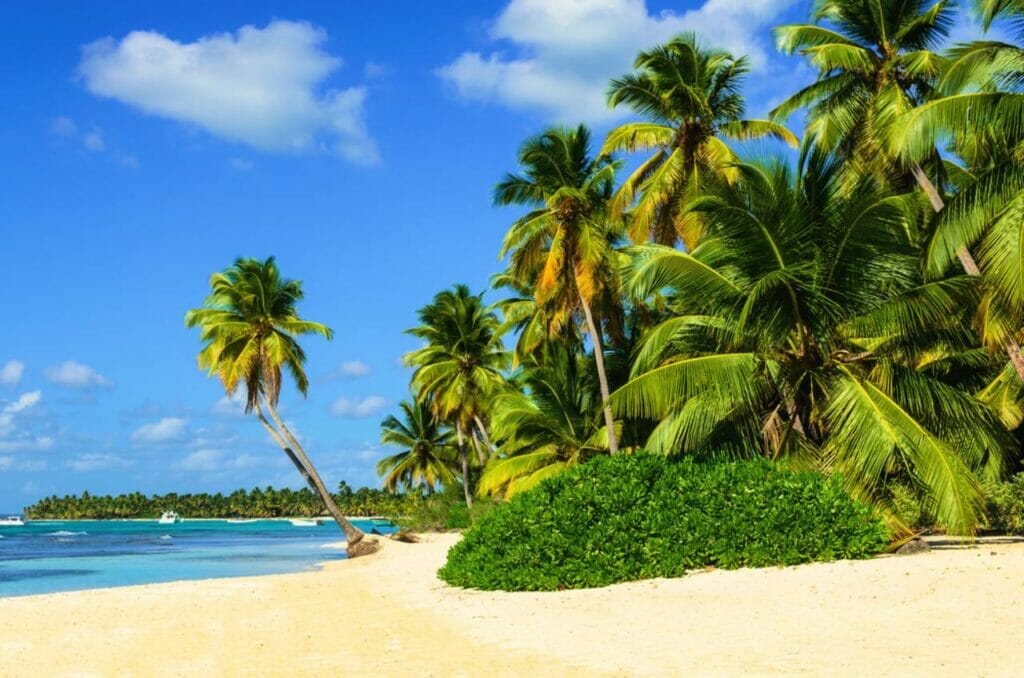 Are Grenada beaches pretty?
Grenada beaches are undeniably breathtaking. With their pristine white sands, turquoise waters, and lush surroundings, they offer a picturesque tropical paradise. From the lively and popular Grand Anse Beach to the tranquil and untouched beauty of Magazine Beach, Grenada's coastline boasts a stunning array of pretty beaches that captivate visitors from around the world.
What is the best beach in the world Grenada?
Among the best beaches in the world, Grenada's Grand Anse Beach stands out as a top contender. Stretching two miles with soft white sands and crystal-clear waters, it offers a postcard-worthy view and a range of beach bars and restaurants to indulge in local flavors. Its gentle slope into the calm sea provides an ideal and safe spot for swimming, making it an unforgettable destination for beach lovers.
Where is Grenada located at?
Grenada is an island nation situated in the southeastern Caribbean Sea. It is part of the Lesser Antilles, specifically within the Windward Islands. The island is located north of Trinidad and Tobago, northeast of Venezuela, and southwest of Saint Vincent and the Grenadines. With its tropical climate and captivating beaches, Grenada has become a popular destination for travelers seeking an idyllic Caribbean escape.