5 Family-Friendly Beaches in Turks and Caicos
Traveling with the fam and on the hunt for family-friendly beaches in Turks and Caicos? You're in luck because this stunning Caribbean destination is known for its breathtaking beaches that cater to families seeking an unforgettable vacation. Here are 5 Turks and Caicos family beaches to consider:
Grace Bay Beach
Taylor Bay Beach
Sapodilla Bay Beach
Long Bay Beach
Governor's Beach
From the illustrious Grace Bay Beach with its powdery sand and crystalline turquoise waters to the tranquil shores of Sapodilla Bay Beach, there is a perfect beach getaway for every family.
For those traveling with toddlers, Taylor Bay Beach offers shallow and calm waters, while adventure-seeking families can head to Long Bay Beach for thrilling water sports. Additionally, Governor's Beach combines natural beauty with historical significance.
1. Grace Bay Beach: Family-Friendly Paradise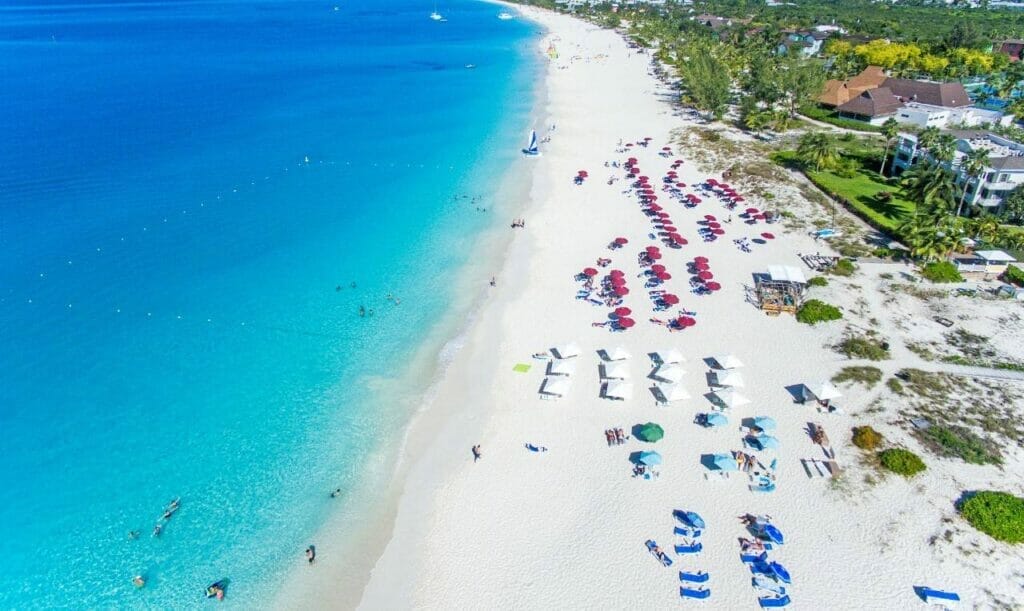 No conversation about family-friendly beaches in Turks and Caicos would be complete without mentioning the illustrious Grace Bay Beach. This paradise, with its powdery sand and crystalline turquoise waters, offers a perfect setting for families looking for a serene and picturesque beach vacation. The beach is well-facilitated with sunbeds, umbrellas, and a variety of eateries lining the shores – everything you need for a comfortable beach day with kids. What's more, the calm, clear waters make it ideal for introducing your little ones to snorkeling; they'll be delighted by the abundant, colorful marine life just offshore.
Besides natural beauty, Grace Bay Beach also takes pride in its surrounding amenities. Luxury resorts, local boutiques, world-class restaurants, and a championship-caliber golf course are all within arm's reach. For those who can tear themselves away from the beach, the nearby Princess Alexandra Marine Park offers a chance to encounter exotic sea creatures, including sea turtles and dolphins.
2. Taylor Bay Beach: Shallow Waters for Kids
If you're traveling with toddlers or younger children, Taylor Bay Beach is a must-visit. Known for its shallow and calm waters, it's an idyllic spot where your little ones can play in the warm water without any worry. The depth increases gradually, allowing children to go further into the sea while still being safe. Despite its allure, Taylor Bay remains somewhat of a hidden gem, meaning you'll often have plenty of space to spread out and enjoy a picnic or a game of beach volleyball.
Even more, Taylor Bay Beach is perfect for those yearning for some peace and tranquility. Unlike some of the other beaches, Taylor Bay is tucked away off the main road and is relatively less frequented. This hidden status allows families to enjoy quality time together in relative seclusion. It's also a great place to watch the sunset, with stunning hues painting the sky as the day draws to a close.
Sapodilla Bay Beach: Tranquil Setting for Families
Sapodilla Bay Beach, a crescent-shaped beach with silky smooth sand, promises a tranquil setting for families. This beach is particularly renowned for its breathtaking sunsets that paint the sky in shades of pink, orange, and purple – a sight that will captivate both kids and adults alike. Its serene waters are perfect for peaceful swimming and paddleboarding, while the quiet surroundings make it a nice place to read a book or watch your kids build sandcastles.
In addition, Sapodilla Bay Beach is easily accessible and offers a friendly, laid-back atmosphere that's hard to resist. There are several rental companies nearby offering paddleboards and kayaks, making it easy to explore the calm, clear waters. And if you fancy a bite to eat, the nearby Las Brisas Restaurant offers delicious local cuisine with a panoramic view of Chalk Sound.
Long Bay Beach: Water Sports and Family Fun
For families who crave a bit of adventure, Long Bay Beach is the place to be. This beach is known as the hub for water sports in Turks and Caicos. From kiteboarding to kayaking, there's something to pique everyone's interest. The consistent onshore winds make it a paradise for kite surfers, but don't worry if you're beginners; there are plenty of schools offering lessons. And, if water sports aren't for you, there's still plenty to enjoy – the long stretches of sand are perfect for beach games or simply lounging under the sun.
The 3-mile stretch of Long Bay Beach also makes it a fantastic location for beachcombing or a relaxing stroll. You never know what interesting seashells or other treasures you might find. Horseback riding is another popular activity, with local operators offering beach rides that are both fun and environmentally conscious.
Governor's Beach: History and Sandy Shorelines
Combining natural beauty with historical significance, Governor's Beach offers a unique blend that sets it apart. The beach is located near the Governor's residence and is named accordingly. Lined with lush vegetation, this beach also features the shipwreck of a famous 19th-century ship, the 'Molasses Reef Wreck', just a short swim away. While kids enjoy swimming in the crystal-clear water, history buffs will appreciate the chance to explore a tangible piece of maritime history. But remember, while the sight of the wreck is indeed mesmerizing, touching or removing artifacts is strictly prohibited.
Along with its historical appeal, Governor's Beach is also popular for its convenience and amenities. A nearby parking area makes it easily accessible for families, and there are picnic tables and shelters for those wishing to take a break from the sun. There's also a variety of birdlife to spot, making it a fun location for budding ornithologists in your family.
FAQ
Is Beaches Turks and Caicos for kids?
Yes, Beaches Turks and Caicos is a family-friendly resort that caters specifically to families with children. It offers a wide range of amenities and activities designed to entertain and accommodate kids of all ages. The resort features a dedicated Kids Club, water parks, age-appropriate activities, supervised programs, and child-friendly dining options, ensuring a fun and memorable experience for children and their families.
Is Turks and Caicos kid-friendly?
Turks and Caicos is known for being a kid-friendly destination. The islands offer a safe and welcoming environment for families with children. With its pristine beaches, calm turquoise waters, and various family-oriented activities, such as snorkeling, boat trips, and nature exploration, there are plenty of opportunities for kids to enjoy and discover the natural beauty of the islands. Additionally, many resorts in Turks and Caicos provide family-friendly amenities and services, making it an ideal destination for a family vacation.
Is Turks and Caicos beaches expensive?
Turks and Caicos is generally considered to have a higher cost of living and tourism compared to some other destinations in the Caribbean. As a result, the prices of goods and services, including accommodations and dining, can be relatively higher. While the beaches themselves are free to access, the overall cost of a beach vacation in Turks and Caicos, including accommodations, dining, and activities, can be perceived as expensive compared to some other destinations. However, there are options available at various price points, and budget-conscious travelers can find affordable accommodations and dining choices with proper research and planning.