Sao Paulo vs. Rio: Which Is Better for Vacation?
Sao Paulo and Rio de Janeiro are the two largest cities in Brazil. Both of these large and diverse cities offer a unique cultural atmosphere with several attractions and things to do, which makes both secure among the most popular cities to vacation when in South America. Based on this variety, which of the two cities is the better choice when it comes to experiencing the best South American vacation?
Rio is a major tourist attraction in the country of Brazil and will appeal more to tourists who are seeking both culturally-rich daytime sightseeing and popular nightlife destinations. Sao Paulo lacks a strong coastal atmosphere but will appeal to vacationers looking for a less-hectic vacation. 
| Category | Sao Paulo | Rio |
| --- | --- | --- |
| Cost Range for 1 Week | $500 | $602 |
| Main Attractions | Ibirapuera Park, Museu de Arte, Teatro Municipal, Ipiranga District, Se Cathedral, Avenida Paulista | Christ the Redeemer Monument, Copacabana, Sugarloaf Rock Peak, Carnival Season, Maracana Stadium |
| Food | Brazilian cuisine is an eclectic mixture of European, Asian, and Latin characteristics | Brazilian cuisine is an eclectic mixture of European, Asian, and Latin characteristics; Rio cuisine incorporates a lot of seafood in their overall regional cuisine |
| Weather | Humid, warm subtropical conditions throughout the year | Humid, warm subtropical conditions throughout the year |
| Safety | Sao Paulo Features a high crime rate | Rio features a high crime rate with alarming statistics for violent crime |
| Transportation | Numerous buses and subway lines run throughout the city; taxis and various pay services are also available | Numerous buses and subway lines run throughout the city; taxis and various pay services are also available |
| Customs | A passport and a 6-month visa is required upon entry into Sao Paulo | A passport and a 6-month visa is required upon entry into Rio de Janeiro |
Rio de Janeiro is the busiest city in Brazil; therefore, massive crowds of people should be expected no matter what time of year you visit. Sao Paulo is also large but features a less-kinetic pace and atmosphere when compared to Rio. Both cities are drastically different but also similar; therefore, this article will explore both destinations through a range of categories to find out which of the two South American giants offers a better vacation experience.
Cost of Stay
There are some destinations in the world that always strive to make their locations vacation and visitor-friendly. Both Sao Paulo and Rio are affordable and offer a range of accommodations no matter what type of lodging you are looking for. Getting around each city is not at all expensive.
Therefore, the biggest considerations for your budget will come down to where you choose to stay, your daily meals, and expenses related to attractions and souvenirs.
There are many ways to save money in either of these Brazilian cities, yet there are also ways to spend your money well if costs are not a point of concern. Sao Paulo or Rio are two destinations that cater to either vacation style.
A one week vacation in Sao Paulo will typically run about $500. This cost is strictly representative of 7 days in a moderately-priced Sao Paulo hotel and roughly what you can expect to pay for 3 standard mid-range meals in various restaurants throughout the city. The overall costs can go up substantially if you wish to stay at a nicer hotel or resort and choose to dine in fine dining establishments.
This is over half of what you could expect to pay for a vacation to Walt Disney World or a sojourn in Las Vegas; Brazil is truly an excellent option to spend a vacation due to the lower cost-of-living that characterizes the entire nation.
For easier accessibility, lower costs, and planning, there are also numerous tour packages you can consider when in Sao Paulo, most of which are even sponsored and guided by a Sao Paulo resident.
Rio de Janeiro is perhaps the most well-known city in all of South America. The host city of the 2016 Summer Olympics and one of the continent's premier vacation-friendly cities, Rio checks all the hallmarks of a tropical escape combined with a thriving cultural and business center that always ensures that an electric and exciting vibe is in the atmosphere.
Best of all, Rio is also a perfect destination if you want an exciting trip without breaking the bank.
A one week vacation in Rio de Janeiro will typically cost about $602. This is only slightly higher than a Sao Paulo vacation, which has a lot to do with Rio being by far the busiest city in Brazil. If you decide to vacation in Rio during the time of the annual Carnival season in February, the costs could go up quite a bit, since this event sees visitors from all over the world crowd into the city; think New Orleans Mardi Gras but even bigger.
Affordable Hotel Options
Before we take a look at some of Sao Paulo and Rio's most affordable hotel options, it should be said that even if you opt to stay in a premier, luxury hotel in either city, the overall costs may not be as expensive as you think; both cities like to appeal to budget travelers. With that said, there are some amazing options in either city if you want to try and save as much money as you can.
Let's take a look at affordable hotel options in Sao Paulo and Rio de Janeiro:
Sao Paulo Options
Rio Options
Main Attractions
There is no vacation without a large offering of things to do on your trip, and both Sao Paulo and Rio offer many attractions to make your trip memorable. Sao Paulo is a bit more nightlife-oriented; therefore, there are fewer attractions than what you will find in Rio.
With this in mind, Sao Paulo is more worldly and a true mixture of global cultures, whereas Rio has a distinct and easily identifiable culture all its own.
Even though each city is different, there are numerous attractions to see. Let's take an in-depth look at offerings in both cities.
Sao Paulo Attractions
Ibirapuera Park. This park is one of the largest in all of Latin America and offers the most pristine and tranquil outdoor experiences in all of Sao Paulo. Lush landscapes stretch for as far as the eye can see, and you are likely to spend an entire day just soaking up the cultural atmosphere of Sao Paulo in this stunning park. Be sure to visit the park during Sao Paulo Fashion Week if you can.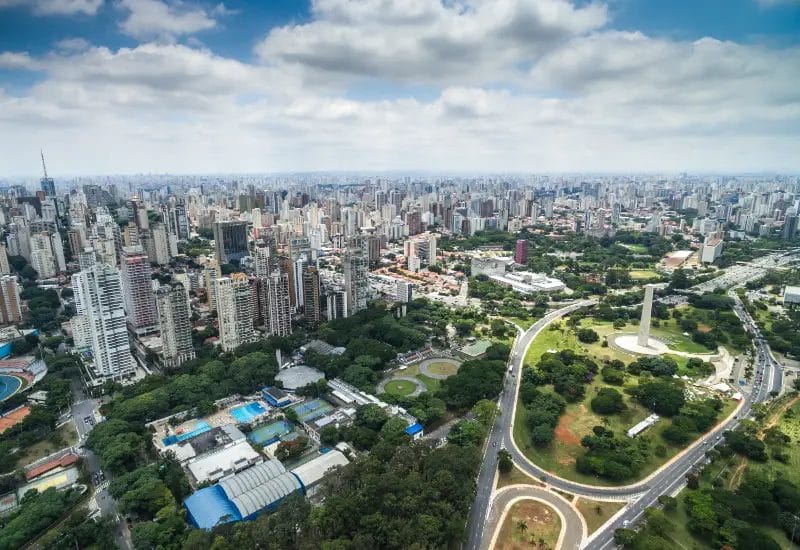 Take a look at this video to see some of Sao Paulo's most popular attractions:
Rio Attractions
Carnival Season. Carnival season is another name for the celebrations we commonly know in America as Mardi Gras. The Carnival Season in Rio de Janeiro is truly an epic-scale affair, complete with nearly 2 million revelers per year (the largest in the world) and floats, costumes, choreographed dance routines, and an energetic and spirited display of Brazilian culture. Be sure to plan in advance for this event.
Christ the Redeemer Monument. Every major city in the world has one monument or structure that defines its iconography, and the Christ the Redeemer statue in Rio is certainly this city's symbol. Standing nearly the size of a skyscraper on the cliffs of the Corcovado mountains, this highly-popular attraction is a marvel of 20th-century Latin architecture that stands above the bustling city to signal the identity of Rio de Janeiro.
Copacabana. Copacabana is likely familiar to many people due to a certain pop song, yet there is quite a lot to admire about this luxurious and tranquil destination. Located in the southern district of the city, this seaside resort is one of the most popular and well-known in the world. It is not a question of if you should visit when in Rio; it is more a question of how long you will spend at Copacabana during your vacation.
Sugar Loaf Rock Peak. Nature is a big part of any vacation, and there is plenty of the natural world to see and take in in Rio. Sugarloaf Mountain is a small mountain range that sits in the middle of Guanabara Bay at the mouth of the Atlantic Ocean. More of a small island than anything else, a hike to the top of the Sugar Loaf Peak offers a great way to get a stunning view of the city and to commune with the coastal nature of Rio.
Maracana Stadium. You may be familiar with this stadium if you watched the 2016 Summer Olympics since Maracana was the site of the opening and closing ceremonies. This massive, circular sporting arena has hosted many Brazilian and world sporting events and offers a great way to spend a day seeing one of the city's best-known landmarks.
Food
The cuisine of Brazil is truly unique; European, Old World American, African, and Asian ingredients are fused together regularly. With so many distinctive and unique regional flavors comprising the majority of Brazilian dishes, the food is fairly the same no matter which region of the country you travel in.
Sao Paulo food is more rustic, whereas Rio de Janeiro follows the same general flavors, yet also incorporates more seafood into its offerings.
Although both cities share much of the same ingredients and cooking styles, there are many diverse restaurants to try in both cities. Let's take a look at places you should try in each city.
Sao Paulo Restaurants
Mani. The menu at Mani, located in a former house inside of one of Sao Paulo's ritzier neighborhoods, has the makings of being a hidden gem, yet is truly a world-renowned restaurant. European and Latin ingredients are fused together with a creative and unique blend of flavors that combine the best of European elegance with the culturally-distinct tropical influences of the surrounding region. Ala carte options are available.
Restaurant Fasano. Since 1982, this restaurant has been offering elegant Italian dishes with a flavorful Brazilian twist. Located inside of the luxury resort Fasano Sao Paulo, elegance, luxury, and cultural distinction are all on display amongst a menu that offers such dishes as scallop and beef tongue carpaccio, as well as a strong prioritization of yogurt and rice to balance out the bold and rustic flavors.
Mocoto. Mocoto is perhaps the most popular restaurant in Sao Paulo and one of the most popular in all of Brazil, with a reputation that spans the entire globe. The menu here offers one delicacy after another with such dishes as braised pork leg with corn couscous and roasted pumpkin and pirarucu fish. If you want to taste both combinations of Brazilian cuisine and the regional flavors of Sao Paulo, this eatery is a must.
Rio Restaurants
Lasai. Located in front of a full view of the Christ the Redeemer Statue, Lasai has garnered a reputation for being one of the most unique and flavorful restaurants in Latin America. This restaurant prioritizes a farm to table approach, with two lush gardens on the property which provide the bulk of the eatery's ingredients. Dishes like scallops with marrow and herbs and braised oxtail bring regional Rio cuisine to life.
Oro. Oro is one of the premier fine dining restaurants in Rio, and it's' easy to see why with a contemporary and fresh interior decor. The dishes here are mostly cooked over an open flame to lock in flavor. This restaurant offers a unique menu that allows you to choose to form a creativity tasting menu with local favorites or the more traditional two-course menu that showcases award-winning house specialties.
Eleven Rio. Rio de Janeiro has a strong Portuguese presence, which is exactly the kind of offerings you can experience by dining at Eleven Rio. Both Portugal and Rio are seaside destinations, and this is reflected with great effect on the menu. Dishes like oxtail with foie gras and smoked eel and citrus-flavored rock lobster bring out the taste of the nearby Atlantic Ocean.
Weather
Sao Paulo and Rio share a similar type of climate with only small differences (if any at all) between the two. Both cities are located in the Southern Hemisphere, which means that there are reversals if you are traveling from the Northern Hemisphere. The hot and humid summer months occur from January-May. Humidity and high temperatures are to be expected at this time of year with the cooler months occurring during the summer months in America.
You can expect rainfall at any time throughout the year, and there are generally no severe natural disasters that you need to be aware of.
Safety
So, the important thing to remember about both Sao Paulo and Rio is that there is quite a bit of crime in each city, most of the crime being violent. Thankfully, if you steer clear of problem areas and never venture out alone at night, you will be perfectly fine in either of these cities. It is wise to avoid any of the neighborhoods located on the outer edges of each city. Just stick to the popular areas that vacationers frequent.
The high crime rate of Rio de Janeiro is alarming, but that does not mean that you will be attacked or harmed. Just be cautious and do not venture outside of any of the destinations that are popular with foreign visitors.
Transportation
Sao Paulo and Rio are large, urban cities with many outskirts and connecting cities nearby. When it comes to transportation, you have many different options to choose from. Sao Paulo has a large and comprehensive public bus service in addition to a large subway system that can get you anywhere in the city in a small amount of time. Taxis are also available if you choose to avoid public transportation.
Rio also features all of the above options that you can find in Sao Paulo, but it does bear mentioning that taking public transportation in Rio can be dangerous at night and even during the day, depending on your destination. Avoid the buses unless absolutely necessary, and take the subway system or taxis in areas that you cannot walk.
There are plenty of options to get around in these cities, yet it is a risk since the bus systems, in particular, go through dangerous neighborhoods and parts of town. Taxi fare is not too expensive in either city; therefore, this is maybe a vacation where you will want to utilize paid driving.
Customs
To travel and vacation in Brazil will require a valid passport as well as a 6-month visa that needs to be signed and approved before you enter the country. You can stay in either Sao Paulo or Rio for up to 6 months if you meet these requirements. Since both cities are popular vacation destinations, you do not have to worry about any restrictions.
Be sure to avoid engaging in criminal activity and be prepared to show proof of return out of the country.
Conclusion
Which of these two destinations is better for a vacation? Comparing Sao Paulo and Rio is not easy since both cities share so many of the same cultural pursuits and types of attractions. Rio is probably more well-known and visited than Sao Paulo, but Sao Paulo is also a better choice if you want to experience a city that incorporates more worldly cultures and pursuits; it is also a bit cheaper than a vacation to Rio.
If you want to experience an authentic Brazilian experience, go with Rio de Janeiro by far. Either city will offer a unique South American experience.