Does Honolulu Have Uber or Lyft?
Getting around in Honolulu is simpler today than in the past, thanks to ridesharing apps like Uber and Lyft. However, in some locations in Hawaii, getting a driver can be very challenging, and the prices can be pretty high.
So, before you get to Oahu, it's always best to know the best ways to get around without having to spend an arm and a leg on a car ride.  
Does Honolulu have Uber or Lyft? Honolulu has Uber and Lyft. Since Honolulu is an urban area with a high population and many tourists, getting a ride in the city is simple and inexpensive. However, getting around via public transportation and walking will save you money if you are in the city. 
In this article, I'll tell you more about the best ways to get around Honolulu. I'll discuss the ridesharing apps available in the city and help you find the cheapest ones. Then, I'll teach you other ways to find transportation and help you maximize your budget while seeing all there is to see in Honolulu.
What Ridesharing Services Are Available in Honolulu?
The ridesharing services available in Honolulu are Uber, Lyft, and Holoholo. All three services generally have drivers working from early morning to late at night, and the fares are not much higher than in any other city.
What Is Holoholo?
Although you've likely heard of Uber and Lyft, you might not know about Holoholo, one of the best ways to get around in Honolulu.
Holoholo is a Hawaii-only ridesharing app that works differently than Uber or Lyft. Holoholo is often the least expensive way to get a ride in Honolulu or any other place in Hawaii.
Here are some features that make it unique:
Holoholo always has drivers available. Holoholo drivers work on a set schedule to ensure that there's always a ride available in Honolulu.
You won't be charged for wait times. Whether your driver is many miles away or you get stuck in a traffic jam, you only have to pay for the miles driven between point A and point B.
They use flat-rate pricing. The pricing structure is the best part of riding with Holoholo. Unlike Uber and Lyft, Holoholo does not increase prices based on supply and demand. That means you always know how much you'll pay per mile before you get in the car. They even have a fare estimator to help you budget and plan your trip before you land in Oahu.
It's safe. Like Uber and Lyft, Holoholo inspects drivers and vehicles heavily before adding them to the team. Sao, you can feel safe and be sure you'll get into a clean car with this app.
Is It Easy To Get an Uber in Honolulu?
It is easy to get an Uber in Honolulu. Honolulu has many Uber drivers, but if you want to get the best rates with the most drivers available, compare prices and availability with Lyft and Holoholo before booking your ride.
According to an employee review of Honolulu's Uber branch, there are usually over 7,000 drivers working for Uber in Oahu at any time. So, finding a ride at any time of day–or night–shouldn't be difficult.
However, as I mentioned, Holoholo is the best app to use if you need a ride at an irregular hour, such as in the middle of the night. That's because they use schedules to ensure that there's always a Holoholo driver out on the road.
In addition, using all three ridesharing services available in Honolulu can help you find the best rates at any given time.
Are Uber and Lyft Available at the Honolulu Airport?
Uber and Lyft are available at the Daniel K. Inouye International Airport (HNL) and several other smaller airports in Honolulu. Hohoholo is also available at all major Honolulu airports.
Before 2017, Lyft, Uber, and Hohoholo were not allowed at any of Honolulu's major airports. However, due to the increasing popularity of ridesharing apps, the airport lifted the ban and set up several pickup spots at HNL.
Daniel K. Inouye International Airport currently has three pickup spots for ridesharing, shuttles, and cabs, so even if you don't plan ahead, you'll be able to find a ride to your hotel once you land.
If you want an easy map to follow for ridesharing at the airport, you can find it here on the HNL website under Ride App Pickup Zones.
Is Uber Cheaper Than a Taxi in Honolulu?
Uber is cheaper than a taxi in Honolulu. Honolulu's taxi services are always in high demand and inflated in price. The rates are also charged per minute, not by the mile. So, if you have trouble finding your cab or get stuck in traffic, you will pay for it.
According to Tabitha Chow, a senior member at Uber, Honolulu's taxi prices are the highest in the nation, but Uber's prices in Honolulu are 40% cheaper than taxis.
So, in Honolulu, taxis are an overpriced relic of the past, while ridesharing is the best way to save a lot of money on transportation. Be sure to avoid taxis if you want to stay on budget!
Other Ways To Get Around in Honolulu Without a Car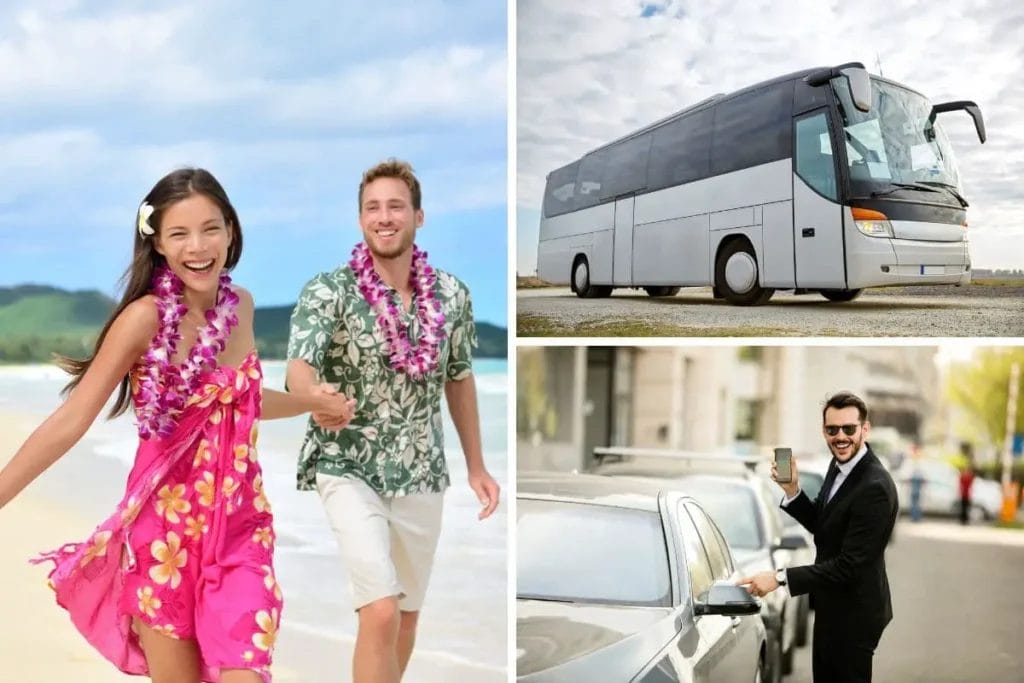 Although Uber, Lyft, and Holoholo are the cheapest way to get driven to your destination quickly in Honolulu, there are several other ways to find affordable transportation during your stay. Use some of these different ways to get around if you want to save money on ridesharing:
Walk. Honolulu is a safe city to walk around, and there are many restaurants, beaches, and attractions right outside your door if you stay near the beach. Walking is a great option. Also, since Honolulu is pretty busy and full of fun things to do, you might see something new and spectacular along the way.
TheBus. Honolulu's city bus, TheBus, is a cheap way to get around the city and beyond. One-way fare only costs $3, but you can also get a day pass for only $7.50–half the price of one average Uber or Lyft ride within the city. The bus has tons of stops in Honolulu and Waikiki, but it even goes to the island's eastern coast. I recommend using google maps to find bus routes in Honolulu since TheBus' website isn't very user-friendly.
Car-share. Car-sharing is like the Uber of car rentals. With a car share, you can rent a car from a Hawaii local, which is often much cheaper than renting a vehicle from a rental business. Hui Car Share is the most reputable and reliable car-sharing app on Oahu, and you can rent the car by the hour, day, or week, giving you tons of flexibility to plan a car trip outside Honolulu.
To learn more about getting around in Honolulu, you might find my other article, Do You Need a Car in Honolulu? helpful. I'll cover the ways to get around the city in more detail and discuss why you might want to rent a car.
Final Thoughts on Lyft and Uber in Honolulu
Getting a ride with Uber, Lyft, or Holoholo is simple in Honolulu, and it; 's also a fantastic way to save money on transportation. If you use all three apps and compare prices and availability when you need to get somewhere, you'll get the best rates at any time of day.
However, if you want to get around on a budget, save the money you'd spend on ridesharing for a special trip outside the city and take the bus or walk. However, if you want to venture outside of Honolulu, you can always use car-sharing for a budget rental.