Day Trip from Aruba to Curacao (2023 Itinerary)
Aruba and Curacao are neighboring islands in the Caribbean. Though both share many similarities, they have unique experiences different from each other. It is common for tourists in Aruba to visit Curacao for a day or two.
Curacao has a unique beauty and culture. Willemstad, the capital, is famous for its colorful colonial architecture, Queen Emma Bridge, bays, and more. Less explored beaches, caves, nature parks, and reserves are away from popular tourist spots.
Read on to discover how to explore Curacao on a day trip from Aruba.
Getting to Curacao from Aruba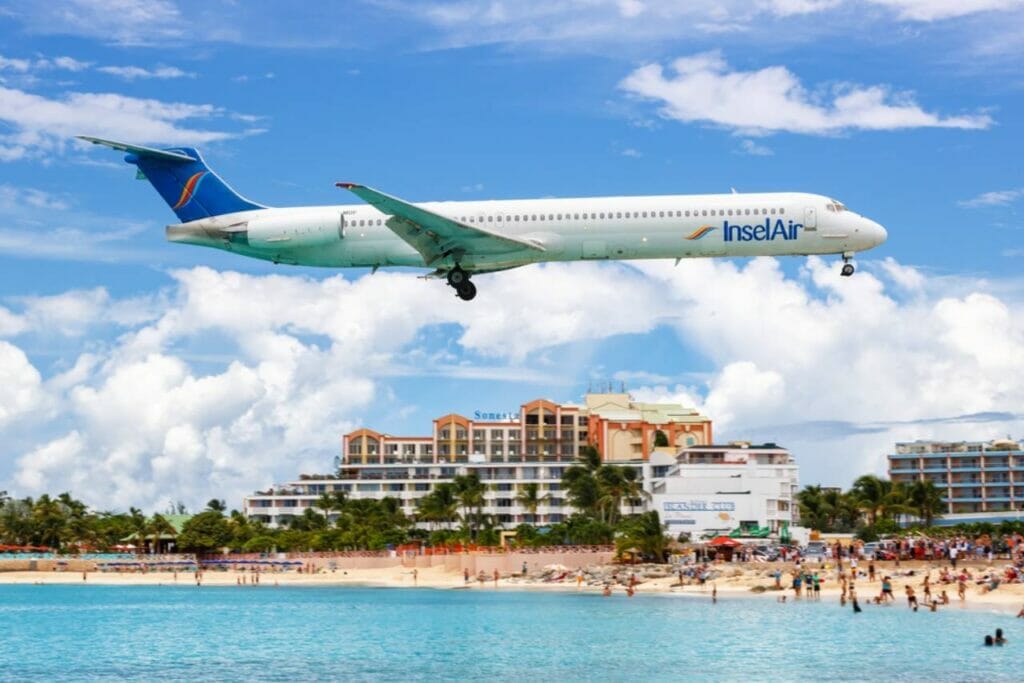 Ferries are for relaxing in the fresh outdoor air and sun. Unfortunately, there's currently no ferry service between Aruba and Curacao. Although private boat charters are available, they cost thousands of dollars, and the waters are rough and choppy. However, the governments of both islands are working on an economically feasible ferry connection.
The most reliable means of traveling to Curacao from Aruba is through flight. Aruba Airlines, Insel Air, Divi Divi Air, etc., operate multiple daily flights between islands. You have to pay a departure fee when leaving both islands. Each departure fee is about $32, separate from your plane tickets.
Island hopping between Aruba and Curacao is becoming increasingly popular. As a result, flight tickets can be expensive when you don't book in advance.
Day Trip to Curacao Itinerary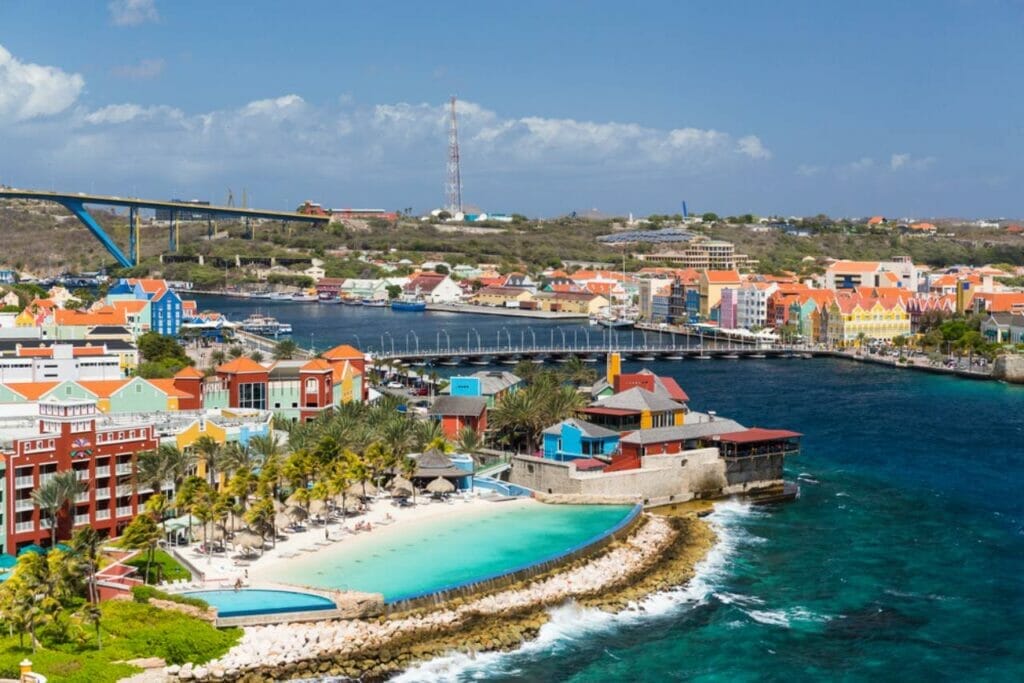 You can explore the island in two ways; by using a car rental or by partaking in guided tours.
1. Rented Car Itinerary
A car rental allows you to explore the island at your leisure. This way, you can visit remote areas away from typical tourist traps. You won't lose time making unnecessary stops or waiting for others.
Car rentals in Curacao cost about $30-$60 per day. You can pick up a rental at the airport or when you get to Willemstad. Remember to choose a car that will suit the terrain. Taxis are okay for short journeys around urban areas, while a four-by-four is perfect for rough terrain.
Here's the itinerary for exploring Curacao in a day on a self-guided tour.
Willemstad
The first place to start your self-guided day trip to Curacao is at the capital. Willemstad is known as a mini Amsterdam with its rich history, water views, cobbled lanes, and colorful colonial architecture. The gingerbread dutch canal houses have pastel colors in pink, blue, and orange.
Many of the popular Curacao attractions are available in the capital city. Explore downtown Willemstad to see the UNESCO World Heritage Site, Queen Emma Bridge, Kura Hulanda Museum, Street art, and the beautiful Punda and Otrobanda district.
Queen Juliana Bridge
Start the tour at Queen Juliana Bridge in Willemstad. It is the tallest bridge in the Caribbean at 55 meters in height. This bridge crosses St. Anna bay, and its highest point offers a picturesque view of Punda, Otrobanda, and Schottegat.
Queen Juliana Bridge is only open to four lanes of road traffic, and pedestrians or cyclists are not allowed to cross. It lights up at night to show scenic views of the waterfront surroundings.
Queen Emma Bridge
Also called the swinging lady, Queen Emma Bridge spans across St. Anna bay in Willemstad. It is a floating bridge that connects Punda and Otrobanda districts—Willemstad's two halves.
The bridge opens up laterally to allow ships to enter or leave. When the bridge swings open, it can take you to Punda or Otrobanda, depending on where you are standing. However, water taxis are available to take you back to either side.
Queen Emma Bridge is only for pedestrians, and about 15,000 people walk the bridge daily. It lights up at night to show a breathtaking view of the cafes and restaurants that line up the shores of both districts.
Punda District
From the Queen Emma Bridge, you can cross over to the Punda district. The Handelskade Heritage Site is a waterfront strip in Punda with 18th Century styled buildings. You can walk along the pier and take beautiful pictures of the picturesque city. Lights illuminate the bay at night to give a stunning view of cruise ships.
Visit the floating market to see a wide range of fruits and farmers showing off their catch. The Curacao cruise port is located in the Punda district. It used to be the center of commerce in the Caribbean and is the point of entry into the island for cruise ships and boats.
Curacao is famous for street art and murals representing its culture, history, and social issues. Walk down Punda art alley to view vibrant and colorful local crafts and sculptures.
Otrobanda District
From Punda, cross over to Otrobanda, Willemstad's second half. Street art in this district tells stories of crucial moments in the island's history. Residents encourage art by allowing artists to paint on their exterior walls and hosting regular art parties with music and drinks. The colorful steps close to Juliana Bridge are a viral photoshoot spot.
The Kura Hulanda Slave Museum is located in this district and displays a fascinating history of the transatlantic slave era. The museum is housed in a former slave merchant's home, showcasing thousands of years old artifacts and tools used to brand, punish, and trap enslaved people. It was founded by a Dutch philanthropist, Jacob Gelt Dekker, in 1999.
Riff Fort is a UNESCO World Heritage Site located in southern Otrobanda. It used to serve as a prison, police headquarters, and radio tower. Riff Fort was decommissioned in 1928 and currently serves as a tourist shopping area showcasing local art, jewelry, and clothing.
Hato Caves
Fifteen minutes from the cruise terminal are the Hato caves. Indigenous Arawaks and Caiquetio Indians used these coral limestone caves for shelter. They also served as hideaways for runaway enslaved people.
You can take a 20-minute self-guided tour of the caves to view carvings, paintings, natural waterfalls, pools, and the Madonna statue. Hato caves currently serve as a home for fruit bats.
Fort Amsterdam
You will learn more about Curacao's history and culture at Fort Amsterdam. It was formerly used by the British and Dutch to oversee slave labor during the middle passage.
Fort Amsterdam currently serves as the Governor's palace. As a result, only a part of the building is open to tourists.
Curacao Sea Aquarium
This aquarium opens you up to the underwater world of Curacao. It is an old naval vessel that formed a natural habitat for sharks, turtles, stingrays, rockfish, and flamingos. The Curacao sea aquarium is located on Bapor Kibra Peninsula, fifteen minutes southeast of Queen Emma Bridge.
The ocean lens view involves walking down 19 steps into a 17-foot observatory with a large window. From this window, you can gaze into the sea of coral and fish while a marine expert gives you a tour.
A submarine, the curasub, is available for exploring the reef up to 1000 feet. You can take a guided snorkeling tour for encounters with different species of fish, lemon and nurse sharks, turtles, etc. There's a separate window where you can feed the sharks, flamingos, and other animals.
Shete Boka National Park
Off the beaten path of Willemstad is the Shete Boka National Park. This park is an accumulation of hidden caves, natural blow holes, and a rugged coastline. Inside is the Boka Tabla underground cavern that serves as an inlet into the park.
Shete Boka has ten pocket bays with different species of animals, like iguanas and turtles. You can walk along limestone bluffs or sit at the mouth of the cavern to watch the rolling surf.
Tugboat Beach
Tugboat Beach is the 30-year-old wreck of a tugboat that sank on the island. Its clear waters and mild currents are suitable for easy swimming. The wreck is 5 meters beneath the surface water and is surrounded by coral, marine sponges, and numerous fish species.
Tugboat Beach is a perfect dive site for the diving enthusiast. It is a 30-minute drive from Willemstad, close to the shore near Caracas bay. You can easily recognize it by the orange mooring buoys where dive boats anchor.
2. Guided Tours Itinerary
The ease and comfort of having everything planned for you is one advantage of guided tours. It also provides an opportunity to meet like-minded people and experienced tour guides.
Below are some of the best-guided tours for experiencing Curacao in a day.
Curacao Full-Day Private Tour
At about $140, the Curacao full-day private tour is a 5-7 hour-long island exploration. This tour starts traveling through the city before disappearing into some lesser-known highlights.
You will experience the best architecture, beaches, art, caves, and snorkeling adventures. You customize your tour by choosing the areas you want to visit.
Kleine Knip: it starts with a pass by Kleine Knip. This beach is not commercialized like the rest and has plenty of fish species, turtles, and coral for snorkeling.
Playa Piskado/Playa Grandi: next is a pass by this small fisherman beach that is also great for diving and snorkeling. It is a popular site for great pictures of boats and nets.
Shete Boka National Park: At Shete Boka, you will explore the rugged coastline, hidden caves, and natural blowholes.
Flamingo Sanctuary Sint Willibrordus: this famous watering hole is where you can see a lot of flamingos.
Curacao Liqueur Distillery: the tour passes through the distillery for a wine tasting. It tells the history of liquor distillation on the island, including the famous blue liquor.
Christoffel Mountain: the highest peak of Curacao is Christoffel Mountain. You can hike to the top of the mountain for breathtaking views of the island.
Boka Patric: Popularly called Sulado, Boka Patric is a beautiful and natural underwater cave. It is a giant blowhole with lots of hiking trails and camping sites.
Den Paradera- Dinah's Botanic and Historic Gardens: this botanic garden tells Curacao's history of plants and floral culture. It houses flora alongside its medical benefits.
Punda: the Punda district has many attractions like the beautiful Curacao cruise port, Handelskade Heritage Site, street art, and cafes and restaurants lining its shores.
Fort Beekenburg: Fort Beekenburg is the only uncommercialized fort. You will find natural trails within its walls with stunning island views at the top.
Curacao Perfect Day Tour
With about $119, this 6-hour-long tour showcases critical landmarks, like Shete Boka National Park, Kenepa Beach, etc. You will experience native wildlife, flamingos, sea turtles, and several more.
Kenepa Beach: the first stop is a swim and sun session at this cozy beach. It is not commercialized like the others and is excellent for snorkeling.
Flamingo Sanctuary Sint Willibrordus: You will be rewarded with great views of flamingos and other exotic birds at this location. You will also discover the old colonial salt flats.
Shete Boka National Park: The following itinerary is a 30-minute stop at the Shete Boka National Park. There are lots of hidden caves, pocket bays, and species of animals.
Playa Piskado/ Playa Grandi: this beach is quiet but fast becoming a tourist location for diving and snorkeling.
Kleine Knip is located in a natural place, away from the bustling activity of the other commercialized beaches. It is partly covered by trees and great for snorkeling.
Landhuis Chobolobo: the 19th-century mansion houses the Curacao liqueur distillery. The tour stops here for a 35-minute guided tour with wine tastings and souvenirs.
Curacao Complete Island Tour
With $65, you will get a 6-hour tour of Scharloo, the liqueur distillery, Boca Tabla, and Queen Juliana Bridge.
Scharloo: The first activity is a pass through the Scharloo district. It is a UNESCO World Heritage Site that started as a slave plantation before becoming one of the wealthiest neighborhoods.
Curacao liqueur distillery: At this distillery, you will journey through the history of liquor on the island. Experience the famous blue liquor of Curacao.
Boca Tabla: it is a pocket bay inside the Shete Boka. One end of Boca Tabla is on land, while the other opens into the sea.
Queen Juliana Bridge is the tallest bridge in the Caribbean and only allows road traffic. Its peak offers a scenic view of the surrounding neighborhoods.
Recap: Day Trip from Aruba to Curacao Itinerary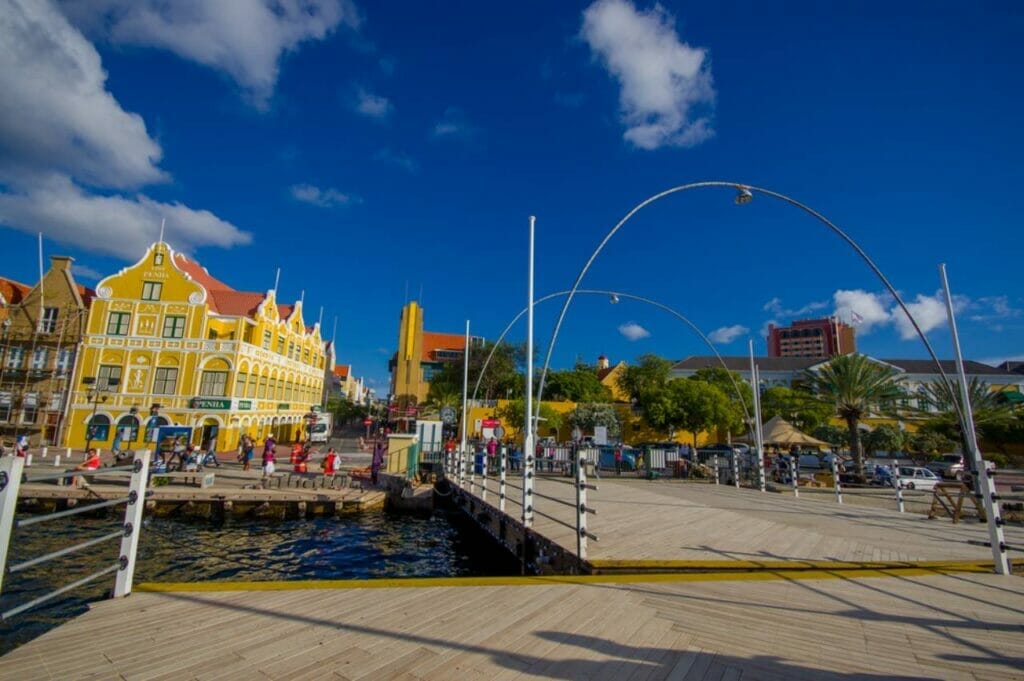 Flights between Aruba and Curacao are only 30 minutes. The short distance makes it easy to visit the neighboring islands for a quick 1-day tour and still be able to get back.
You can rent a car in Curacao and start at Willemstad. The itinerary involves the Queen Juliana Bridge, Queen Emma Bridge, Punda district, Otrobanda district, Fort Amsterdam, Hato Caves, Curacao Sea Aquarium, Shete Boka National Park, and, lastly, Tugboat Beach.
Or, you can participate in organized tours to avoid the hassle of figuring it out on your own. Popular tours include the Curacao full-day private tour, the Curacao perfect day tour, and the curacao complete island tour.