Curaçao Shopping: Souvenirs, Local Crafts, & Designer Brands
Get ready for a unique shopping adventure in the vibrant streets of Curaçao! Heading out for a day of shopping in Curacao, you can discover fascinating handcrafted items, high-end designer labels, and one-of-a-kind treasures.
Explore Willemstad's Punda district, filled with enchanting souvenir shops offering hand-painted tiles and miniature Delft blue houses. And don't miss the Floating Market, where boats from Venezuela showcase exotic fruits, spices, and handicrafts.
Immerse yourself in the island's rich heritage with captivating sculptures, pottery, and vibrant fabrics. For luxury lovers, upscale shopping centers and the fashion-forward "Marcha di Solo" boutique await. We'll also provide essential Curacao shopping tips, from bargaining to duty-free shopping. 
Get your bags ready and embark on a retail journey in captivating Curaçao!
Souvenir Shops in Curacao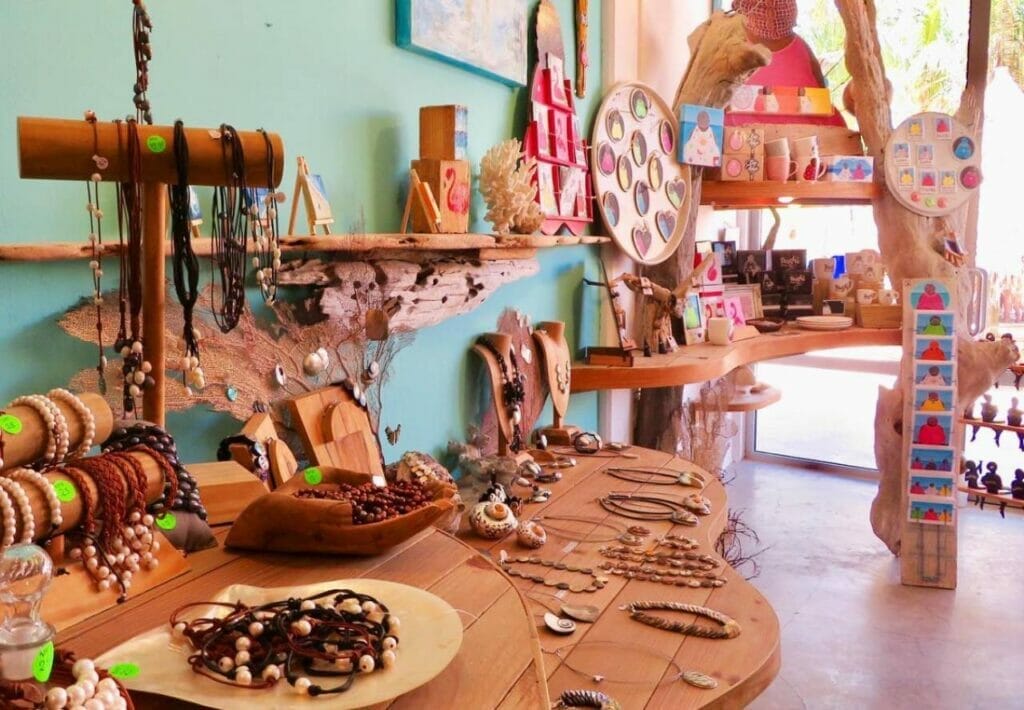 When it comes to finding memorable souvenirs to bring back home, Curaçao offers an array of delightful options. Wander through the streets of Willemstad's Punda district, and you'll discover numerous shops specializing in unique mementos. From miniature Delft blue houses and hand-painted tiles to colorful t-shirts and keychains, these stores are a treasure trove of keepsakes.
For an authentic taste of the island, visit the Floating Market in Punda. Here, boats from Venezuela dock, selling various fresh fruits, spices, and local handicrafts.
Engage in friendly banter with the vendors, and don't miss the opportunity to purchase some traditional Curaçao liqueur made from the island's famous "curaçao" oranges.
Visit the Curaçao Craft Market if you're seeking something genuinely unique. Located in the heart of Punda, this market showcases the talents of local artisans. Browse through stalls filled with intricate handmade jewelry, vibrant paintings, and beautifully crafted woodwork. These one-of-a-kind products represent the island's rich cultural past and make excellent keepsakes.
Local Curacaon Crafts
Curaçao's local crafts offer a fascinating glimpse into the island's heritage and cultural traditions. One of the most iconic crafts is the intricate art of "chi chi" sculptures.
These colorful ceramic sculptures depict voluptuous Caribbean women and are considered a symbol of fertility and good luck. They come in a variety of sizes and designs, making them a one-of-a-kind addition to your home's décor.
Another local craft worth exploring is the tradition of "bati'bleki" pottery. This art form dates back centuries and involves hand-painting earthenware pots with vibrant, intricate designs. These lovely pieces highlight the ability and originality of Curaçao's artists and may be found at specialized stores and craft markets around the island.
For a taste of Curaçao's textile heritage, seek out "mahos" fabrics. These vibrantly colored, handwoven fabrics feature geometric patterns and are often used to create clothing, bags, and accessories. Supporting local artisans by purchasing these textiles not only allows you to take home a piece of Curaçao but also contributes to the preservation of traditional craft techniques.
Designer Stores
Curaçao will not disappoint if you are looking for high-end fashion and luxury goods. The island boasts several upscale shopping centers where you can indulge in a bit of retail therapy.
The Renaissance Mall in Willemstad is a top choice for fashion enthusiasts, offering a wide range of international designer stores. From renowned clothing brands to elegant jewelry and accessories, you'll find a variety of upscale options to satisfy your cravings for luxury.
For those seeking local designer talent, the concept store "Marcha di Solo" is a must-visit. Located in Scharloo, this boutique showcases the works of Curaçao's emerging fashion designers, featuring unique clothing, footwear, and accessories that blend traditional island motifs with contemporary styles.
By supporting these local designers, you not only acquire fashion-forward pieces but also contribute to the growth of the island's creative industry.
Local Markets and Bazaar
Curacao, the enthralling Caribbean island, is recognized not just for its clean beaches and vibrant architecture, but also for its busy local markets and bazaars.These vibrant marketplaces offer a unique opportunity to immerse oneself in the island's culture and indulge in the flavors and crafts that define Curacao.
From aromatic spices to handmade souvenirs, the local markets and bazaars of Curacao are a treasure trove for travelers seeking an authentic experience.
One of the must-visit markets in Curacao is the Marshe Bieuw, also known as the Old Market. This vibrant market in the center of Willemstad, the capital city, is a foodie's delight.
Here, visitors can savor traditional Caribbean dishes such as "kabritu" (stewed goat) and "sopi di pisca" (fish soup) while enjoying the vibrant atmosphere filled with the sounds of local music. The Marshe Bieuw is not only a gastronomic delight but also a place to witness the daily life of the locals as they gather to enjoy their meals and engage in lively conversations.
For those seeking unique handmade crafts and souvenirs, the Floating Market in Punda is a must-visit. This colorful market, located along the water's edge, showcases boats from neighboring Venezuela filled with fresh fruits, vegetables, and fish.
Here, visitors can find a wide variety of goods, including local artwork, handmade jewelry, and traditional clothing. The Floating Market is not only a shopping destination but also a fascinating cultural experience, offering a glimpse into the close ties between Curacao and its neighboring countries.
Curacao Shopping Tips
To make the most of your shopping experience in Curaçao, here are a few essential tips to keep in mind:
1. Bargaining and Negotiation
In most stores in Curaçao, bargaining is not a common practice. The prices shown are often non-negotiable. However, when visiting local markets and smaller shops, you might find some room for negotiation. Engage in friendly conversation with the vendors and see if they are open to offering a better price, particularly if you're purchasing multiple items or making a significant purchase. Remember to approach bargaining with respect and a friendly attitude.
2. Special Promotions and Discounts
Keep an eye out for special promotions and discounts, especially during the off-peak seasons. Many stores in Curaçao offer sales and deals that can help you save money. Check local advertisements, websites, and social media pages of shopping centers or specific stores to stay updated on any ongoing promotions. You may take advantage of these reductions and have a more cost-effective shopping experience by scheduling your purchases accordingly.
3. Duty-Free Shopping at the Airport
Don't forget to check out the duty-free shopping possibilities at the airport before departing Curaçao. Duty-free stores sell a variety of goods, including wine, perfume, and luxury items. These products are often priced lower compared to regular stores, thanks to tax exemptions. Take some time to browse through the selections and consider purchasing any desired items at the airport to enjoy the potential savings. Just ensure that any liquids or restricted items comply with the airport's security regulations.
4. Customs Regulations and Restrictions
When shopping in Curaçao, be mindful of any customs regulations and restrictions on items you plan to bring back home. Familiarize yourself with the allowances and limitations set by your home country or any connecting countries if applicable.
Food, plants, and animal products, for example, may be subject to special limitations or require licences. Understanding and complying with these regulations is crucial to avoid any issues or confiscating goods at customs. Check with the appropriate authorities or consult official guidelines to ensure a smooth return journey with your purchases.
Following these shopping recommendations will help you navigate the Curaçao retail scene, make educated selections, and have a pleasurable shopping experience while remaining within your budget and complying with any relevant rules. Happy shopping!
FAQ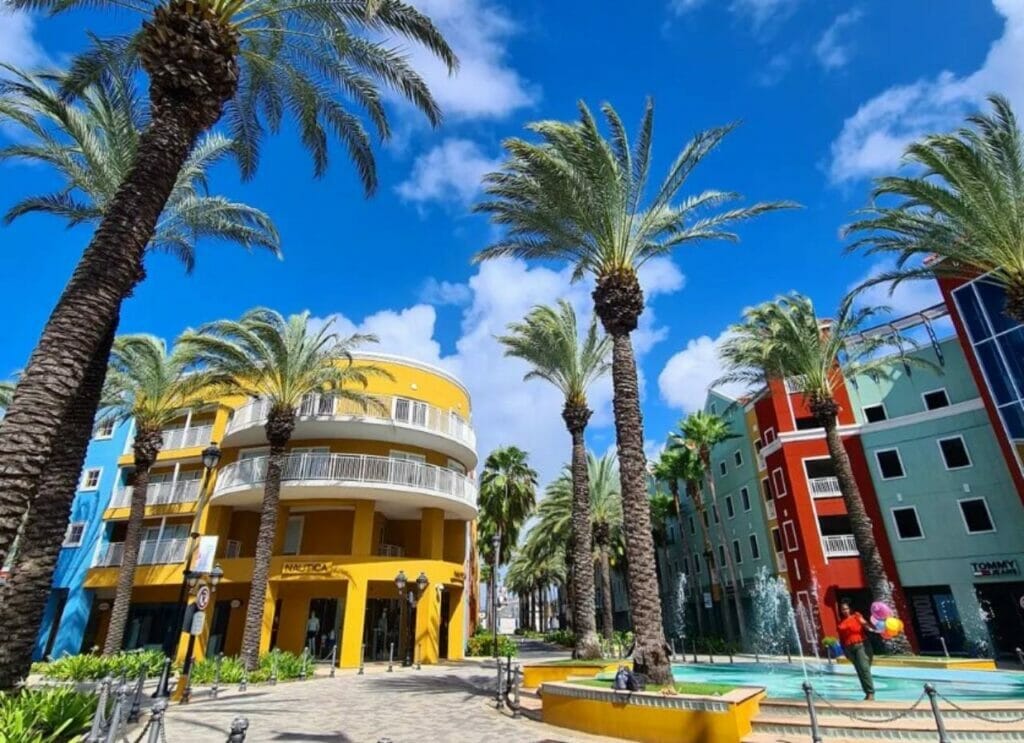 What is the biggest shopping mall in Curaçao?
The largest shopping mall in Curaçao is the Renaissance Mall, located in Willemstad. This upmarket shopping destination spans over 50,000 square feet and has an array of international designer retailers, elegant boutiques, and an exciting collection of clothes, jewelry, and accessories. With its diverse offerings and elegant ambiance, the Renaissance Mall stands as the premier shopping destination on the island.
Does Curaçao have a mall?
Curaçao is home to several shopping malls catering to diverse retail needs. In addition to the Renaissance Mall, shoppers can explore the bustling Sambil Curacao, an expansive mall featuring a mix of international and local retailers, restaurants, and entertainment options. Furthermore, Zuikertuin Mall and Promenade Shopping Center are popular destinations, offering a variety of shops, dining establishments, and services. These malls provide convenient and vibrant spaces for shopping enthusiasts to explore and indulge in retail therapy.
Are things cheap in Curaçao?
While Curaçao provides a variety of shopping experiences and pricing ranges, it is crucial to know that the cost of items in Curaçao is typically comparable to, or somewhat more than, that of many other tourist locations.Prices may differ based on the item, shop, and location. Visitors can find affordable options in local markets, souvenir shops, and smaller establishments. However, luxury items and international brands may be relatively more expensive. It is advisable to research and compare prices to make informed purchasing decisions and ensure a satisfying shopping experience within one's budget.