Curaçao Nightlife Guide: Bars, Clubs, & Cultural Events
This post can help you if you wish to take in all that Curaçao nightlife has to offer. From pulsating beach clubs and cozy jazz cafés to Cuban-inspired bars and cultural events, there's something for everyone. Dance under the stars at Mambo Boulevard's beach clubs or enjoy soulful tunes at Miles Jazz Café.
Get your groove on at Mundo Bizarro's salsa nights or unwind at The Alley Lounge & Bar. Explore the island's music scene at the Curaçao North Sea Jazz Festival or immerse yourself in local traditions at tambú nights and cultural events.
Stay safe, respect local customs, and let Curaçao's rhythm guide your nights.
Best Bars and Clubs in Curacao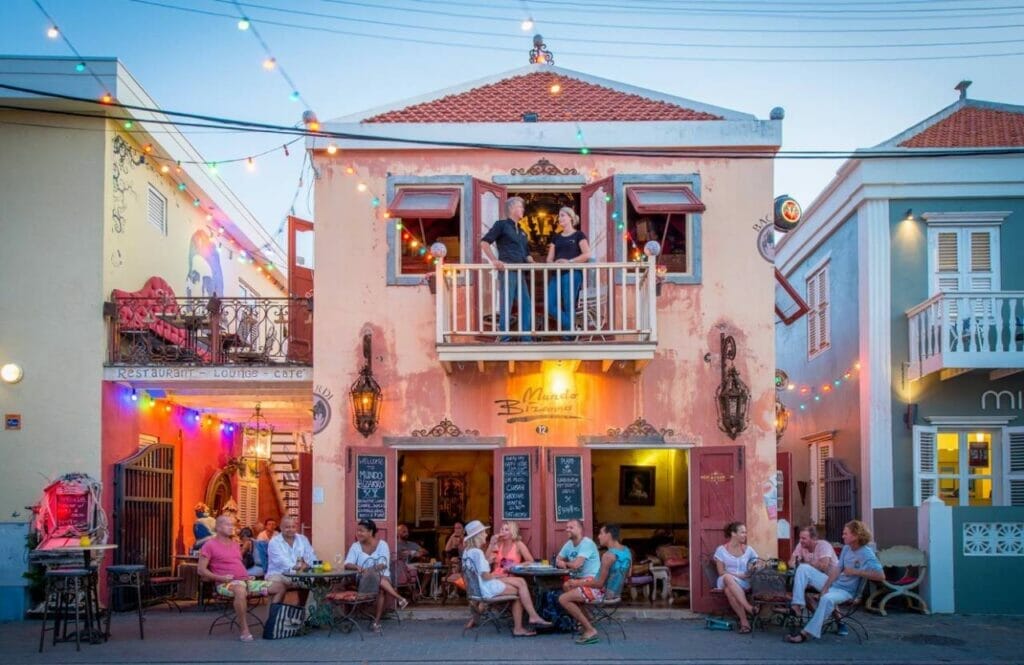 If it's pulsating beats and a lively crowd you're after, head to the Mambo Boulevard. This oceanfront strip is brimming with beach clubs that offer stunning views and toe-tapping music. Top spots include Wet & Wild Beach Club and Cabana Beach, where you can sip on their signature cocktails, dance under the stars, or simply chill by the beach.
For a more low-key experience, Miles Jazz Café is a must-visit.
This intimate venue in Willemstad offers a cozy ambiance, craft cocktails, and of course, excellent jazz performances. Whether you're a jazz enthusiast or just looking for a relaxing evening, Miles never lets you down.
Alternatively, you might want to check out Mundo Bizarro, a quirky Cuban-inspired bar and café in Pietermaai District. Mundo Bizarro is famous for its salsa nights, where both locals and tourists let loose and dance the night away.
Don't forget to stop by The Alley Lounge & Bar.
Nestled in the heart of Punda, this hidden gem serves unique cocktails in a cozy, alley-like setting. It's the ideal place for a peaceful night out with friends or a romantic evening because of its cozy size and exceptional hospitality.
Music Events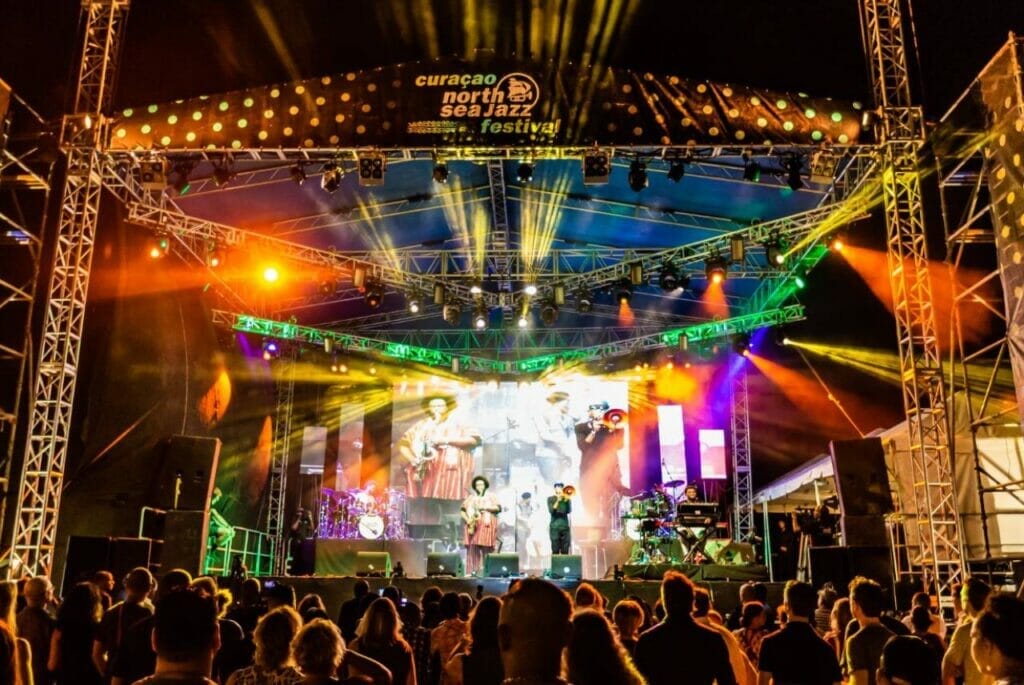 Curaçao's vibrant music scene is a testament to the island's rich cultural mix. Salsa, meringue, jazz, reggae, and even electronic music fill the air at various venues across the island.
First on your list should be the Curaçao North Sea Jazz Festival. This annual event is a massive draw for music lovers, featuring international stars and emerging local talents across a variety of genres. It's a festival you won't want to miss with three days of nonstop music.
Aside from festivals, don't miss out on the weekly live music events at the Avila Beach Hotel's Blues Bar and Restaurant. Enjoy stunning sunset views as you groove to the soulful tunes of the blues.
For a more local flavor, the regular tambú nights offer a lively, rhythmic spectacle. These gatherings, which feature the indigenous music genre tamb, are a wonderful opportunity to get to know the people and culture of Curaçao.
Cultural Nights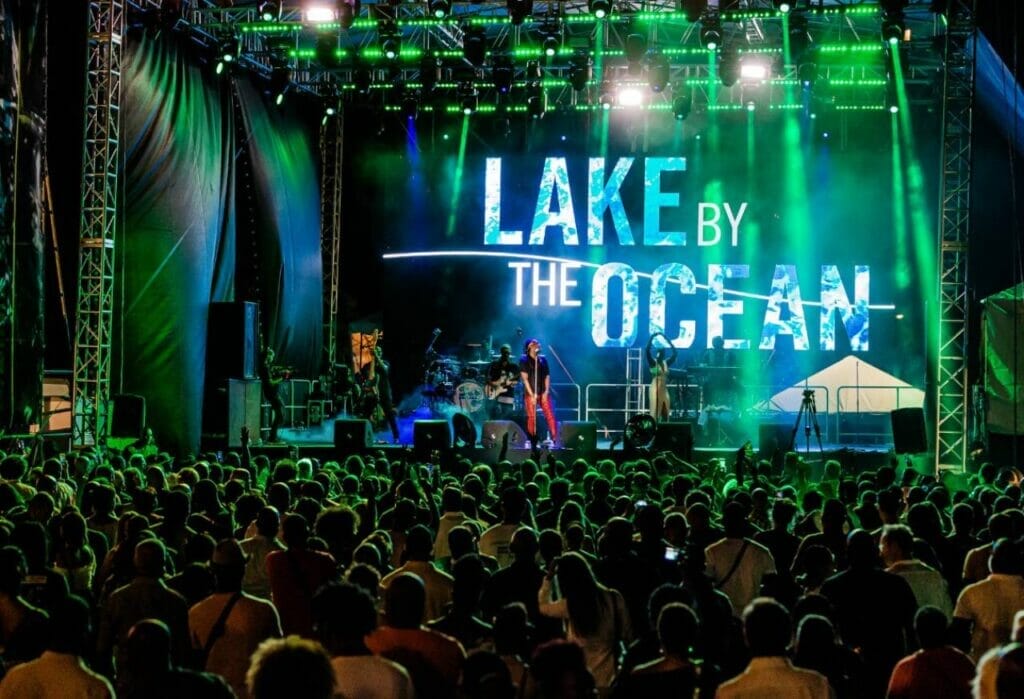 Attend one of the many cultural nights conducted all across Curaçao to learn more about the local way of life. These events often feature local artists, musicians, and dancers showcasing the vibrant traditions of the island.
The Handelskade Waterfront in Punda transforms into a festive market every Thursday evening. At the "Punda Vibes" event, streets fill with vendors selling local crafts and food, and musicians and artists bring the area to life.
Plasa Bieu, also known as the Old Market, hosts cultural nights where you can sample traditional food while enjoying live performances. You may taste and discover the culinary history of Curaçao through this unique experience.
The Kura Hulanda Museum frequently organizes cultural events that highlight the island's African roots. Events typically include African dance performances, drumming sessions, and storytelling circles.
Local Customs and Traditions
Immersing in Curaçao's nightlife comes with a dash of cultural intrigue. As you explore the vibrant evening scene, bear in mind some local customs that mark the island's nightlife. One of these is the tradition of 'dominoes'. This game, often played in local bars, is a beloved pastime, and you'll frequently see patrons engrossed in an intense game.
When it comes to dressing up, Curaçao nightlife tends to lean towards the 'smart casual'. While beach attire is acceptable at beach clubs during the day, evening events often call for a slightly more polished look. However, this isn't as rigid as in some European cities, and comfortable, island-appropriate attire is generally accepted.
One tradition not to miss is the 'tambú'. This traditional music and dance is often performed at local festivals or cultural nights. You are more than welcome to participate as a tourist, but keep in mind to show courtesy and adhere to local customs.
Another custom that's worth noting is the Curaçaoan appreciation for good conversation. People here love to chat, and striking up a conversation with a local at a bar is not only accepted but often welcomed.Just remember to have an open mind and respect your conversation partners.
Practical Information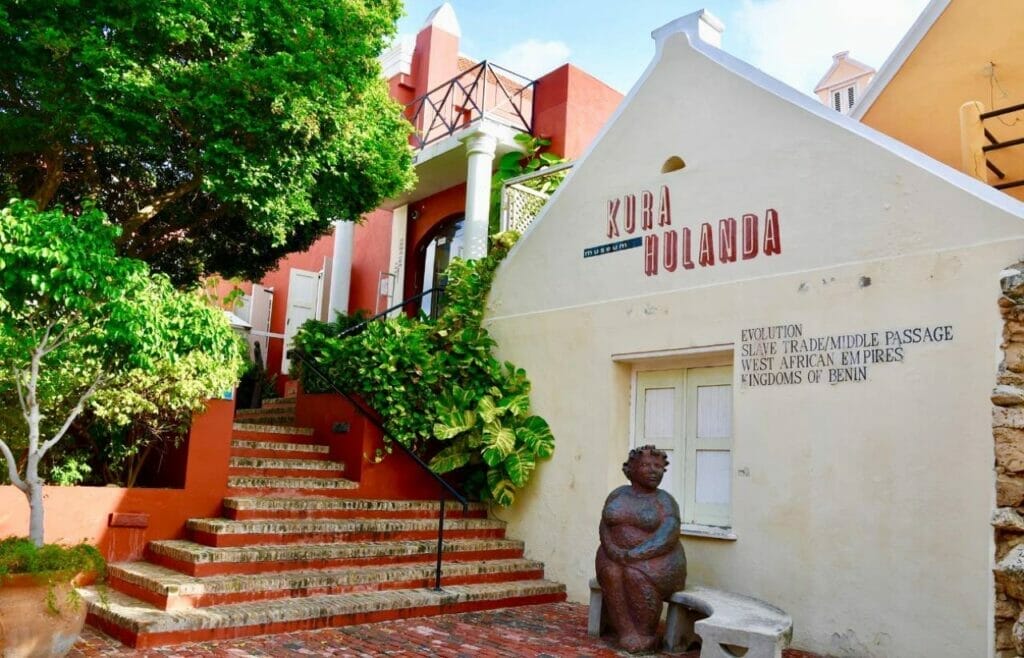 Here is some useful advice you could find useful before venturing out to see the nightlife. Most bars and clubs in Curaçao start filling up around 10 PM and stay open until 2-3 AM, though some beach clubs might close earlier. It's wise to phone ahead or check the official websites to confirm the opening times.
In terms of pricing, you'll find that Curaçao offers a wide range. While a beer can cost as little as $2 to $3 at a neighborhood bar, a drink at a high-end establishment like the Papagayo Beach Club may cost approximately $10. Credit cards are widely accepted, but it's always good to carry some cash for smaller establishments or street food.
When it comes to events, especially popular ones like the Curaçao North Sea Jazz Festival or cultural nights at Kura Hulanda Museum, prior booking is strongly recommended. It's wise to reserve your position early because tickets might sell out quickly.
Lastly, if you're planning to bar-hop in Willemstad, be prepared for the parking challenge. The city gets busy at night, and finding a parking spot can be difficult. Taxis or ride-sharing services can be a good option to avoid parking hassles.
Safety Tips for Enjoying Nightlife in Curacao
While Curaçao is generally a safe destination, like any tourist spot, it's essential to take precautions. Stick to well-lit areas and avoid isolated places, especially at night.
Always be mindful of your surroundings, especially in crowded areas, and keep a watch on your possessions. It's advisable to leave valuables in your hotel safe and carry only necessary items.
If you plan on drinking, consider hiring a taxi or use the reliable public transportation system to get around. The local bus, known as "Konvoi," is a safe and affordable option.
Lastly, respect local customs and traditions, particularly during cultural events and festivals. Always remember that you're a guest on the island and respect goes a long way.
FAQ
Does Curacao have a nightlife?
Curacao boasts a vibrant nightlife that caters to diverse tastes. The island offers pulsating beach clubs, cozy jazz cafés, Cuban-inspired bars, and cultural events. From dancing under the stars at Mambo Boulevard to enjoying soulful tunes at Miles Jazz Café, Curacao's nightlife scene is lively and exciting.
What to avoid in Curacao?
When visiting Curacao, it is advisable to avoid isolated and poorly lit areas, particularly at night. It's crucial to watch out for your possessions and be mindful of your surroundings, especially in crowded places. Additionally, respecting local customs and traditions during cultural events and festivals is crucial to ensure a positive and enjoyable experience.
What is Curacao famous for?
Curacao is well known for its thriving culture, gorgeous beaches, and eye-catching architecture. The island's rich cultural mix is showcased through its music scene, featuring genres like salsa, meringue, jazz, and reggae. Curacao is also renowned for its historical sites, such as the Handelskade Waterfront in Punda and the Kura Hulanda Museum, which highlight the island's African roots.The distinctive fusion of cultural history and natural beauty of Curacao mesmerizes tourists.