Curaçao LGBTQ+ Travel: Friendly Destinations and Events
Are you dreaming of a tropical getaway where you can truly be yourself? Look no further than Curaçao, where LGBTQ+ travelers are embraced with open hearts and sunny smiles. Let's dive into the vibrant world of LGBTQ+ travel on this Caribbean gem! It's simple to choose the ideal location to stay.
Picture yourself indulging in the luxurious suites of the Floris Suite Hotel or basking in the intimate seclusion of the Baoase Luxury Resort. If you want to be at the heart of the action, the Pietermaai District awaits with its stylish rooms and LGBTQ+ hotspots just a stone's throw away. But hold on, there's more! Get ready for a calendar filled with exciting events like the exuberant Curaçao Pride and the eye-opening Curaçao International Film Festival Rotterdam. 
So pack your sunscreen, leave your worries behind, and join us in Curaçao for a vacation where you can truly let your rainbow shine!
| Category | Description |
| --- | --- |
| Destination | Curaçao, Caribbean |
| Popular LGBTQ+ Friendly Hotels | Floris Suite Hotel, Baoase Luxury Resort, BijBlauw (Pietermaai District) |
| Popular LGBTQ+ Events | Curaçao Pride, Curaçao International Film Festival Rotterdam, Curaçao North Sea Jazz Festival |
| Safety Tips | Research local laws, exercise discretion in public spaces |
| Local Attitudes | Generally positive and welcoming, with acceptance and respect for diversity |
| Key LGBTQ+ Landmarks and Attractions | Handelskade, Cas Abao Beach, Kura Hulanda Museum |
| LGBTQ+ Culinary Experiences | Ginger (restaurant), Rainbow Lounge at Scuba Lodge, "Taste of Curaçao" festival |
| Notable Local Organization | Curaçao Gay Pro |
LGBTQ+-Friendly Accommodations
When planning your trip to Curaçao, finding LGBTQ+-friendly accommodations is crucial for a comfortable and inclusive experience. Fortunately, Curaçao offers a range of welcoming options. One such example is the Floris Suite Hotel, located in Willemstad. This adults-only boutique hotel caters specifically to LGBTQ+ travelers, offering luxurious suites, a private beach, and a clothing-optional pool area.
For those seeking a more intimate and secluded experience, the Baoase Luxury Resort is a top choice. This stunning resort, known for its impeccable service and breathtaking ocean views, embraces diversity and welcomes LGBTQ+ guests. With private villas featuring plunge pools, lush gardens, and direct beach access, it's the perfect sanctuary for couples or solo travelers.
If you prefer to stay closer to the heart of the city, the Pietermaai District is home to several LGBTQ+-friendly accommodations. The BijBlauw boutique hotel, with its stylish rooms and vibrant atmosphere, is a popular choice. It offers a welcoming environment for all guests and is conveniently located near popular LGBTQ+ bars and clubs.
LGBTQ+ Events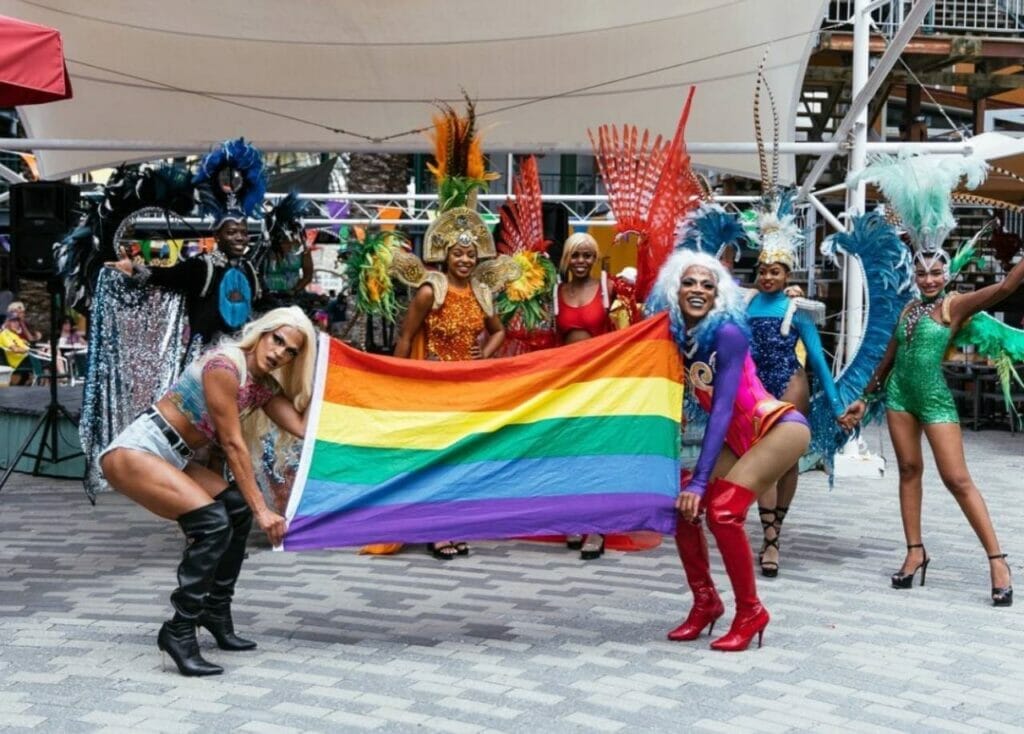 Throughout the year, Curaçao proudly presents a range of LGBTQ+ events, highlighting the lively diversity and joy of the community. One noteworthy event is Curaçao Pride, an annual week-long festival that takes place in September. This vibrant spectacle includes a series of parties, parades, and cultural activities that bring together residents and foreign guests in a joyous celebration of LGBTQ+ pride.
Curaçao International Film Festival Rotterdam (CIFFR) exhibits LGBTQ+-themed films from across the world for film enthusiasts. This inclusive event not only offers thought-provoking cinema but also provides a platform for discussions on LGBTQ+ rights and representation.
Another must-attend event is the Curaçao North Sea Jazz Festival, where renowned international artists and local talents converge for a three-day celebration of music. With diverse genres and performers, this festival embraces the LGBTQ+ community and creates a welcoming space for all music lovers.
Safety Tips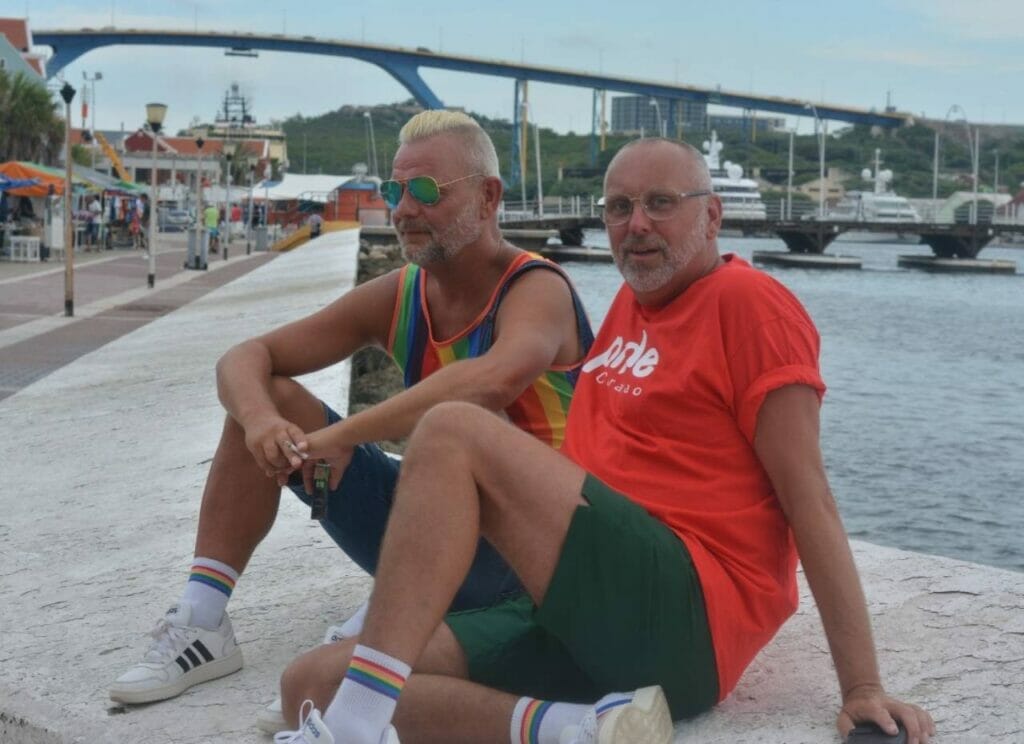 While Curaçao is known for its LGBTQ+ inclusivity, it's important to prioritize personal safety during your trip. Like any destination, taking certain precautions can enhance your overall experience. Firstly, it's advisable to research local laws and customs to understand the cultural context and LGBTQ+ rights in Curaçao. Being informed can help you navigate the destination with confidence.
Although the majority of Curaçao is LGBTQ+-friendly, it's wise to exercise discretion in public spaces. While holding hands or displaying affection in LGBTQ+ establishments and neighborhoods is generally accepted, it's important to be mindful of your surroundings in unfamiliar areas.
Local Attitudes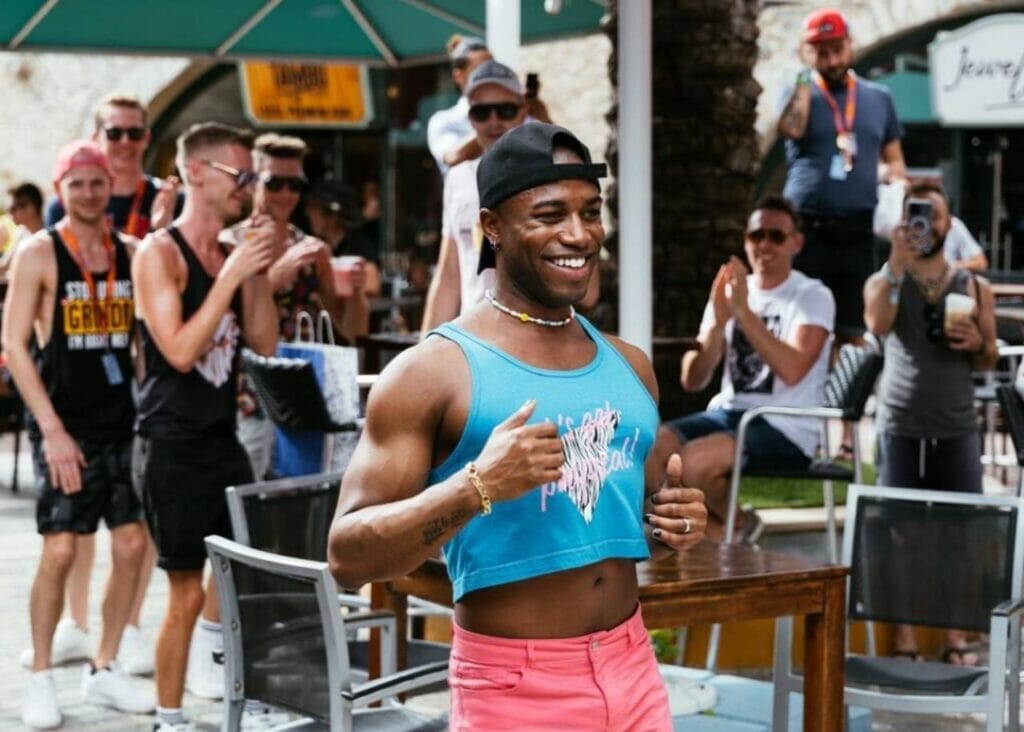 Curaçao is known for its warm and welcoming locals, who generally embrace diversity and demonstrate a positive attitude toward LGBTQ+ visitors. The island's cultural melting pot creates an atmosphere of acceptance and respect. While individual attitudes may vary, the overall perception of the LGBTQ+ community is favorable.
For instance, the annual Curaçao Pride festival enjoys strong local support, with businesses and organizations proudly displaying rainbow flags and participating in the festivities. LGBTQ+-friendly bars, clubs, and establishments are scattered throughout the island, providing safe spaces and entertainment options for all.
Curaçao's LGBTQ+ community is active and engaged, organizing events, advocacy programs, and support networks. By connecting with local LGBTQ+ organizations, such as Curaçao Gay Pro, visitors can gain valuable insights, make new friends, and experience the genuine warmth and hospitality of the local community.
LGBTQ+ Landmarks and Attractions
Curaçao is home to several noteworthy landmarks and attractions that hold significance for the LGBTQ+ community. One such place is the iconic "Handelskade" in Willemstad. This picturesque row of colorful Dutch colonial buildings along the waterfront provides a stunning backdrop for photos and is a popular gathering spot for locals and visitors alike. 
During LGBTQ+ events and pride celebrations, the Handelskade becomes a vibrant hub of rainbow flags, adding an extra touch of inclusivity and celebration.
For beach-loving travelers, Cas Abao Beach is a must-visit destination. Known for its crystal-clear waters and pristine sands, this LGBTQ+-friendly beach offers a welcoming and inclusive atmosphere. Visitors may soak up the sun, participate in water sports, or simply rest while taking in the scenery. Cas Abao Beach often hosts LGBTQ+ beach parties and events, providing an opportunity to socialize and connect with the local LGBTQ+ community.
Another landmark worth exploring is the Kura Hulanda Museum. This museum, located in Willemstad, shows Curaçao's history and traditions, including exhibits on the island's LGBTQ+ past. By exploring the exhibits and learning about the LGBTQ+ narrative within the broader historical context, visitors can gain a deeper understanding of the island's journey toward acceptance and inclusion.
LGBTQ+ Culinary Experiences
Curaçao's culinary scene offers a delightful array of options for LGBTQ+ travelers seeking diverse and inclusive dining experiences. One standout LGBTQ+-friendly restaurant is Ginger, situated in the trendy Pietermaai District. 
Known for its fusion cuisine and creative menu, Ginger welcomes all guests with open arms. The restaurant's sleek and modern environment, along with its inclusive mentality, makes it a popular choice for both LGBTQ+ visitors and residents.
For a unique dining experience, consider visiting the Rainbow Lounge at Scuba Lodge. This LGBTQ+-friendly club overlooks the Caribbean Sea and offers a peaceful ambiance where guests can sip tasty beverages and a variety of exotic foods. With its stunning views and welcoming environment, the Rainbow Lounge provides an ideal space for LGBTQ+ travelers to unwind and connect.
Curaçao also hosts LGBTQ+-friendly culinary events that showcase the island's rich gastronomy and cultural diversity. The "Taste of Curaçao," a bustling culinary festival where tourists may experience a variety of local and foreign cuisines, is one such event. LGBTQ+-owned or operated food stalls often participate, offering unique flavors and dishes that reflect the island's inclusivity and culinary innovation.
FAQ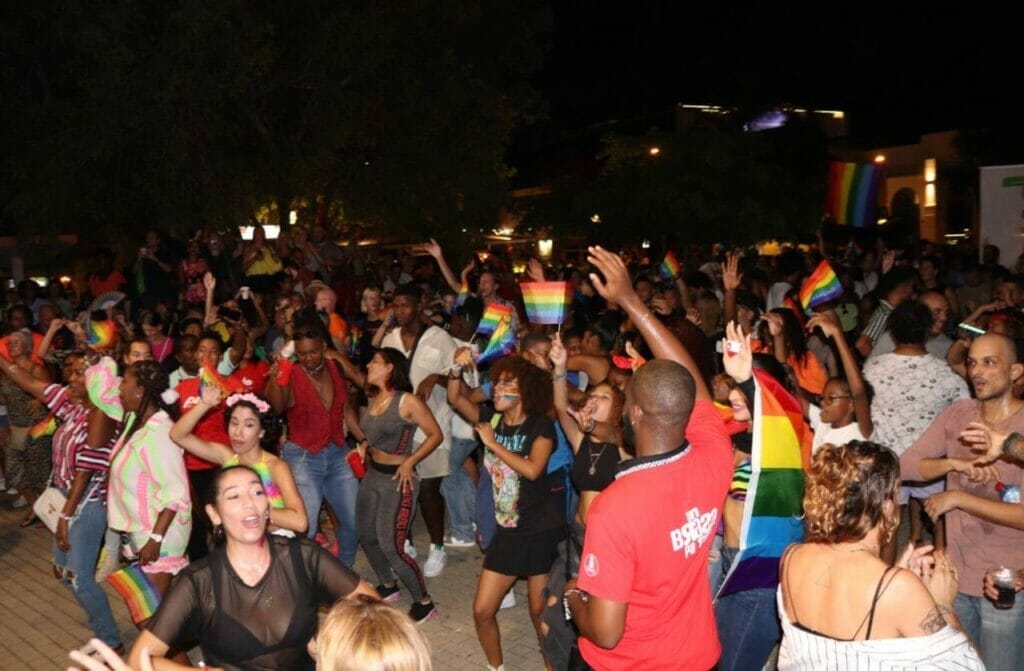 What is Curaçao's gender ratio?
The gender ratio in Curaçao is relatively balanced. According to the most current data available, the population has a slightly larger proportion of girls than males. According to estimates, the gender ratio stands at approximately 95 males per 100 females.
How many people live on Curaçao?
Curaçao's population is roughly 160,000 people. This figure represents the estimated number of residents based on the most recent data. The island's population has shown gradual growth over the years, fueled by factors such as natural increase and international migration.
What are people from Curaçao called?
Curaçaoans or Curaçaoan people are the name used to describe the island's residents, who come from a variety of ethnic and cultural origins and contribute to the island's distinctive multicultural fabric. The Curaçaoan population is known for its warm hospitality and vibrant spirit, reflecting the rich heritage of the island.