Curaçao Honeymoon Resorts & Romantic Activities
Welcome to Curaçao, lovebirds! Your dreamy Curacao honeymoon awaits on this enchanting island, where romance is in the air and memories are waiting to be made.
From stunningly romantic accommodations like the Baoase Resort and Santa Barbara Beach & Golf Resort to exploring the colorful Handelskade and diving into the vibrant marine life at the Mushroom Forest, Curaçao has it all. 
Indulge in the diverse culinary scene, with options like Fort Nassau and Karacter offering breathtaking views and delicious cuisine. And don't miss the hidden treasures of Cas Abao Beach, the Den Paradera Herb Garden, Nena Sanchez's Gallery, and the captivating Blue Room cave.
Pack your luggage, make your plans, and prepare for an amazing honeymoon in Curaçao.
Most Romantic Curacao Honeymoon Resorts
Nothing is more crucial than locating the ideal spot to stay as you begin your Curaçao honeymoon. The island boasts some stunningly romantic accommodations that will make your honeymoon extra special.
One such option is the Baoase Luxury Resort. With its private beach villas, breathtaking sunset views, and personalized service, this resort is the epitome of romance and luxury.
Another great choice is the Santa Barbara Beach & Golf Resort. This sprawling complex contains not just elegantly constructed rooms and suites, but also a top-notch golf course, spa, and various dining options.. Whether you prefer a morning round of golf, a relaxing spa day, or a beachfront dinner, this resort has it all.
For those who prefer a more unique experience, the Landhuis Jan Thiel is a restored 18th-century plantation house turned boutique hotel. This quaint accommodation perfectly combines history with modern comforts, providing a charming backdrop for your honeymoon. Picture having breakfast in the courtyard surrounded by historical architecture, or enjoying the sunset from the balcony of your own suite.
Last but not least, consider the Avila Beach Hotel, a historic yet contemporary hotel offering stunning ocean views. With two private beaches, live music nights, and an onsite spa, this hotel provides the perfect blend of relaxation and entertainment for your Curaçao honeymoon.
Activities for Couples
No Curaçao honeymoon would be complete without exploring the island's range of activities.
Start with a visit to the Handelskade, the famous waterfront in Willemstad. The colorful Dutch colonial buildings lining the streets provide a picturesque backdrop for a leisurely walk. Don't forget to snap some photos for memories that will last a lifetime.
For a more adventurous outing, consider a trip to the Christoffel National Park. You can hike, bike, or drive through this gorgeous natural reserve.The park has eight hiking paths, each with a different level of difficulty. If you take the mountain route, you'll be rewarded at the top with panoramic views of the island.
If you're a fan of water activities, Curaçao is a diver's paradise. The island is well-known for its abundant marine life and clean seas.You could spend an entire day exploring the Mushroom Forest or the Tugboat wreck. Many local companies offer diving and snorkeling trips, some specifically designed for couples.
And don't miss out on a boat trip to Klein Curaçao, an uninhabited island off the coast. The gorgeous white-sand beaches, turquoise ocean, and renowned lighthouse will captivate you. It's the ideal spot for a romantic picnic or a relaxing swim.
Best Dining for Your Curacoan Honeymoon
The dining scene in Curaçao is as diverse as its culture. For a truly romantic dining experience, book a table at Fort Nassau. Set in a historic fort, this restaurant offers panoramic views of Willemstad and the harbor. The menu is a fusion of foreign and local food, allowing you to sample real Curaçao flavors.
Karacter is another must-visit for couples.
It is located directly on the beach and has a calm ambience during the day that transforms into an intimate, candlelight setting at night. The menu is seafood-centered, and the dishes are as stunning as the beach views.
Wine lovers will be delighted by Restaurant & Wine Bar The Wine Cellar. This French-style restaurant offers a rich wine list and delicious gourmet food. The intimate and rustic setting makes it a perfect choice for a romantic dinner.
Another hidden gem is Kome. Located in the heart of Willemstad, Kome offers a creative menu that changes with the seasons.The restaurant emphasizes the use of fresh, local ingredients to ensure that each meal is as tasty as it is fresh.
How to Plan Your Storybook Honeymoon in Curacao (5 Travel Tips)
A Curaçao honeymoon requires some forethought to ensure you make the most of your stay on the island.
The dry season, from January to September, is the greatest time to come since the weather is constantly warm and there is less possibility of rain.
When packing, don't forget to include sun protection items like sunscreen, hats, and sunglasses. The Caribbean sun can be intense! Also, pack a mixture of casual beachwear and dressier outfits for your evening dining experiences.
Renting a car allows you to explore the island at your own speed. Public transportation can be unpredictable, and taxi services can add up quickly. Driving in Curaçao is generally easy and gives you the flexibility to visit less-touristy spots.
Lastly, while English is widely spoken in Curaçao, learning a few words in Papiamentu (the local language) could enrich your experience. It's also a wonderful opportunity to meet people and learn about their culture.
Lesser-Known Romantic Spots or Activities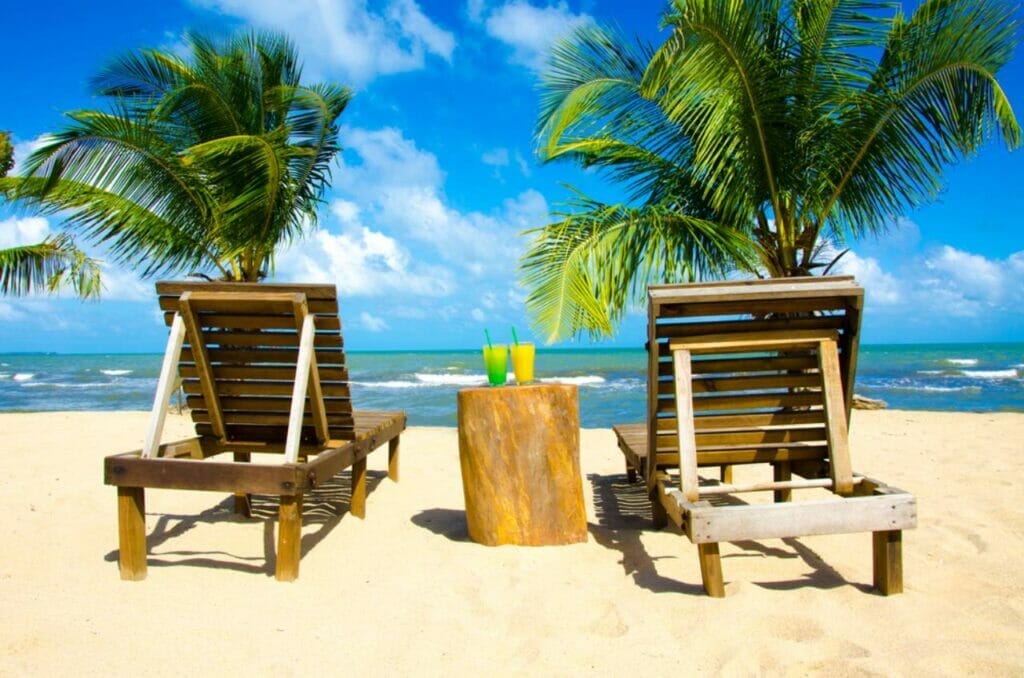 While Curaçao's famed attractions are undeniably captivating, the island also hosts a plethora of lesser-known spots that are equally romantic and enchanting. Take, for example, Cas Abao Beach. Tucked away on the island's western edge, this beach is a tranquil sanctuary with crystal blue seas and an abundance of marine life – ideal for a peaceful day with your loved one.
Another hidden treasure is the Den Paradera Herb Garden. Take a tour through the lush landscape, learning about the medicinal uses of local plants. The serenity of the garden combined with the fascinating tour led by Dinah Veeris, a renowned local herbalist, is sure to leave a lasting impression on your honeymoon.
For art-loving couples, a visit to Nena Sanchez's Gallery is a must. Housed in a beautifully restored 18th-century plantation, this gallery showcases the vibrant artwork of Nena Sanchez, a celebrated Curaçao artist known for her vivid colors and tropical themes. Exploring this gallery is not just a feast for the eyes, but also a journey into the island's vibrant artistic culture.
Finally, don't miss out on exploring the blue lights of the Blue Room cave. Accessible only by swimming or boating, this underwater cave gets its name from the mesmerizing blue glow it takes on when sunlight filters through the water. It's a surreal experience that would be the highlight of any Curaçao honeymoon.
FAQ
Is Curaçao good for couples?
Curaçao is an excellent destination for couples seeking a romantic getaway. With its idyllic beaches, stunning sunsets, and luxurious accommodations, the island sets the perfect stage for love. Couples can indulge in activities like diving in crystal-clear waters, exploring the vibrant Handelskade, and enjoying intimate dining experiences. The island's charming atmosphere and diverse attractions make it ideal for couples looking to create cherished memories together.
What is Curaçao famous for?
Curaçao is well-known for its colorful culture, beautiful beaches, and rich history. The island's colorful Dutch colonial architecture, showcased in Willemstad's Handelskade, is a well-known landmark. Curaçao is also known for its crystal-clear seas, making it a popular diving and snorkeling destination. Additionally, the island's unique liqueur, Blue Curaçao, is internationally recognized and is a symbol of the island's distinct flavors and hospitality.
Is it expensive in Curaçao?
Curaçao can be considered a moderately expensive destination. While prices for accommodations, dining, and activities can vary, visitors should expect to find prices comparable to other Caribbean destinations. However, with careful planning and budgeting, travelers can still enjoy a wonderful experience on the island. Exploring local markets, dining at local eateries, and choosing accommodations that fit your budget can help make your stay in Curaçao more affordable while still enjoying the island's beauty and attractions.