Curaçao for Families: Activities, Food & Resorts
Looking for the perfect family vacation destination? Look no further than Curaçao for families, where you and your loved ones may enjoy exciting activities and unforgettable encounters. Here's why…
This hidden gem in the Caribbean offers a plethora of child-friendly activities and attractions that will keep everyone entertained. From pristine beaches with calm waters and exciting water parks to educational museums that delve into the island's rich heritage, there's something for every member of the family to enjoy.
Outdoor enthusiasts will be thrilled by the chance to explore limestone caves and encounter fascinating marine life at the Curaçao Sea Aquarium. When it's time to refuel, the island's diverse culinary scene offers plenty of options for family dining, including unique experiences at the floating market. 
Curaçao also offers a variety of family-friendly lodgings that cater to your every need, ensuring a pleasant and enjoyable vacation for all. Pack your bags, bring your sense of adventure, and get ready for an incredible family getaway in Curaçao!
Child-Friendly Beaches in Curacao
Curaçao boasts an array of child-friendly beaches that provide the perfect setting for family fun in the sun. One such beach is Mambo Beach, a popular spot known for its calm waters and shallow areas, making it ideal for young children to splash around safely. The beach offers various amenities, including beachside cafes, water sports rentals, and even a water park nearby, guaranteeing endless entertainment for the little ones.
Jan Thiel Beach is another excellent choice for families. This beach is ideal for swimming, snorkeling, and constructing sandcastles due to its silky white sands and crystal-clear seas. It also features a kids' club with organized activities and a playground, ensuring that children are entertained throughout the day. Parents can relax on lounge chairs while keeping a watchful eye on their little adventurers.
Cas Abao Beach is a hidden gem that provides a more secluded and tranquil setting. This family-friendly beach offers pristine turquoise waters, powdery sands, and shaded picnic areas. It's an excellent snorkeling location, with vivid coral reefs and a plethora of aquatic life just a few meters from the shore. Families may spend the day swimming, sunbathing, and discovering the underwater delights.
Exploring Curaçao's Rich Heritage: Educational Attractions
Curaçao's rich history and diverse culture offer excellent opportunities for educational and immersive experiences for the whole family. Begin your cultural exploration in Willemstad, the capital city and a UNESCO World Heritage Site. Take a stroll through the colorful streets of Punda and Otrobanda, where you'll find historical landmarks, unique architecture, and local markets. Kids can learn about the island's colonial past and the fascinating stories behind its iconic buildings.
To delve deeper into the island's history, visit the Museum Kura Hulanda. This captivating museum showcases the African slave trade and the island's role in this dark period of history. Children may obtain a better knowledge of the history and the significance of equality and respect for everyone via thought-provoking exhibitions and interactive displays. It's a powerful experience that sparks conversations and encourages empathy among family members.
Thrilling Outdoor Adventures: Outdoor Activities
Curaçao has a wide range of outdoor activities to keep the whole family engaged and active throughout your holiday. One must-try adventure is a visit to the Hato Caves. These intriguing limestone caverns provide a once-in-a-lifetime opportunity to explore a subterranean world of stalactites, stalagmites, and underground lakes. Guided tours offer insights into the caves' geological formations and the tales of the island's early inhabitants.
For a fun and educational experience, head to the Curaçao Sea Aquarium. This interactive marine park displays a diverse array of marine life found in the seas surrounding the island. Children can participate in feeding sessions, watch dolphin shows, and even have the chance to swim with sea turtles. It's an excellent opportunity for children to learn about marine conservation and to appreciate the beauty of the undersea environment.
Delicious Dining for All Ages: Family Dining in Curacao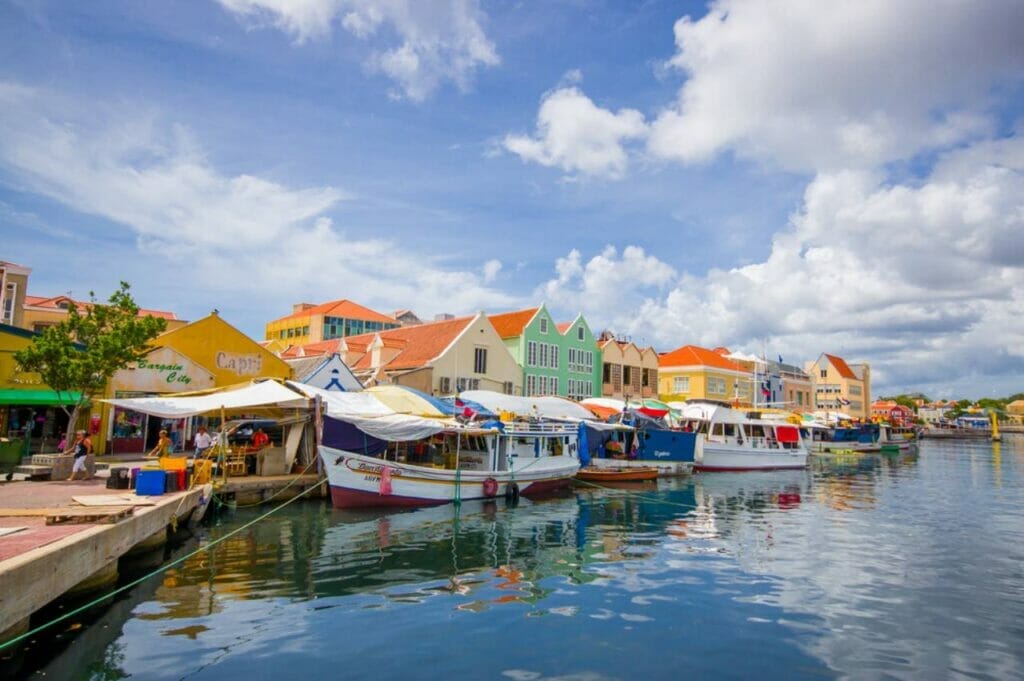 Curaçao's culinary scene caters to families with a variety of restaurants offering kid-friendly menus and welcoming atmospheres. Several family-friendly restaurants providing local and foreign cuisines may be found in the center of Willemstad. Some restaurants even feature playgrounds or play areas where children can burn off some energy while parents savor their meals.
For a unique dining experience, head to the floating market in Punda. Here, you can sample fresh tropical fruits, snacks, and local delicacies from the colorful stalls. Let the kids try new flavors and engage with the vibrant atmosphere as they interact with local vendors. It's a fun opportunity to introduce them to the culture and food of the island.
Accommodations for Families: Curacao Family Resorts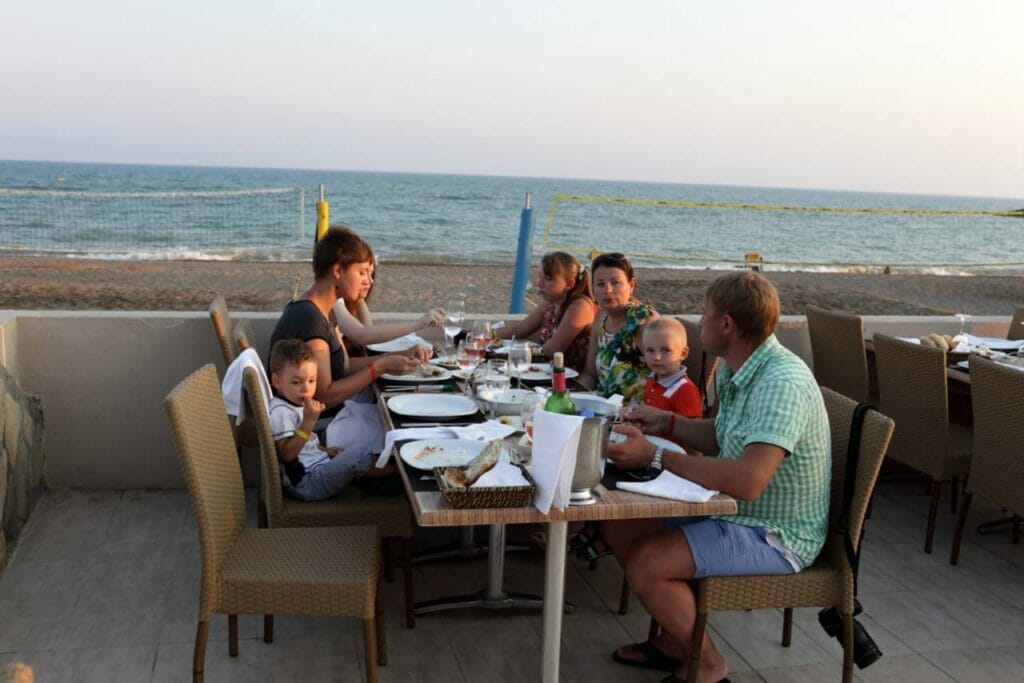 Finding the perfect accommodations for your family in Curaçao ensures a comfortable and enjoyable vacation experience. Whether you like resorts, self-catering villas, or residential-style accommodations, the island has various alternatives to meet any family's requirements and interests.
Curaçao offers numerous family-friendly resorts that prioritize comfort and convenience. These resorts provide spacious accommodations, including family suites or connecting rooms, allowing everyone to have their own space while staying close together. With amenities like children's pools featuring water slides, playgrounds, and supervised kids' clubs, these resorts ensure that children have plenty of activities to enjoy while parents can unwind and relax. Some resorts even offer babysitting services, providing parents with the opportunity to enjoy some well-deserved time alone.
Curaçao's self-catering villas and apartments are a wonderful alternative if you desire more independence and flexibility. These accommodations provide ample space for families, with separate bedrooms, living areas, and fully equipped kitchens. Individual tastes and nutritional demands can be accommodated by families preparing their own meals and snacks. Many properties also offer outdoor spaces such as private gardens or terraces, providing safe and enjoyable environments for children to play.
Residential-style resorts are a popular option for larger families or those traveling with extended family members.
These properties combine the comforts of home with resort amenities, offering spacious suites or apartments with separate living and dining areas and fully equipped kitchens. With multiple bedrooms available, these accommodations provide the space and privacy needed for a comfortable family stay. Pools, exercise facilities, and restaurants on-site cater to the demands of all family members.
Curaçao understands the unique requirements of families and strives to provide additional services and facilities to enhance the experience. Many accommodations offer high chairs, cribs, and baby-proofing options, making traveling easier for families with young children. Some resorts or rental properties also provide kid-friendly entertainment spaces, such as gaming rooms or movie theaters, to ensure that kids of all ages have enough to do during their visit.
Curaçao offers a diverse choice of family-friendly lodgings, ensuring that families may choose the ideal spot to stay and make amazing experiences together. Curaçao provides the appropriate accommodations to fit your family's needs, whether you choose an all-inclusive resort, a self-catering villa for more independence, or a residential-style property for a home-away-from-home experience.
Curacao For Families FAQ
Is Curaçao a good place for kids?
Curaçao is an excellent destination for families with kids. The island has several kid-friendly activities, including as gorgeous beaches with calm waters for safe swimming, snorkeling, and even encounters with sea turtles. There are also interactive museums where children may learn about marine life, such as the Curaçao Sea Aquarium. Furthermore, Curaçao has a variety of family-friendly accommodations, offering a comfortable and pleasurable stay for all.
How many days is enough in Curaçao?
To fully experience the highlights of Curaçao, a minimum of 5 to 7 days is recommended. This duration allows ample time to explore the island's stunning beaches, visit historical sites like Willemstad's UNESCO World Heritage-listed city center, and enjoy various water sports and outdoor activities. It also allows you to immerse yourself in the local culture, experience traditional food, and participate in any festivals or events that may be taking place during your stay.
Do you have any travel tips about what to do in Curaçao during family holidays?
During a family holiday in Curaçao, consider exploring the stunning beaches, such as Playa Kenepa and Cas Abao, which offer crystal-clear waters and family-friendly amenities. Engage in activities like snorkeling at the famous Tugboat wreck or visiting the Christoffel National Park for hiking and wildlife spotting. Don't miss the opportunity to visit the Curaçao Ostrich Farm or the Hato Caves for unique experiences. Lastly, take a stroll through the vibrant streets of Willemstad to admire the colorful colonial architecture and enjoy local cuisine at the floating market.