8 Best Curaçao Beaches & Coves (2023 Guide)
Hey there, Curacao beach lovers! Get ready to uncover the hidden treasures of Curaçao's stunning coastline. I'm here to spill all the secrets, just like a local travel guru sharing insider knowledge. So, picture yourself at Kenepa Grandi, this jaw-dropping beach sandwiched between majestic cliffs.
The moment you set eyes on those clear turquoise waters, you'll be itching to jump right in or even take a thrilling plunge off the cliffs. But hey, if you're more into lively vibes, Mambo Beach is your go-to spot! With its buzzing beach bars, tempting food joints, and tons of water sports, it's a hub of excitement.
Seeking pure tranquility?
Cas Abao Beach is your ticket to paradise, with its soft white sands, swaying palm trees, and incredible snorkeling just a hop away. Oh, and don't miss Jan Thiel Beach for a touch of luxury, where trendy beach clubs, fancy shops, and flamingos await. Want some exclusivity? Let me guide you to secluded gems like Daaibooi Beach, Playa Lagun, and the untouched beauty of Klein Curaçao. 
Trust me, these spots will make you feel like you've found your own slice of heaven. Pack your sunscreen, folks—Curaçao's beaches are waiting to sweep you off your feet and create memories that'll last a lifetime.
Popular Beaches in Curacao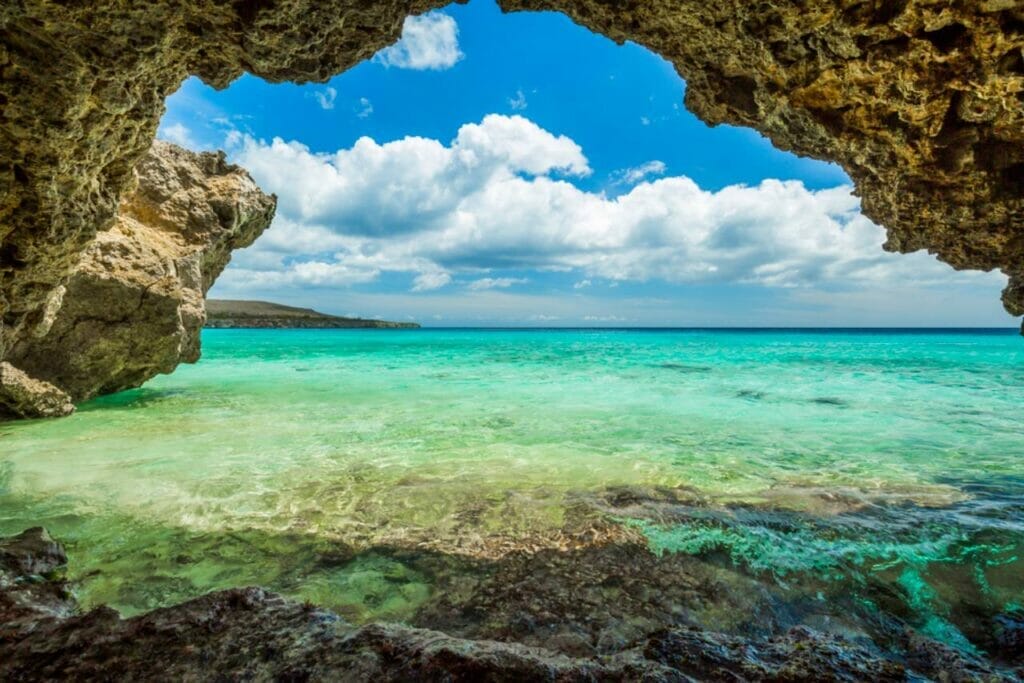 Curaçao's popular beaches offer a diverse range of experiences, catering to different preferences and interests. Finding the ideal location to soak up the sun and take in the natural beauty of the island is simple because to the distinctive features that each beach has to offer.
Kenepa Grandi
Kenepa Grandi, also known as Grote Knip, is a beach that captivates visitors with its stunning scenery. The beach is tucked away between high cliffs and features turquoise seas that are crystal clean and ideal for swimming and snorkeling. The expansive sandy shoreline provides ample space for sunbathing and relaxation. For those seeking a thrill, Kenepa Grandi is also a popular spot for cliff diving, where adventurous souls can plunge into the refreshing Caribbean Sea from the cliffs above.
Mambo Beach
Mambo Beach, on the other hand, offers a livelier and more social atmosphere. It is a well-liked meeting place for both locals and visitors, and it is busy all day. A lively and energizing atmosphere is created by the bustling beach bars, eateries, and boutiques that line the shore.
Visitors can rent beach chairs and umbrellas to lounge in comfort, enjoy delicious food and drinks, and even participate in water sports activities. Mambo Beach is an ideal choice for those who want to combine their beach experience with social interaction and entertainment.
Cas Abao Beach
Cas Abao Beach presents a serene and idyllic setting for a day of relaxation. With its powdery white sand, swaying palm trees, and lush vegetation, this beach exudes tranquility and natural beauty. The vivid coral reefs are only a short distance from the coast and may be explored while swimming or snorkeling in the crystal-clear, blue seas. Cas Abao also offers amenities such as beach chairs, umbrellas, and a beachside restaurant, ensuring a comfortable and enjoyable experience.
Jan Thiel Beach
Jan Thiel Beach caters to those seeking a trendy and upscale beach experience. The beach is bordered by chic beach clubs, eateries, and retail establishments that provide a variety of services and facilities. Visitors can indulge in gourmet cuisine, sip refreshing cocktails by the sea, and browse boutique stores for unique souvenirs.
Jan Thiel Beach is also a popular spot for water sports enthusiasts, with opportunities for windsurfing and paddleboarding. Nearby, the salt pans add a touch of natural wonder, as they are home to a vibrant flock of flamingos. Exploring the salt pans and observing these magnificent birds adds a unique and memorable element to a day spent at Jan Thiel Beach.
Whether you prefer secluded tranquility, a vibrant social scene, or upscale amenities, Curaçao's popular beaches have something to offer for everyone. The island's coastal gems are waiting to be explored and cherished, providing unforgettable experiences and moments of relaxation amid the breathtaking natural surroundings.
Secluded Coves
Away from the crowd, the island of Curaçao is home to secret havens where tranquility prevails. Daaibooi Beach and Playa Lagun are two such hidden gems, offering a serene retreat away from the bustling tourist areas.
Daaibooi Beach
Daaibooi Beach, nestled at the end of a dirt road, is perfect for those seeking solitude. This beach, which is surrounded by rocky cliffs, provides great snorkeling possibilities and a tranquil setting to soak up the sun.
Playa Lagun
Playa Lagun, on the other hand, is tucked between two high cliffs and offers an idyllic setting for relaxation. If you're lucky, you could see sea turtles gliding through the water. The beautiful, tranquil seas are ideal for swimming and snorkeling.
Klein Curaçao
The boat ride is worth seeing Klein Curaçao, an uninhabited island off Curaçao's southeast coast. It offers a stunning, untouched beach and an old lighthouse that adds a touch of history to this secluded haven.
Playa Hunku
Lastly, Playa Hunku is a quiet, remote beach that's a bit hard to find but absolutely worth the effort. Here you'll encounter pristine white sands, calm waters, and likely a few flamingos in the distance—truly a postcard-worthy sight.
Safety Tips
While Curaçao beaches are generally safe, it's still essential to practice caution. Always be aware of currents when swimming or snorkeling; while most beaches on the island have calm waters, riptides can occasionally occur.
It's advisable to wear protective footwear when walking on the beach, as sharp coral pieces may be scattered on the sand. When snorkeling, always keep a safe distance from the coral to protect both yourself and the delicate marine ecosystems.
Protect yourself from the sun!
Caribbean sun can be intense, and sunburn can quickly turn a delightful vacation sour. To save both your skin and the marine ecosystem, use biodegradable sunscreen.
Lastly, while Curaçao is a friendly and welcoming destination, it's always wise to safeguard your belongings. Avoid leaving your valuables unattended when visiting remote beaches.
Beach Etiquette
To ensure everyone enjoys their time on the beaches of Curaçao, it's important to follow certain beach etiquette. Firstly, always clean up after yourself. Littering spoils the beach's natural beauty and can harm wildlife.
Also, be mindful of noise levels. While some beaches host lively parties, others are places of relaxation. Respect the atmosphere and don't play loud music or engage in noisy activities that could disrupt others.
It's also important to respect the wildlife.
Avoid feeding or disturbing the animals, whether they're birds, iguanas, or marine life. This includes not touching or standing on coral reefs when snorkeling or diving.
Finally, remember that some beaches, particularly secluded coves, might be frequented by local families. Respect their culture and their space. After all, traveling involves more than just taking in the sights; it also entails getting to know the locals and developing an appreciation for their culture.
Best Times to Visit Beaches in Curacao
There's good news when it comes to deciding when to visit Curaçao beaches: the island enjoys pleasant, sunny weather all year long because of its location outside the storm zone. However, some nuances can help optimize your beach holiday.
The peak travel period, which coincides with the North American winter, lasts from mid-December to mid-April. During this time, the island attracts many sun-seekers, leading to busy beaches and higher accommodation prices. However, the weather is particularly splendid, with less rainfall and slightly cooler temperatures.
The off-peak season, from May to November, sees fewer tourists. If you're aiming to have serene beaches almost to yourself, this might be the time for you. Rain showers are more frequent, but they're usually brief and followed by sunshine.
Water conditions vary per beach but are generally calm and perfect for swimming and snorkeling. For divers, visibility is excellent year-round, but some argue that it's slightly better between September and November.
Activities
Beyond sunbathing and swimming, Curaçao beaches offer a plethora of activities. For adventure seekers, the island is a diving and snorkeling paradise, with many reefs accessible right from the shore. Tugboat Beach, for instance, is renowned for its sunken tugboat and vibrant marine life.
For the more athletic, beaches like Mambo and Jan Thiel offer water sports like paddleboarding, jet-skiing, and even flyboarding. The winds at these beaches also make them great spots for windsurfing and kiteboarding.
Nature enthusiasts would love the hiking trails leading to some secluded beaches, where you can spot local flora and fauna. A trek to Boca Keto in Christoffel National Park, ending with a private beach, comes highly recommended.
And for those seeking wellness, imagine performing your sun salutations to the sound of lapping waves during a beachside yoga class. Many resorts and wellness centers offer these classes, especially at Jan Thiel Beach.
Getting Around
Traveling to and between Curaçao beaches is relatively straightforward. The island has a reliable network of public buses called "Konvoi" that can take you to the main beaches. However, these buses don't cover some of the secluded beaches, and the schedules can be a bit unpredictable.
For a more flexible schedule and access to remote beaches, consider renting a car. Numerous car rental companies operate on the island, and the roads are well-maintained, though a bit winding in places.
Taxis are another option, especially if you're planning a full day at a single beach. However, they can be a bit pricey, and rates should be negotiated before the journey.
Lastly, for a special adventure, you can reach the uninhabited Klein Curaçao by chartering a boat trip. This usually includes snorkeling equipment, food, and drink, making for an exciting day trip.
Curacao Beaches FAQ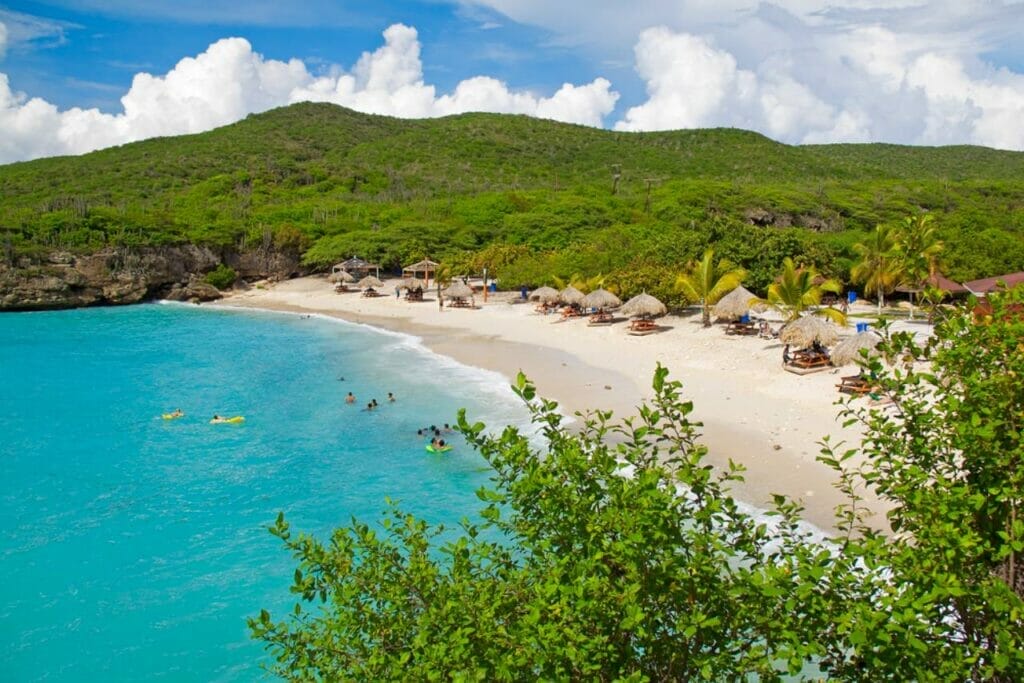 What is the prettiest beach in Curaçao?
Curaçao is blessed with numerous breathtaking beaches, but one that stands out for its sheer beauty is Kenepa Grandi, also known as Grote Knip. This pristine beach boasts stunning turquoise waters framed by towering cliffs, creating a picture-perfect setting. The wide sandy shoreline encourages guests to soak up the warmth of the sun while taking in the breathtaking natural surroundings. Kenepa Grandi's picturesque scenery and crystal-clear waters make it a must-visit beach for those seeking unparalleled beauty in Curaçao.
Are the beaches in Curaçao swimmable?
Curaçao is renowned for its swimmable beaches. The beaches here offer the perfect setting for swimming and snorkeling excursions because of the calm seas, superb visibility, and abundant marine life. Whether you're an experienced or inexperienced swimmer, Curaçao's warm waters are perfect for a swim. The pristine conditions and abundant underwater wonders make each beach a swimmable paradise, ensuring unforgettable experiences for water enthusiasts.
Why is Curaçao so popular?
Curaçao's popularity stems from its unique blend of natural beauty, rich culture, and vibrant atmosphere. This Caribbean island captivates visitors with its stunning beaches, boasting pristine sands and turquoise waters. Beyond its captivating coastline, Curaçao has a variety of other things to offer, such as bright colonial architecture, UNESCO World Heritage sites, and an exciting food scene.The friendly nature of its inhabitants and the variety of recreational pursuits available, including diving, snorkeling, and discovering undiscovered coves, help Curaçao maintain its status as a popular vacation spot.