Top 10 "Must-See" Curacao Attractions for Tourists
Have you been to paradise? If not, it's time to pack your bags and head to Curaçao, a true gem nestled in the Caribbean. This enchanting island is a haven for travelers seeking vibrant attractions and unforgettable experiences.
Join me as we uncover the top 10 must-see tourist spots in Curaçao, where historic landmarks, stunning natural wonders, and warm island vibes await. 
So, get ready to embark on a journey like no other, where every step reveals a new adventure and every moment is filled with the magic of Curaçao. Let's start exploring this tropical paradise together!
Best Attractions in Curaçao
Welcome to Curaçao, an enchanting Caribbean island that promises a wealth of vibrant attractions for visitors to explore.
Willemstad: Explore the vibrant capital city with its colorful Dutch colonial architecture and the iconic Queen Emma Bridge.
Floating Market in Punda: Visit this unique market where vendors sell fresh produce from their boats.
Fort Amsterdam: Delve into the island's colonial past at this historic fort that now hosts the Governor's Palace and Curaçao Museum.
Kura Hulanda Museum: Learn about the region's history of the slave trade at this impactful museum located in Otrobanda.
Christoffel National Park: Hike up to the island's highest point, Mount Christoffel, for stunning views of the surrounding landscape.
Hato Caves: Discover the island's ancient history and geology with a tour of these impressive underground caves.
Playa Kalki: Enjoy the white sandy beach nestled between limestone cliffs, and snorkel among the colorful marine life.
Fort Nassau: Enjoy panoramic views of the island and dine at the popular restaurant housed in this historic fort.
Curaçao Ostrich Farm: Get up close and personal with the largest birds on earth, with opportunities to feed and ride them.
Serena's Art Factory: Visit this factory to see the creation of 'Chichi' dolls, symbols of the island's culture and tradition.
Willemstad Highlights
Willemstad, the bustling capital of Curaçao, is an amalgamation of vibrant cultures, colonial architecture, and stunning Caribbean views. As you traverse through its lively streets, the city unveils itself in two distinct parts – Punda and Otrobanda, separated by the historic Queen Emma Bridge, also known as the "Swinging Old Lady".
This pontoon bridge not only offers an excellent vantage point to appreciate the city's distinctive Dutch-inspired architecture but also a glimpse into the bustling marine activity of the St. Anna Bay.
In Punda, wander through the serpentine alleys leading to the lively floating market. This unique marketplace, filled with boats from nearby Venezuela, offers a feast for the senses with colorful tropical produce and freshly caught fish. Nearby, the Fort Amsterdam stands imposingly, combining history with magnificence in its Dutch colonial edifice, now home to the Governor's Palace and Curaçao Museum.
Across the iconic Queen Emma Bridge, the Otrobanda district awaits with its cultural and historical attractions. A must-visit here is the Kura Hulanda Museum, which sheds light on the often-overlooked history of the slave trade in the region. Wandering the cobblestone streets lined with 18th-century houses transports you back in time, providing insights into the island's historical landscape.
No trip to Willemstad would be complete without savoring the local flavors at the Marshe Bieuw, also known as the Old Market. This bustling food market dishes out traditional Creole recipes, offering a culinary journey with every bite. Make sure to try the island's specialties such as kabritu (goat stew), funchi (cornmeal mush), and the much-loved keshi yená (stuffed cheese).
Natural Wonders
Curaçao's natural beauty extends beyond its charming towns, unveiling a world of underwater wonders and panoramic landscapes. The island is renowned as a diver's paradise, boasting over 40 different diving spots. Each offers a unique window into the rich marine biodiversity, whether it be the mushroom-shaped coral formations in the Mushroom Forest or the thriving sea life around the Tugboat wreck site.
On land, the Christoffel National Park beckons outdoor enthusiasts with its rolling hills and verdant trails. Home to Mount Christoffel, the park offers hiking trails that cater to both beginners and seasoned trekkers. As you ascend the trails, the views unfurl revealing the sweeping landscapes of the island and the azure Caribbean Sea beyond.
Step into the mystical world of the Hato Caves, formed millions of years ago beneath the sea. These captivating caves house a collection of stalagmites, stalactites, and ancient petroglyphs, remnants from the island's first inhabitants. Guided tours offer intriguing narratives about the caves' geology and historical significance.
A hidden gem among Curaçao's natural wonders is Playa Kalki. This secluded beach, tucked away between towering limestone cliffs, offers a serene escape. Its crystal-clear waters are home to colorful marine life, making it a perfect spot for snorkeling. Keep an eye out for the island's beloved green sea turtles that often visit the shores.
Historical Sites
History buffs can immerse themselves in Curaçao's past by visiting its well-preserved forts and historical structures. Fort Nassau, constructed in 1797, serves as a testament to the island's colonial era. With its strategic position atop a hill, it offers panoramic views of Willemstad, the harbor, and, on clear days, even the neighboring islands. Today, the fort houses a popular restaurant, adding culinary delight to the historical exploration.
A stone's throw away from Fort Nassau lies the Mikve Israel-Emanuel Synagogue, the oldest continuously operating synagogue in the Western Hemisphere. Its sand-covered floors and old-world charm are a tribute to the resilience and rich history of the Jewish community on the island.
The Landhuis Chobolobo estate, home to the Genuine Curaçao Liqueur factory, is another window into Curaçao's history. This 19th-century mansion gives visitors the chance to learn about the island's famed blue liqueur made from the Laraha citrus fruit, unique to Curaçao.
Within the bounds of the Christoffel National Park, you can explore the Savonet Museum. Exhibiting artifacts from the pre-Columbian era to the plantation period, the museum narrates the tales of the people who've shaped the island through time.
Unique Attractions
Curaçao's distinctive charm extends to its array of unique attractions. Among them is an unexpected encounter with the island's ostrich population at the ostrich farm. Located in the eastern region of the island, it offers an opportunity to learn about, feed, and even ride these extraordinary birds.
Nature lovers will enjoy a visit to the Flamingo Pool at Jan Kok Salt Pans. This natural habitat for flamboyant flamingos offers a chance to observe these elusive creatures in their natural environment, particularly during feeding times in the early morning or late afternoon.
On the island's rugged northern coast, Shete Boka National Park showcases the raw power of nature. Witness the force of the waves crashing into the rocky cliffs, creating natural blowholes. Follow the park's trails to discover several 'bokas' or coves, where sea turtles lay their eggs.
For a taste of local art, head to Serena's Art Factory to see the creation of 'Chichi' dolls. These hand-painted figurines, representing the eldest sister in a Curaçaoan family, are not just art pieces, but symbols of the island's culture and tradition.
Festivals and Cultural Experiences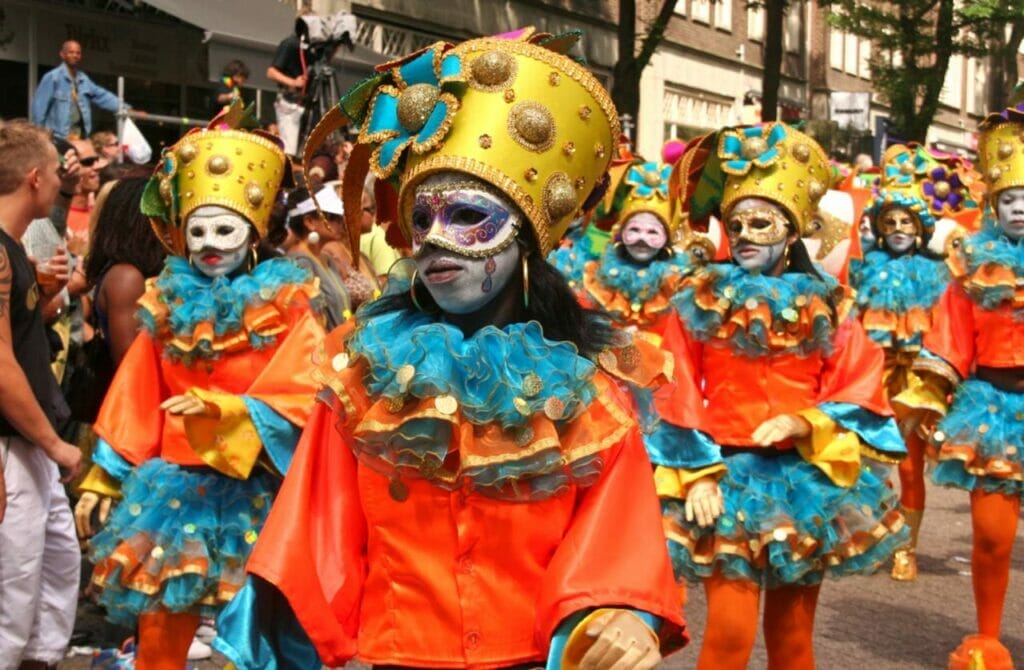 Immerse yourself in the vibrant cultural scene of Curaçao by participating in its lively festivals and cultural celebrations. One of the most anticipated events on the island is the Curaçao Carnival, a dazzling extravaganza that takes place in the weeks leading up to Lent.
Join the energetic parades filled with dazzling costumes, pulsating rhythms of traditional music like Tumba and Tambú, and the infectious enthusiasm of the locals. Immerse yourself in the vibrant atmosphere as you dance alongside revelers and experience the rich heritage and folklore of the island.
To further explore Curaçao's cultural treasures, take a stroll through the charming streets of Willemstad and visit the numerous art galleries and studios. Admire the works of talented local artists, whose creations beautifully showcase the island's unique cultural expressions. Engage with the artists themselves, as they are often eager to share their inspirations and stories behind their artwork. From vibrant paintings to intricate sculptures, you'll discover a diverse range of artistic styles that reflect the soul and spirit of Curaçao.
Beach Bliss and Water Activities
Curaçao's breathtaking beaches and pristine waters beckon beach lovers and water sports enthusiasts from around the world. Relax on the powdery white sands of Playa Porto Mari, a secluded paradise with crystal-clear turquoise waters. Dive into the vibrant underwater world as you snorkel or scuba dive, encountering colorful coral reefs, tropical fish, and even sea turtles.
For a day of fun-filled water activities, head to Cas Abao Beach, where you can try your hand at kayaking, paddleboarding, or simply enjoy a refreshing swim in the inviting Caribbean Sea.
For those seeking a more adventurous experience, set sail on a catamaran or yacht and explore the hidden coves and secluded beaches scattered along Curaçao's coastline. Feel the wind in your hair as you embark on a thrilling sailing adventure, where you can snorkel in pristine waters, soak up the sun on the deck, and witness the awe-inspiring beauty of the island from a different perspective.
Whether you prefer a laid-back beach day or an adrenaline-filled water sports excursion, Curaçao offers a paradise-like setting to fulfill all your coastal desires.
With its vibrant festivals, rich cultural heritage, idyllic beaches, and thrilling water activities, Curaçao invites you to create unforgettable memories. Immerse yourself in the island's cultural tapestry, dance to infectious rhythms, explore the depths of the sea, or simply unwind on the sun-kissed shores. The possibilities are endless, and Curaçao's natural beauty and vibrant spirit are sure to leave a lasting impression on your heart and soul.
Curacao Attractions FAQ
What is Curaçao best known for?
Curaçao is best known for its vibrant and colorful capital city, Willemstad, which features iconic Dutch colonial architecture and the famous Queen Emma Bridge. It is also renowned for its pristine beaches with crystal-clear turquoise waters, making it a top destination for sun-seekers and water sports enthusiasts. Additionally, Curaçao is famous for its world-class diving and snorkeling sites, offering breathtaking underwater ecosystems teeming with marine life.
What 3 things is Curaçao known for?
Curaçao is known for its stunning beaches, where powdery white sands meet the azure Caribbean Sea, creating a picturesque paradise for beach lovers. The island is also famous for its historic landmarks, such as the colorful Dutch colonial architecture in Willemstad and the well-preserved forts that showcase its colonial past. Furthermore, Curaçao is renowned for its exceptional diving and snorkeling opportunities, with vibrant coral reefs and diverse marine species that attract underwater enthusiasts from around the globe.
Why do people visit Curaçao?
People visit Curaçao to experience its irresistible blend of natural beauty, cultural richness, and outdoor adventures. The island's pristine beaches, warm tropical climate, and clear turquoise waters make it an ideal destination for relaxation and water activities. Moreover, Curaçao's rich history and multicultural heritage, evident in its vibrant capital city and historic sites, attract culture enthusiasts. Lastly, the island's renowned diving spots and underwater wonders offer an unforgettable exploration of vibrant coral reefs and marine biodiversity, making it a dream destination for divers and snorkelers.