Can You Bring Your Own Fan to a Hotel Room?
Having a fan is a staple in most homes. A fan helps refresh and cool down a stuffy room, provide white noise, and dry the air in humid climates. It is stressful to travel without your standard home accommodations.
You can bring your own fan to a hotel room, but before packing, there are factors to consider. Hotels frequently have portable fans for use upon request, while white noise machines and air purifiers may not be readily available.
Read on to discover special considerations, recommendations, and alternatives to bringing your own fan to a hotel.
The Best Portable Fans For Travel
Below is a table comparing my recommendations for portable fans that fit inside your suitcase. You can quickly prop these fans up on a table, desk, or nightstand.
Be advised, if traveling by airplane, TSA states portable fans can be transported in checked luggage. Some airlines may allow portable fans in your carry-on luggage. You must check with your airline to ensure your carry-on bag will fit in the overhead compartment.
This table shows my top three rankings, all available on Amazon.com These options are all compact, lightweight, and budget-friendly, but each have unique features:
Personal needs will vary by individual, but the versatility and portability of the options above will suit any traveler's essential cooling and ventilation needs.
Alternatives to Fans When Traveling
If you use a fan for the white noise or air filtration, packing a portable fan may not be necessary. Your hotel room will likely have in-room air conditioning and heat. A white noise machine, air purifier, or dehumidifier that is easy to pack are viable alternatives.
White noise machines are excellent if you hope to drown out traffic or loud neighbors. The Homedics White Noise Sound Machine (available on Amazon.com) provides six different sounds, including nature and water themes, three different time settings, and is conveniently battery or AC adapter operated.
Humidity is uncomfortable for those who live in a dry climate. If you plan to use your fan to dehumidify a room, the Pro Breeze Electric Dehumidifier (available on Amazon.com) is an alternative to a fan. You can quickly fill the 16 ounce (453.6 grams) reservoir in your hotel bathroom. This dehumidifier can reduce up to 9 ounces (255 grams) of moisture in a 215 square foot area.
A travel air filter can be costly but is essential for travelers with allergies or concerns about airborne contaminants. The OSIMO Portable Air Purifier (available on Amazon.com) has three settings, three-system air filtration, and easy filter replacement.
COVID-19 and Hotel Room Ventilation
The Center for Disease Control and The World Health Organization recommends properly ventilating your rooms since the beginning of the pandemic. You want to be aware of your hotel's precautions to help prevent the spread of Covid-19. Ensuring appropriate ventilation in an enclosed space is a crucial factor.
Do Fans Help Ventilation To Prevent COVID-19 in a Hotel Room?
Hotels don't use ceiling fans due to the costly and added risk of being damaged, catching flying objects, and potential injury (from children jumping on the beds, for example). However, you want to maximize your comfort as a traveler without sacrificing your safety.
The World Health Organization states that fans are an excellent option for ventilating a room, such as a hotel room, to prevent the spread of COVID-19. The stipulation is that there should be an adequate fresh air source such as an open window or door.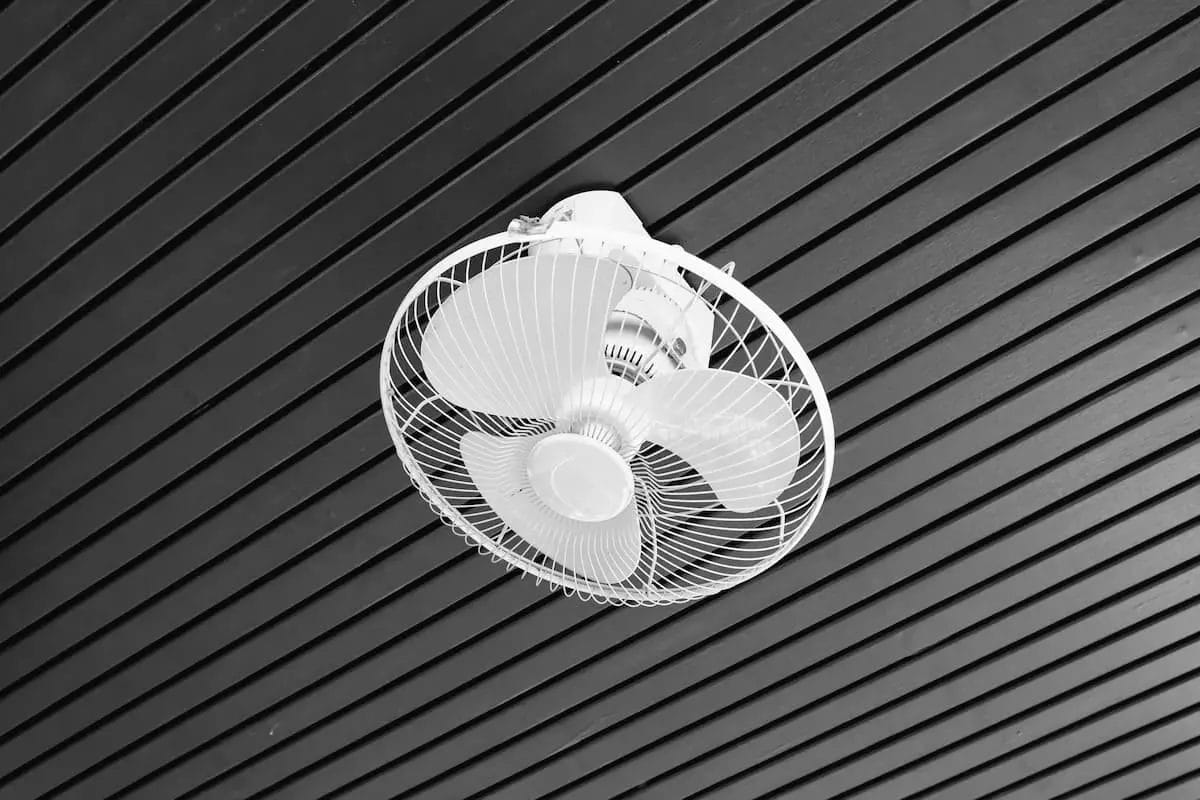 While the World Health Organization states that there is no such thing as guaranteed "no risk" during travel, you can reduce the chances of contracting airborne diseases. Using a fan to promote ventilation in a closed room will not aid in reducing the risk of spreading COVID-19.
Surprisingly, since fans only recirculate air, fans can cause the spread of contaminated droplets in the air, such as aerosol sprays. Hotels have implemented strict standards for cleanliness. When these standards are upheld, experts state hotels can minimize the risk of transmitting COVID-19 in a private room.
The World Health Organization recommends using your fan to blow the inside air toward the open door or window, which can help lessen the risk of contracting COVID-19. However, these recommendations are less effective if you travel with friends or family from a different household.
Expert in epidemiology, Brian Castrucci, was quoted by The Washington Post echoing the statements made by the WHO and the CDC. Castrucci encourages the ability to use fresh, outdoor air instead of recirculated air when you can open a window or door. "I'd be happier staying at a hotel where I could open the window," he said. "If it's really a concern, you also could bring a personal air filter with you if that could help mitigate the risk."
Recap: Can You Bring Your Own Fan to a Hotel Room?
Bringing your own fan to a hotel room can help you feel at home away from home, but it doesn't have to be costly or stressful. Alternatively, you can save time and money by contacting your hotel before travel to request a fan for your room.
However, if you prefer to have your personal fan, my recommendations above are listed to aid you in your search. Or use alternatives to fans, such as white noise machines, dehumidifiers, and air purifiers, to support a restful night's sleep in an unfamiliar room.